Slot canyons have always been the apple of an eye for photographers, hikers, backpackers, and Microadventurers around the globe. And why would slot canyons not be? The escalated red rock walls, tight corners, and spooky lighting under the blue sky would make anyone fall in love with them. If you are an adventurer and have not yet visited any slot canyons in Utah or Arizona, then you are missing something great. However, finding the best slot canyon can be quite overwhelming. This is a list of our favorite 10 slot canyons in Utah and Arizona for you:
Our Favorite Slot Canyons in Utah and Arizona
#10 The Subway at Zion National Park
The Subway at Zion National Park in Utah is one of the most visited slot canyons in the world by backpackers and canyoneers alike. The Subway is not for the faint at heart- it takes some work to get there.
There are two ways to explore The Subway. The first is from the left fork of the north creek, which requires a 9-mile hike in starting at the Zion Narrows. Known as the bottom-up route, to get to the Subway you'll have wade through miles of the ice-cold river. However, it is comparatively an easier hike than the other option: the top-down hike. This approach is a 9.5-mile hike with a lot of route finding, scrambling, and a bit of rappelling.
The views of the slot canyon once you get there are incredible. Experience a nearly enclosed "tunnel" with several large pools of water, resting beside a quiet creek. Absolutely worth the hike in. The Subway is best for people who like to test their fitness and want a great reward at the end of their journey- which is why The Subway makes our list.
#9 Yankee Doodle Hollow
This is probably among the shortest slot canyon on our list but it is worth the trip regardless. Yankee Doodle Hollow will provide you with the magical view of Navajo sandstone in a tight canyon space. If you're into photography, get ready to have some of the best shots of your life. With deep, vibrant colors and picturesque scenes, this slot canyon is on the checklist of many tourists, especially canyoneers, so don't expect to have any "me" time here. The hike is a bit steep, but still, you will manage to access the canyon without any trouble.
#8 Kanarra Creek Slot Canyon
As told by Jesse from Wandering on a Whim
Also referred to as Kanarra Falls or Kanarraville Falls, this hike near the famous Zion National Park offers a beautiful slot canyon experience. After a short stretch of a dusty road, the trail leads you to Kanarra Creek, which flows year-round through the heart of the canyon. Follow the canyon as it narrows, oftentimes trekking through the refreshingly cold water of the creek (proper footwear for water is highly suggested).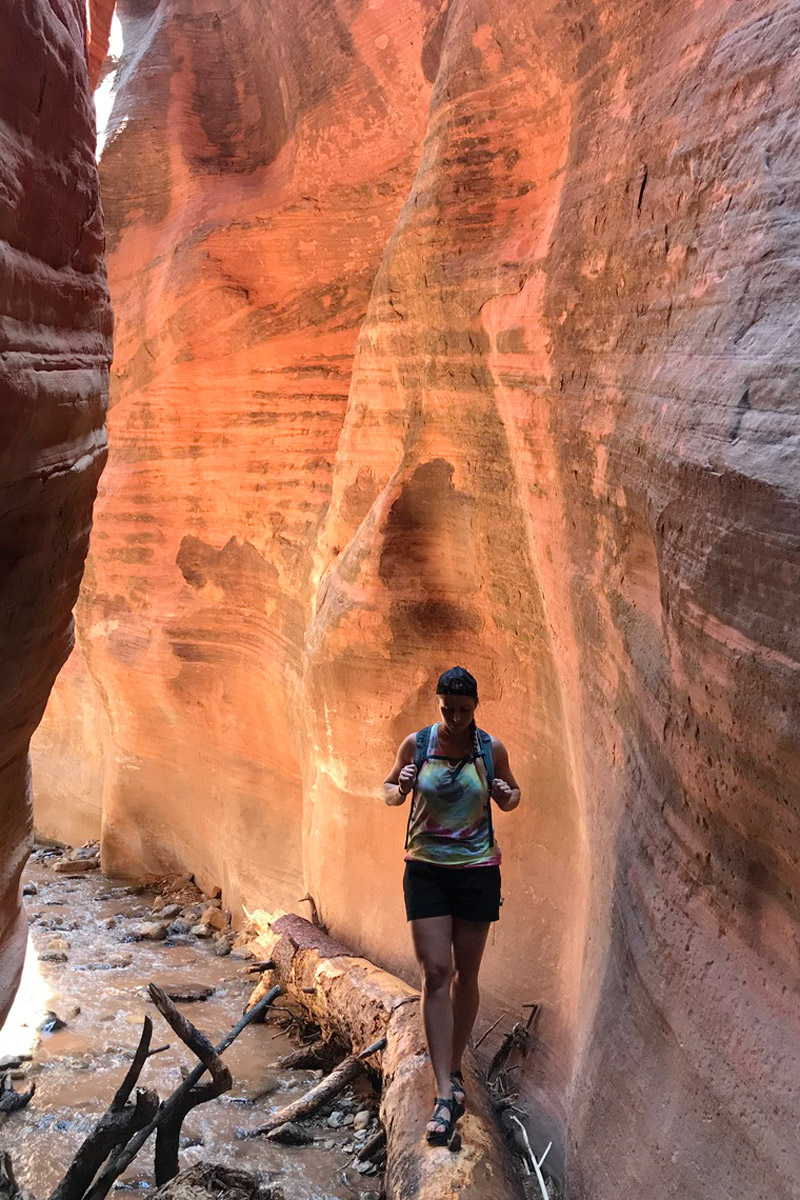 Tread carefully in the Kanarra Creek's slot canyon- you might just end up getting soaked! Photo from Wandering on a Whim.
A little less than two miles of hiking, the slot canyon and creek will bring you to a picturesque waterfall nestled between the colorful sandstone walls: 0.3 miles after the first waterfall, the canyon narrows again and reveals a second waterfall. The scenery intermittently opens up to lots of lush greenery, smaller waterfalls, and wading/ swimming spots throughout the creek. Around three miles from the trailhead the canyon views begin to disappear (most people turn around before or at this point).
Both of the main waterfalls require you to scramble up a ladder in order to continue past. These ladders are usually slick and a bit shaky- use caution and common sense when climbing.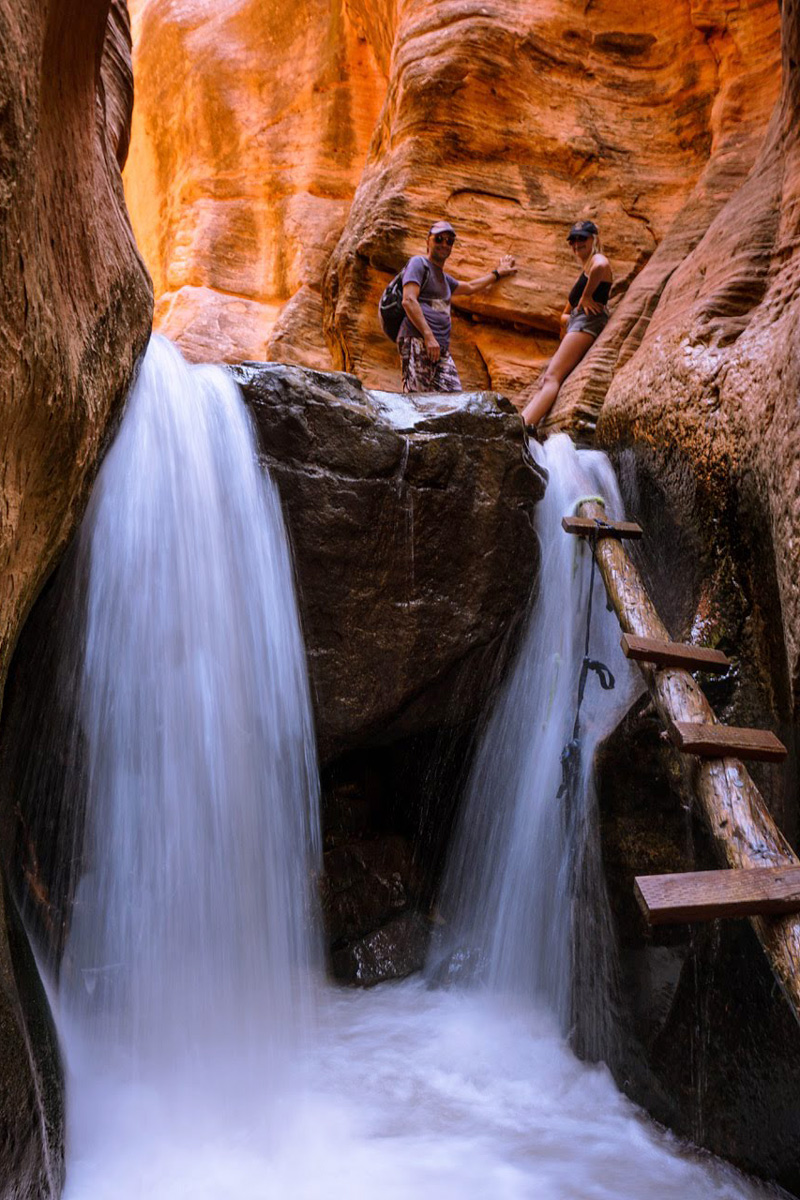 One of the main falls and ladder on Kanarra Creek. Photo from Wandering on a Whim.
A permit is required for this hike. Permits currently cost $12 per person and can be obtained online or in-person at the trailhead if not sold out for the day (online is recommended as this is a very popular destination). The total distance of the hike depends on how far you choose to explore- if you turn around after the second waterfall, it's approximately four miles roundtrip. This overall easy hike is made more challenging by the two waterfall obstacles.
#7 Ding and Dang Slot Canyon
Located near the Little Wild Horse Canyon in Utah, Ding and Dang is one of our favorite slot canyons. It is an 8.4-mile less-crowded hike that offers very scenic views. The hike itself is a little challenging: lots of scrambling and avoiding pools of water. But if you have no issues getting wet, it won't be a problem. The short stretch of twisting and turning in the heart of Ding and Dang is what makes this slot canyon so much fun to hike.
A tight squeeze and complete with gymnastic-type moves in Ding and Dang. Photo from The Outdoor Vegan.
#6 Lower Antelope Canyon
Located technically on the Navajo Reservation just southeast of Page, Arizona, Lower Antelope Canyon is the most popular slot canyon on our list. Because this slot canyon is located on and managed by the Navajo Reservation, permits and a guide are required. While that does sound scary and a hassle, it really isn't. Nearby Page offers half a dozen guiding companies that offer tours of this area. Tours range from $40-75 for 1.5 hours in Lower Antelope Canyon. Transportation to the slot canyon and a walking tour is standard for all of the guiding companies.
The slot canyon itself is unbelievable- we would consider it one of the great wonders of Arizona (on par with the Grand Canyon and Navajo tacos). The hike is very, very easy. Most people spend all of their time in Lower Antelope Canyon taking pictures of the light dancing on the sandstone walls. For any photographer, amateur or professional, Lower Antelope Canyon is a must-visit for your next trip to Arizona.
The longest slot canyon in the world, Buckskin Gulch offers over 30 miles of twists, turns, and narrow passageways. If you are looking for the ultimate slot canyon experience- Buckskin Gulch is it. While the first mile or so sees the most traffic from hikers, deeper than that, you'll probably have the place to yourself. Expect the width of the slot canyon to vary from two feet at its narrowest and 15 feet at its widest. Most of the 30 miles of this slot canyon consist of flat hiking and wading through shallow water pools with two major exceptions: the "Cesspools" and the rock jam. Most hikers will only hike a few miles into Buckskin Gulch before turning around for the day. If you do have an extra two days in the Grand Staircase-Escalante area or Vermillion Cliffs, and are looking for the ultimate Microadventure, consider backpacking the entire slot canyon from Wire Pass to the Paria River confluence at Lee's Ferry.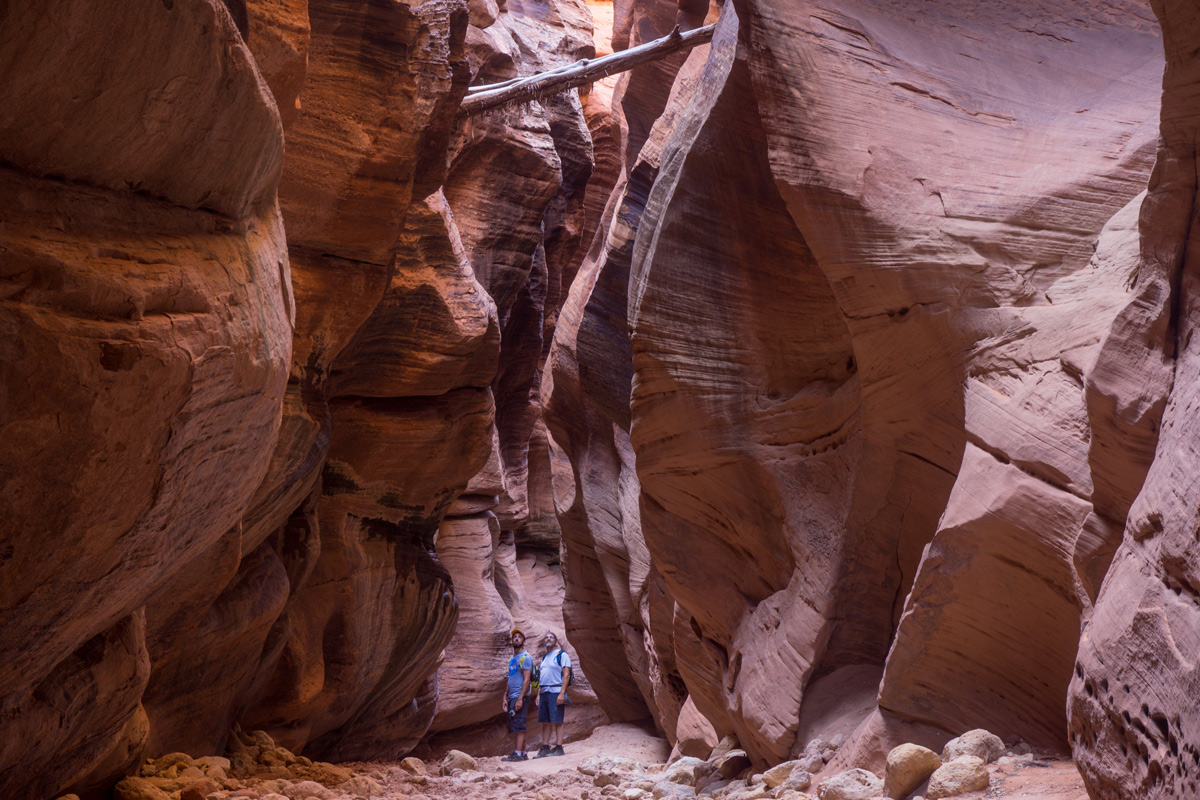 Staring into space: a trapped log deep in the heart of Buckskin Gulch.
#4 The Narrows in Zion National Park
The Narrows, found within Zion National Park, is one of the most legendary canyons in all of Utah, While technically a little too wide to be considered a slot canyon, we've added it to our list because it contains all of the attributes a normal slot canyon would: route finding, scrambling, being wet, and extraordinary fun.
The Narrows has soaring walls that sit at the base of the Virgin River. Most of your time in The Narrows will be spent either in the Virgin River directly or with wet feet as you hike along the river's banks. Be prepared for cold water throughout the year- we actually recommend using a dry suit (for your lower half) and insulated water shoes or "booties" from late fall to late spring. The water is cold– we cannot understate that.
The views are as legendary as the hike itself. Expect grand views of the tall canyon walls with dozens of waterfalls and greenery sprinkled throughout your hike.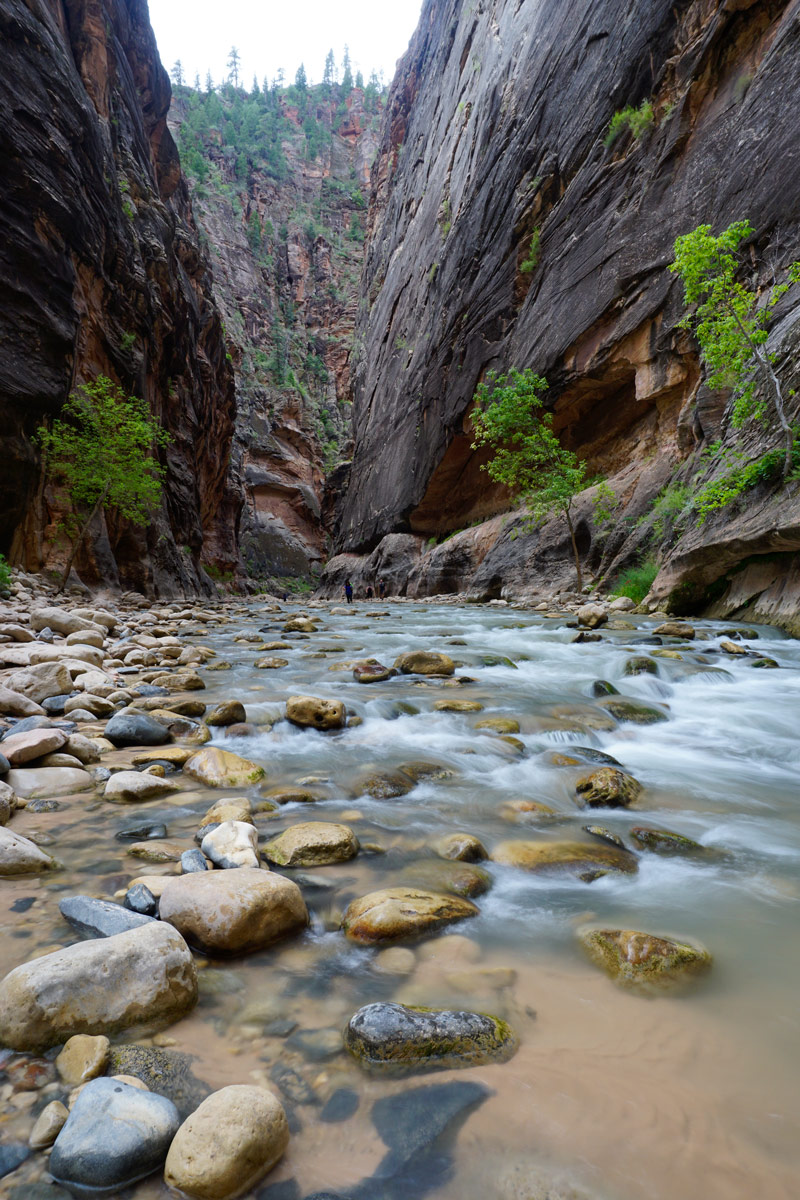 A quiet scene in the heart of the Zion Narrows. About a mile from the famous "Wall Street" area.
#3 Wire Pass Canyon
As told by Jesse from Wandering on a Whim
A short and sweet canyon hike that feeds into Buckskin Gulch. The trail begins in the same area as "The Wave", but does not require permits (although there is a day-use fee of $5, which can be paid at the trailhead).
Weaving through the desert, you will enter some small sections of the canyon, continuing further until the walls begin to rise steeply above you. Soon you'll understand where the name "Wire Pass" was derived from as the bottom of the canyon becomes dramatically narrow.
An overall easy hike, there is one section with about an eight-foot drop. When we last visited, there was a makeshift "step" created from logs, but if you don't feel confident in your ability to climb back up, don't go down! The canyon ends at a large intersection with Buckskin Gulch (where you can choose to continue hiking further in either direction). At this point to your right, there is a giant arch in the wall, as well as some ancient Petroglyphs to check out. If you turn around here and return to the trailhead, the distance is about 3.5 miles.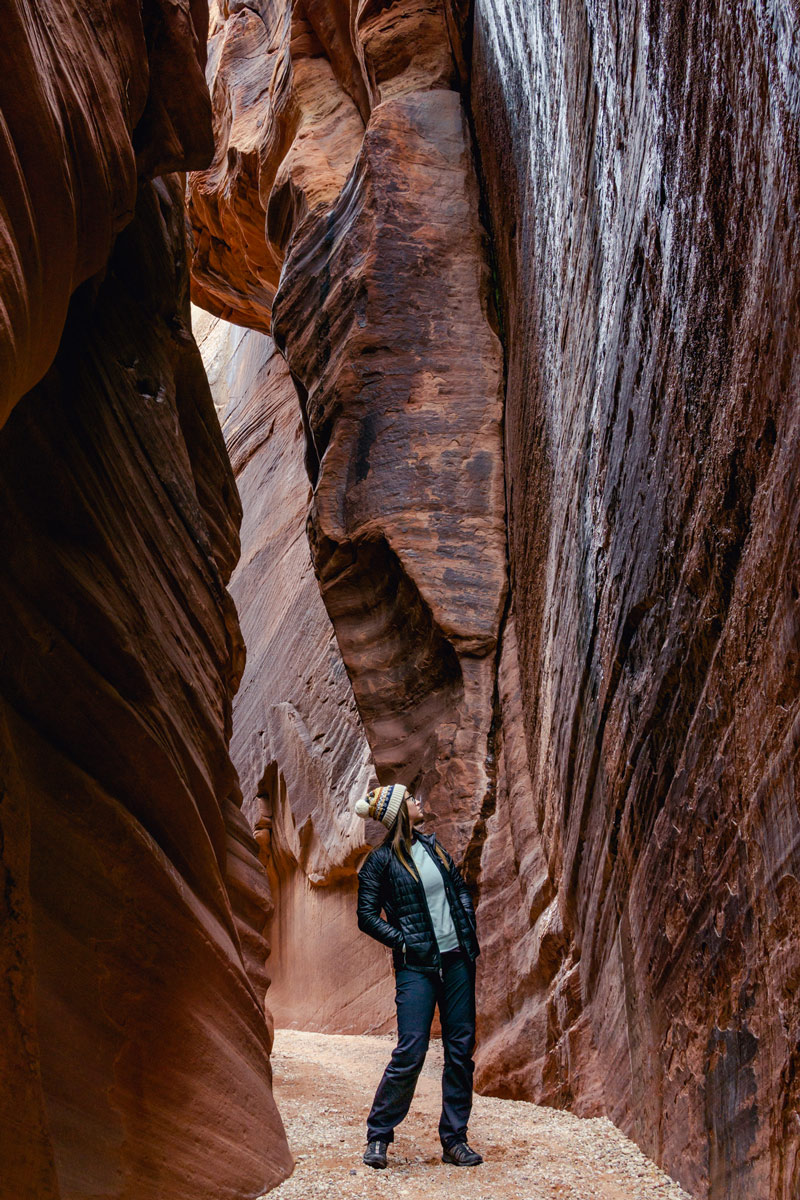 Taking in a serene moment in Wire Pass Canyon. Photo from Wandering on a Whim.
#2 Peek-A-Boo and Spooky Slot Canyons
Peek-A-Boo Slot Canyon and Spooky Gulch are two short and extremely narrow slot canyons within walking distance of each other just south of Escalante, Utah. Their names are truly justified: the slot canyons are very dark, eerie, and unbelievable narrow at parts. If you are claustrophobic, you might want to consider a different slot canyon entirely; Peek-A-Boo and Spooky might give you a touch of anxiety.
Because of their proximity to one another, they are often done on the same trip. In fact, it's pretty common to do Peek-A-Boo first and finish out the hike with Spooky. While somewhat disputed, our estimates put the roundtrip hike at 2.5 miles with a roundtrip approach of three miles from the initial trailhead (total of 5.5 miles start-to-finish). The best thing about these two slot canyons is the physical and mental challenges involved. There are sections of Spooky that are literally itches wide- causing you to discover your flexibility and mental fortitude in a pinch. These two slot canyons are considered some of the best in Utah without any doubt.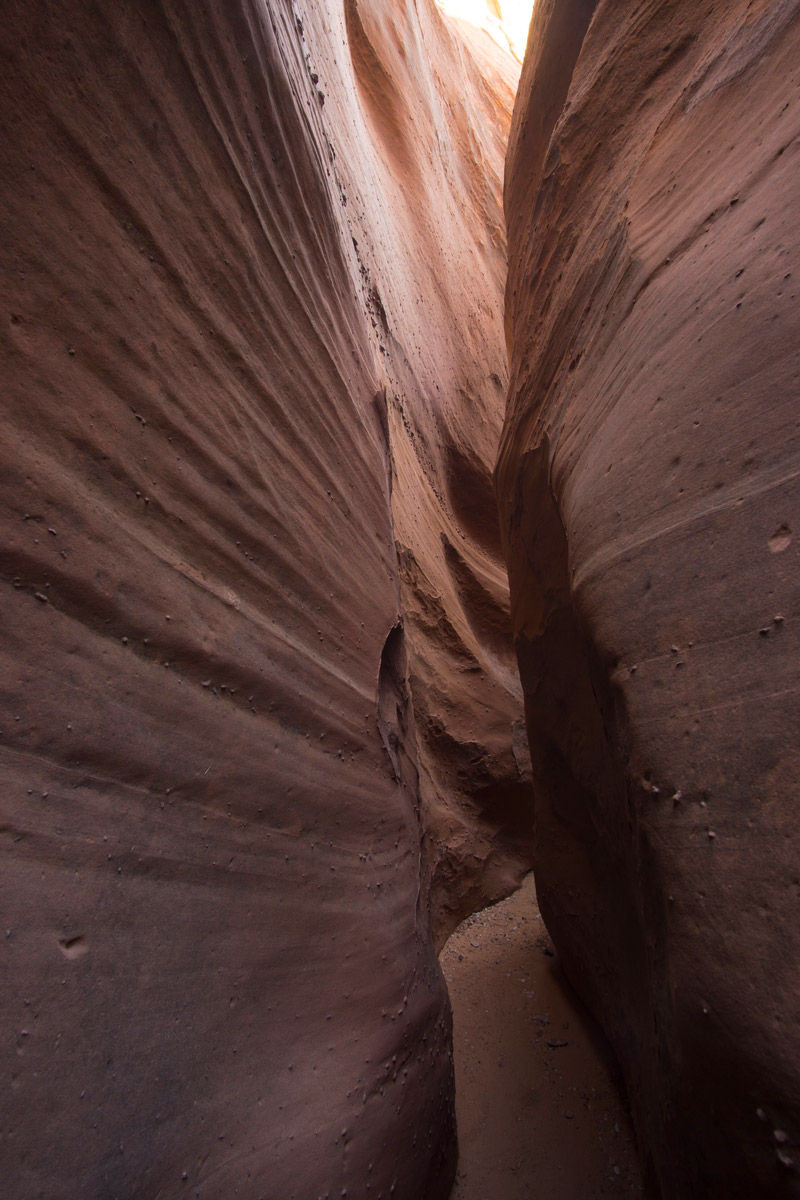 Spooky corner in the heart of Spooky Canyon. Photo from The Outdoor Vegan.
#1 Zebra Slot Canyon
This particular slot canyon is somewhat unique: imagine strokes of a white paintbrush on red sandstone walls amid an array of sandstone. This is exactly what Zebra Slot Canyon looks like, and it justifies its name. This slot canyon is one for the memory books. Zebra is not going to last for more than 12 minutes before you get shut in its grip and have to turn around. Similar to Peek-A-Boo and Spooky, there are sections that are inches wide- causing you to twist and turn your way through. The pure adrenaline and zebra-like texture on the walls make this our favorite slot canyon in both Utah and Arizona. You will remember this hike for years to come.
Summarizing
Utah and Arizona's slot canyons are the prime hikes if you are looking for a good time with a little Microadventure accompanied with twisting, turning, great photography opportunities, and lots of laughs as you step and jump over water pools. Both Utah and Arizona are home to some of the best slot canyons in the world. So make sure you take account of the weather conditions, lace up your water shoes, push any anxiety away, stretch, and jump right into a slot canyon near you.
Nick The Rambling Man
Nick is the owner and regular content writer for Southwest Microadventures. When he's not writing, you can find him rock climbing, peak bagging, mountain biking, backpacking, or drinking strong coffee.