Northern Arizona's Favorite Waterfall
One of northern Arizona's little secrets, Grand Falls, also known as "Chocolate Falls," is a massive series of waterfalls over 150 feet tall. The falls rest on the Navajo Nation just north of Flagstaff, Arizona. A staple location amongst southwest landscape photographers, this waterfall sports a series of tiered falls and, during the spring and summer, rainbows. The surrounding area is just as spectacular, offering views of the nearby San Francisco Peaks and a dramatic desert landscape complete with volcanic craters and lava remains.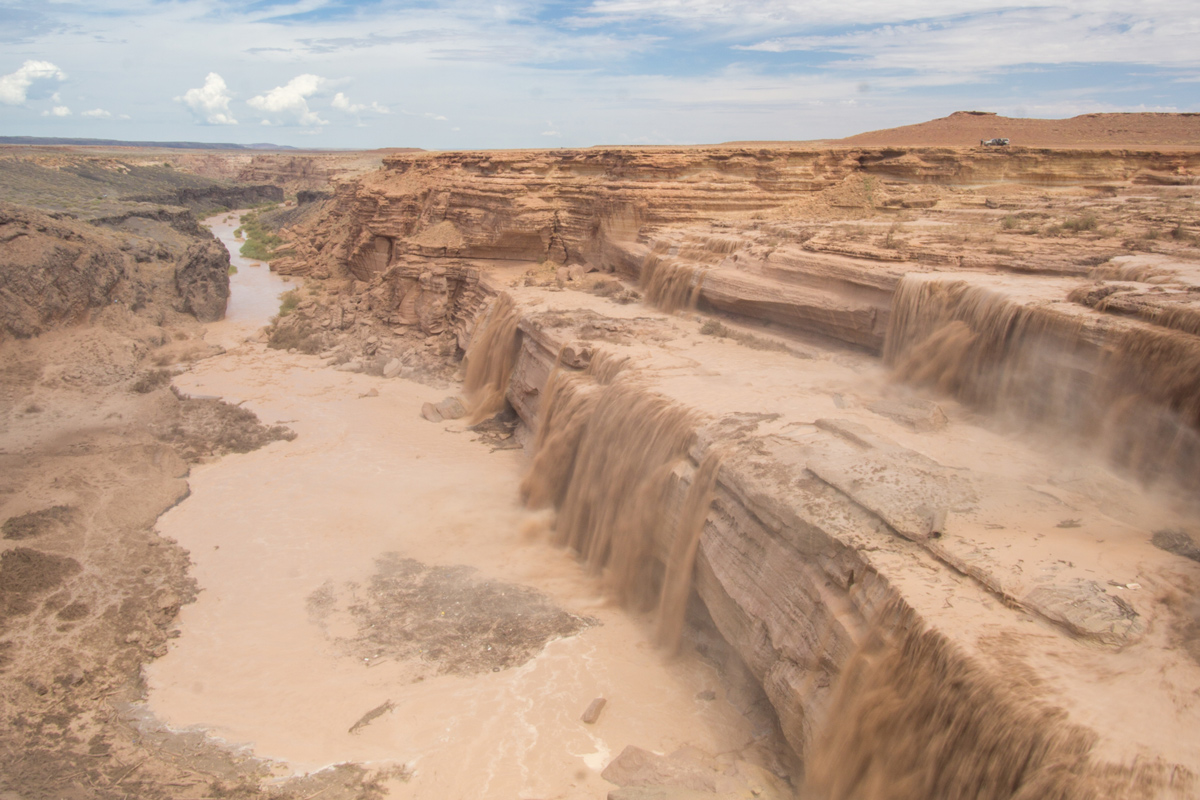 Over 150 feet in height- looking at Grand Falls (also known as Chocolate Falls) from the main overlook.
How to Get There and What You Need to Know About Grand Falls
Rough Road? Nah.
Although several local northern Arizona travel resources or guides mention Grand Falls as a "difficult" or "remote" area to get to, we respectfully disagree. While the approach to the falls is by an unpaved, forest service-type road, it is nowhere near as rough as people claim or requires a four-wheel-drive vehicle. Our crew has been out individually to Grand Falls on multiple occasions using a series of cars, including a Toyota Camry and Honda Accord.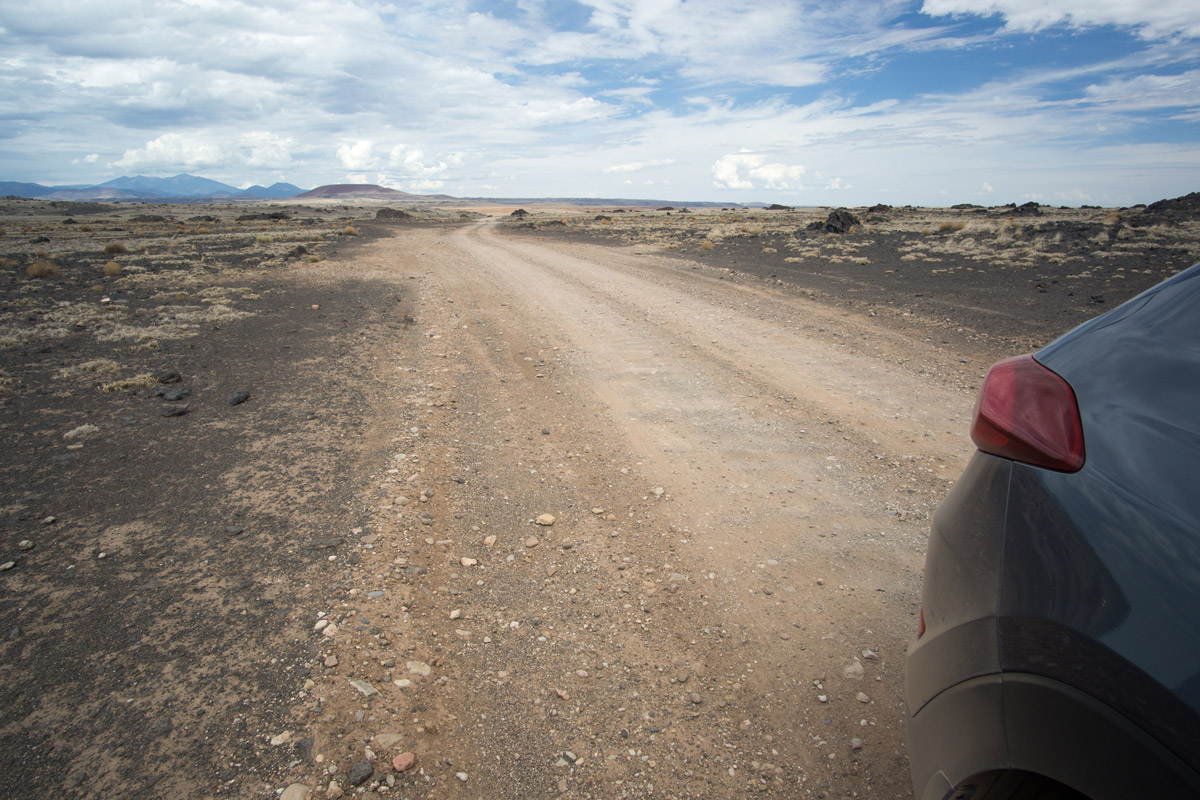 Rough road? No way. It's not bad at all. We made it in a Toyota Rav-4.
How to Get There:
From Flagstaff, take I-40 east towards Albuquerque.
Take exit 211 at Winona. Turn left at the intersection off the highway.
In about three miles, make a right on Leupp Road – watch out, the turn comes up quick!
Continue on Leupp Road for just over 20 miles – as you approach 20 miles on the road, keep your eyes open for Indian Road 6910. It will be on your left.
Turn left on 6910 and drive for around 9 miles – as you approach 9 miles on the road, keep your eyes open for a restroom, ramada, and the turnoff on your left.
Take the turnoff on your left and park in the pseudo parking lot.
You've arrived!
If you hit the Little Colorado River, you've gone too far! DO NOT CROSS THE RIVER!
For exiting the area, follow the steps in reverse!
Door to door from Flagstaff: 1 hour, 27 minutes each way.
What to See and Do When You're There:
Grand Falls – obviously! While not a hiking destination in northern Arizona, it is a photographer's paradise. A huge waterfall with a dramatic desert backdrop in the middle of the Painted Desert. There is a short trail that leads to the foot of the falls where you can get an up-close view and enjoy the massive scale of the entire series of falls. Besides that, there not much to do there. Due to the fact that Grand Falls is located on the Navajo Nation, any hiking or venturing outside of the falls requires a special hiking permit.
Please be respectful and honor the Navajo Nation and do not go off trail!
Since the falls are part of the Little Colorado River (which is fed by snowmelt further north towards Utah), Grand Falls tends to be reduced to a trickle outside of spring and summer. Monsoon season hits the region starting in early July and ends in August. The best months to visit are March and April and then again in July and August. Keep in mind that during monsoon season, thunderstorms are extremely common. You will be extremely exposed at the falls and prone to lightning strikes. Check the forecast before you go!
Grand Falls is an absolutely magical place. Pack your camera, pack a lunch, and get out there to see this massive, staple of northern Arizona!