It's that time of year again- Havasupai permit time! For those of you who have not been to Havasupai and it's waterfalls: Havasu Falls, Mooney Falls, or Beaver Falls, Havasupai is one of the most eclectic and beautiful places in Arizona without a doubt.
Every year thousands of hikers apply for permits to backpack and camp in Havasupai. While camping permits are not terribly difficult to get through an online reservation system, they are competitive. It's not like ordering a pizza online- there's a little bit of strategy involved to beat out the thousands of other people also trying for permits. The good news is that getting camping permits to Havasupai is nowhere near as difficult as getting hiking permits to "The Wave."
I've personally been to Havasupai three times over the last five years and, in my personal experience, with a little luck and preparation you can easily snag camping permits for Havasupai.
Here is a quick guide with some tips and tricks from my personal experience on how to get camping permits to Havasupai this year:
How to get camping permits for Havasupai
As I mentioned before, getting camping permits for Havasupai isn't like trying to win the mega lottery. It takes a little luck but mostly preparation to get permits.
Before: phone reservations
In the past, you could only get permits by calling the Havasupai reservation's tourism office. Now, camping permits are issued only through an online reservation system hosted by the Havasupai reservation.
When the permitting office would open up on February 1st, three of my friends and I would huddle in a room together, each with the phone in-hand, and would dial simultaneously again and again until we got a person on the other end. From there, one of us would reserve camping permits for the whole crew.
It was a nightmare.
Now: online reservations
Now, it's so much easier!
In order to get camping permits for Havasupai you reserve them through an online reservation system hosted by the Havasupai reservation. When the online portal opens up on February 1st, all you have to do is go through an online reservation system. Plug in your dates, your party's information, and check out. It's just like ordering tickets to the movies online.
The online reservation system (fully implemented in 2016) has literally changed the permitting process overnight. I personally think that it has increased the chances of snagging camping permits- but the jury is still out on that!
Either way, it is so much easier and convenient to get camping permits to Havasupai thanks to the online reservation system.
Tips and tricks for getting camping permits to Havasupai
#1 Have your dates picked out with three backup dates
In my experience, I have never gotten my first choice dates for camping in Havasupai. But I did get my second choice.
By having a few date slots in mind, it allows you to make a quick pivot if your first choice slot is not available.
Remember, camping permits to Havasupai sell out extremely quickly- in a matter of minutes. By being prepared with dates when you are ready to apply, it cuts down on the fumbling and indecisiveness and increases your probability of successfully getting camping permits.
#2 Apply for camping permits to Havasupai during off-season
Everyone wants to camp at Havasupai during the summer- and for good reason! The water is warm, the waterfalls are running at full steam, the weather is hot during the day, and cool at night.
Because everyone wants to camp at Havasupai during the summer months (July through September) it is much harder to get camping permits to during that time. It's a numbers game: more people applying for permits during the summer, higher competition for permits, equates to a lower probability of getting camping permits.
In my experience, getting camping permits during the off-season is much easier.
Plain and simple, there are less people considering Havasupai during the off-season. A great analogy is wanting to book a hotel in Manhattan on New Year's Eve. You're going to have a hell of a time because of the thousands of other interested people looking at those dates. But finding a hotel during some random Tuesday in March is much easier and cheaper. Getting camping permits to Havasupai is no different.
Apply for permits during the off-season months: March through late April or during fall: October through early December.
Well you might not be able to go swimming during those months, the scenery is just as beautiful as the summer months and Havasupai.
In fact, my last visit to Havasupai was during Fall: the second weekend in November. To my surprise, Havasupai has a legitimate Fall. We were greeted with hundreds of yellow and gold-leafed Cottonwood and Oak trees against the majestic waterfalls.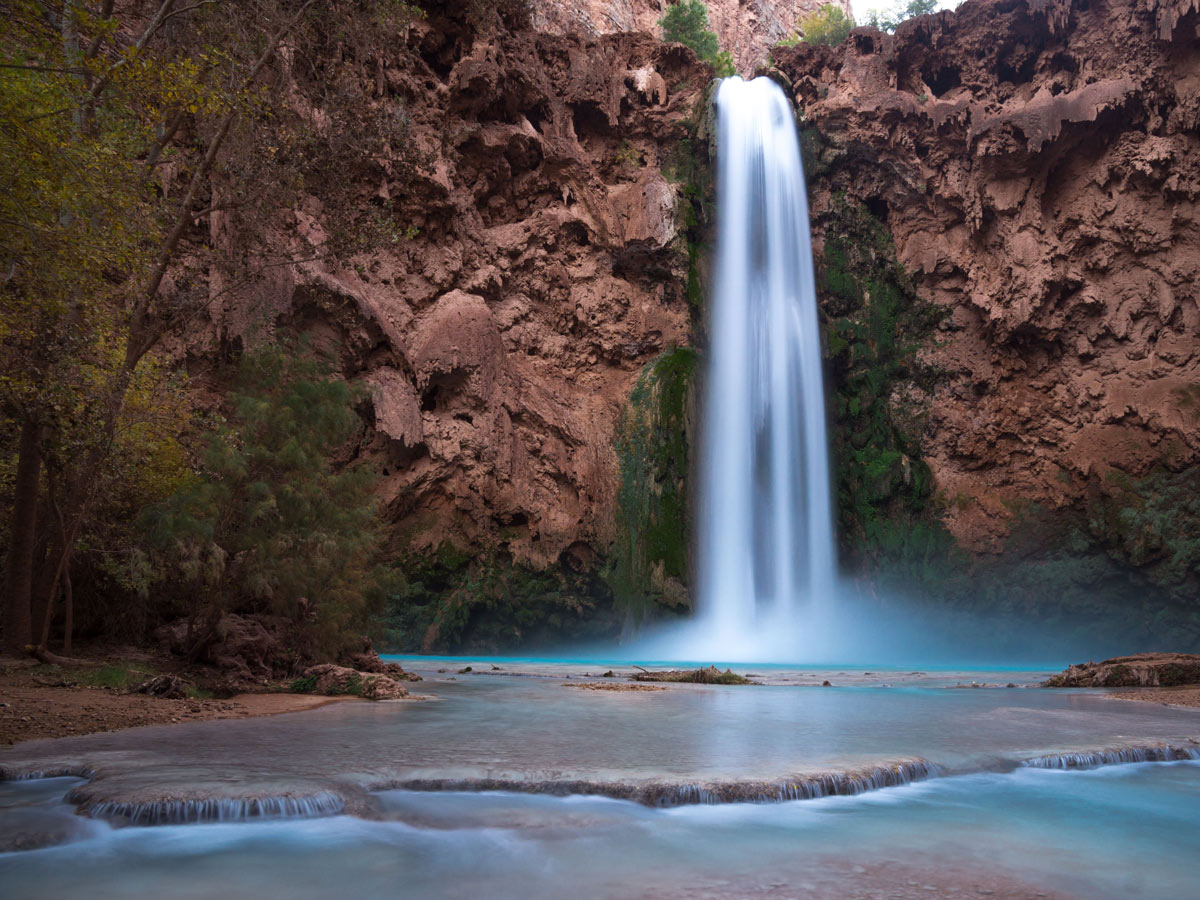 Fall in Havasupai: what the off-season looks like. We were the only people at Mooney Falls that morning.
In addition, the campgrounds we're nearly empty which allowed us to have prime camping real estate during our three-night excursion. We camped overlooking Mooney Falls.
Chances are if you apply for permits in summer for Havasupai, you're not going to get those premier spots because of how busy the campgrounds are during those months.
#3 Apply for camping permits for Havasupai as a group
Something that hasn't changed since the online reservation system was utilized is applying for camping permits as a group. Now, instead of having your buddies all calling in and coordinating together, you apply separately online.
During my last round of applying for permits for Havasupai, all three of us hopped on a Google Chat message and coordinated together. When the online reservation system was "turned on," I was not able to get through, but my friend was. He ordered camping permits for all three of us and off we went!
Without applying and coordinating as a group, I would have not been able to get camping permits for my latest trip to Havasupai.
Long and short, applying as a group increases your chances of getting permits to Havasupai.
#4 Be prepared with everything before you apply for camping permits to Havasupai
This is somewhat common sense, but a few of my friends who did not get permits to Havasupai have confessed to me that they didn't have everything organized when they applied. As a result, they were fumbling around and didn't have enough time to apply before the permits sold out.
When applying for camping permits, make sure you:
Have dates picked out with three backups
Your credit card out in front of you
Your friends/camping crew's information: addresses, phone numbers, email addresses, etc.
You've read up on the rules from the Havasupai's website on how to apply
By being prepared, when it comes time on February 1st, only factors outside of your control (like competition) can influence your ability to get camping permits for Havasupai.
Every second counts! Make sure you're prepared before applying!
Common FAQs for camping permits at Havasupai
How much are camping permits for Havasupai?
Full disclosure: there was a change to the price of camping permits for Havasupai in February 2019. Now the Havasupai reservation requires a minimum of a three nights for anyone looking to camp in Havasupai.
The fees per night are $100 per person Monday through Friday and $125 a night for Saturdays and Sundays, respectively.
Holidays that fall on a weekday are treated as a sort of "premium day" and are $125 a night despite being on a weekday.
It is important to note again that there is a three-night minimum stay at Havasupai now.
Therefore you can expect to pay $300 at a minimum for a three-night stay and a minimum of $350 for a trip of two weekend nights plus one weekday night.
You can camp longer in Havasupai than just three nights. Obviously the cost will be at least $100 more per night.
Also keep in mind that the reservations are 100% non-refundable and non-transferable. Once you swipe your credit card online, you're bound for camping in Havasupai.
When do camping permits for Havasupai go on sale?
Mark your calendars for February 1, 2020! Permits go on sale for Havasupai on February 1, 2020 at 8:00AM Arizona-time.
How much does it cost to camp at Havasupai?
Camping is included in your reservation- there is nothing extra that you need to pay for on top of your reservation.
Can you hike Havasupai or Havasu Falls without a reservation?
Contrary to what you may think, you cannot hike to Havasupai, Havasu Falls, Mooney Falls, or other waterfalls without a reservation obtained and issued through the Havasupai reservations permitting system.
I have heard of people hiking to Havasupai to see Havasu Falls or Mooney Falls in a single day. These people hike down to the falls and hike back out on the same day. This is a big no-no by the Havasupai reservation.
I'll be honest, when I did hear these people talking about hiking to Havasupai and the waterfalls in a single day without permits, I reprimanded them for doing so. The Havasupai reservation will prosecute you for hiking anywhere on the reservation without a permit. The area is sacred to the Supai people and they allow us to hike, backpack, camp on their land. Please be respectful and follow their rules. Those who break the rules and hike on the Havasupai reservation without a permit are only endangering everyone else's abilities to visit this beautiful area.
Please do not hike, backpack, or camp anywhere on the Havasupai reservation without a permit.
Ok…off my soapbox.
Can you camp wherever you want in Havasupai?
Once you do get permits for Havasupai, you can pretty much camp wherever you want in the designated campgrounds. It is first-come first-serve and there are dozens of camping spots on both sides of Havasu Creek a mile down from Havasu Falls and to the edge of Mooney Falls.
As mentioned before, the time of year when you visit Havasupai can determine what spots will be open. Obviously during the slow time of year (October through early December) there will be more camping spots open- giving you a bigger selection to choose from.
During the summer months when it is the busiest time of year, the campgrounds will be full and there will be fewer camping spots available to choose from. In my personal experience, even during the busiest time of year we were still able to find a spot to camp in the campgrounds. It wasn't our first choice and we had neighbors quite close to us.
Remember, the early bird catches the worm! Start your hike to Havasupai early so you can get a better camping spot!
A general word of caution: please be respectful of the Havasupai's reservation and follow their rules for what you can and cannot do in the campgrounds.
Can I bring or drink beer, wine, or alcohol in Havasupai?
One of the biggest things that surprised me is that there is no alcohol allowed on the reservation at all. Please be respectful and leave your booze at home.
Conclusion
Getting camping permits for Havasupai while tricky, is not like applying to win the lottery or hiking permits for "The Wave." You can get camping permits with a little bit of luck, a strategy in place, and being organized when the online reservation system opens on February 1st.
Good luck getting your camping permits and we'll see you down at the falls!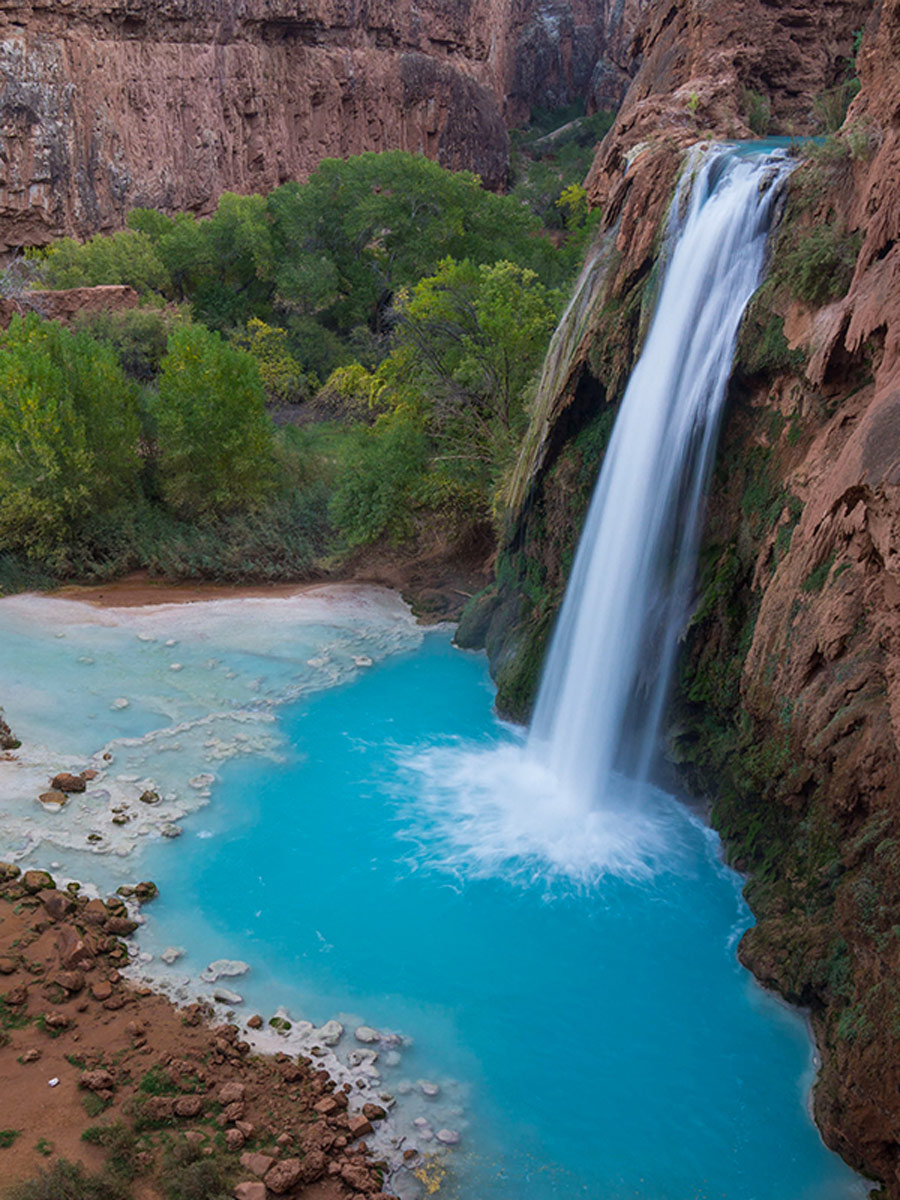 Nick The Rambling Man
Nick is the owner and regular content writer for Southwest Microadventures. When he's not writing, you can find him rock climbing, peak bagging, mountain biking, backpacking, or drinking strong coffee.