Get A Permit Through The Lottery System
Located on the border of Utah and Arizona, "The Wave" is the most famous portion of the Coyote Buttes North area managed by the BLM. For those unfamiliar, "The Wave" is comprised of two U-shaped troughs of sandstone on a small mesa within the Coyote Buttes North area. What surprises a lot of hikers is the size of the area itself: it's extremely small. The main "Wave" feature is only about 118 feet long and 62 feet wide! Wandering around "The Wave" is over before you know it.
The small area and to prevent an influx of tourists, photographers, and Microadventurers from overrunning "The Wave," the BLM has instituted a permit system in order to moderate and regulate the amount of traffic (and potential damage) that this beautiful and fragile area receives. The permit system is lottery-based where you can apply for permits in one of two ways: online and in-person. Each way has its advantages and disadvantages, but either way you apply, one thing is for certain: the lottery system is extremely competitive. In fact, "The Wave" saw 170,000 permits applications for the year's 7,300 allocated permits in 2017 alone. Meaning that for every one permit issued, there were 23 other people that applied as well. And only 20 permits are available per day- 10 reserved for the online lottery and 10 for the in-person lottery.
Online Lottery System For "The Wave"
The online lottery system is where a majority of interested hikers apply to get a permit for "The Wave." As a result, the online lottery system is the more competitive way to get permits compared to the in-person route.
You must apply for a date four months out and just that month only.
What is nice about the online lottery system is that you can apply from anywhere in the world from the comfort of your home without needing to drive to the BLM permitting office for "The Wave" in Kanab, Utah. This can also be a major disadvantage- now you're competing against interested hikers on the international scene, not just those who are able to drive to Kanab to apply for an in-person permit.
Another disadvantage involves the lottery application fee. To even apply for a permit, there is a $5.00 non-refundable application fee- whether you get a permit to hike or not. If you do manage to snag a permit, there is an additional $7.00 per person fee to actually hike in Coyote Buttes and to see "The Wave."
Advice On Getting A Permit Online
Try and try again. Get a lucky rabbit's foot? Can you sacrifice a goat? You get what I'm alluding to…getting a permit to "The Wave" via the online lottery is challenging- you are really gambling and hoping for the best. In fact, when writing this post, we were able to see the actual applications that were coming in for February 2020- and you can see how competitive the online lottery really is first-hand:
Just for February 2020 when we wrote this post, there were already 1,885 applications for just 580 permits. Meaning that this February, you have a 30% chance of getting a permit to "The Wave"…for now. 30% are actually great odds considering that the average is 4-5% during the busy months and 8-25% during the off-season in January.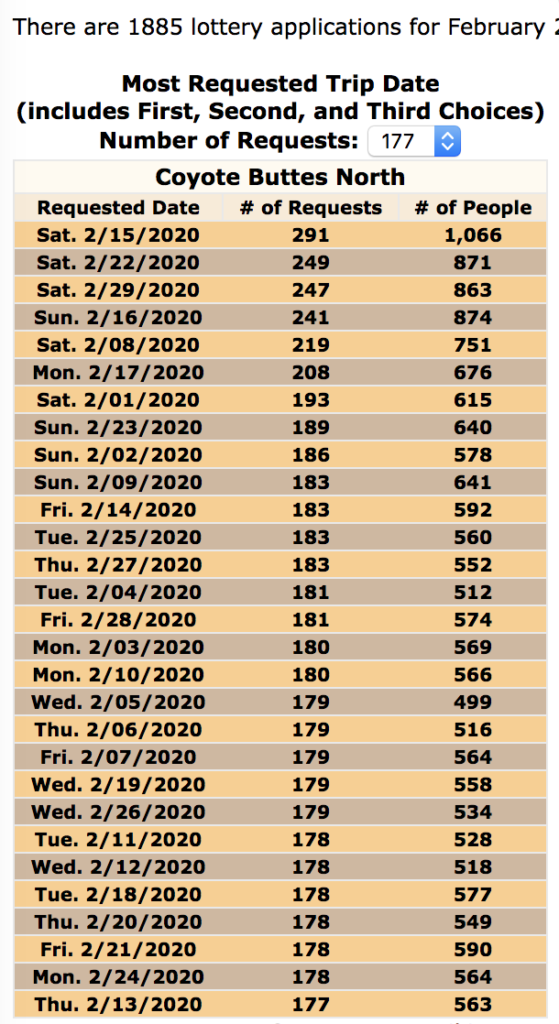 Each day that passes will see a rise in online lottery applications and decreasing odds that you'll actually get a permit.
One tactic that is recommended to try to get a permit online is to check the calendar on the permit page to see if there are any cancellations. To be successful with this tactic, you almost need to check the calendar at least once a day and add quick if a cancellation happens.
Walk-In Lottery System For "The Wave"
The walk-in lottery system is where things really get interesting. As shown through the video above, you physically apply for a permit in-person at the Grand Staircase-Escalante National Monument Visitor Center in Kanab, Utah. You have to be at the office to apply in-person at 8:30am in the morning and you will be applying for the next day- not the day of you submitting your application.
Advice On Getting A Permit In-Person
Similar to applying for an online permit to "The Wave," bring your lucky rabbit's foot or sacrifice a goat before applying for a walk-in permit. Fortunately, if you plan a trip in the southern Utah or northern Arizona area, you can keep applying for permits in-person every day until you get one. And a lot of hikers do this. They'll plan a trip to visit nearby Zion National Park, Buckskin Gulch, Page, Arizona, Bryce Canyon, or the Toadstools and just stop in every morning to fill out a permit application and stay for the lottery.
From our own personal experience, applying for permits repeatedly in-person gives you the highest odds to win a permit to "The Wave."
In addition, apply for weekdays and the off-season (December through February) if you can. Avoid applying for permits for "The Wave" during the peak season and on weekends at all costs- the likelihood of getting a permit is much, much lower.
Conclusion
Applying for permits to see and hike "The Wave" in Coyote Buttes can be challenging. With literally 170,000 people for the year's 7,300 allocated permits is a little hard to wrap your head around. Your best bet to win a permit for "The Wave" is to only use the walk-in permit lottery (don't waste your time with the online lottery), be consistent about applying for several days in a row, and apply for weekdays and the off-season (December through February). With those tactics and a little bit of luck, you hopefully will win a permit to "The Wave" eventually. And if not, there's always scrolling the #thewave Instagram feed and day-dreaming…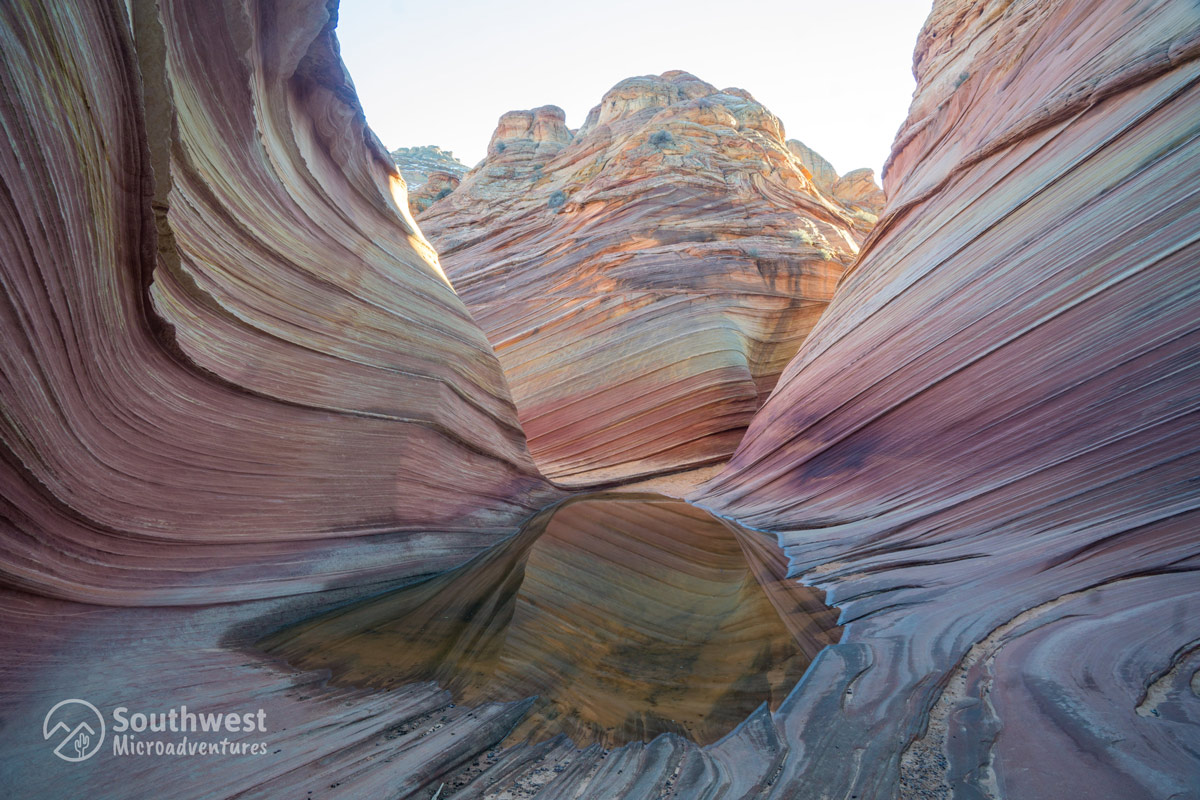 Resources For "The Wave"
Kirsten Chesney
Kirsten is the owner of a functional nutrition company named "CustomCare Nutrition." Based in Flagstaff, Arizona, she is a nutrition and fitness advocate who loves hiking, climbing, and backpacking.