For many hiking enthusiasts around the world, the Grand Canyon is the holy grail. Stretching over 277 miles in Arizona with elevation changes of thousands of feet, it offers a combination of stunning views and grueling, challenging routes that are near impossible to replicate.
And while it presents some of the most difficult hiking routes in the world, along with some of the most difficult conditions, the Grand Canyon is an excellent location for family hikes, even with younger children.
Hiking offers far more to a family than exercise. It offers the chance to explore the great outdoors and reconnect with nature. It also provides a great opportunity to connect and reconnect with family and friends.
Hikes in the Canyon can last several hours, so you'll struggle to find a better time to engage with your children without the draw of TV, mobile devices, and game consoles. It's also a great activity to combine with a camping trip to one of the camping grounds in the areas surrounding the Grand Canyon. If you need a little advice, here's a handy guide to camping with kids.
Numerous academic studies have proven that spending time outdoors is beneficial to children. They are usually more confident, more intelligent, more creative, less stressed, and all-round happier than children who spend more time indoors. Nature stimulates the senses and what better place to do than the Grand Canyon. Spending time outdoors, and hiking, in particular, helps children to think for themselves as they interact and understand the world around them. Outdoor activities typically have far less structure than indoor play, which enables them to push the boundaries in different ways. Letting them explore beyond the beaten track (on safe routes, of course!) and leading the way encourages their independence.
Here's a short guide with information and advice on taking a family-friendly hike in the Grand Canyon:
Picking a Hiking Trail in the Grand Canyon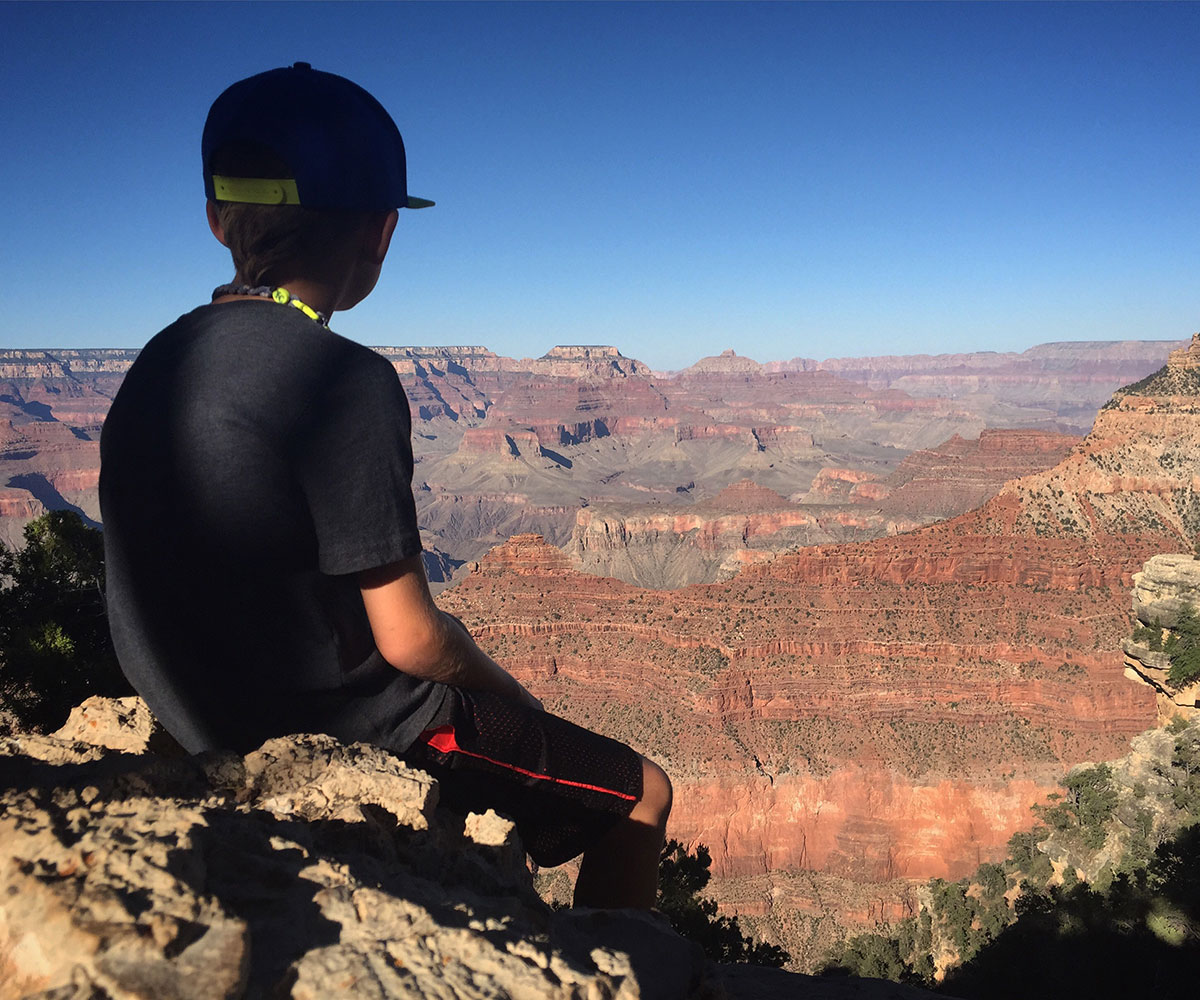 So, we've convinced you to head to the Grand Canyon for a hike with the family. Which trail do you hike? 
There are a few things to consider before settling on your route and making your way, and all of them are focused on keeping you and your family safe.
Whilst offering breathtaking views, the Grand Canyon can be a ruthlessly dangerous play if you don't plan and prepare. According to the National Park Service, more than 250 people are rescued from the Canyon every year.
To find the perfect route, you want to look for a combination of these factors:
Length of the Trail
Single-day trails in the Grand Canyon can range from as little as less than an hour to upwards of 10 hours, so there is plenty to choose from. The most important thing to consider here is probably the age of your children – younger ones may start to get very tired, very quickly while older children can probably go for longer.
Terrain of the Trail
If you're hiking with children, you're best off looking for a route that offers a dedicated and marked path most of the way, if not the whole way. These routes are more likely to offer a smoother, safer path to follow with fewer obstacles and hazards to navigate.
Difficulty of the Hike
A shorter route doesn't necessarily mean it's easy. There are plenty of platforms that rate routes for their difficulty, taking into consideration the distance, elevation changes, surface, obstructions and obstacles, and more.
Temperatures in the Grand Canyon
The Grand Canyon can reach temperatures over 100°F during the summer months, and you can often find yourself hours away from a water source. The perfect route may suddenly no longer be so perfect on the hottest days, so make sure to take the weather forecast into account. Some routes offer plenty of shade from the sun, so these may be a good option to take.
Potential Danger
You could find an easy route that is the right length and perfect terrain in just the right weather. But even a small section of an exposed cliffside poses a huge risk to you and your family.
Our Favorite Family-Friendly Hikes in the Grand Canyon
#10 South Kaibab Trail
The South Kaibab Trail is a steep but well-maintained dirt track route that offers some stunning views over a relatively short distance. Stretched over just 3 miles, this out-and-back route has an elevation change of 500+ feet which often follows the ridgeline.
Just a mile down the trail is "Ooh Ahh Point," and is a great place to pause and take in the panoramic landscape. Half a mile further ahead is Cedar Ridge, reached by a number of wide but steep switchbacks. Cedar Ridge offers more stunning views before you make a quick stop in the restroom facilities and head back to your starting point.
It offers very little shade and can be icy near the top in the colder months. 
#9 Widforss Trail (But Cut Short)
The full Widforss Trail is a 10 mile out-and-back trip along the North Rim, but it's very common for hikers to turn back halfway through and make it a more manageable 5-mile journey. It combines scenic views of the beautiful forestry and deeper red colors of the North Rim. There are plenty of flat sections and even the inclines are manageable.
A lot of hikers recommend taking this route in the fall because of the stunning colors on display through the forest sections.
#8 Bright Angel Trail
This one is short and sweet, making it ideal for an introductory hike for young children. At 8,148 feet, it's one of the Grand Canyon's highest peaks and therefore offers some of its most spectacular views. The trail lasts just half a mile along a well-maintained pavement with a little incline and is located near the North Rim visitor center. Due to the high altitude, this route isn't recommended for those with heart or respiratory problems.
#7 Shoshone Point Trail
Another short and sweet one, this route starts at the parking lot in a pine forest and heads a little over a mile along the path to Shoshone Point. There's a lovely picnic area overlooking the beautiful views, making it a great place to stop for a little while. It's mostly flat with the odd steeper section and the dirt track is usually in good condition, but it can be a little muddy and slippery after rain. This isn't a typically well-known route, so plenty of visitors love how quiet it often is.
#6 Rim Trail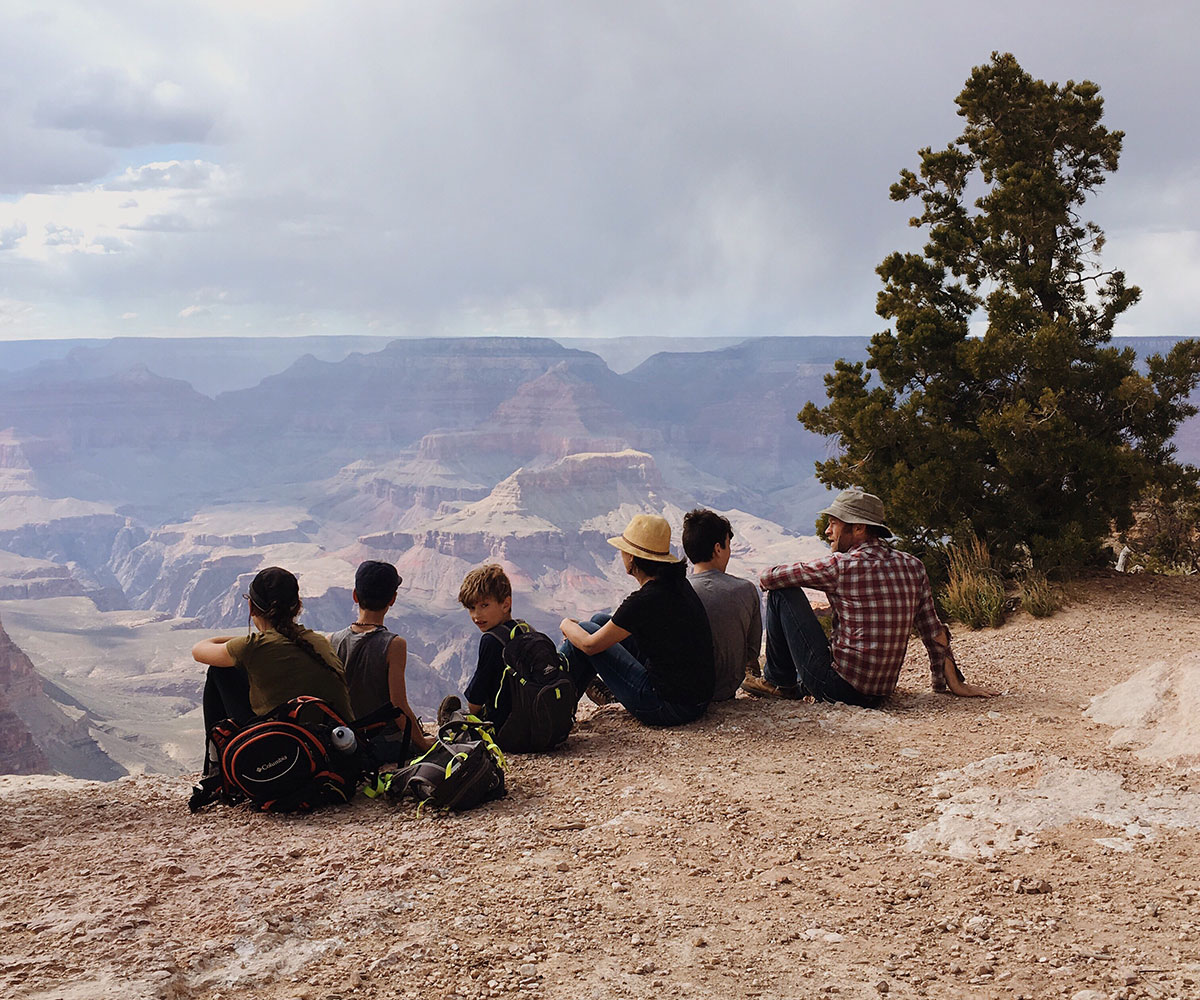 Although the full Rim Trail spans 13 miles, there are plenty of points of interest along the South Rim meaning you can easily cut it short and head back. It's mostly paved, flat, and well shaded, making it a big hit with families.
Two miles in is the Pipe Creek Vista viewpoint, which is great for a picnic. And a further mile up the trail is Mather Point, a popular viewpoint for its vistas and proximity to the visitor center.
#5 Cape Royal Trail
The Cape Royal Trail offers perhaps the most spectacular views for such a short and easy walk. It's essentially a long, paved, and flat peninsula that stretches from the North Rim into the Grand Canyon, giving arguably the most sweeping landscape views of any vista in the Canyon. There are plenty of markers pointing out natural history, making it a great educational route for the kids, too. The downside is that, because it's short, easy, and has stunning views, it is often a very busy route.
#4 Uncle Jim Trail
The Uncle Jim Trail is a relatively easy 5-mile loop trail along the North Rim. It encompasses a winding path through a wooded area before it reaches a viewpoint that overlooks the North Kaibab Trail. Fossils and wildflowers offer something different and special to excite the kids, as well as the amazing views you'd expect.
#3 Bridle Trail
Offering more of a forest walk than the Canyon, the Bridle Trail is a great way to experience something different. The 3-mile route is largely flat and easy and is popular with dog walkers and bikers.
#2 Roosevelt Point Trail
This is another brilliant trail for parents with younger children. The route itself takes just 20 minutes from start to finish through secluded woodland. But you'll be spending a lot more time having a seat on one of the many benches situated at the end of the path, taking in the picturesque views.
#1 Cliff Springs Trail
This short out-and-back trail offers families a more adventurous style of hiking. The one-mile round trip is one of the quieter routes in the Grand Canyon. It traverses some large boulders and brings you to a wonderful forest ravine and spring. The route is also popular with birdwatchers, so could be a great educational option for the kids.
Conclusion
If you're considering hiking with your family in the Grand Canyon, you have plenty of options! Our favorite 10 hiking trails are already family-friendly ready and a perfect way to introduce your kids to hiking.
Assuming you follow our advice, tips, and trail recommendations, one hike in the Grand Canyon might get your family hooked and ready to plan another visit.
Jonathan Davies
Jonathan Davies is a father of two – a three-year-old boy and newborn daughter – and writer for DaddiLife, a site for modern-day dads with a community of over 150,000 dads across the US and UK. He is a passionate believer in encouraging families to spend more time together in the great outdoors.