Ski, Hike, Bike, Climb, and Travel Your Way Through Colorado
Colorado is the perfect destination if you are looking for an outdoor Microadventure. With unparallel hiking, skiing, biking, peak bagging, backpacking, and climbing opportunities, Colorado has everything you could want for your visit. Miles of mountain ranges and peaks, forests, meadows of wildflowers, sand dunes, canyons; you name it, Colorado has it. If you're planning a visit to Colorado for some outdoor activities, then you have come to the right place! Let our team provide you with an outdoor adventure guide with our favorite spots and places to check out in Colorado.
Learn about the Microadventures Colorado has to offer.
Why Travel or Visit Colorado?
At each border of the state, you'll see welcome signs touting "Welcome To Colorful Colorado," and for good reason! Colorado is a complete travel package for any Microadventurer complete with multiple mountain ranges, huge river systems, dense forests, and grand meadows of wildflowers. These ingredients create the perfect recipe for any kind of outdoor activity you're looking to enjoy in Colorado.
Colorado welcomes Microadventures of all magnitudes with extraordinary views. If you're interested in having a quiet day, snowshoe in a valley as you gaze at huge mountains on either side. Want to have a crazy off-the-wall Microadventure? Consider hopping on the Colorado Trail via bike or on foot as you backpack through miles of wilderness.
Any way you slice it, Colorado offers incredible outdoor possibilities.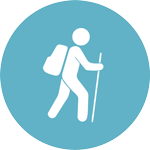 Backpacking and Hiking
Colorado provides ample backpacking and hiking opportunities in almost every city and town in the state. Hiking and backpack amongst hundreds of mountains and miles of dense forests, meadows, and wildflowers.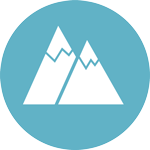 Peak Bagging
Have an itch to climb and summit a mountain? Colorado is the place for you. Choose from over 50, 14,000-foot peaks and over 200 13,000-foot peaks where you can trek, alpine mountaineer, or climb your way to the top!
Ski and Snowboarding
Colorado wouldn't be Colorado without its skiing and snowboarding opportunities. With over 25 designated ski resorts and hundreds of backcountry spots, you'll never get tired of shredding some powder in Colorado.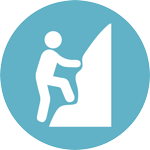 Climbing
Colorado features remarkable climbing crags on all different types of rock. From multi-pitch to bouldering, you will find climbing routes of all varieties and difficulties throughout the state.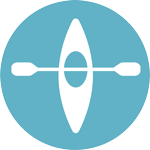 Swimming and Water Sports
All of that snowmelt has to go somewhere! Colorado is home to dozens of lakes, reservoirs, rivers, and creeks which offer great kayaking, swimming, cliff jumping, and paddleboarding.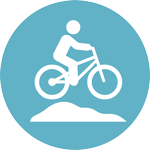 Mountain Biking
With thousands of mountain biking trails throughout the state, Colorado is a mountain biker's paradise. Ride all types of terrain including high mountain passes, forest meadows, wildflower patches, and canyons.
Our Favorite Colorado Adventure Towns and Cities
Boulder
Lying comfortably between mountains and wilderness, Boulder offers an urban twist on all your outdoor ventures. Hike, backpack, and climb for miles in Boulder's famous "Flatirons" just outside of downtown.
Durango
Nestled between the diverse and jaw-dropping mountain ranges the San Juans and La Platas, Durango is one of our favorite mountain towns in Colorado. The city offers unprecedented outdoor activities and Microadventures including mountain biking, climbing, peak bagging, and hiking. For those itching to "shred the gnar," Purgatory lies just outside of Durango and has great skiing and snowboarding runs.
Telluride
Nestled in the heart of the San Juan Mountains, Telluride is home to some of the best skiing and snowboarding runs in all of Colorado. In addition to skiing, Telluride is a great basecamp for peak bagging, mountain biking, backpacking, and hiking with two mountain passes and four, 14ers just outside of town.
Breckenridge
Breckenridge offers ultimate skiing and snowboarding and the historic Main Street is a must-visit. For those looking to peak bag, snowshoe, mountaineer, or hike, Breckenridge is located near the Tenmile Range and Collegiate Peaks where six, 14,000-foot peaks are waiting to be climbed.
Fort Collins
Famous for great mountain biking, climbing, and a top-notch craft brewery scene, Fort Colling is another great place in Colorado for a Microadventure. Surrounded by plains and mountains, Fort Collins offers majestic views and diverse outdoor opportunities but with a more laid-back lifestyle than other nearby mountain towns.
Colorado Springs
Despite what you may think, the second-largest city in Colorado, Colorado Springs is not an urban sprawl! Located at the base of Peaks Peak, Colorado Springs is home to several of Colorado's mountaineering outfitters and has a vibrant mountaineering, peak bagging, and hiking scene.
Our Favorite Colorado National and State Parks
Rocky Mountain National Park
With over 415-square-miles of mountains, meadows, forests, and wildflowers, Rocky Mountain National Park spreads a considerable portion of northern Colorado. The park presents a vast range of outdoor activities including peak bagging, hiking, backpacking, and climbing.
Black Canyon of the Gunnison National Park
Colorado's mini-Grand Canyon. The Black Canyon of the Gunnison National Park is home to huge, steep canyon walls, colored black and gray. While most visitors only sight-see via the canyon's rim, multi-pitch climbing and white-water rafting and kayaking are very popular outdoor activities for Microadventurers.
San Juan Mountains
As the largest mountain range in Colorado, the San Juan Mountains offer more hiking, biking, and backpacking trails that could be utilized in a lifetime. Peak bagging, skiing, snowboarding, and climbing are also popular activities in the San Juans.
The Colorado Trail
Ranging 483 miles from Denver to Durango, the Colorado Trail is considered to be one of the best long-distance hiking trails in the world. The hike spans across most of the state and features everything from high mountain passes to lush forested valleys and everything in-between.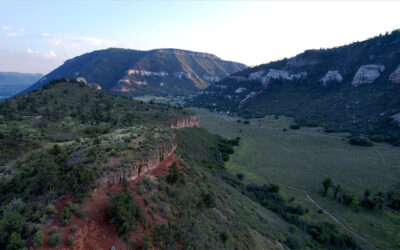 We've outlined some of our favorite hiking trails in the Falls Creek area to make it easier for you to pick a trail that's right for you!
read more
Colorado Photo Gallery
Some of the latest photos that our team has taken in Colorado.