When you plan an outdoor adventure with your RV or van, cooking is always at the top of the activity list. And what better way to cook your food than having the best portable Induction Cooker for your RV or van.
With the technological advancements in science and engineering, we have come up with a way to cook your food using electromagnetic heating. We are eliminating the need for an open flame, which is dangerous and can cause accidents.
Because a portable Induction Cooker has in place for its locks and sensors, accidents in cooking decrease significantly. Cooking is made easier with timers, and temperature monitors integrated into them. These things help aid you in creating specific dishes.
What to keep in mind is that portable Induction Cookers require electricity. So, it is best to have a good power source if you plan on using one for your RV or van. If you have a good power source already, you are on your way to preparing enjoyable meals for you and your family.
To aid you in your next Microdventure, we have compiled a list of the 5 best portable Induction Cookers for your RV or van:
Quick Navigation
5 Best Portable Induction Cookers Reviews
Buyer's Guide
FAQs
5 Best Portable Induction Cookers for RVs and Vans Reviews
#1 Duxtop 1800W Portable Induction Cooktop Countertop Burner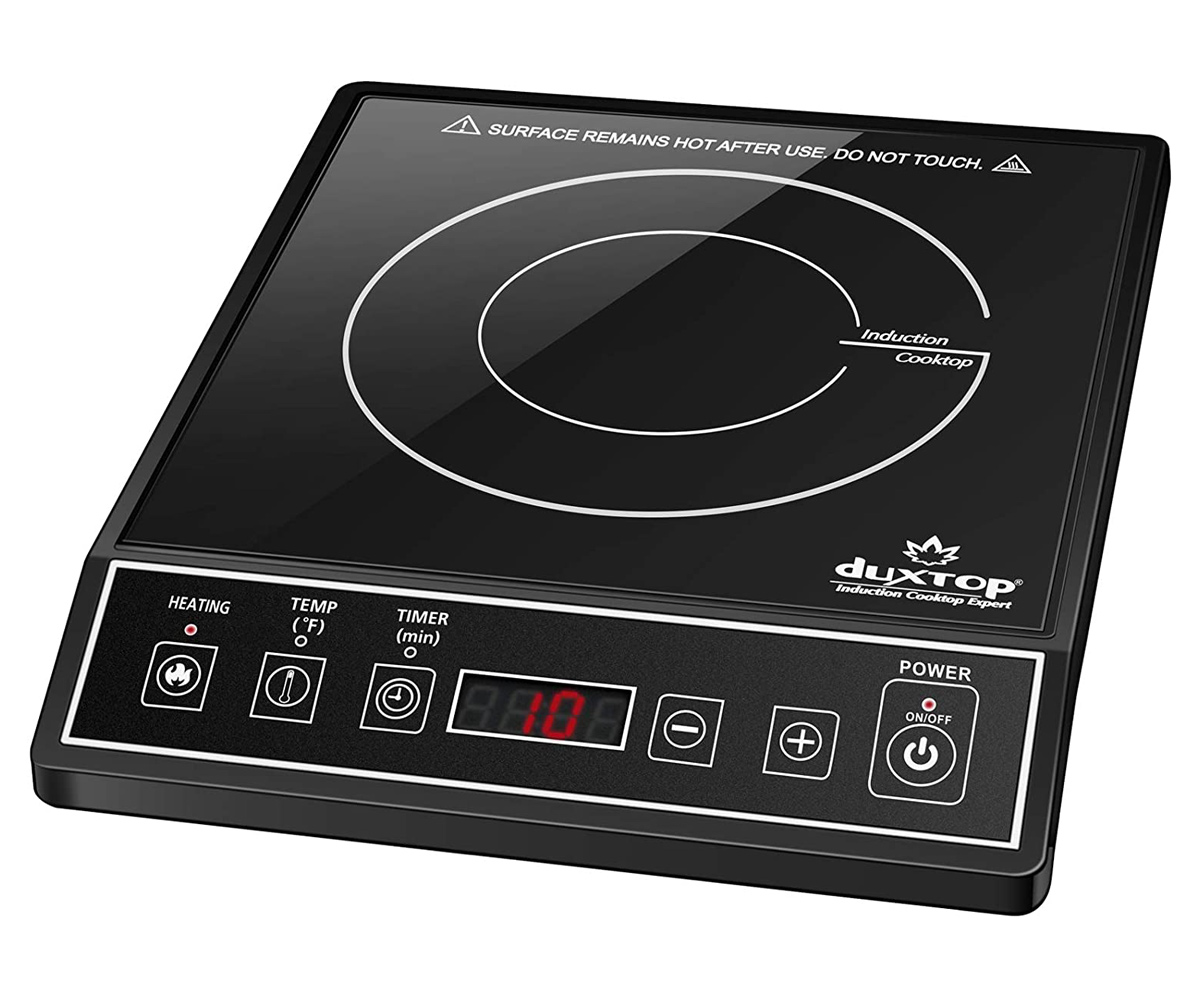 Product Highlights
This Induction Cooker is lightweight, compact, and easy to use. Its Interface is angled 45 degrees for your easy viewing. It has six buttons labeled with diagrams that you can quickly identify. An LCD monitor helps you keep track of the time and temperature required to cook your fabulous dishes.
The Duxtop 1800W Portable Induction Cooktop comes with 15 presets. Presets give you full control over how much power you give out, saving you precious battery life in your RV.
It also comes with temperature levels where temperature settings can change from 140 F up to 460 F, makes for versatile cooking.
Very easy to clean, all you have to do is wipe on the surface with a damp tissue or towel and wipe away clean. It only heats up when it comes to contact with induction-ready cookware making it safer to use around the family than your traditional open flame stove. As a security feature, The Duxtop 1800W Portable Induction Cooktop automatically shuts down 60 seconds if no cookware detects on its surface.
The Good
It can produce a lot of heat for something so light and small.
The Bad
The price seems steep for a single Induction Cooker.
Pros:
It is easy to use and straight forward
It has automatic safety features
The temperature reaches up to 460F
Cons:
Design can have a modern look
Compatibility with other pots in not available
#2 Sunavo Portable Induction Cooktop, 1800w Sensor Touch Multifunction Induction Burner, with 15 Temperature Settings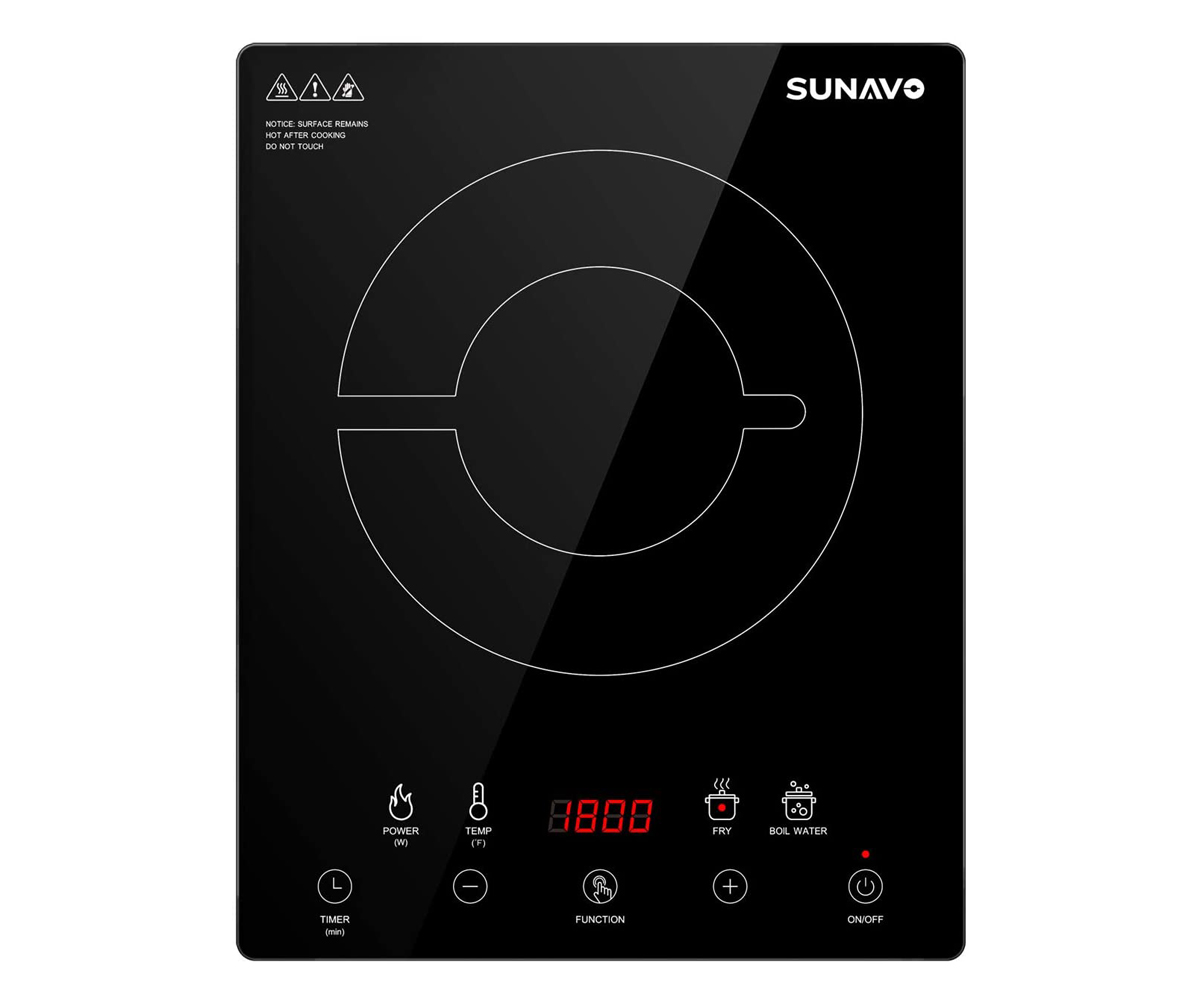 Product Highlights
The Sunavo Portable Induction Cooktop has the feature of Fry and Boil integrated into its Interface. Having shortcuts like this is a useful function since these two features used for people who are out camping. Dishes on this feature are usually fast to cook for on the go eating.
With the Boil Feature, boiling water can take as fast as 3 min, that's four times less than what a traditional hot plate can offer. The frying feature lets you adjust the heat of the Cooker ranging from 100 F to 460 F.
Adjust high and low heat by pressing the LED buttons "+" and " -."
Your input is indicated on the LCD monitor located in the bottom middle of the Induction Cooker. The sleek shape gives the Sunavo Portable Induction Cooktop a flatbed look, making it almost as easy to store as a big book.
The Good
The integration of fry and boil features is a must-have for on-the-go Microadventurers.
The Bad
The flatbed design opens a window for soup and other liquids to spill and block its LED buttons.
Pros:
Has LED buttons with an LCD monitor
Quick Boil and Fry features
Packs a lot of power for heat
Cons:
The liquid can easily cover button functions
Plain design
LED buttons get smeared while cleaning
#3 Nuwave PIC Pro Highest Powered Induction Cooktop 1800W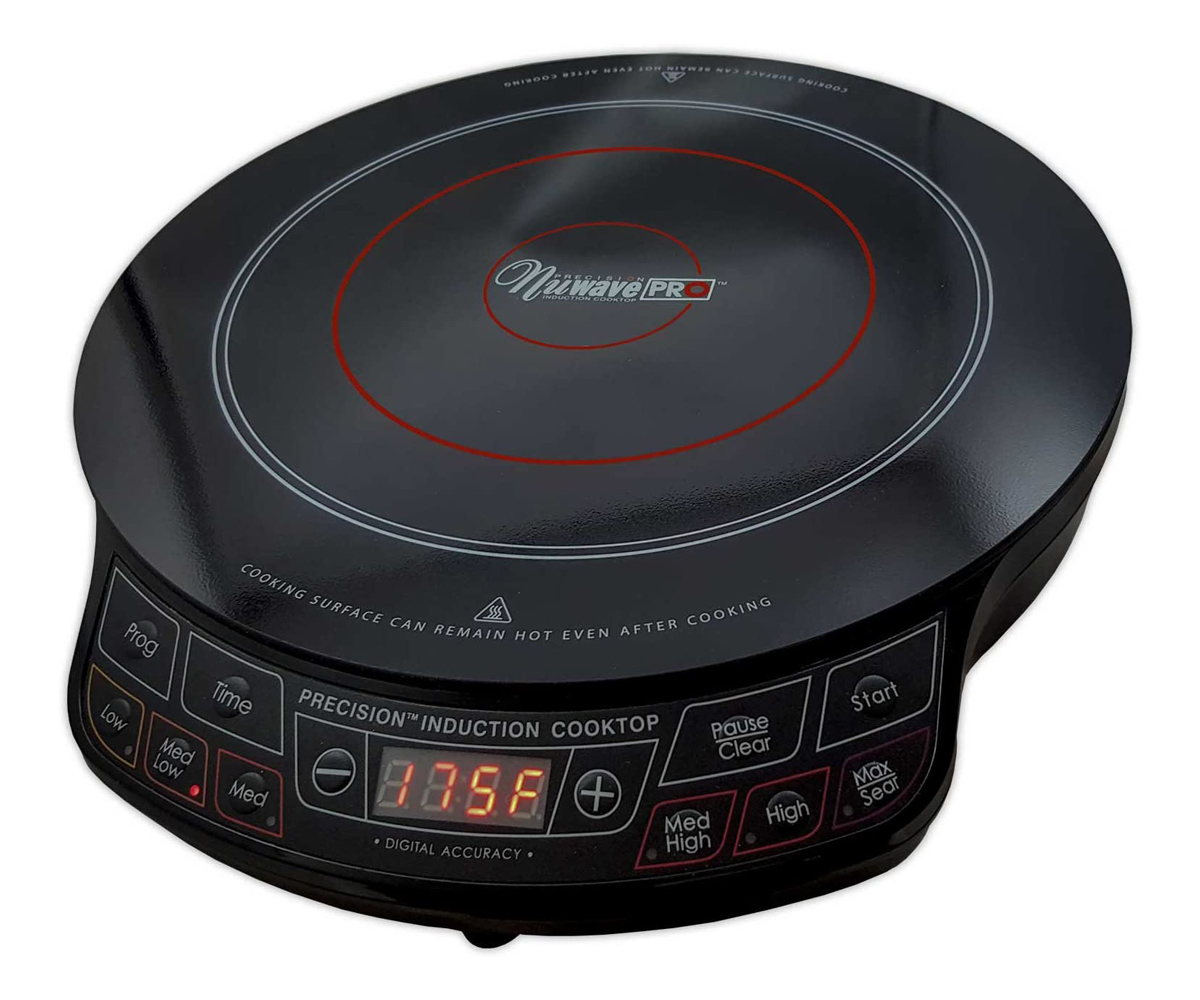 Product Highlights
The NuWave PIC Pro Induction Cooktop comes in looking stylish with a button pad interface and circular design. The Buttons are straight forward with words for each function. The digital control panel has an LCD monitor that indicates the range where it is set.
Its timer can reach from having 1 min increments and can be programmed to go on for a maximum of 100 hours. Its super powerful heating can reach 100 F to 575 F, which is more than what a conventional Induction Cooker can do.
The NuWave PIC Pro has six different preprogrammed temperature settings making it a versatile cooktop for on-the-go users.
It has superb built-in safety measures like the voltage system warning where an error message will appear on the LCD monitor if the Cooker is plugged into the wrong voltage.
The Good
This Induction Cooker can produce heat that surpasses most of its single cooking induction competitors. Temperature can go up to 575 F.
The Bad
The round design makes it hard to store in a compact environment. Weight distribution from having a round and flat bottom design makes it hard to handle around.
Pros:
This Induction Cooker is one of the most robust portable Induction Cookers out there
It has a lot of functions, including safety measures and six preprogrammed temperature presets.
User-friendly interface
Cons:
Steep price for a stand-alone cooker.
Exaggerated design
Mostly compatible with the same brand induction cookware only
#4 Max Burton #6450 digital LCD 1800W Induction Cooktop Counter Top Burner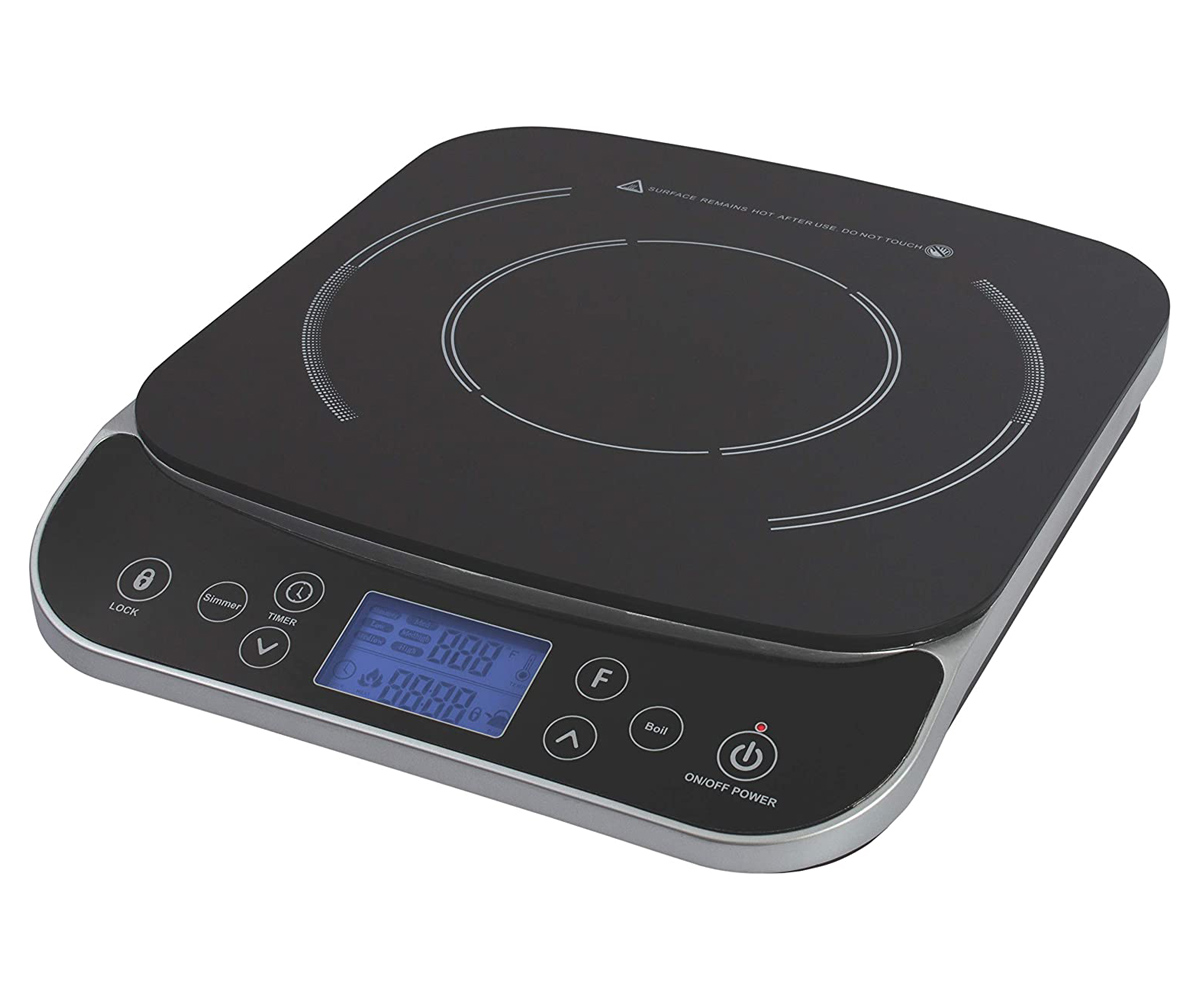 Product Highlights
Max Burton #6450 is a 1800W Induction Cooktop that uses 120 V AC Power, which is an American standard. The LCD monitor offers you a variety of different viewing options. With indicators located in the top and bottom parts of the monitor, it can help you make precise decisions on the spot.
It has one-touch a simmer button to help you in frying dishes. A one-touch boil feature that allows you to heat up your liquids faster.
It is compatible with any induction-ready cookware as long as they have a flat surface for even cooking.
The Max Burton #6450 Induction cooktop also has a 6010 induction interface disk, that makes any cookware you have compatible with the Induction Cooker.
Its safety features offer an auto shut down in the case of overheating, over-voltage, and if the Cooker is running for 3 hours already.
The Good
It is a compact cooktop that is lightweight and easy to store. There is a clear segregation of the digital Interface with the induction cooking site.
The Bad
It's pricey for a stand-alone Induction Cooker.
Pros:
Simple and great controls
Easy to use and compact
Heats up quickly
Cons:
Beeps might be too loud and annoying
Loud Fan
#5 Copper Chef Induction Cooktop (Cooktop and 11″ Casserole Pan)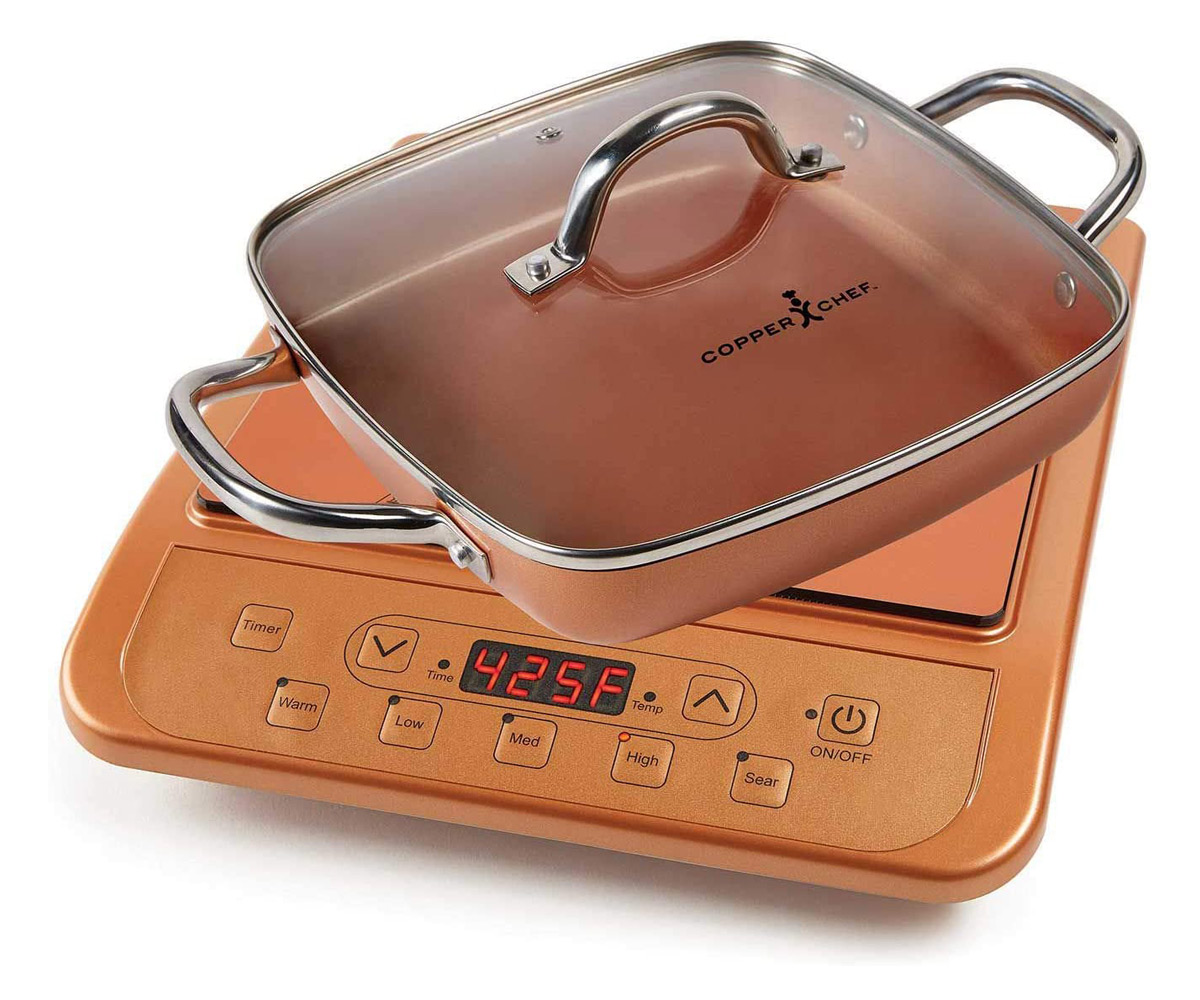 Product Highlights
The Copper Chef Induction Cooktop is a top-of-the-line Induction Cooker that is quite popular these days. It stands out because it has a copper color, unlike the traditional black and grey shade most Induction Cookers have. Its Interface is packed with nine buttons. The buttons are square, upfront, and with distinct functions.
It has clear segregation of its digital Interface from the induction cooking site, which is suitable for easy button navigation. Its digital Interface is also slightly angled for the eyes for easy viewing.
The Copper Chef Induction cooktop comes with a preset of low, mid, high-temperature settings. There are a timer feature and a programmed button for warmth and sear, already embedded in its Interface. The Cooker comes with its Casserole Pan made for versatile cooking and is for free. Some Induction Ready Pans are compatible with the copper chef cooktop.
The Good
It comes with a free casserole pan that you can use upon purchase. It has a modern design, and it can easily be stored.
The Bad
The programmed warm setting heats higher than the low-temperature setting. Where warm is 150 F, and Low is 100 F. It should have been the other way around.
Pros:
Works well with other induction ready pans
Has an LCD monitor
Lightweight and portable
Cons:
No fry features
No diagrams in buttons
Price is steep for a single stove induction cooktop
Buyer's Guide
Let's break down what you need to do to narrow down and buy the best portable Induction Cooker for your RV or van:
Size of Your RV or Van
Check on the space your RV or van kitchen has, make sure that the Cooker you buy fits well and can be stored easily. Portable Induction Cookers usually come in a stand-alone burner, which will only limit you to make one dish. To plan on making more dishes for a few people, best to check out Induction Cookers that have more than one induction burner.
Your Budget and Cost of Induction Cookers
Induction Cookers are at times pricey since this technology is relatively new to the market. So, it is best to compare the right functions and features that fit your daily needs. Write down a budget and ways you would like to prepare your dishes. Pick something reasonable for what you require and get your money's worth.
Features
Make sure you weigh out features since these are what make the brands of popular portable Induction Cookers stand out. A unique feature can be the selling point of any product, so make sure these features lean towards your requirements.
Power
Portable Induction Cookers require less power to use as compared to an electric stove heater. So, make sure you check the Induction Cookers voltage outputs to see where the Induction Cooker can help you to save the most power. This will give you more battery life for your RV or van, which is useful for performing other activities aside from cooking.
Energy efficiency
Most Portable Induction Cookers are already energy efficient. It is best to choose the latest manufactured portable Induction Cookers in the market today, to reap the technological benefits for energy efficiency. So far, there are Induction Cookers that are designed with inverters making it more energy-efficient than usual.
FAQs
How hot do Induction Cookers/Burners get?
Induction Cookers usually start at around 100 F to 460 F for a standard stand-alone induction burner. There are induction burners that surpass these limits—making it possible to cook and sear at a higher temperature.
How much power does it consume?
Power consumption will depend on how high your temperature is set. The higher the temperature, the more power is consumed by an Induction Cooker. It can absorb around 10 – 20 amp for an hour of cooking your dishes.
How to clean an Induction Cooker?
Cleaning an Induction Cooker is very easy. It is usually done with a damp cloth, wiping away the areas on the surface that are dirty. The dirt falls off the edge with no barriers and can easily be disposed of.
How do I repair an Induction Cooker?
Since Induction Cookers are electric, there are a lot of well-trained electricians that can quickly repair a faulty Induction Cooker. Although brands would suggest that you call their specific hot-line or call center, to aid you in your repair, this can also give you a bigger chance to get a replacement if the source of the issue was from manufacturing.
What pans can Induction Cookers use?
Induction Cookers use individual pans that are induction ready. There is versatility in the pans you can use with some brands, while others prefer a lock on their cookware. There are also work around magnetic devices that allow non-induction ready pots to work performing as an adapter.
Conclusion
To sum it all up, having the luxury of preparing a well-balanced meal without the use of an open flame is a must-have for your RV or van. Fire contributes to most of the accidents at the campsite. So it is best that you purchase your Induction Cooker right away to replace that gas burner you have.
The 5 best portable Induction Cookers for RVs and vans is a guide that will help you decide what Induction Cooker is best suited for you. Ultimately it comes down to what you want in an Induction Cooker and the needs you have for it.
A reliable cooking source is a must-have for any Microadventurer or outdoor enthusiast. So choose wisely, weigh out the pros and cons of each product until ultimately having to choose the best one for your disposal.
Want to know more about RV? Our friends from Bayside RV would be happy to help. Go to www.baysiderv.com for more tips.