Gear for Havasupai That You Can Afford To Carry Down
Havasupai (also known as Havasu Falls) is one of the best backpacking areas in the southwest and hosts a whole host of Microadventures. I commonly refer to this area as an "adult playground." While a 10-mile hike into the campground may seem daunting for the non-backpacker, the sheer amount of waterfalls, swimming areas with bath-water temperature, hiking trails, and dozens of grand vistas of canyons and water is enough to motivate even the laziest individuals to pick up a backpack and start trekking.
Every year on February 1st, permits open up for this coveted paradise in the desert. Assuming that you snagged permits, what exactly should you bring on a trip to Havasupai?
For most backpacking trips, I would advise a lean-and-mean packing strategy. As Susan Heller Anderson once wrote, "When preparing for travel, lay out all your clothes and all your money. Then take half the clothes and twice the money." Normally, I would absolutely recommend that strategy but Havasupai is a very different animal.
What Makes Havasupai so Different that I Need to Pack Different?
For one, Havasupai is a tropical paradise. Most people view their visit to the region as a time to catch a tan, swim in the waterfalls and swimming holes, or explore the side canyons. Basically, a lot of the time is spent in a swimsuit. Most of my visits consisted of being in a swimsuit from mid-morning to the evening and then in sleeping clothes the remainder of the time. So each time I visit Havasupai, I end up taking less and less clothes.
Being that Havasupai is technically on the Supai Reservation, there is an actual town that is within walking distance of the main campground and waterfalls. The town of Supai hosts a convenient store with a surprising variety of groceries (although a bit more pricy that a normal grocery store) a casual cafeteria/restaurant, and at least two "Indian taco" stands. Packing tons of freeze-dried or ready-made meals for each meal during your visit is not completely necessary. In fact, every time I have visited Havasupai, I end up eating at least two meals at one of the Supai taco stands (in an effort to support a local economy and because I get lazy and don't want to cook) and I actually donate most of the food that I packed in the campground.
Also worth mentioning, lots of backpackers utilize the Supai's mule trains and a helicopter to transport their gear down the canyon. These options make it even more tantalizing to pack items that you normally wouldn't even think of bringing with on a backpacking trip.
So What the Heck Should I Pack for Havasupai?
Because it is not totally a make-or-break situation that requires lots of clothes and food, your pack can be freed of space and weight. Assuming that you minimize your pack by reducing the amount of clothes and food, here is a list of my top 10 items I always bring with to Havasupai:
#10: Gatorade
Regardless of the season you're in Havasupai, you're going to be spending a lot of time hiking, swimming, and being in the sun. After long days on the trails, quenching your thirst with water, sometimes doesn't do the trick. It is not uncommon to hear of cases of hyponatremia in Havasupai and the Grand Canyon region- getting enough sodium in your body during your time on the trail is extremely important. Gatorade is a great way to maintain appropriate sodium levels throughout your stay in Havasupai. Obviously, bringing actual Gatorade bottles for the trip can be a little cumbersome. Powdered Gatorade is available at most grocery stores- either in bulk or in individual packets.
If you're looking for a more natural, homemade recipe, check out this recipe by Wellness Mama.
#9: Portable Speaker
Outside of quiet hours at the campground, it is a very lively place full of games, friends catching-up, and of course, lots of music. While I'd recommend keeping the speakers off the trails (out of respect for other hikers), music can make the campground area that much more fun. Taken from LiveWire, they have ranked eight outdoor speaker systems for that will all work great for Havasupai. When picking a speaking for the trip, pick something that can be hung from your pack or a tree.
#8: Stowaway Pack
You might be hiking in with a 40-65 liter pack depending on: the season, how you distribute weight amongst your camping companions, or whether you utilize the Supai's mule or helicopter service. While that size pack is great for the 10-mile trek into Havasupai, that size is overkill for the day trips once you're down there. It doesn't make sense to carry a towel, your lunch, water, sunscreen, and your odds-and-ends in a huge backpacking pack. Thank God for stowaway packs!
If you've never used a stowaway pack, it should absolutely be your next outdoor equipment purchase. For those not familiar, stowaway packs, like the one below, are light-weight travel backpacks that can
be folded in on themselves and packed down to the size of a sandwich. These packs are absolutely amazing for Havasupai. Pack your water, food, camera, and odds-and-ends for the day, and off you go!
#7: Camera Tripod
While it might seem a little odd to lug a tripod down to the bottom of Havasupai, it is worth the extra weight. Backpacking tripods are not terribly pricing and make all of the difference. When looking for a tripod for Havasupai, look for one that is water-resistant, light-weight and extends full-width. We have all seen photos of Havasu Falls, Mooney Falls, and Beaver Falls with the silky-smooth waterfall amongst the blue-green glow of the pools of water below each waterfall. Without bringing a tripod along, it is difficult to capture photos like this: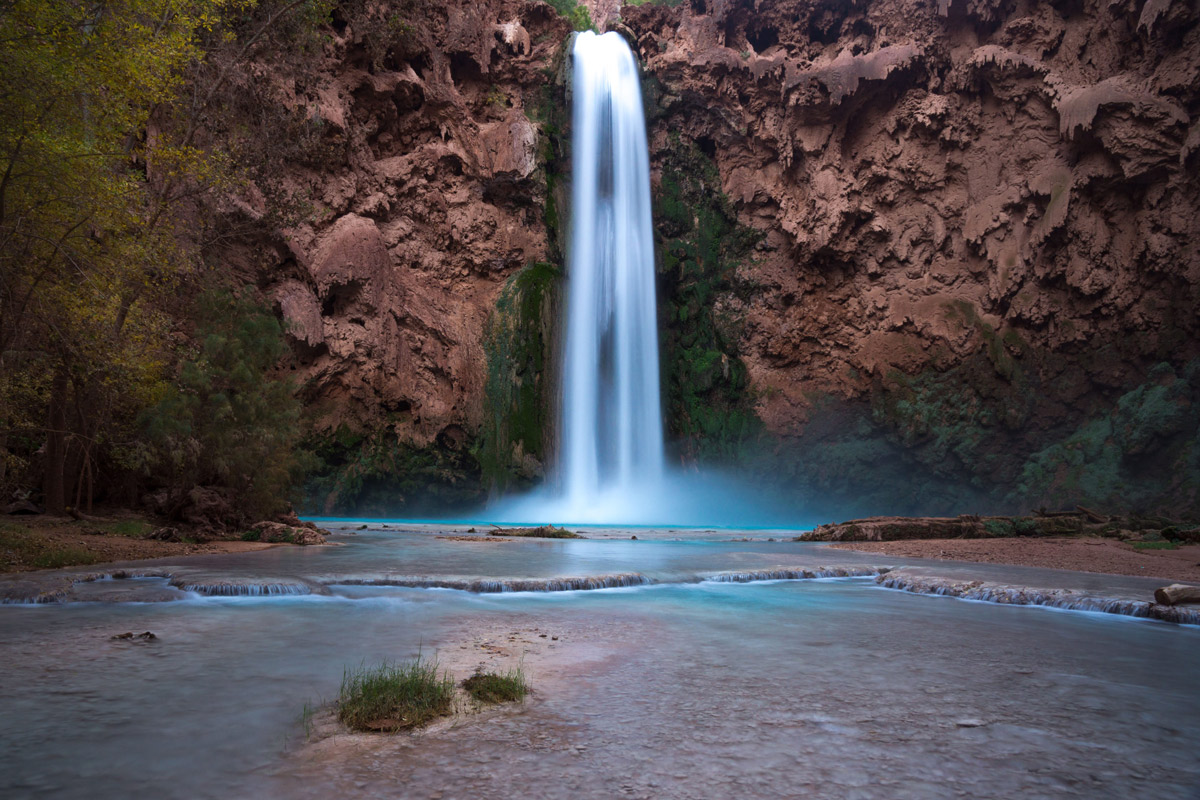 Without a tripod, you're not going to get a photo like this of Mooney Falls!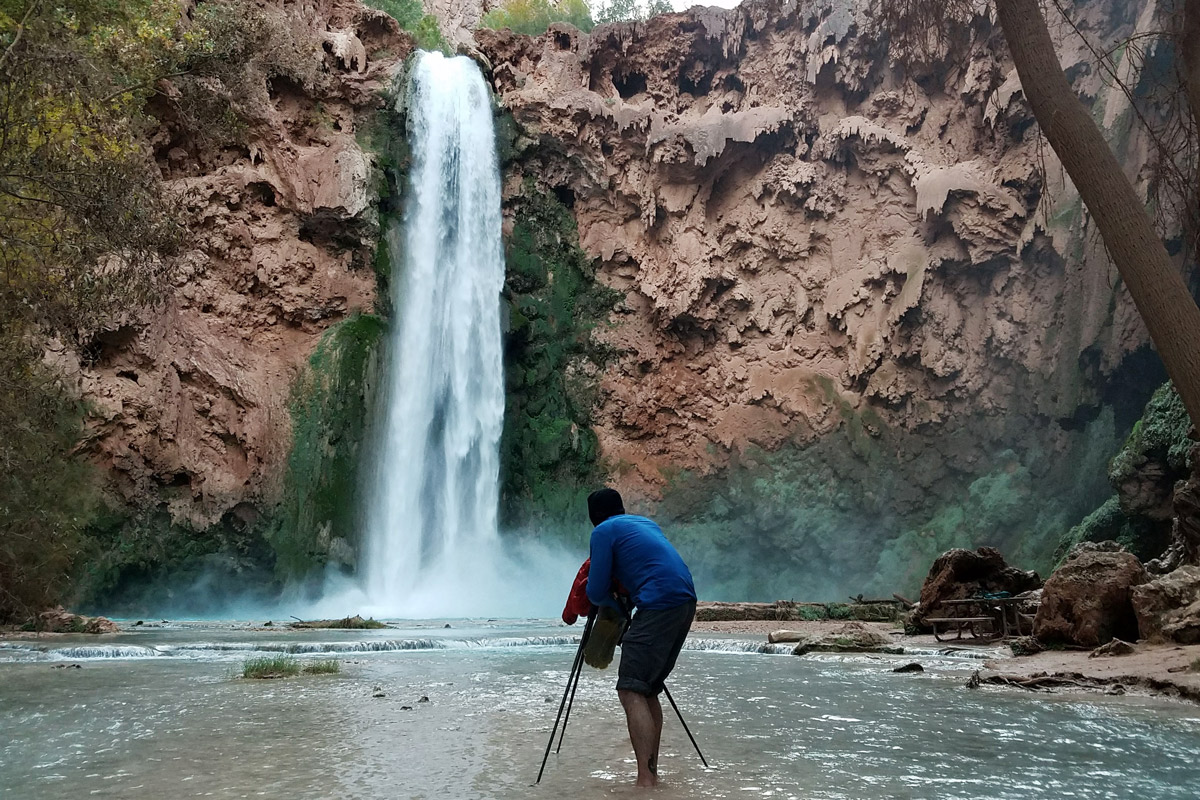 A look behind-the-scenes of how the previous photo of Mooney Falls was taken. *Hint- a tripod was used!
#6: Book or Journal
Bringing a book, journal, or even an audiobook serves a few purposes. While you might spend a lot of time adventuring and exploring the area, there are plenty of opportunities to kick back and relax. Immersing yourself in a good book is a great way to calm your mind and melt away the stress of everyday life.
Let's face it, Havasupai is a very inspirational place and is a perfect place for self-reflection and jotting down any new ideas for your life's pursuits. Bringing along a journal to document all of your thoughts and ideas will more than justify the added weight of this luxury item.
#5: GoPro
For those of you who are looking to become Insta-famous or impress your friends and family with your Microadventure-lifestyle, bringing down a GoPro is a must. Although this luxury item doesn't add a lot of weight to your backpack, the camera and the accessories can take up space in your pack.
If possible, look at bringing along a GoPro that has the built-in screen. This will curb the "guessing" of whether or not you are getting the content you want. The built-in screen will also allow you to not rely on your smartphone in areas where you could drop your phone in a giant pool or at the foot of the waterfalls.
#4: Cards or a Board Game
Nights come early in Havasupai. Because of how deep you are in the canyon at the campground, the sun sets a lot earlier than above the canyon walls. You will find that unless you have post-sunset entertainment, boredom in your group can take hold! A deck of cards or packable game will make all the difference post-dinner and pre-lights-out.
#3: Water Shoes
This goes without saying: water shoes will make or break your trip to Havasupai. While the trek to the campground does not warrant using water shoes, if you want to venture to other parts of Havasupai, water shoes are absolutely essential. Keens' water shoes/sandals are the Havasupai staple but other less-expensive options will suffice just fine!
#2: Backpacking Chair
Often overlooked as a luxury item when backpacking, a collapsable chair can change the camping game. While the campground at Havasupai does have picnic tables, to be frank, they totally suck. Bringing along a chair will make lounging, eating, playing games, and chatting that much more enjoyable.
Fortunately, the ergonomics for light-weight backpacking chairs have come a long way in the last few years. My personal backpacking chair weighs little over a single pound and can hold 250 pounds!
99 Boulders has a great article reviewing the best backpacking chairs of 2018.
#1: Hammock and Hammock Straps
The most important luxury item to bring to Havasupai (besides water shoes) is a hammock. During the summer, the campground is home to around 40% hammock campers and 60% tent goers. With the sheer number of trees next to the bubbling, small waterfalls and the warm nights at camp, it is easy to understand why hammock camping is so popular. Camping under the stars in a hammock is the best way to experience the sounds of the area and the insane number of stars in the night sky.
Rain does occur time-to-time, so don't forget to bring a tarp if rain is in the forecast!
Summarizing
Havasupai is a playground and one of my favorite overnight spots in the southwest. There is so much to explore and see in the region, it's hard to wrap you're head around. In addition, the accommodations that are available in the nearby Supai town- the cafe, food stands, mules, and the helicopter make taking luxury items to the campground very easy. While I'm not suggesting to bring the kitchen sink down, having a few luxury items at the campground will make your experience at Havasupai that much more enjoyable.