Hiking the Toadstool Hoodoos: What You Need to Know
Located just west of Big Water, Utah, The Toadstool Hoodoos Trail is a very popular 1.8 mile trail for southern Utah/northern Arizona travelers. Although, less of a "Microadventure" of sort, this hike is more about experiencing a type of geologic feature that is straight out of the movie The Martian.
The trail features dozens of balanced rock formations that resemble mushrooms – long stems with a "cap" on top of the rock. The trail takes you along a dry wash and into an area that feels as if you landed on Mars. The dozens of toadstools rest alongside a colorful landscape of badlands and sandstone cliffs. It is truly an amazing place!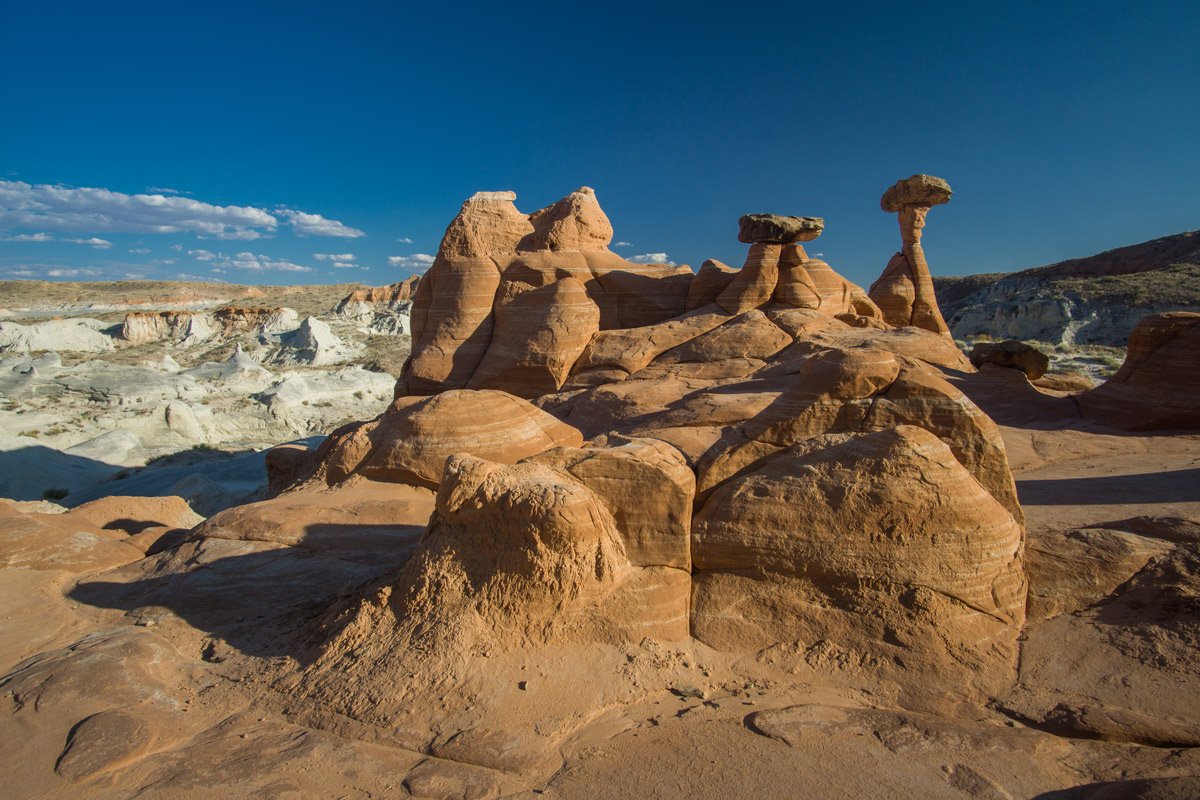 View of the main hoodoos off of the main Toadstool Hoodoos trail.
How to Get There:
From Page, Arizona, take Highway 89 north/west towards Kanab, Utah.
After you reach Big Water, Utah, drive an additional 12 miles on Highway 89.
On the right near 12 miles, you'll see a parking lot and the trailhead – watch out, the parking lot comes up quick!
You've arrived!
If you hit the Paria river, you've gone too far!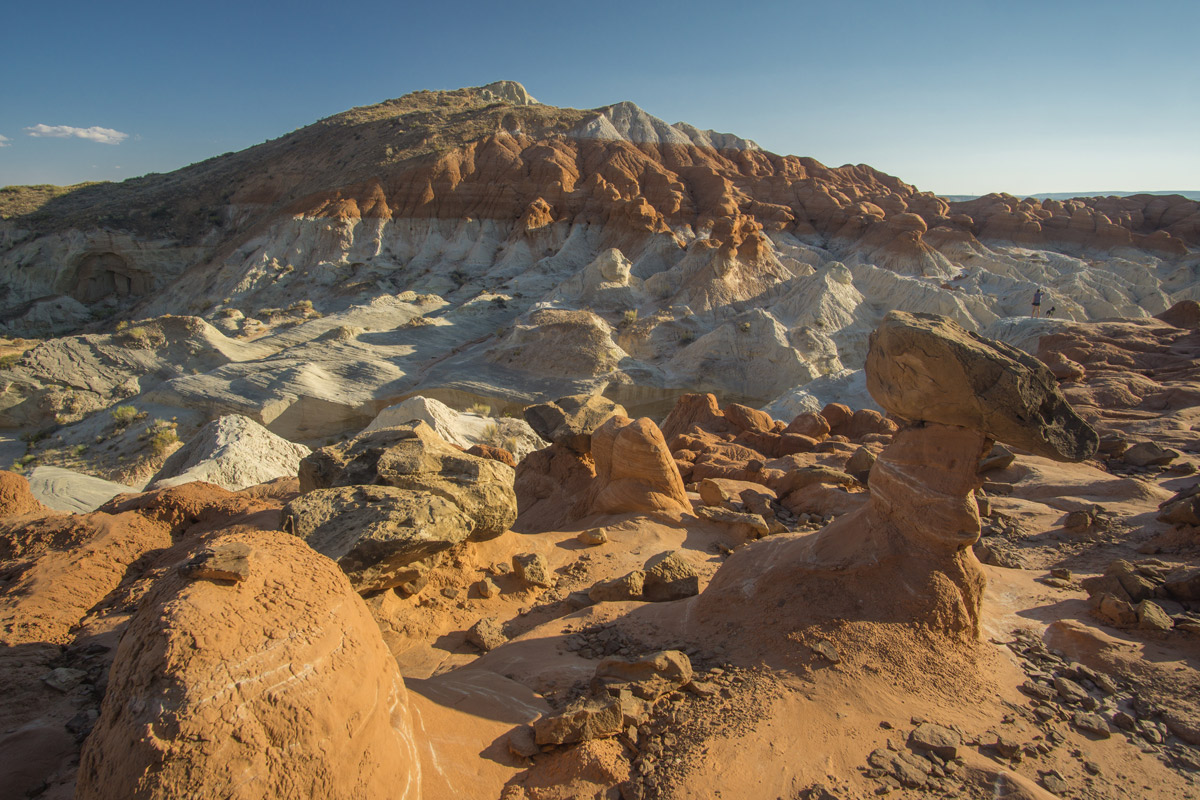 Overlook at the top of the trail.
What to See and Do When You're There:
The toadstools! In just over a mile on the trail, you will come across to the toadstool garden. There is a main area with a dozen or so large toadstools and several smaller ones. What makes this area particular special is hiking from the main area in search of more toadstools. Hike left or right of the main area and you'll be greeted with side canyons full of additional multi-colored ones.
This area is a photographer's paradise. The shape of the toadstools and their dramatic shadows make for interesting photos. Plus, the hike it free!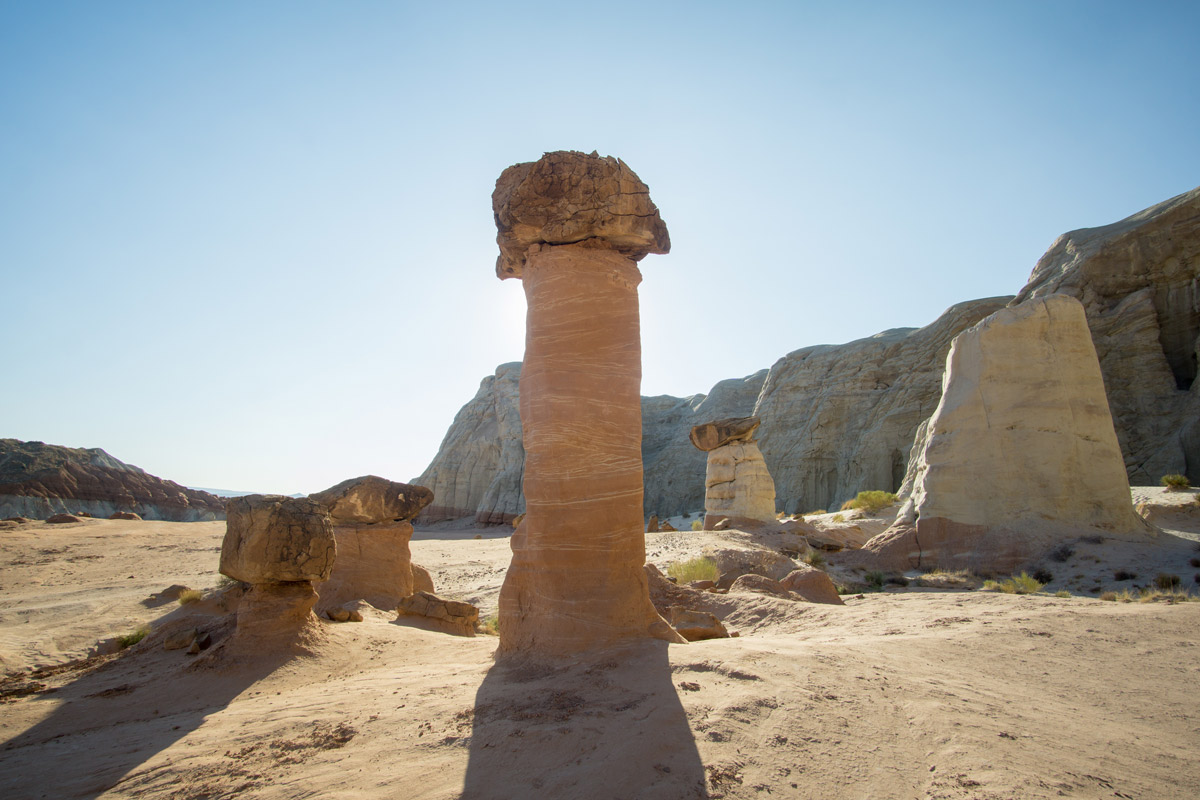 Close Up of a one of the bigger hoodoos. This one is almost 30 feet in height!
Because of its location in southern Utah/northern Arizona, the temperature is consistent most of the year. The time of year matters less than the time of the day. Plan on visiting just before sunrise or during golden hour later in the day. The toadstools cast very unique shadows and glisten in the morning and evening sunlight.
So when traveling on a Microadventure in southern Utah or northern Arizona, make sure you stop for an hour and visit the toadstools on the Toadstool Hoodoos Trail!