It's obvious that Utah has some of the best slot canyons not just in the United States but the entire world. There are slot canyons in every corner of the state enticing Microadventurers, hikers, backpackers, and photographers alike to squeeze their ways through the tight passages and turns that are at the very core of Utah's slot canyons.
With so many slot canyons in Utah to hike, it's easy to get overwhelmed and have decision-paralysis when trying to figure out which ones to hike. There's only so much time! This is why we've gathered a list of our favorite slot canyons in Utah.
To get you prepped for your next hiking or backpacking Microadventure in Utah, here are our 10 favorite slot canyons to explore in Utah:
#10 Little Wild Horse Canyon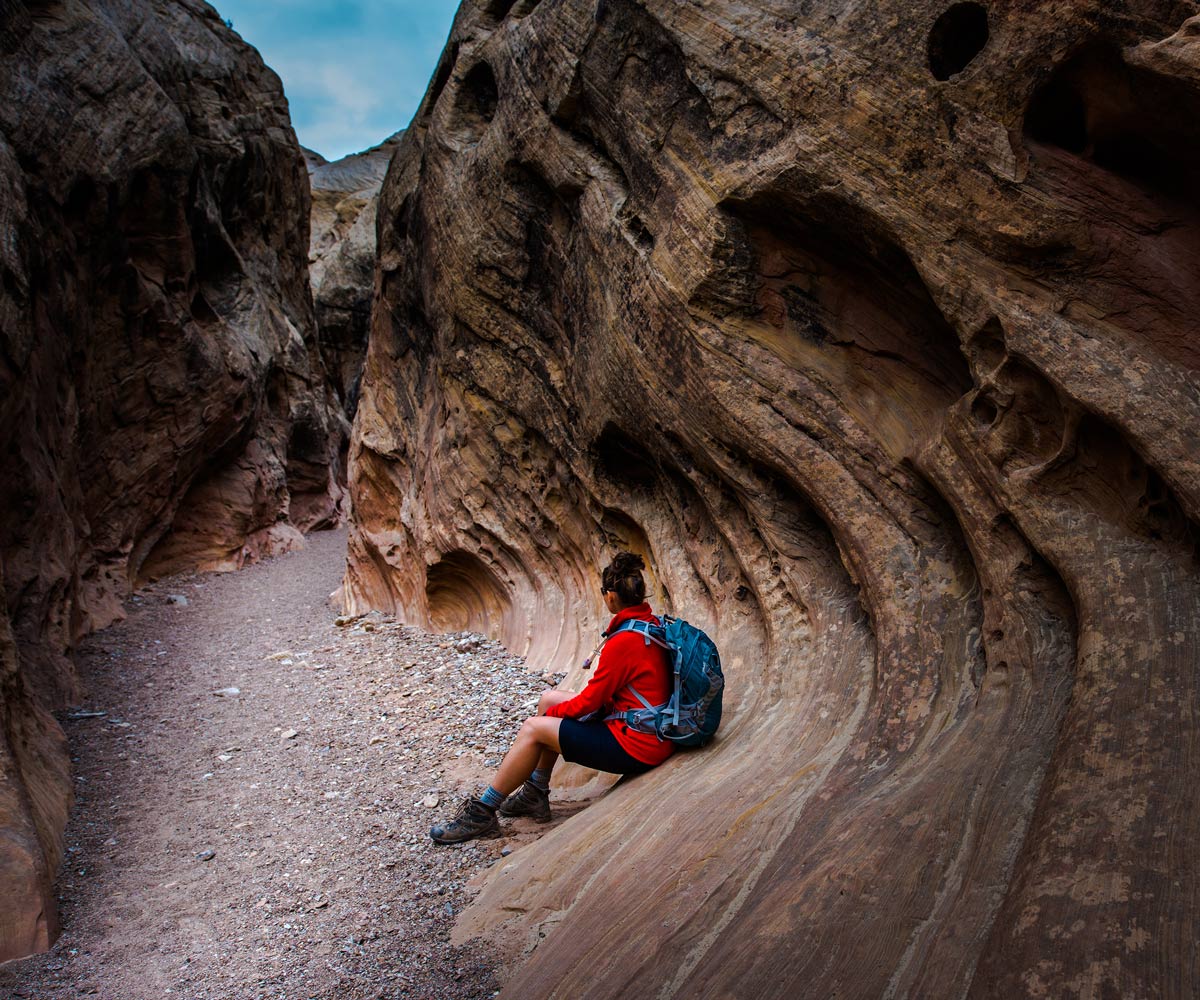 Near Goblin Valley, Utah
Little Wild Horse Canyon is a popular 8-mile trail located near Hanksville Utah. It is a classic slot canyon with predominantly sandy terrain against huge canyon walls. Expect narrow sections where the slot canyon is only a few feet in width.
What to know about Little Wild Horse:
There are long stretches of narrow passageways that are beautifully colored and sculpted through the ancient rocks. The canyon is usually pretty dry, but there are a few pools of water in the spring and summer months- bring a pair of water shoes or Keens just in case!
#9 Ding and Dang Slot Canyon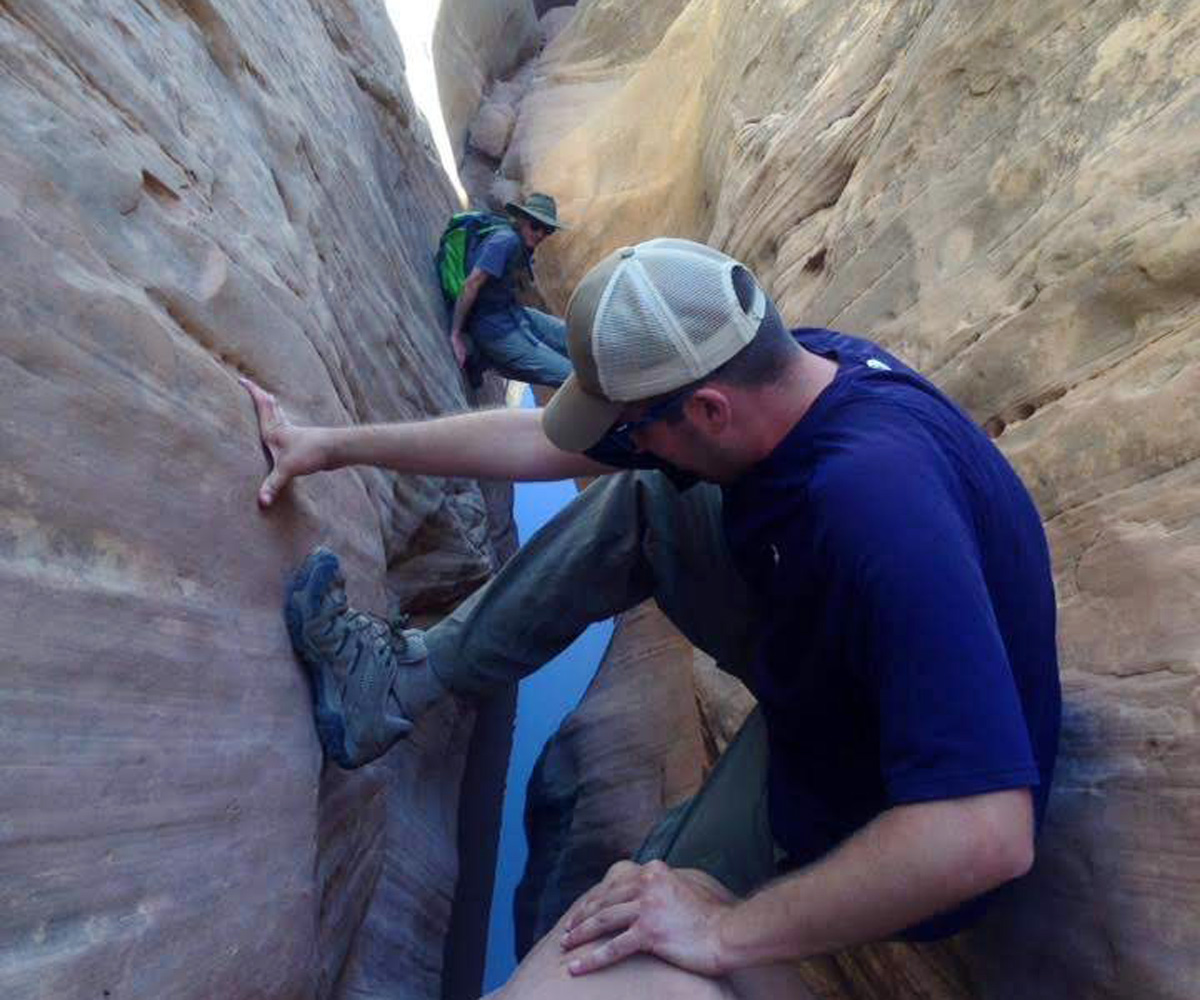 Near Goblin Valley, Utah
Located near Little Horse Canyon in central Utah, Ding and Dang Slot Canyon consists of two parallel slot canyons. Ding Canyon up; Dang Canyon back!
When combined in a single trip, Ding and Dang is a beautiful hike with beautiful scenery along the way. It will take you approximately 4-6 hours to hike the whole thing: we clocked 5.2 miles round-trip for both of them.
What to know about Ding and Dang:
While the hike is classified as a moderate-difficult hike, there are several technical sections and places where the trail cliffs out. From our experiences, we would encourage you to have some other slot canyon hiking experience under your belt before you tackle this trek. Expect pulleys and hand ropes, narrow passages, drop-offs, water at times, and jutting rocks during the hike.
Ding and Dang aren't as scenic as the other slot canyons on our list but the variety of hiking and trail obstacles and conditions make Ding and Dang part of our list.
#8 Willis Creek Slot Canyon
Near Cannonville, Utah
Willis Creek slot canyon is a great easy and accessible hike, especially for new hikers, but it still provides beautiful views and will leave you feeling accomplished. The hike is a 4.8-mile round trip, but if you want to make it a bit shorter you can just explore the narrows section of the hike and then turn around, making it a very doable 2.6-mile round trip. The hike involves crossing water, usually, a shallow creek that doesn't come up but a few inches, but still offers a gorgeous and easy afternoon.
Expect views of gray, black, and orange sandstone walls. Because Willis Creek Slot Canyon is wider than most of the slot canyons on our list (with the exception of Coyote Gulch), it's a great hike during the afternoon. You'll have brightly lit walls against the blue backdrop of the desert sky.
What to know about the Willis Creek Slot Canyon:
Willis Creek slot canyon is a great beginner slot canyon because of its flat trails, absence of rock gardens, and its short distance. As mentioned before, there are sections of the trail that can feature water so it's advisable to bring a set of water shoes or Keens along. During the dog days of Summer, the trail stays relatively dry, flat, and sandy.
#7 Coyote Gulch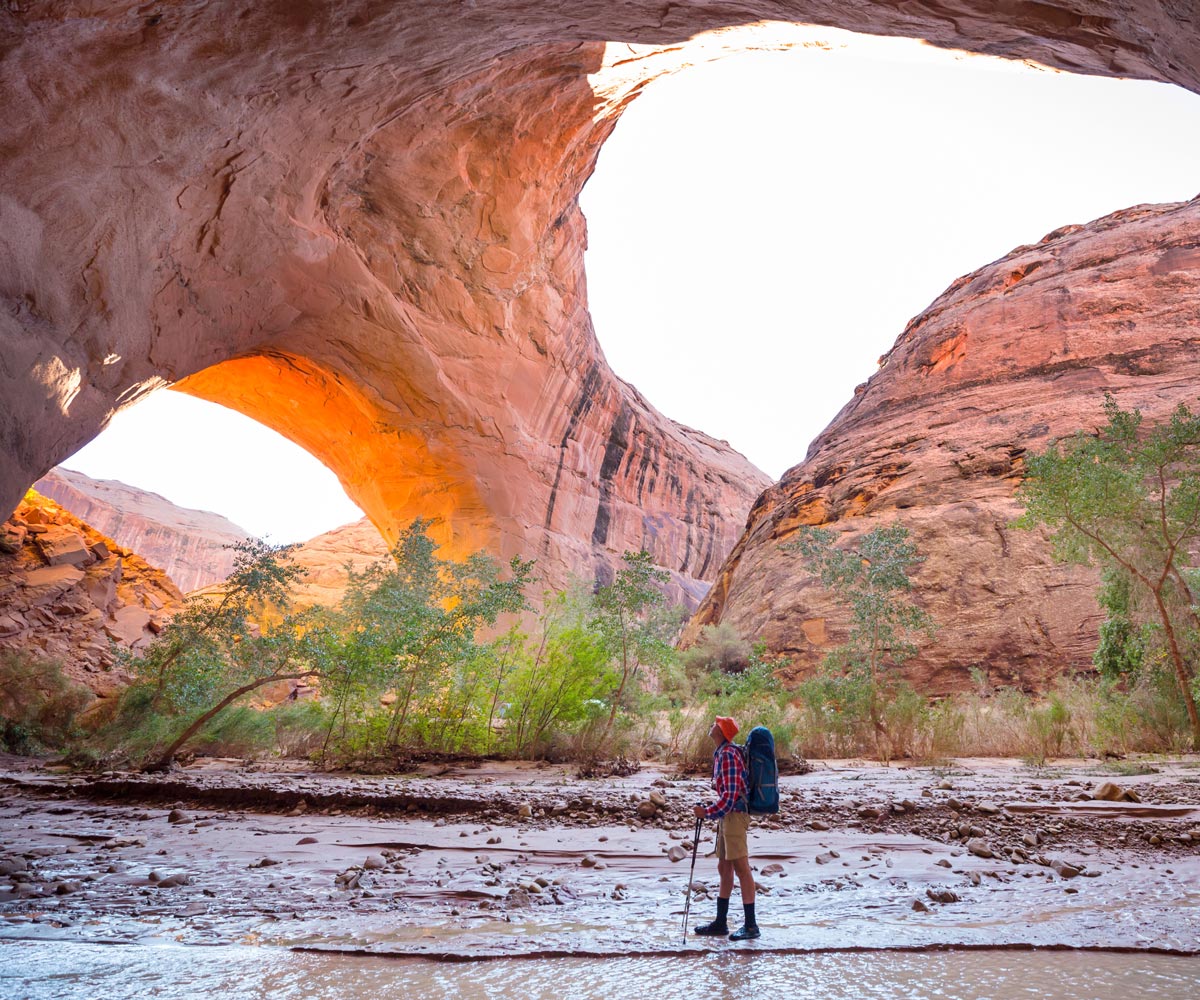 South of Escalante, Utah
While technically Coyote Gulch is not a slot canyon, this is a gorgeous hike that provides some fun adventures and obstacles along the path. Nestled in the heart of Escalante canyon country, the Coyote Gulch trail has several waterfalls, a natural bridge, and two arches that create a relatively easy route for backpackers and hikers. This semi-narrow canyon snakes down through the red rock country and joins the Escalante River and is about 11.5 miles round trip and would classify as a strenuous or advanced hike that is best suited for an overnight adventure.
What to know about Coyote Gulch:
When you make it to the bottom of the Coyote Gulch, you'll be greeted by a crystal-clear creek nestled at the foot of huge towering cliffs. Hiking downstream of the river will cross paths with the mighty Escalante River as you gave upon the monstrous Steven's Arch in the distance.
Hiking upstream, you'll navigate through the creek and its many waterfalls. At almost every point staring up towards the sky will be framed by sublime orange and red sandstone cliffs.
The hike in is brutal outside of early Spring. Temperatures in the Escalante area can get into the 100s during the summer. I've personally backpacked through Coyote Gulch twice during the Summer and regretted every minute of it.
Despite the long hike in, Coyote Gulch is an incredible place to camp and explore. Similar to its cousin, Havasupai, you'll find dozens of waterfalls along the trail. Camping is free dispersed and it's common to see tents along the banks of the river.
Once you're in the gulch itself, the hiking is relatively easy- a shallow creek with defined trails most of the time. You'll cross the creek dozens of times as you explore around. It's essential that you bring water shoes like Keens when backpacking to Coyote Gulch.
Despite not really being a true slot canyon, Coyote Gulch overcomes it's fake title thanks to its beauty, numerous waterfalls, and incredible camping opportunities.
#6 Kanarra Creek Slot Canyon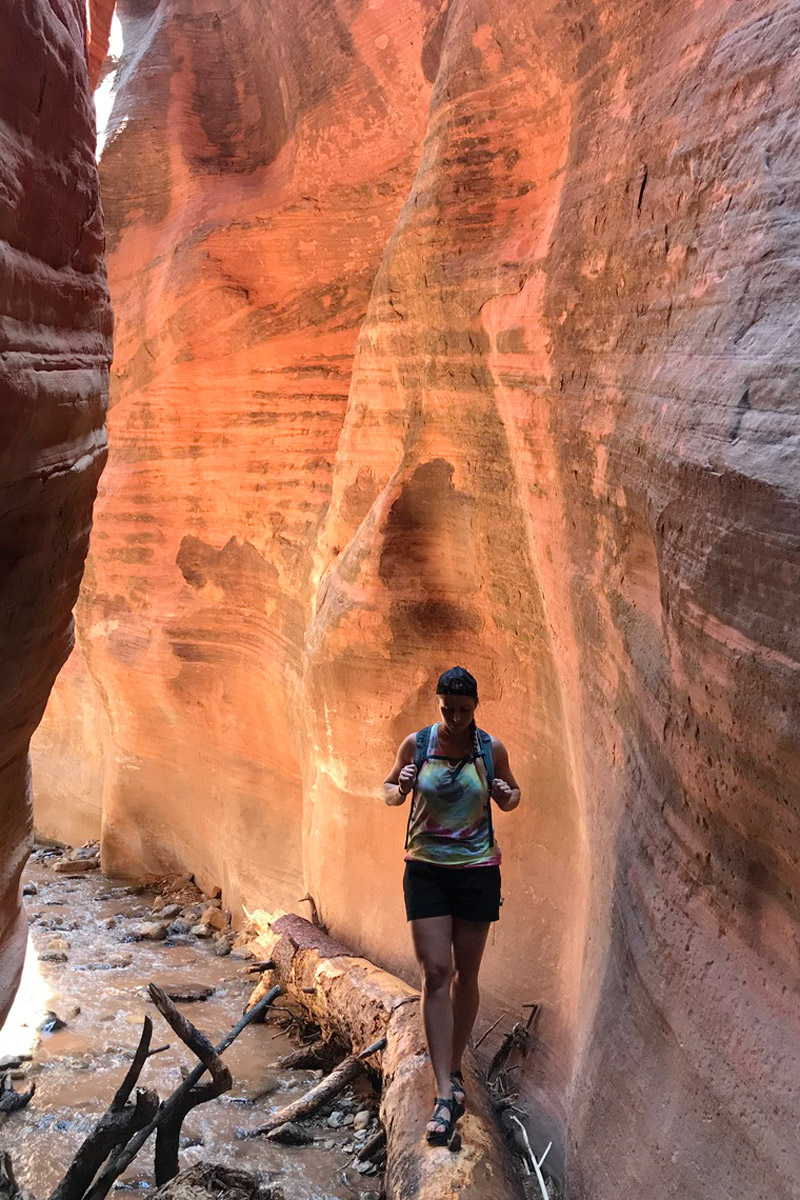 Tread carefully in the Kanarra Creek's slot canyon- you might just end up getting soaked! Photo from Wandering on a Whim.
Near St. George, Utah
Kanarra Creek slot canyon is a beautiful and very photogenic canyon just outside the Kolob Canyons and close to Zion National Park. Approximately 3.5 miles round trip, this hike is unique in that you can customize it to make it more difficult or a bit easier depending on your comfort level and hiking experience.
Expect to see waterfall after waterfall as you navigate the many rocks, cliff, and ladder obstacles as you hike upstream. This is a true slot canyon complete with twists and turns and smooth sandstone walls that grow orange in the afternoon light.
What to know about Kanarra Creek Slot Canyon:
What can make it more difficult are the two waterfalls that flow all year long and block upstream travel through the narrow slot passageway. You will be able to pass them with the natural limbs and placed ropes but if you want to bypass this part, you can just climb the falls and continue up to the canyon.
Permits are required to hike Kanarra Creek slot canyon. Permits currently cost $12 per person and can be obtained online or in-person at the trailhead if not sold out for the day (online is recommended as this is a very popular destination).
#5 The Narrows in Zion National Park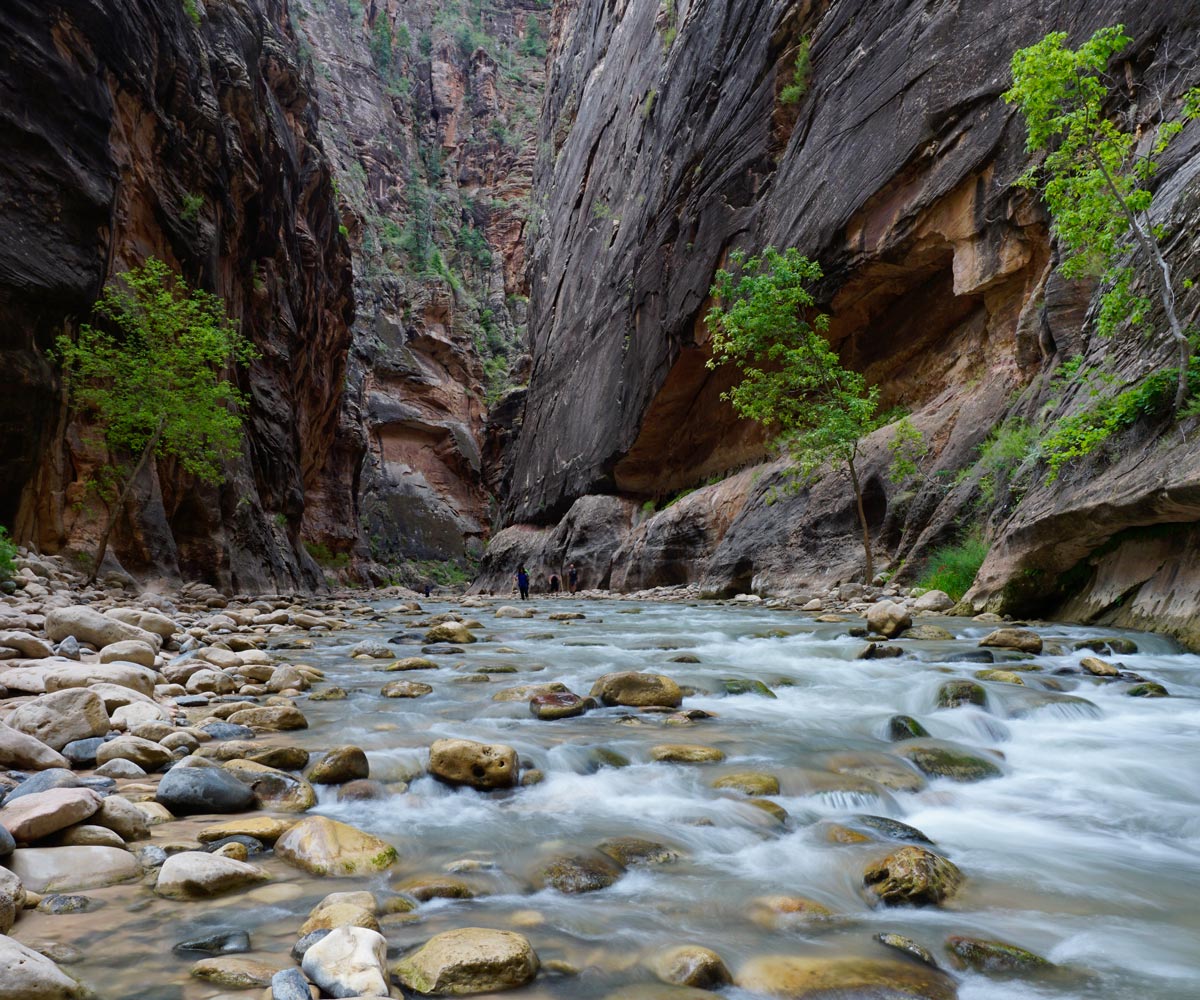 In Zion National Park
One of the most legendary spots in Zion National Park, the Narrows are one of the most traveled slot canyons in the state. The trail is essentially the Virgin River which runs through part of Zion and is a very popular spot to hike.
The views are as legendary as the hike itself. Expect grand views of the tall canyon walls with dozens of waterfalls and greenery sprinkled throughout your hike.
What to know about The Narrows:
While technically a little too wide to be considered a slot canyon, we've added it to our list because it contains all of the attributes a normal slot canyon would: route finding, scrambling, being wet, and extraordinary fun. The canyon has twists and turns along with very narrow passageways which will mean you have to pass through pools of water, sometimes wading into knee-high or higher water depending on the season.
The Narrows have soaring walls that sit at the base of the Virgin River. Most of your time in the Narrows will be spent either in the Virgin River directly or with wet feet as you hike along the river's banks. Be prepared for cold water throughout the year- we actually recommend using a dry suit (for your lower half) and insulated water shoes or "booties" from late fall to late spring. The water is cold- we cannot understate that.
A lot of times, there isn't a defined trail- especially in the sections where you'll wade in the Virgin River.
The number of huge views, the rock hopping, and river crossings make the Narrows an amazing slot canyon to hike and explore.
#4 The Subway at Zion National Park
In Zion National Park
The Subway is a fairly short slot canyon that lies within Zion National Park near the town of Springdale, Utah. The Subway gets its name because of the quarter-mile-long curved walls of rock that create a tube that resembles a train "subway."
The Subway is potentially the most famous and popular slot canyon to explore in the state of Utah.
What to know about the Subway at Zion National Park
In order to reach the Subway, you're going to have one hell of a hike. The hike includes rock scrambling, water wading, and route-finding for at least 3 miles (if not 4).
During Spring and early Summer, you may even need to rappel down several waterfalls.
As a whole, the Subway is a hike that requires some advance planning and supplies. In my experience, the water is so cold during parts of the year that I needed to utilize a dry-suit to avoid hypothermia.
Dry bags are also essential- don't even think about hiking to the Subway without them.
When you eventually make it to the Subway, you'll be greeted with an incredible (almost eerie) tunnel of sandstone with wading pools of deep, blue water strung about. There's even a 20-foot tall waterfall and deep wading pools to cool off during the dog days of Summer.
A permit is also required to hike the Subway.
There are two ways to explore The Subway. One is from the left fork of the north creek, which is an effort requiring a 9-mile hike. This is a bottom-up hike, and you will have to find routes, go through creeks and do a bit of rock climbing. However, it is comparatively an easier hike than the other option, which is a 9.5 miles top-down hike.
The overall challenge of the hike and intriguing beauty of the tunnel and wading pool beneath are reasons enough to add the Subway to our list.
#3 Buckskin Gulch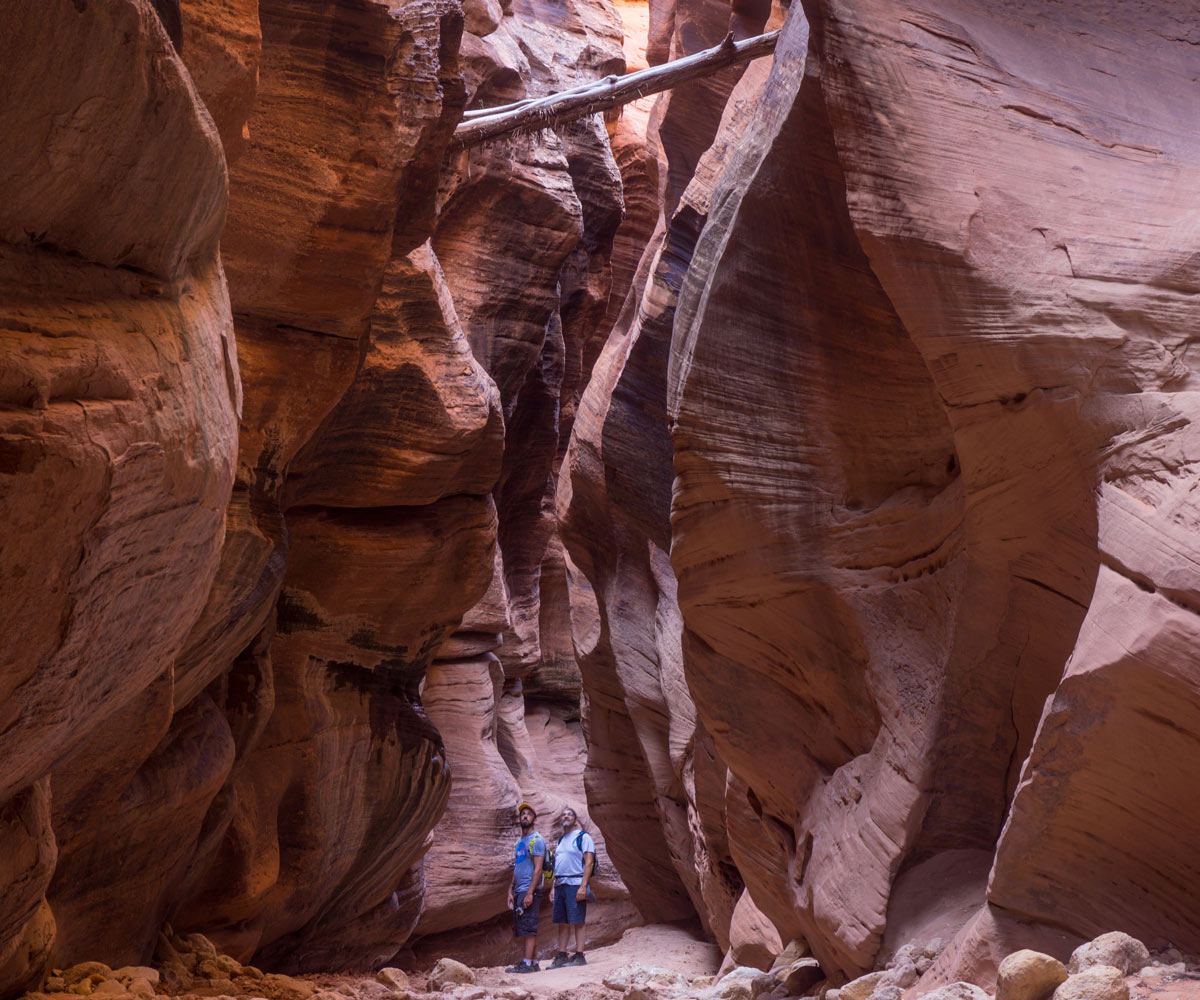 Near Kanab, Utah and Page, Arizona
Buckskin Gulch is an epic slot canyon to hike and backpack. Plain and simple.
I cannot understate my opinion on this. As the longest slot canyon in the world at over 46 miles, Buckskin Gulch is a slot canyon enthusiast's paradise. If you are looking for the ultimate slot canyon experience- Buckskin Gulch is it.
Buckskin Gulch is located outside of Paria Canyon-Vermilion Cliffs Wilderness Area (also known as Paria Canyon) on the border of Utah and Arizona near the cities of Big Water, Utah and Page, Arizona. For a little perspective, as the crow flies, the famous "Wave" is located just a mile and half from the entrance of Buckskin Gulch.
It is a prime location for individuals wanting to day hike, backpack, test out new backpacking gear, or get some scenic photos of this curving slot canyon.
What to know about Buckskin Gulch:
There are way approaches into Buckskin Gulch: Wire Pass side and the Paria Canyon side. If you're coming in from the Paria Canyon side, from either Wire Pass or the Buckskin Gulch's trailhead, expect a desert-type hike for the first mile or so before you actually enter into the slot canyon proper.
From there, expect miles and miles of twists, turns, and narrow passageways in the slot canyon. The width of Buckskin Gulch varies from two feet at its narrowest and 15 feet at its widest.
Most of the 46 miles of this slot canyon consist of flat hiking and wading through shallow water pools with two major exceptions: the dreaded "Cesspools" and the rock jam.
Buckskin Gulch is a hotspot for flash floods. Check the weather in Utah just north of Buckskin Gulch before considering hiking it.
If rain is in the forecast for places north of Buckskin Gulch, DO NOT hike it.
Anyone who is looking to hike or backpack slot canyons in Utah should add this one to their list. Buckskin Gulch is an unbelievable slot canyon thanks to its beauty, narrow passageways, and length.
#2 Peek-A-Boo and Spooky Slot Canyons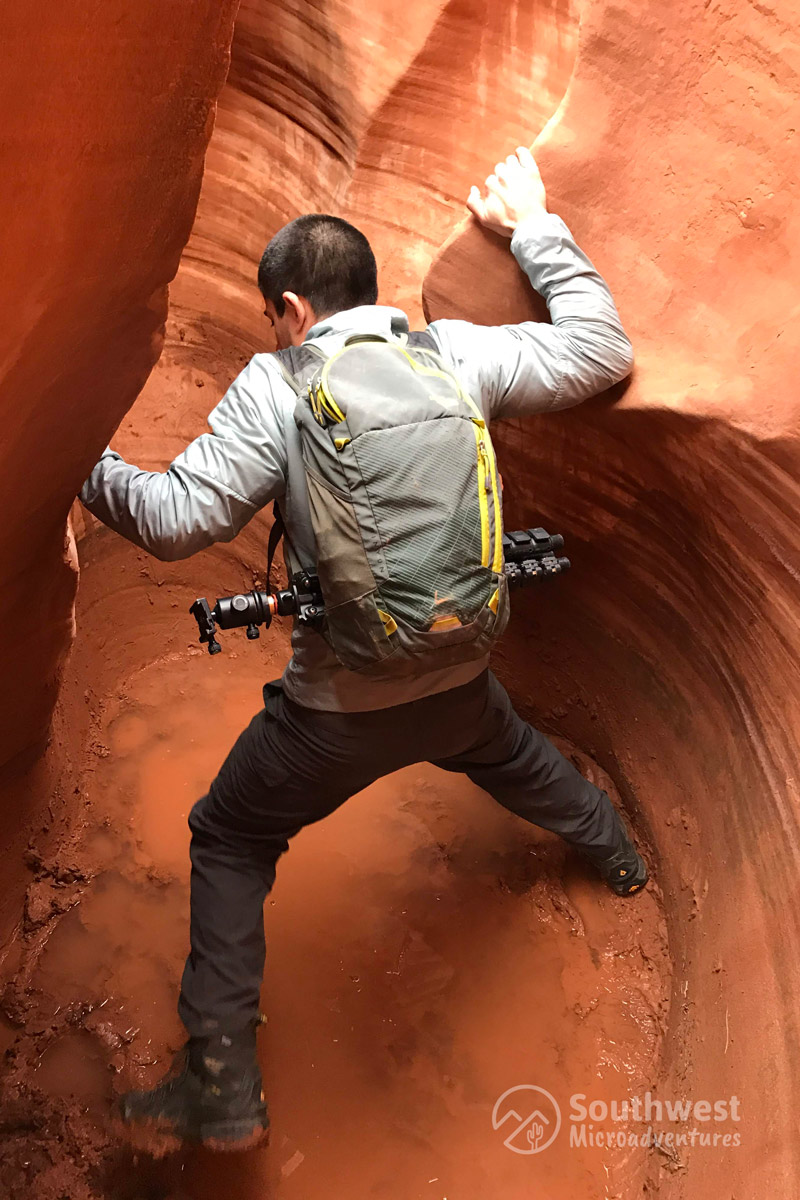 Near Escalante, Utah
Peek-A-Boo and Spooky Canyon are twin slot canyons in the Escalante area. Both slot canyons and are commonly hiked together in a single trip. Peek-A-Boo up, Spooky Canyon down.
You'll bend, twist, and crawl your way through some of the tightest passageways in the entire state. It is the second more narrow slot canyon on our list with several sections inches wide. During your gymnastics-style hike, you'll see deep reds, oranges, and purples in smooth and twisted walls as you hike.
What to know about Peek-A-Boo and Spooky:
Because of Peek-A-Boo and Spooky Less than a foot wide in some sections, there is a legitimate concern of getting stuck (like I did) when hiking Peek-A-Boo or Spooky Canyon. I've taken several friends just to "put them through the wringer" and watch them squeeze and crawl through. You're in for a treat hiking both of these canyons.
Since it isn't a super long hike, it makes a great short day trip or a great addition to a longer hike in the nearby region. Though it's not a terribly difficult or long hike, it does require a little climbing over rocks and navigating narrow slots. You can combine Peek-A-Boo canyon with the spooky gulch for a great loop of about 3.5 miles round trip.
Get ready for an afternoon of squeezing your way through sections inches wide. Make sure you keep your cool and suck in that gut when you can!
#1 Zebra Slot Canyon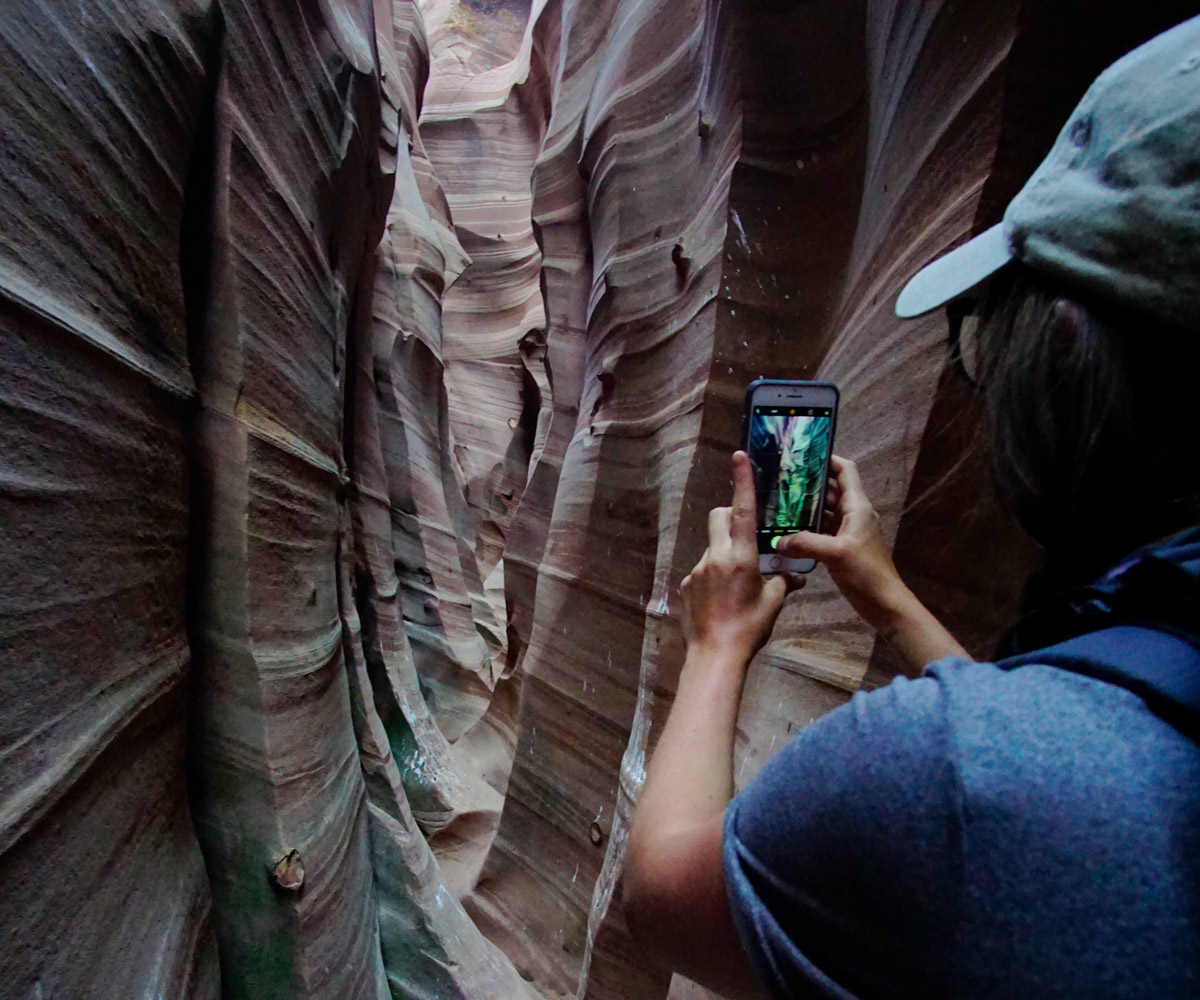 Near Escalante, Utah
Easily the best slot canyon in Utah.
Located just a few miles north of Peek-A-Boo and Spooky Canyon, Zebra Canyon is the more narrow and impressive slot canyon on our list. If you've hiked Peek-A-Boo and Spooky Canyon, you might ask yourself, how can a slot canyon get any more narrow? Que Zebra Canyon.
Inches think through the entire hike, you'll wiggle yourself for about half a mile before the canyon dead-ends. Zebra Canyon gets its name because of the white striations that run the length of the canyon giving it a look that resembles a zebra. In-between the white striations are a variety of purple, orange, and red colors that make the whole canyon glow.
At the bottom of the slot canyon often lie pools of water that you can navigate through using the canyon walls as a chimney.
While Zebra Canyon isn't very tall, the narrow walls block out most of the sunlight. This is actually a positive because the slot canyon has consistent light throughout, making it a great spot for photography.
What to know about Zebra Slot Canyon:
The biggest thing I want to drive home about Zebra Canyon is that it is incredibly narrow. I've gotten stuck in the process of hiking through. I wouldn't recommend this slot canyon to anyone who is overweight. There is a legitimate concern that you may get stuck.
Getting stuck aside, Zebra Canyon is the most striking slot canyon on our list thanks to its white striations and tight corners.
Zebra Canyon is at the top of our list of best slot canyons in Utah and should be the top of yours.
How to get prepped for a slot canyon hike in Utah
There are several things to consider when hiking any slot canyon in Utah. Thanks to being prepped, I've never experienced any trouble while hiking slot canyons. In order to ensure you're safe and prepared:
Get proper directions to the trailhead before you set out
Trailheads to some of these slot canyons are difficult to spot and can run you in circles if you don't know the exact way to get there.
Check the weather before you set out
Flash floods the common foes of slot canyons. They are unpredictable and can drown or crush your body in a matter of minutes. Before you leave for your slot canyon hike, make sure that rain is not in the forecast for any place within 100 miles upstream of the slot canyon.
Find out if there's standing water in the slot canyon
Call the local ranger station to get details on whether or not the slot canyon has standing water in it. If water is present, make sure you bring water shoes along with your hiking shoes. There's nothing worse than trying to stay dry by rock hopping your way down the trail.
Whenever possible, stay on the trail
Some of the slot canyons on our list, the Narrows and Coyote Gulch, for example, have trails that cross over creeks and rivers. Make sure you stay on a defined trail (if you can) even if that requires you to backtrack your hike. Because some trails circumvent difficult or dangerous features like waterfalls or cliffs- you risk injury and getting lost by going off-trail.
Bring the right supplies
This goes without saying: bring more water than you think you need.
Potable water is almost never available in slot canyons with the exception of the Narrows and Coyote Gulch. Running out of water while hiking to or through a slot canyon can put you in a very bad situation. Your afternoon hike will be long and the slot canyon itself is likely to be very hot and humid. Without an appropriate amount of water, you risk dehydration or heat exhaustion.
Bring at least three liters of water to make sure you stay hydrated for the duration of your hike.
As mentioned before, water shoes or Keens are an item I would consider bringing with. Water shoes are mandatory for hiking a slot canyon with standing water in it. It makes the hike so much more comfortable and doesn't ruin your shoes- or your day.
Conclusion
Slot canyons are common features throughout the state of Utah. In my opinion, Utah has some of the best slot canyons in the world.
While we picked just 10 slot canyons for our list, you'll find dozens more throughout the state and there's only so much time to hike all of them! Considering starting with our list and head out to explore the twists and turns of one of Utah's slot canyons!
Resources: