Throughout Arizona are a series of slot canyons prime for hiking, backpacking, and canyoneering. With the number of slot canyons, it's easy to experience decision paralysis when trying to figure out what slot canyon to visit- there's only so many you can explore in a given season!
Slot canyon season can be a short one thanks to Arizona's famous monsoons that can cause flash floods. Outside of monsoon season, the summer months can be brutal as the sun beats down on the rock. Assuming that you're going to be safe and not explore during a dangerous time of year, there are so many slot canyons in Arizona it's absurd.
To get you prepped for your next hiking or backpacking Microadventure in Arizona, here are our 10 favorite slot canyons to explore in Arizona:
#10 Apache Trail Canyon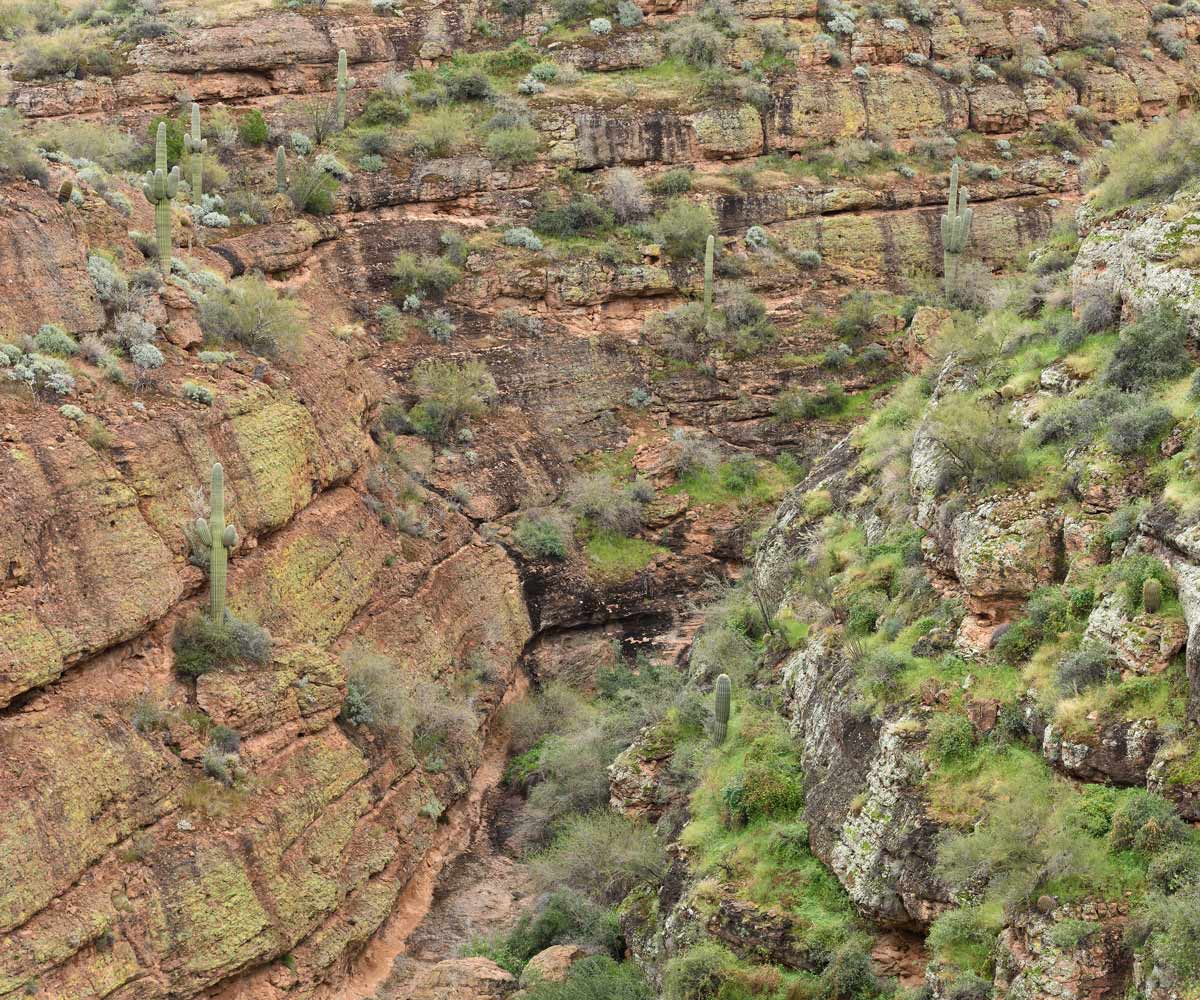 East of Phoenix, Arizona
Apache Trail Canyon is located in the Superstition Mountains just east of Phoenix and has a mixture of narrow passageways, vertical cliffs, and a mixture of deep and shallow bodies of water. It has great views and a variety of foliage and vegetation along the hike. Apache Trail Canyon has flat sections and challenging parts of the hike making it a great mix of adventure and leisure. It is easiest accessed by parking along the Apache Trail 3.1 miles east of Tortilla Flat near the end of the paved trail.
#9 Jackass Canyon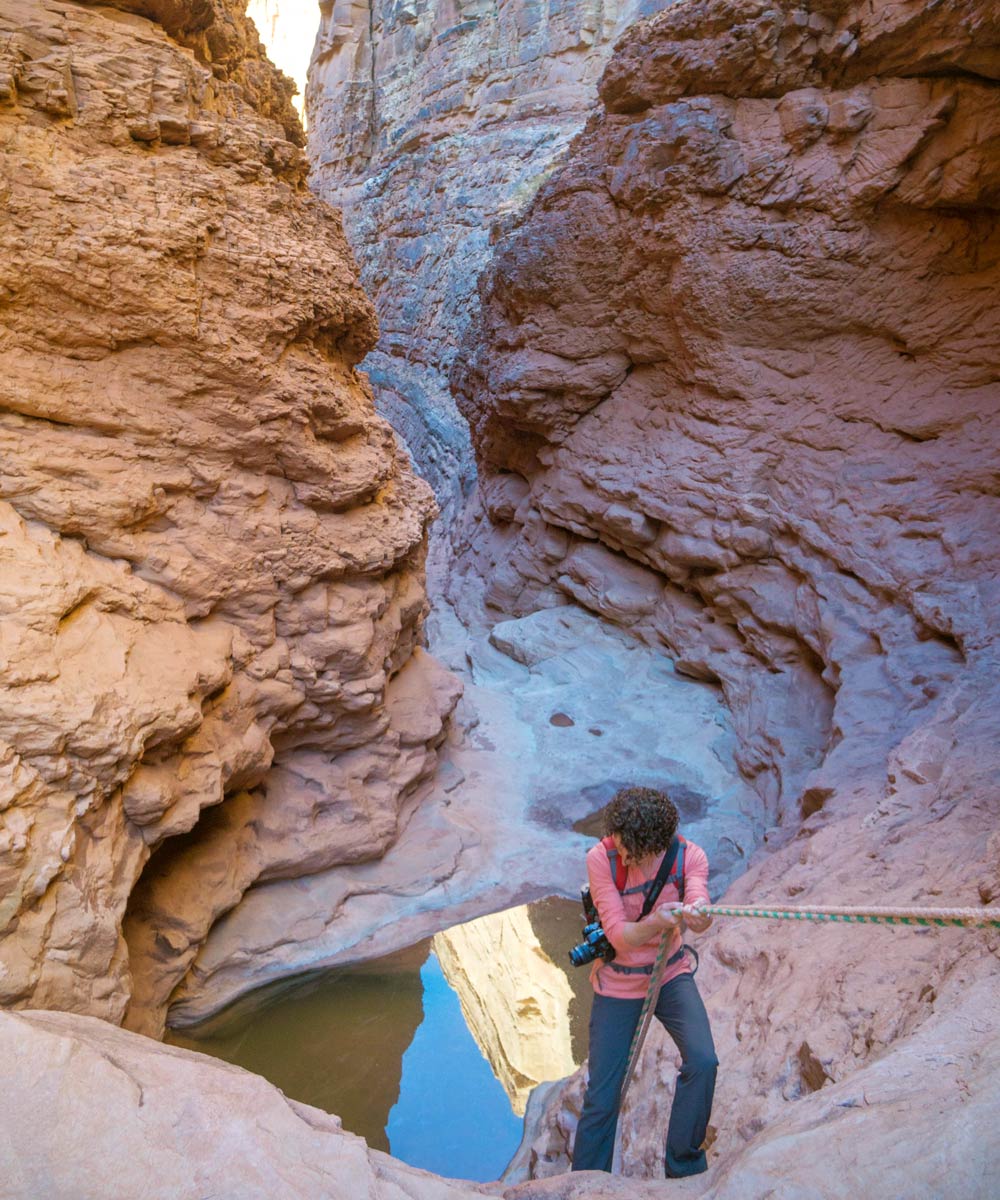 South of Lee's Ferry
This trail is a great half-day hike for you and your family that winds you down to the Colorado River. Located on Navajo Reservation close to Lee's Ferry and the Vermillion Cliffs, you will need a hiking permit from the Navajo Nation Parks and Recreation department. Jackass Canyon is serene and isolated, giving you a unique experience with nature. Beautiful natural elements such as cactus and desert vegetation are speckled throughout the trail as well as the iconic orange rocks known throughout Arizona that make up so many of the canyons around. Jackass Canyon is an intense but doable hike with lots of narrow slots, rope passageways, and boulders to bring you to your ultimate destination of the crisp, cool and clear Colorado River.
Technically, when you reach the Colorado River, you'll be in the Grand Canyon National Park which is an added bonus!
#8 Tanner Wash
Off the Grand Canyon's North Rim
Tanner Wash is located on the North Rim of the Grand Canyon. This long and usually dry, section of the Colorado River has cut beautiful sections through the ancient rocks allowing all sorts of fun obstacles to overcome such as small passageways and then wider open flatbed sections. While the North Rim of the Grand Canyon is not as touristy as the South Rim, that means you are able to have a very authentic and quiet hiking experience through Tanner Wash and experience the tranquility and adventure the canyon provides.
#7 Hermit Creek Narrows
Hermit Creek trail off the Grand Canyon's South Rim
Hermit Creek tail is an intermediate-advanced trail located on the Southside of the Grand Canyon, also known as the South Rim. The trail is 9-miles each way and will have a 4,000 elevation change by the end of the trail. Hermit Creek is definitely one for the adventurous and seasoned hiker. Although the trail is challenging, it is quite rewarding with the views along the way such as the beautiful and mainly untouched thin-layered sandstone, the scattered boulders and the jutting rocks throughout the trail.
#6 Pumphouse Wash
One of the most popular trails in Sedona, the West Fork of Oak Creek is a great trail for family or someone looking for an easier, yet still beautiful trail. A stream flows year-round through the deep forested canyon. There is a combination of wide-open trail beds, narrow passes, ancient rock formations, and fun wildlife to explore along the way. The trail is only 3 miles round trip but still provides a beautiful afternoon in nature.
#5 Rattlesnake Canyon
Close to the very popular Lower and Upper Antelope Canyon, Rattlesnake Canyon is just as beautiful but less populated. Rattlesnake Canyon is located just a short way down from the wash on the entrance of Upper Antelope Canyon. It has the iconic orange-brown rock formations and passageways that people come to expect in this area of Arizona. Rattlesnake Canyon tends to be more quiet and isolated than other popular canyons in the area. This canyon provides great passageways, abstract sandstone formations, and fantastic views and scenery at the top and entrance of the canyon.
#4 West Fork of Oak Creek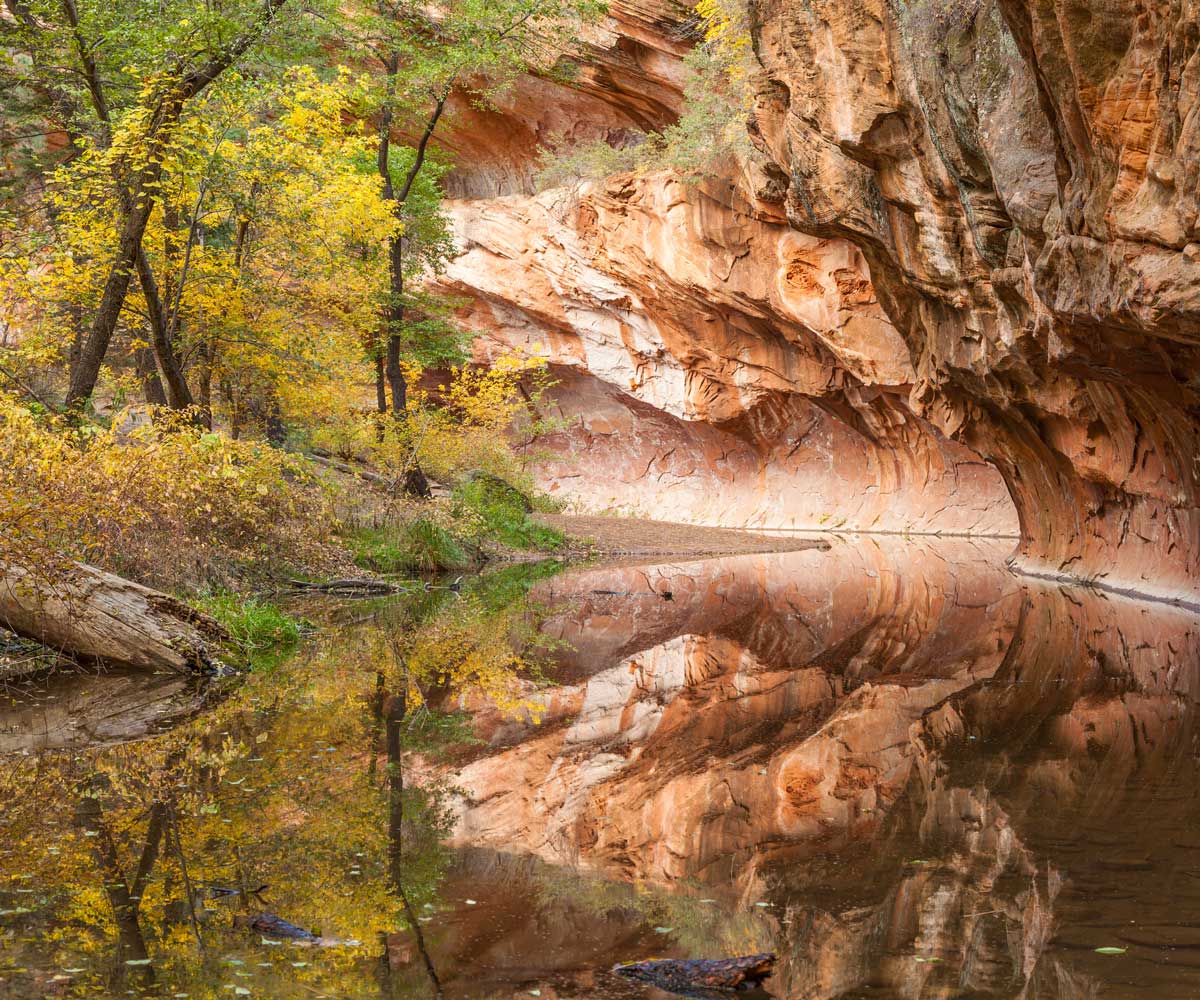 North of Sedona, Arizona
As far as hiking in Sedona goes, the West Fork of Oak Creek trail provides some of the best trails in the area. This is a popular intermediate on the side of the easy trail for hikers. A shallow stream cuts through the rocks and vegetation of the canyon. Quiet narrow passages, soft rock formations, and thick trees make up this great trail. Along the trail, you may even encounter some wildlife like the occasional deer or elk, as well as lots of birds and squirrels. Approximately 6 miles round trip but easy in nature, this is a great hike for a beginner, the entire family, or if you're looking to just have a leisurely hike with some incredible views.
#3 Waterhole Canyon
Waterhole Canyon is a 2.8-mile trail that is pretty popular and located right outside of Page, Arizona. Waterhole Canyon is a moderate trail that provides a nice reprieve for the avid hiker and a great challenge for the leisurely walker. Located on majestic Navajo land, Waterhole Canyon has the iconic soft sandstone edges, the bright and majestic orange rocks and the narrow passageways that are truly spectacular. Waterhole Canyon is only accessible via a tour company with a tour guide, but the guides are knowledgeable and provide great information and safety along the way.
#2 Lower and Upper Antelope Canyon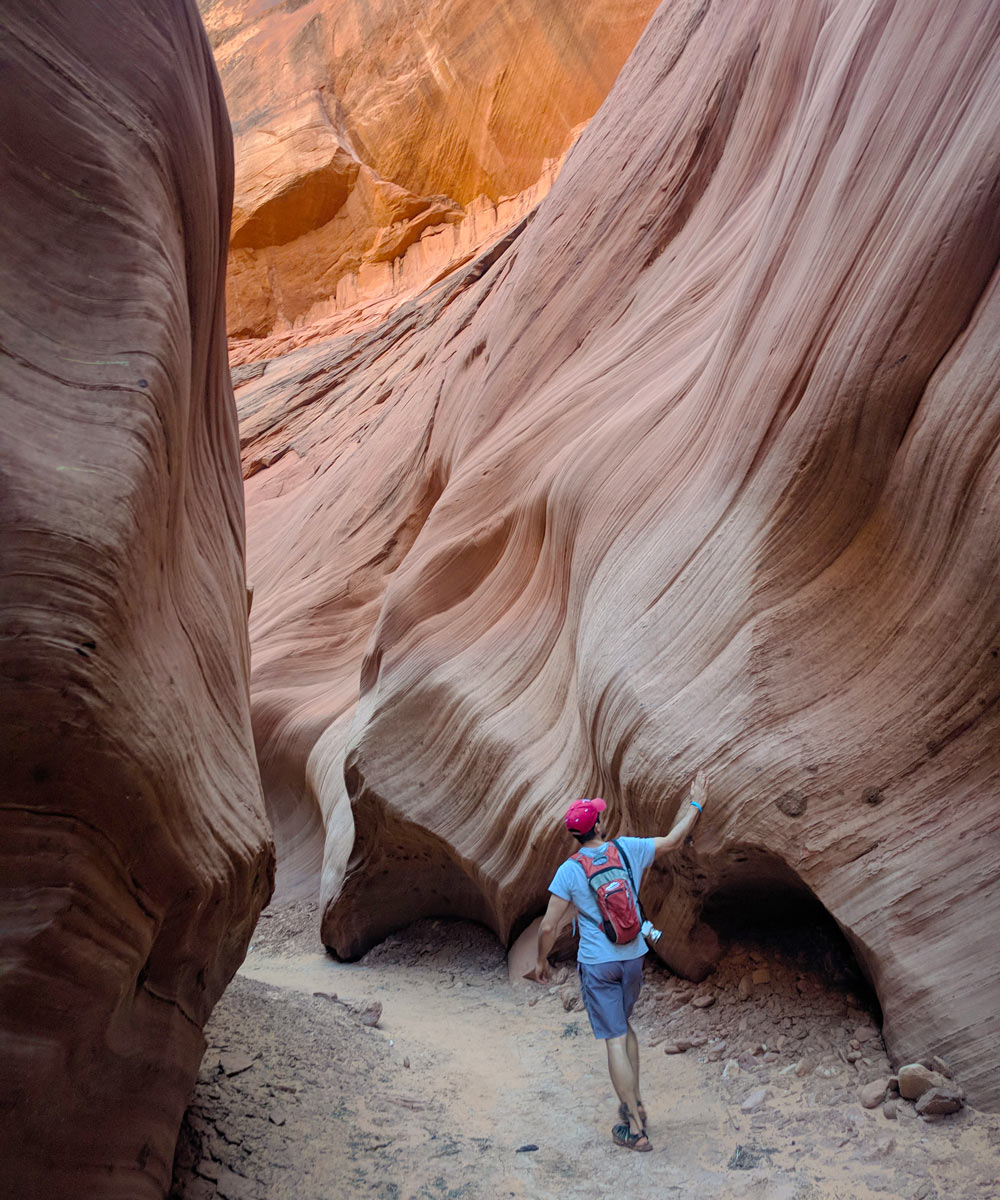 East of Page, Arizona
Located just minutes away from Page, Arizona, both Lower and Upper Antelope Canyon are without a doubt the most famous slot canyons in Arizona– if not the whole world. While relatively short in length, both slots canyons are chock full of unique perspectives and amazing formations that dance on the tall Navajo sandstone walls.
As one of the more narrow slot canyons on our list- several of the twists and turns offer incredible opportunities for landscape photography.
Unfortunately as of early 2020, the famed photography tours of Antelope Canyon are no longer available.
Despite the small blow to landscape photographers looking to capture Lower and Upper Antelope Canyon's beauty, regular tours of these famous slot canyons are absolutely worth it.
During your tour (required to hike or visit Antelope Canyon- no exceptions), you'll be lead through a series of passageways with unbelievable twists and turns. Light pouring in from the top of the slot canyon causes light beams on the floor and illuminates the canyon walls, making the whole slot canyon feel alive.
While Lower Antelope Canyon compared to Upper Antelope Canyon offers a slightly different experience, both are incredible slot canyons that are worth a trip to Page, Arizona alone.
#1 Buckskin Gulch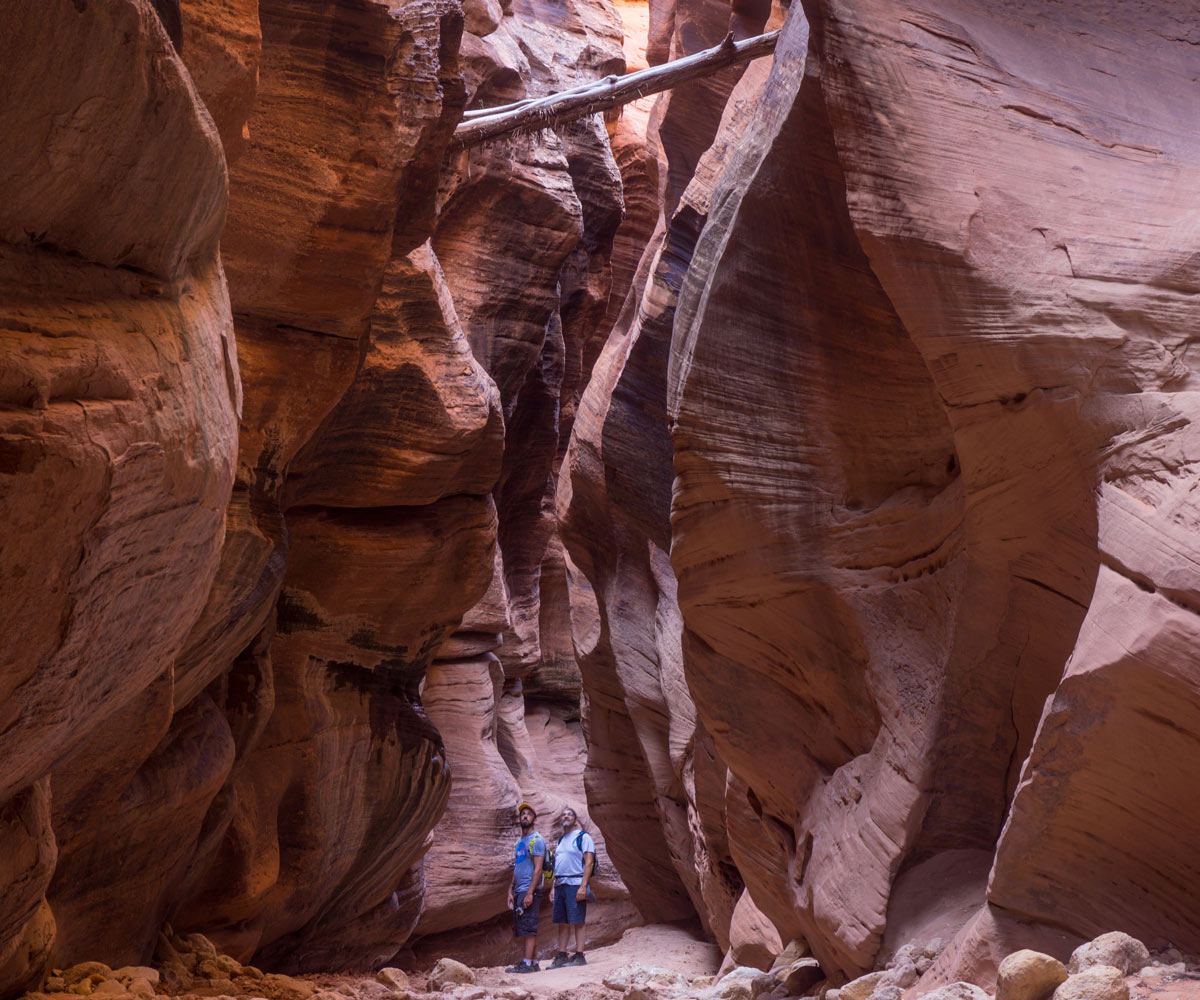 Top of the list of our favorite slot canyons in Arizona is the spooky and spectacular Buckskin Gulch located just west of Page, Arizona on the border of Arizona and Utah. As the longest slot canyon in the world, Buckskin Gulch offers over 30 miles of twists, turns, and narrow passageways.
If you are looking for the ultimate slot canyon experience- Buckskin Gulch is it. While the first mile or so sees the most traffic from hikers, deeper than that, you'll probably have the place to yourself.
Expect the width of the slot canyon to vary from two feet at its narrowest and 15 feet at its widest. Most of the 30 miles of this slot canyon consist of flat hiking and wading through shallow water pools with two major exceptions: the "Cesspools" and the rock jam.
The narrow sections of the hike include tall, Navajo sandstone walls just feet apart. On the flipside, Buckskin Gulch opens up in several sections to reveal blue skies where you'll be dwarfed against the 100+ foot canyon walls.
Buckskin Gulch can be both hiked in a few hours and turned into a full-on backpacking trip. Most hikers will only hike a few miles into Buckskin Gulch before turning around for the day. If you do have an extra two days in the Grand Staircase-Escalante area or Vermillion Cliffs and are looking for the ultimate Microadventure, consider backpacking the entire slot canyon from Wire Pass to the Paria River confluence at Lee's Ferry.
The ultimate slot canyon and Microadventure in Arizona, this spring or fall, make sure you have Buckskin Gulch near the top of your hiking list.
Conclusion
Surprising to most Microadventures and hikers looking to explore the Copper State, Arizona is home to some of the best slot canyons in the US. With slot canyons that span the state south to north, there's no shortage of places to hike or visit during your exploration of Arizona. The slot canyons on our list are accompanied with incredible hikes with twists, turns, as well as great photography opportunities.
During your next visit to Arizona, jump right into one of the slot canyons on our list.
Resources