Get A Permit For Camping In Buckskin Gulch
So you're thinking of camping or backpacking overnight in Buckskin Gulch? As the longest slot canyon in the world, Buckskin Gulch offers miles and miles of prestige slot canyon hiking and backpacking. However, in order to camp or backpack overnight, a permit is required from the BLM.
Permits are easy to apply for through the online permit application system but are competitive to actually win. Here are some tips and tricks to obtain an overnight permit for Buckskin Gulch:
Online Application For Overnight Permits
The online application system for overnight permits is where most interested backpackers get their permits for Buckskin Gulch. You can apply directly for a permit on the BLM's website. Technically, you are applying for permits for Paria Canyon which contains Buckskin Gulch.
Permits are $5.00 per person per day and an additional $5.00 per dog per day. Assuming that permits are available on the calendar, fill out the application, and off you go! In addition, you can apply for permits over the phone by calling the Arizona Strip District Office.
No matter how you apply for overnight permits, you must pick them up in person at either the Vermilion Cliffs National Monument office in St. George, Utah; the Paria Contact Station outside of Big Water, Utah (open seasonally); or the Grand Staircase-Escalante National Monument Visitor Center in Kanab, Utah.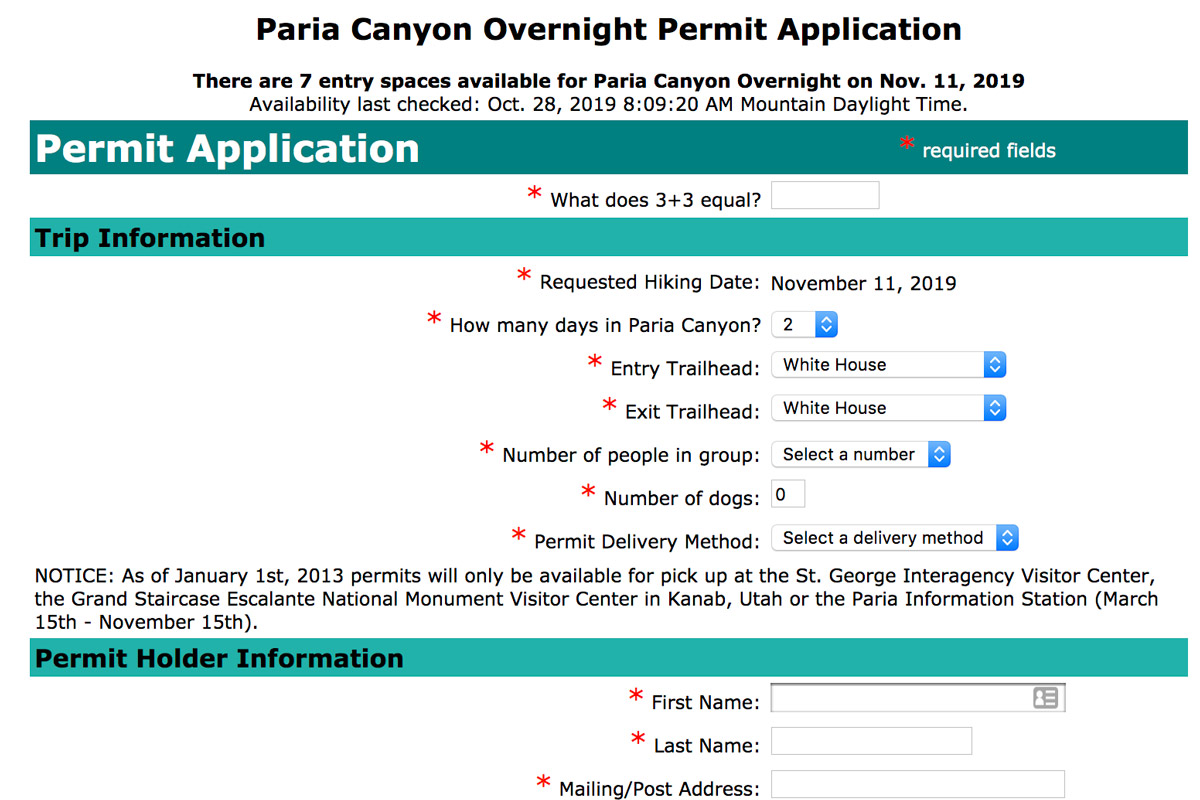 The online application from the BLM is very simple to fill out.
Advice On Getting A Permit Online
The biggest piece of advance we can offer is to apply ahead of your trip and don't expect to get a permit for a spot in the same month as when you apply. You can book overnight permits four months out- take advantage of that!
There are only 20 overnight permits issued per day and those 20 are spread across the four trailheads into Buckskin Gulch.
In addition, apply for your overnight permits on the 1st of the month. Permits become available for the next month (four months out) at 12:00 MST and you need to be ready to book them! Our Infinite Earth claimed that on the 1st of the month, within three minutes, most of the weekends were gone for the month. Make sure you are ready when the permits open up on the 1st!
Another tactic of getting overnight permits for Buckskin Gulch involves applying for permits during the off-season. The busiest times in Buckskin Gulch are during spring and fall- specifically, early March to early May and late September to mid-November. If you can avoid those months and don't mind packing extra layers, you'll increase your chances of winning an overnight permit dramatically.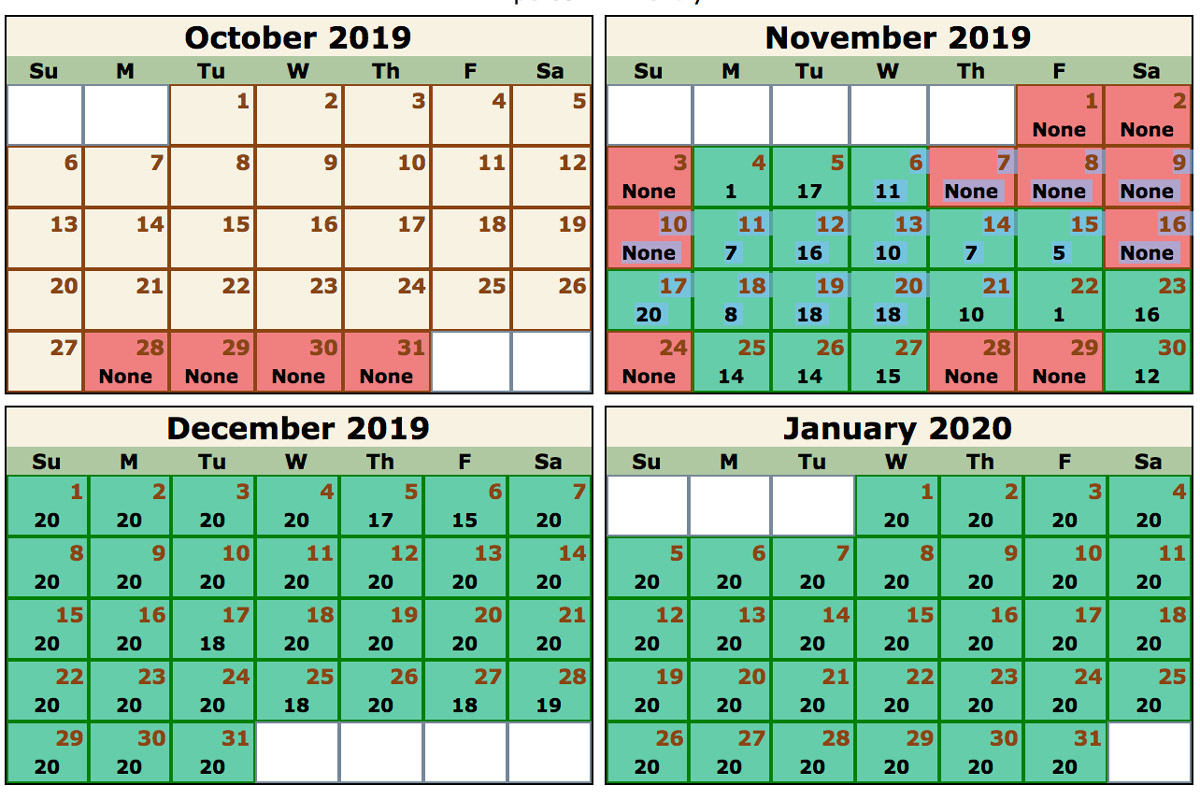 The off-season at Buckskin Gulch: see how easy it is to get a permit then?
Conclusion
Applying for overnight permits for Buckskin Gulch can be both exciting and challenging depending on when you are looking to go. The permit application through BLM's online portal is fairly easy to navigate- winning permits for the dates you want is another story. We recommend getting familiar with the online application, trying for dates in the distant future, and avoiding the busy times during spring and fall. Using those tactics and a little bit of luck, you should secure overnight permits for Buckskin Gulch with ease.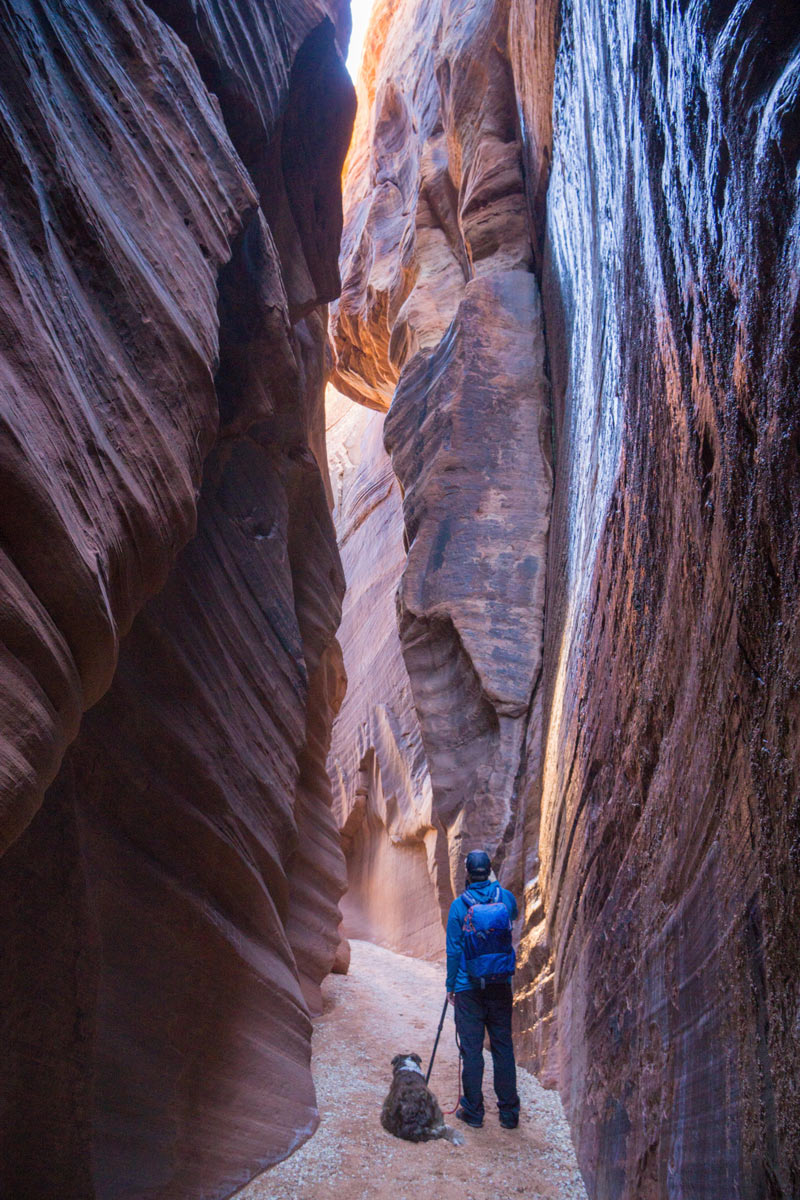 Resources for "Buckskin Gulch"