Sedona is a paradise for all-things Microadventures: hiking, mountain biking, and climbing especially. Some even consider Sedona to be the center of the hiking universe!
With miles and miles of trails, there's no shortage of trails to hike amongst Sedona's red rock cliffs, creeks, and canyons. However, with over 200 different hiking trails within the region, it can be difficult to pick a noteworthy trail to hike- especially if you don't have a lot of time to spend.
That's where we come in!
Here's a brief list of our favorite hikes in Sedona, Arizona:
#10 Bear Mountain Trail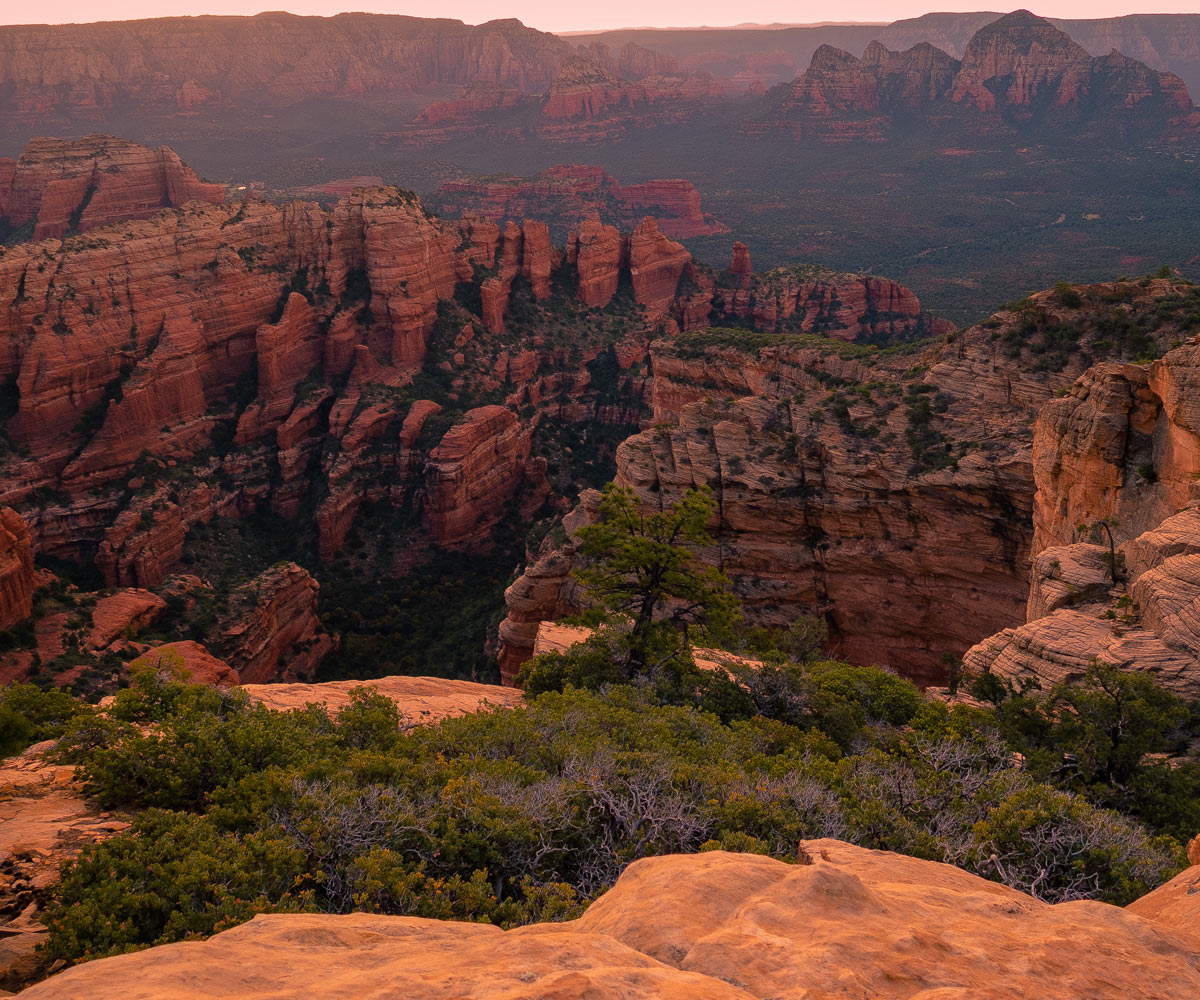 Bear Mountain Trail is not too far from downtown Sedona, but you will feel as if you are miles outside the city. This strenuous hike is five miles long. A Red Rock Pass is required to hike this trail, but it is reasonable at five dollars.
Not too long after you begin your hike, you will find yourself climbing approximately two thousand feet in elevation. The end of the hike is even harder because you will discover many false summits that have steep climbs in between. The very last steep climb will have you arriving at the actual summit and the gorgeous views of the surrounding areas. It will take you approximately four to five hours to tackle this hike and reach the bottom once again.
From the summit, expect huge views of the nearby Boynton Pass, Fay Canyon, and the Mingus Mountains to the west.
Hiking Bear Mountain during sunset is incredible!
#9 Doe Mountain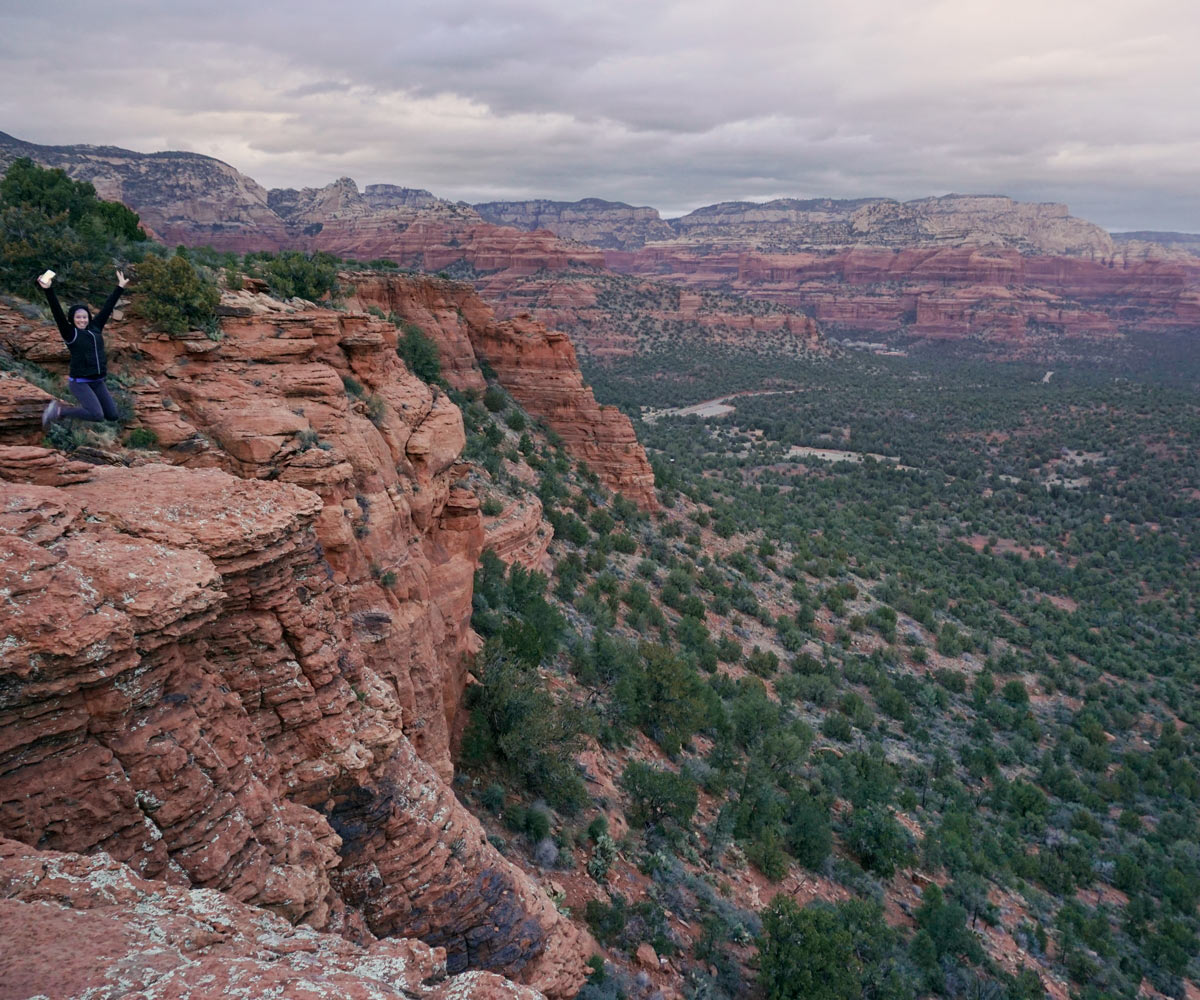 Although one of the shortest hikes on our list, Doe Mountain via the Doe Mountain trail in western Sedona is a classic. Located directly across the street from Bear Mountain, Doe Mountain is a three-mile roundtrip with differing views than Bear Mountain. Because Doe Mountain tops out on the eastern side of the valley (compared to the western side on Bear Mountain), you can see a lot more of Boynton Pass, Fay Canyon, and Sedona's famous Capitol Butte.
The hike itself is extremely easy, making it a common trail for locals to take their dogs or run.
Go early or on a weekday to avoid the crowds. The parking lot fills up fast!
#8 Devils Bridge Trail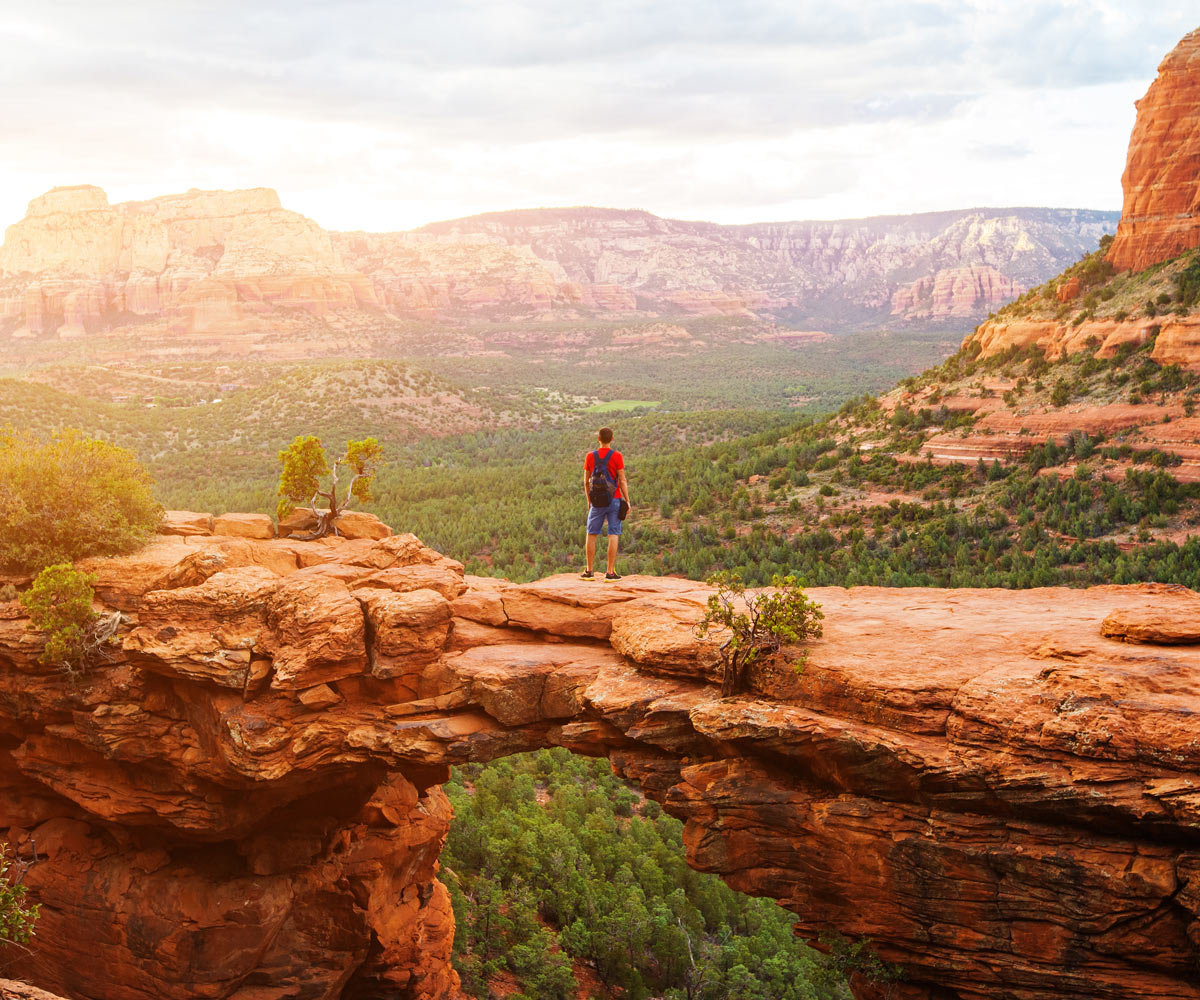 If you haven't heard of Devil's Bridge in Sedona, you've definitely seen pictures of it on Instagram somewhere!
Millions of years of erosion in the Sedona desert caused the red sandstone to fall away, leaving a giant, but narrow, bridge and hole in its place. When you top out on the bridge, expect a nearly 360-degree view of Boynton Canyon and acres of high-desert Juniper trees and cactus framed by awe-inspiring sandstone walls.
Fair warning, the hike up to the bridge is not terribly excited and it gets very crowded during the spring and fall.
#7 West Fork Trail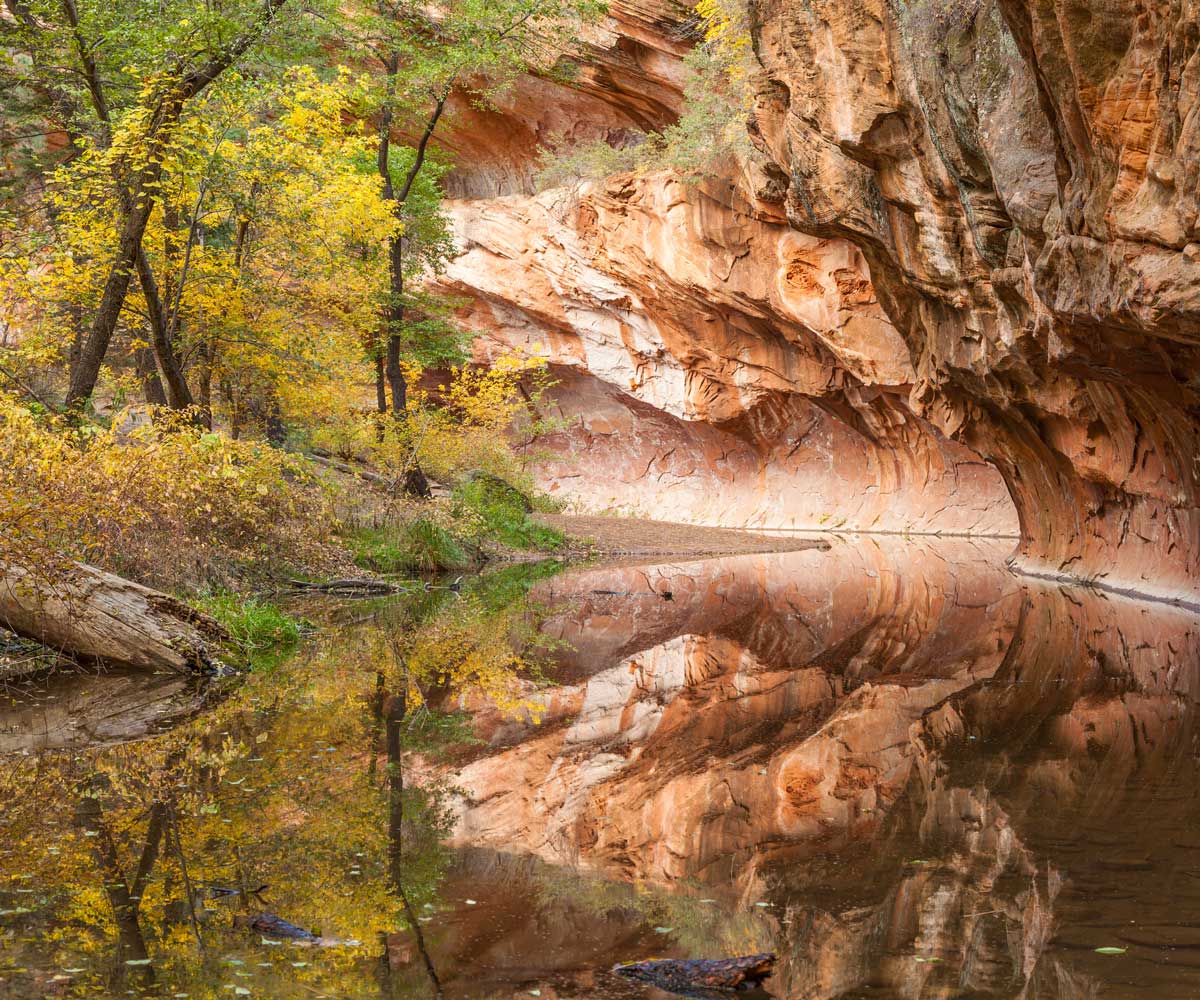 Located in Oak Creek Canyon off of 89A, West Fork is considered one of the best trails to hike in the entire state of Arizona– and for good reason!
West Fork is a narrow canyon cut from the bubbling creek located at its feet. With scenery and topography that resembles Zion's famous "Narrows," West Fork twists and turns around a crystal-clear creek with huge cottonwood, ponderosa pine, and tall grass found along the creek's banks. It is an incredible place to be any day of the year.
The hike itself isn't very challenging. The trail is about six miles round-trip but can be a lot shorter depending on monsoon rains and snowmelt. It's fairly common for the trail to just "disappear" thanks to the overflowing creek.
During the hike, you will have to cross the creek a few times so be prepared to get your feet and/or shoes wet.
Parking to hike West Fork is a NIGHTMARE.
The West Fork parking lot fills up very, very quickly. During Sedona's high tourist season, March-October, the entire parking lot will fill up around 9 am every day and it's commonplace to see a line of cars on 89A waiting for a parking spot.
I highly recommend getting to West Fork's parking lot as soon as possible to get a parking spot. If you do decide to roll out of your camping spot or campground late, you'll be forced to park outside of the parking lot and walk along 89A to get in.
Unlike other trailheads around Sedona, National Park Passes (Interagency Passes) are not accepted. Only Red Rock Passes will get you in without paying an additional fee. Without a Red Rock Pass, entry into West Fork is $11 per call or $2 per person for walk-ins.
#6 Robber's Roost Trail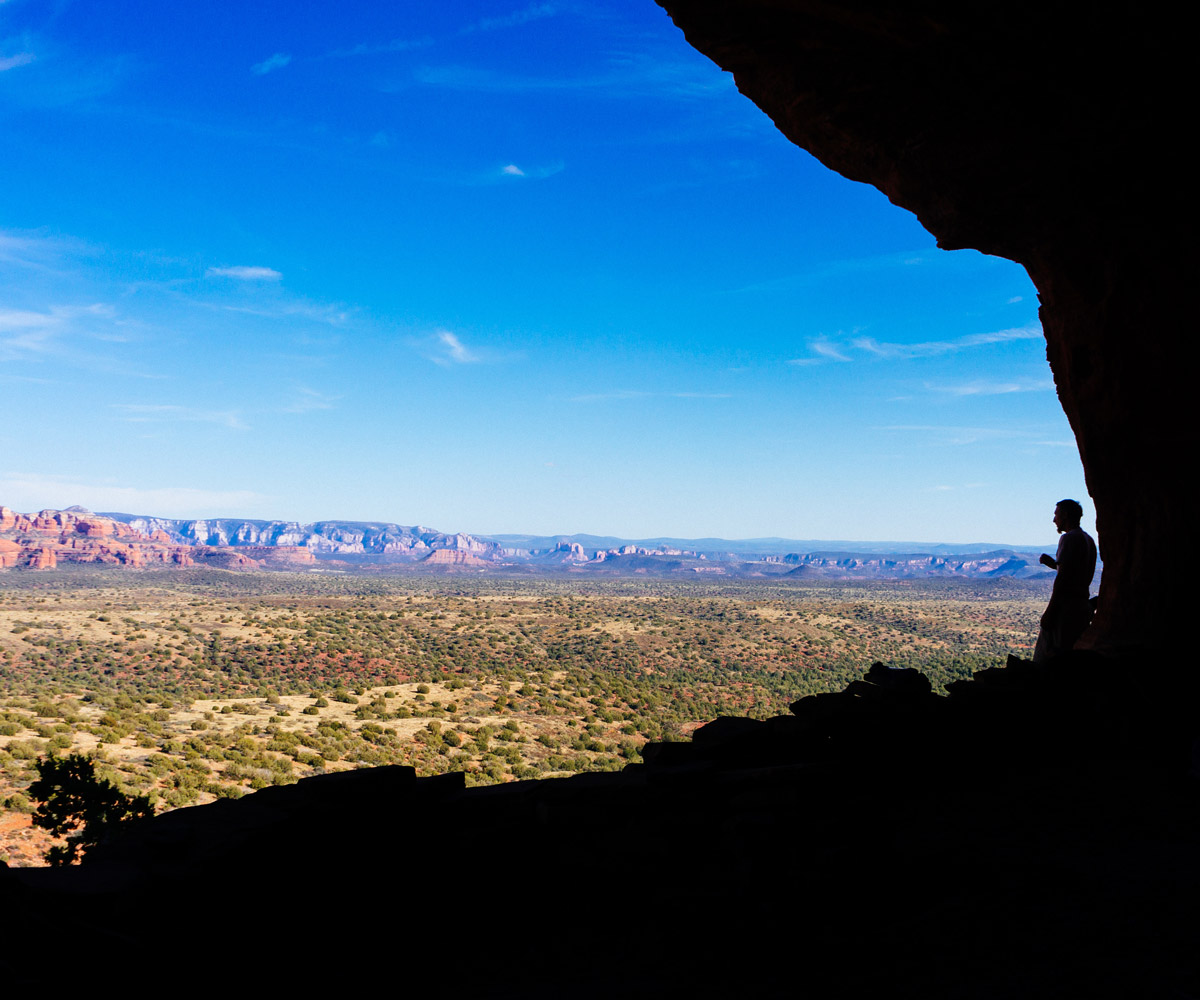 Also known as the "Hide Out Cave," Robber's Roost is a naturally-carved cave that sits on the edge of a cliff with panoramic views of Sedona's canyons and buttes.
It is unreal how beautiful the views are from inside the cave. You're inside of a cave overlooking Sedona!
Robber's Roost offers one of the best views of Sedona while being relatively quiet and less-trafficked than other hikes on our list. That being said, there two reasons why Robber's Roost isn't as popular as other spots in Sedona.
1) Robber's Roost is difficult to get to
Plain and simple: the drive to the trailhead on Forest Service Road 525C is absolutely brutal. It is 6+ grueling miles on a very, rough 4-wheel drive road that only high clearance cars and trucks should attempt.
If you're in a passenger car, you're not going to make it to the trailhead and will have to walk.
It's actually common to drive your car as far as you can and then mountain bike or hike the remainder of the road to the trailhead. When I last visited Robber's Roost, I did exactly that- parked along the side of the road and then mountain biked to the trailhead to start the actual hike to Robber's Roost.
Again, do not attempt to drive to the trailhead unless you have a high clearance, 4-wheel drive car or truck.
2) The hike to the Robber's Roost cave isn't terribly scenic
The hike to the actual cave meanders along a dry creek bed with not a lot to look at. Once you get towards the end of the dry creek bed, the trail starts going uphill and you'll be able to see a lot more of Sedona's red rocks and canyon systems.
Be patient on the hike! Robber's Roost saves the best views for last!
Regardless, Robber's Roost it's still freaking amazing!
Despite the difficult approach to the trailhead and the boring hike up to the cave, Robber's Roost is one of the coolest places to hike in Sedona. With huge views of the Sedona landscape all from a cave, it's definitely a unique way to experience hiking in Sedona.
#5 Chicken Point Via the Broken Arrow Trail
A favorite spot for hikers, mountain bikers, and OHVers, Chicken Point is located on the southeastern side of Sedona. Chicken Point is an overlook that sits on top of a mesa with panoramic views of a secluded canyon and red rock buttes. Chicken Point sits directly across from the famous "White Line" trail, where fearless hikers and bikers attempt to ride along a cliff via a narrow white band of rock. What I'm getting at is there's a lot to see when you get to Chicken Point.
While there are two ways to get to Chicken Point, via Little Horse trail and Broken Arrow trail, I highly recommend taking the Broken Arrow trail. Although this trail is a little shorter at 1.7 miles each way, you're out of the tree line more compared to the Little Horse trail approach. As you walk along the trail, you will pass the Battlement Mesa, Devil's Dining Room Sinkhole, and the Twin Buttes.
Once you get to Chicken Point, take time to explore the mesa and the different viewpoints of the immediate canyon system and red rock buttes.
Fair warning- this trail is fairly busy throughout the year! You will not be alone on the Broken Arrow trail or at Chicken Point.
#4 Soldier's Pass Trail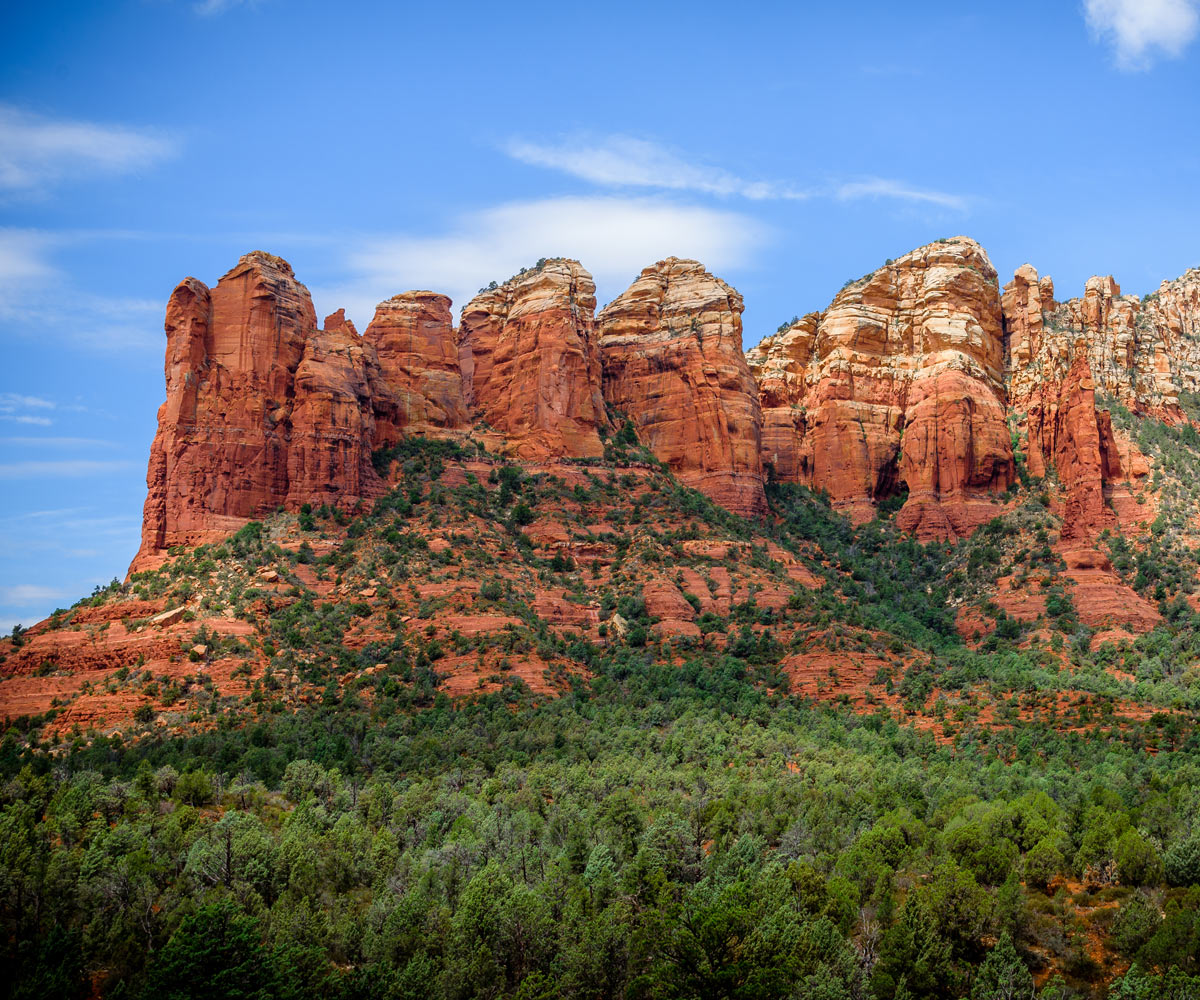 Located in west Sedona, the Soldier's Pass trail is one of the easiest trails to reach. The trail can be accessed from a number of spots including the Adobe Jack parking lot right off of 89A as well as a number of neighborhoods north of 89A.
The trail itself is cut between two canyon/butte systems- you'll be in a pseudo "valley" for most of the hike. That being said, Soldier's Pass has a number of trails and features that are connected that can take you up and into the canyon/butte systems. So if you're bored of being on a low point, you'll have plenty of opportunities to climb up and get better views of Sedona's red rock canyons.
]This trail is moderately difficult at 4.5 miles round trip. It is best to do this hike in the morning, due to the heat of the day and the fact that this hike takes about three hours.
Expect huge views of red rock cliffs as you hug the foot of the canyon systems as you hike.
Hiking along Soldier's Pass trail, you'll also see a number of cool features including the Devil's Sinkhole, the Seven Sacred Pools, Red Rock Secret Mountain Wilderness, and Soldiers Pass Cave.
The proximity to downtown Sedona, the views of the neighboring red rock canyon/butte systems, and the number of things to see off of the trail are what makes Soldier's Pass trail one of our favorite trails to hike in Sedona.
#3 Teacup and Coffee Pot Rock Trail Combo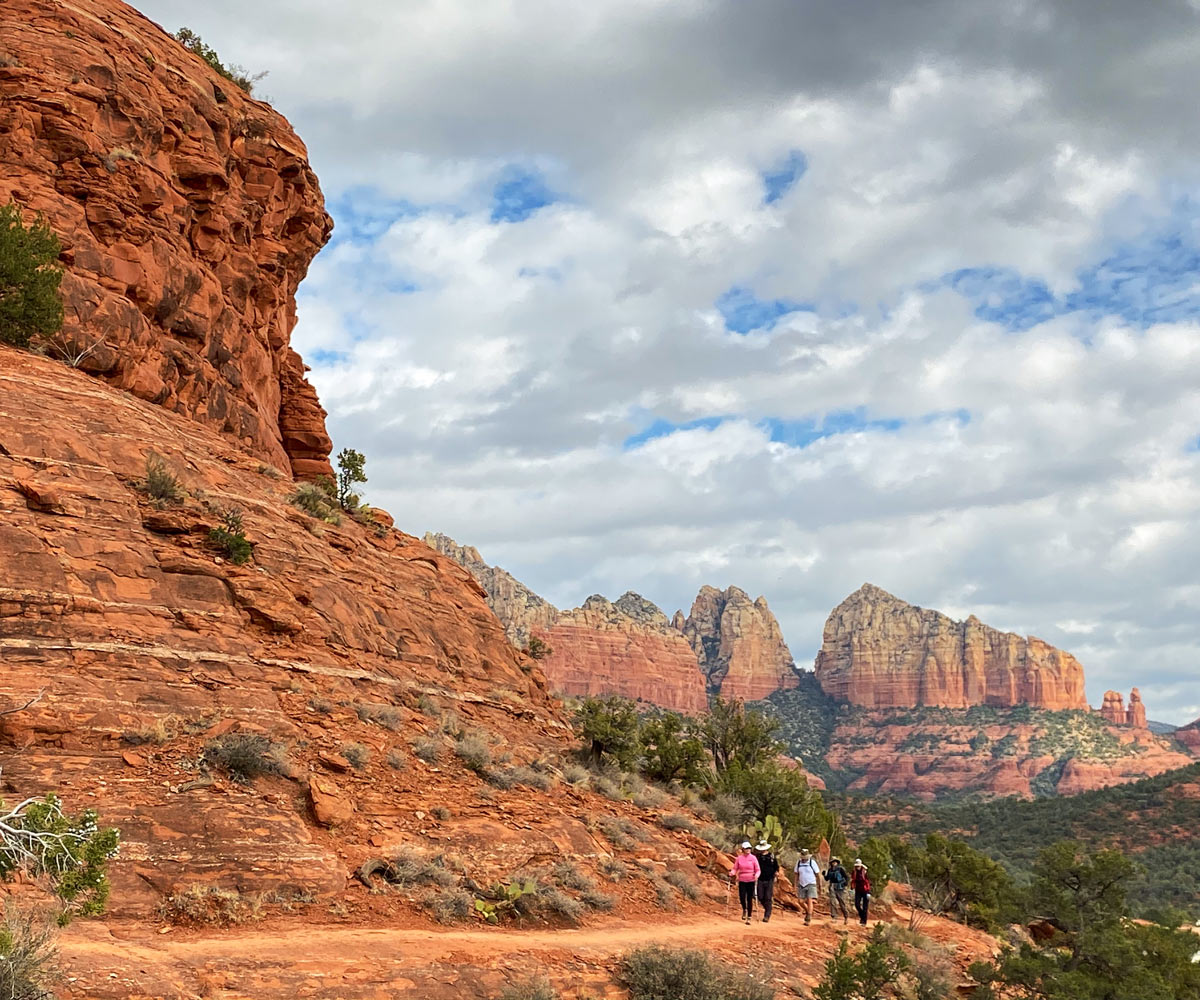 If you're hiking on Soldier's Pass trail, you can access both of these trails!
For any Microadventurer who has spent time in Sedona, Coffee Pot Rock is one of the most famous landmarks. Shaped like a coffee carafe, Coffee Pot Rock towers over 200 feet overlooking western Sedona. For those wanting a closer look, there is a trail combo that takes you along the foot of Coffee Pot Rock: Teacup and Coffee Pot Rock trails.
Starting in west Sedona, you can access both of these trails through a number of points in the neighborhoods just north of 89A. The trails are relatively short in length but are very rough and difficult to hike. One minute you'll be hiking on a flat trail, then, just around a bend, you'll ascend 100 feet in elevation over 200 feet of trail.
Regardless of the difficulty of both Teacup and Coffee Pot Rock trails, both trails are absolutely worth it.
You'll be at the foot of Coffee Pot Rock for most of the hike and will have huge panoramic views of Soldier's Pass, Airport Mesa, and the entire sweeping canyon to the east.
The Teacup Trail is only approximately two miles in length when you combine it with the Sugarloaf Trail. The Coffee Pot Rock Trail is 2.4 miles round trip, so it is a nice one to combine with the Teacup Trail.
#2 Cathedral Rock Trail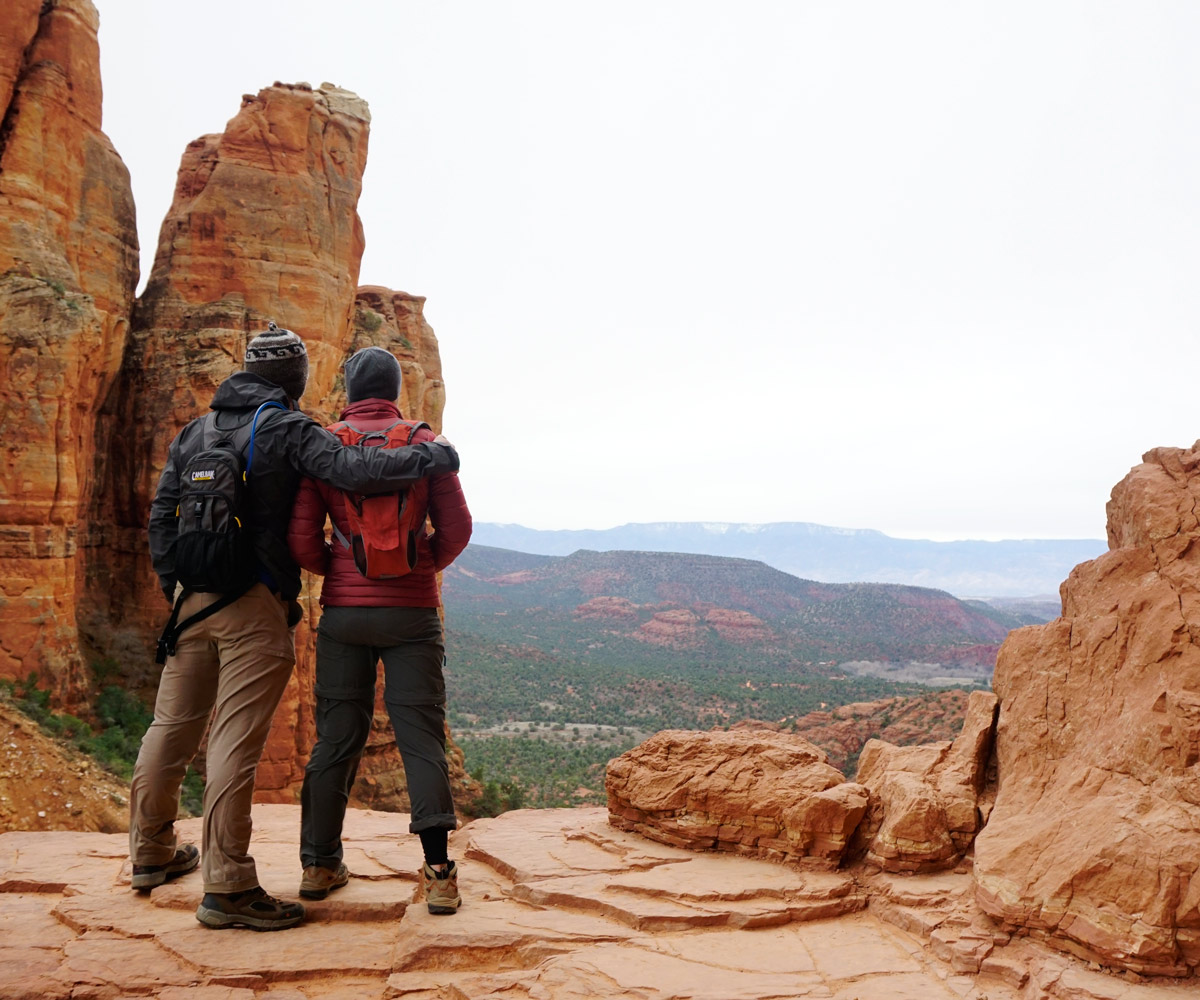 Anyone who has ever seen photos of Sedona on Instagram has undoubtedly seen photos of Cathedral Rock.
Without a doubt, the most famous feature in Sedona, Cathedral Rock towers over the southern end of Sedona- like a giant, red church rising up over the landscape. Although the views of Sedona fail to compete with some of the other hikes on our list, hiking Cathedral Rock is a must because of the difficulty of the trail.
Hiking the Cathedral Rock trail features a lot of scrambling which is why it's on our list! Hiking this trail is just fun!
Cathedral Rock trail is part of a trail system that circles Cathedral Rock- but this trail, in particular, is the one that takes you up the backside and onto the "summit" of Cathedral Rock.
You can access the Cathedral Rock trail from a number of other trails including Red Rock Crossing at Crescent Moon Ranch to the west and the huge spider web of trails from the east. Although the most direct place to pick up the Cathedral Rock trail is at the trailhead off of Back O Beyond Road, in south Sedona off of highway 179.
Once you get on the "true" Cathedral Rock trail, it's only 1.2 miles to the "summit" of Cathedral Rock. As mentioned before, the hike involves more than just hiking! There are a number of places you'll have to scramble and crawl through tight, steep cliffs in order to continue the ascent to the top.
The "summit" isn't really the summit of Cathedral Rock- more of a saddle. Once you get to the top, you'll still have towering red spires on either side of you. But without climbing gear, this is as high as you can go on Cathedral Rock.
One thing worth mentioning is that this hike is one of the most popular in Sedona. You will not be alone on the trail! You'll be sharing your hike with other Microadventurers, families, mountain bikers, and dogs.
Be prepared to share the trail with a lot of amateurs!
Once you reach the "summit" of Cathedral Rock, you'll be greeted with views of the most eastern canyon system on your right and a steep valley overlooking Oak Creek and it's lush riverscape on the left.
As mentioned before, the views aren't as great as other hikes on our list but you'll be glad to take a breather after you top-out on the most famous hike in all of Sedona.
#1 Secret Slickrock Trail and Overlook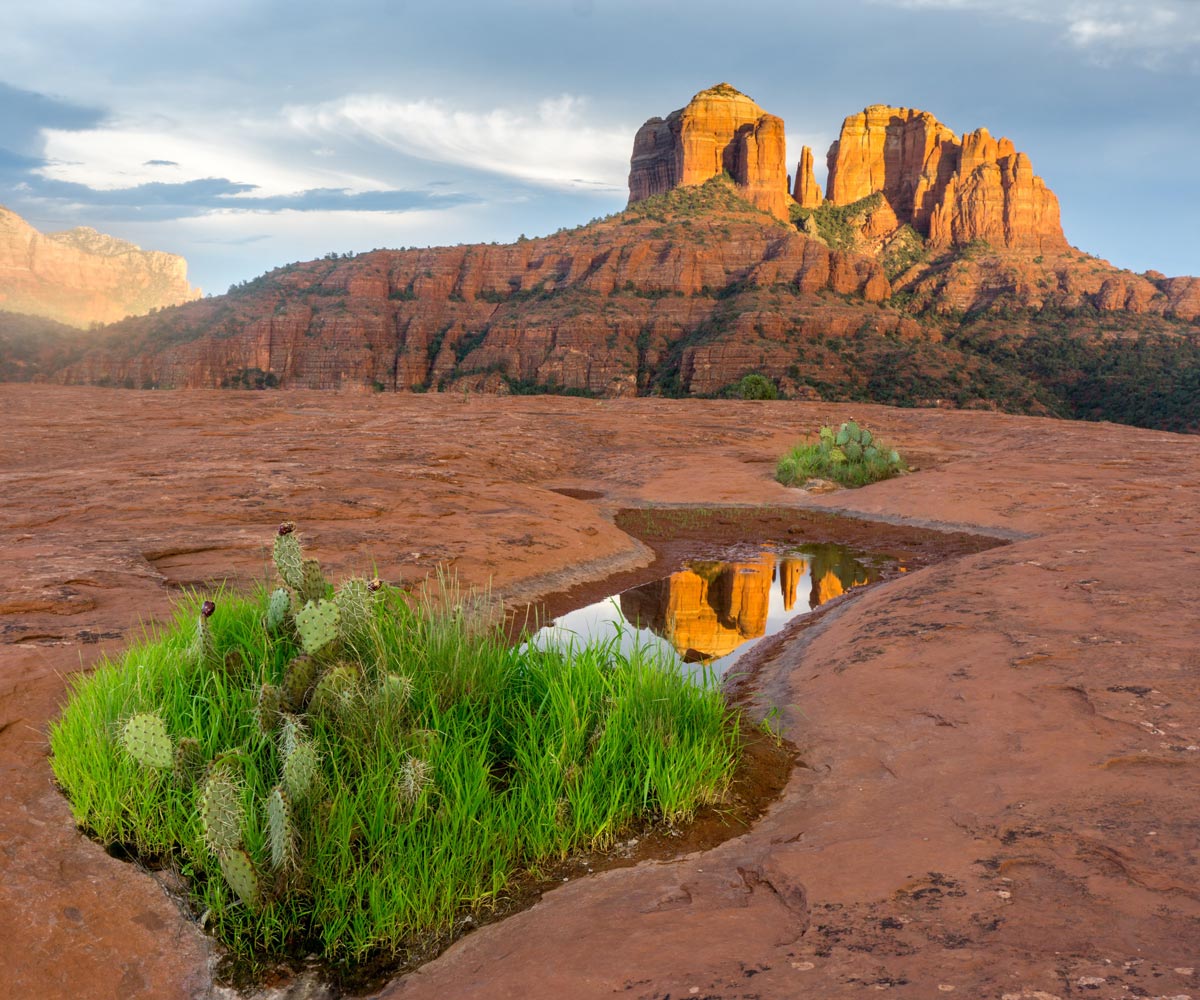 If you're looking for the best views of Cathedral Rock from the most iconic spot, look no further than the Secret Slickrock trail.
As our favorite hiking trail in Sedona, Secret Slickrock is a short 1/2 mile trail that leads you from the top of a mesa down onto an exposed area with huge views of Cathedral Rock. During most of the year, you'll be greeted with a series of water pools that offer a perfect reflection of Cathedral Rock in the distance.
While this trail is much shorter than others on our list, the incredible views of Cathedral Rock more than make up for it.
Despite its name, the Secret Slickrock trail isn't a secret. It's clearly marked at the trailhead near Crescent Moon Ranch and shows up on most hiking trail apps. However, you'll be surprised at how few people hike this trail! The Secret Slickrock trail is mostly visited by locals and photographers looking to capture Cathedral Rock in the distance.
The time saved by not having to hike a long distance to get to the overlook can be used to actually be present, and enjoy the views. It's common to see other hikers sitting on boulders enjoying the views for much longer than they would spend on other trails.
The Secret Slickrock trail is our favorite hiking trail in Sedona because it's a short hike that allows you to dissolve your adrenaline-seeking side, and actually stop and "take it all in." A perfect place for you to experience the wonders of Sedona that have attracted hikers to the area for decades.
Conclusion
It's no surprise that many people consider Sedona, Arizona the center of the hiking universe. There are over 200 different trails in this region alone! This is why we created a list of our favorite hikes in Sedona- to help you narrow down where to go and what to see before you lace up your hiking shoes.
Resources