I've been a visitor to Sedona, Arizona my entire life and feel a connection to the area deeply. As a resident of nearby Flagstaff, Arizona, I have hosted dozens of friends and family members from all over the country. When a friend visits, I'm often asked: "What is there to do around Flagstaff?" My go-to response often is, "Well, have you ever visited Sedona?" When the answer is "No," I get on my imaginary Sedona tourism-box and explain why it is a must-visit for all outdoor thrill-seekers and Microadventurers alike.
Why you need to visit Sedona, Arizona
With hundreds of miles of mountain biking and hiking trails surrounded by huge red rock buttes, picturesque canyons, and crystal-clear creeks, Sedona, Arizona is a must-visit for all Microadventurers and outdoor thrill-seekers. You can enjoy world-class mountain biking, hiking, backpacking, sport climbing, cliff jumping, swimming, and landscape photography during a single week.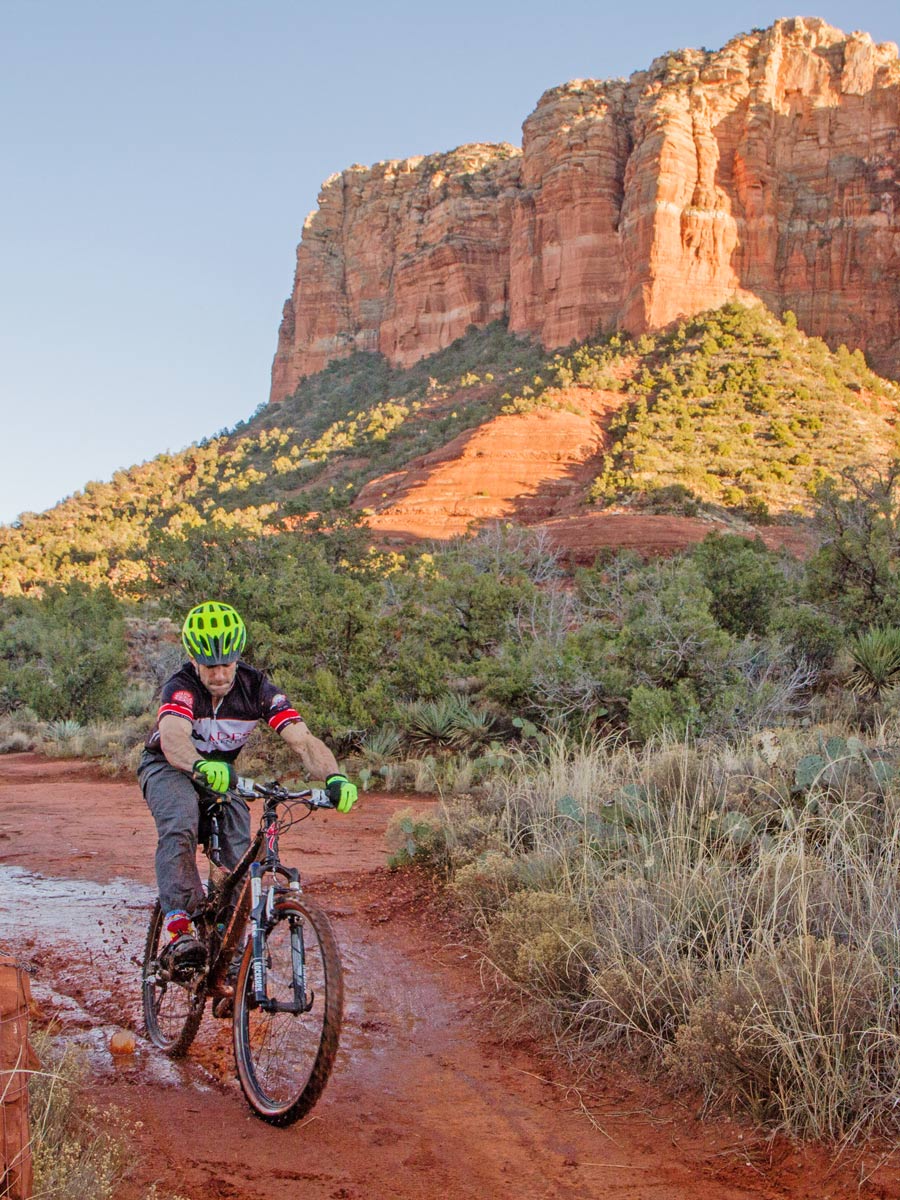 Here's a breakdown of seven reasons why you should visit Sedona, Arizona on your next road trip or vacation:
#1 Sedona's postcard-worthy outdoor backdrops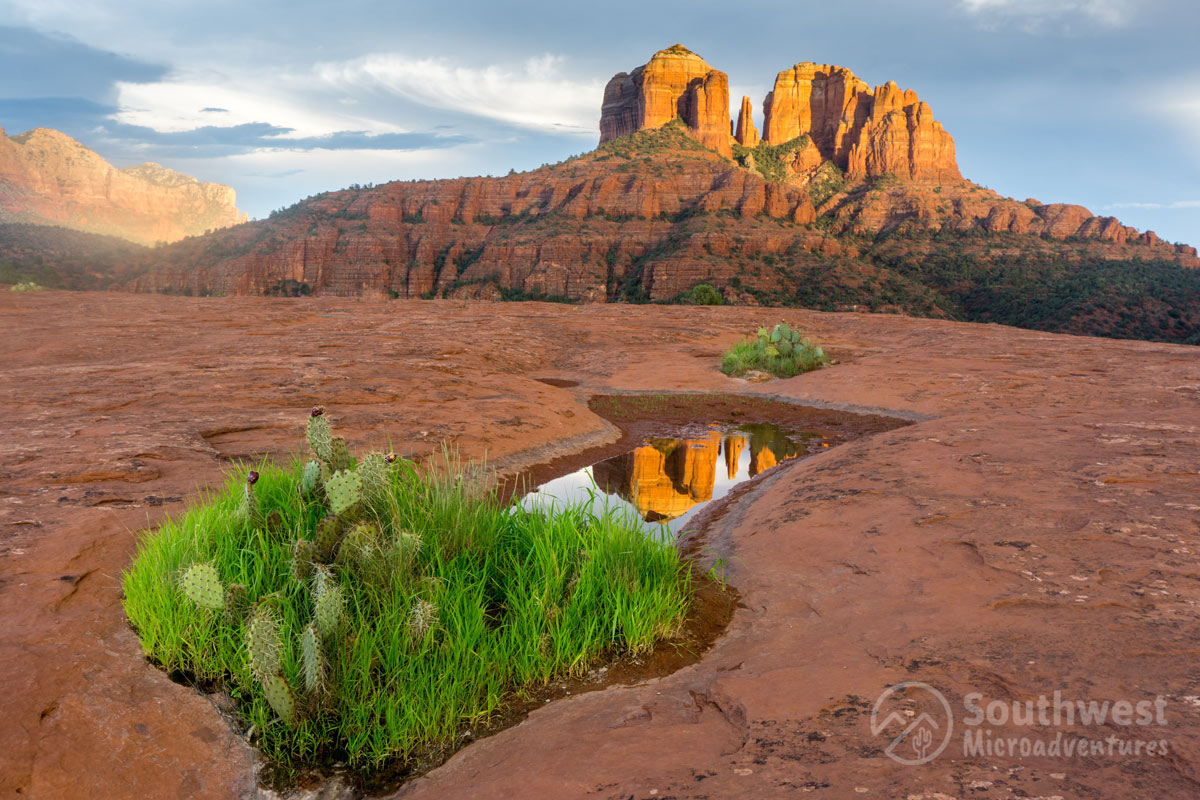 Each time I've visited Sedona, I'm blown away by the backdrops. Even from the town's main streets and two state highways: SR-89 and SR-179, the views are spectacular.
The town of Sedona is built all around the red rock canyons and buttes that dance with color and envoke feelings of awe and excitement for potential Microadventures. Despite living in nearby Flagstaff and visiting Sedona on a regular basis, I still find myself pulling over to take photos of the unbelievable scenery.
Once you're ready to start exploring Sedona, the scenery is instantly elevated. Hiking, biking, climbing, or swimming offers a more intimate, peaceful, and even intense experience as the greenery, red rock canyons and buttes take up more of your peripheral.
#2 Variety of outdoor activities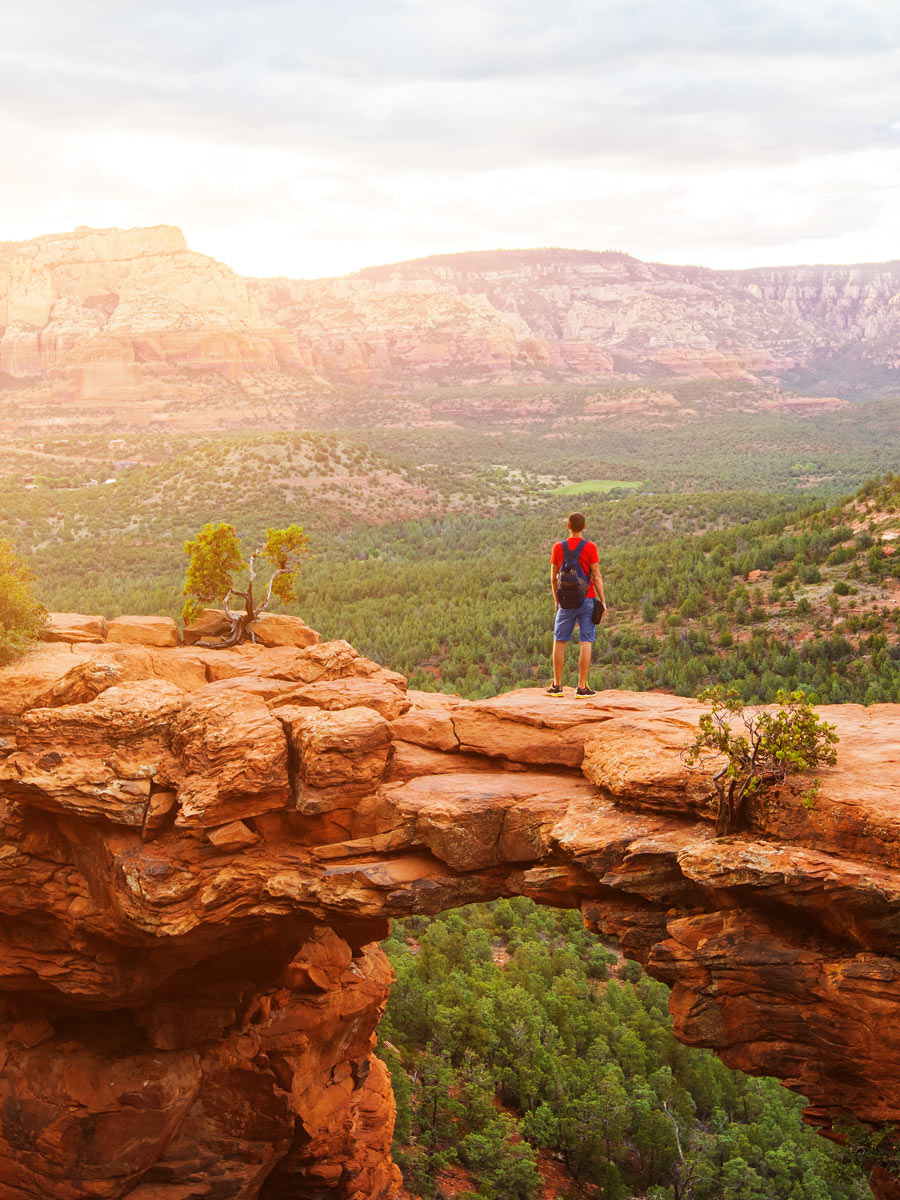 Mountain biking not your thing?
How about hiking?
Hiking not your thing?
How about road biking?
Road biking not your thing…
I think you get the idea.
Sedona's dynamic landscape, trail system, creeks, and scenic byways provide a variety of outdoor activities no matter what the sport or activity. Sedona's trail system (which consists of over 178 trails within Sedona's city limits) is multi-use and is utilized by hikers, mountain bikers, climbers, and creek swimmers alike. Depending on what you're looking to do in Sedona, you can use the trail system for that activity.
In addition, Sedona's community and shops provide great support for visitors (and locals like me) in the form of trail guides and rental shops alike. Even if you don't have a mountain bike or ATV, there are about a dozen shops within downtown and west Sedona that provide rentals. Guides within Sedona can also provide guided climbs, rides, and hikes for the novice visitor looking to "get their feet wet."
#3 Sedona has great weather year-round
With the exception of water sports and swimming, you can do most outdoor activities in Sedona all year round.
For those unfamiliar with the topography and weather of northern Arizona, Sedona has hot summers and cool winters.
Despite what you may think, Sedona does get snow each year. In our experience, snow in Sedona only comes in the form of a few inches and doesn't stay around long.
But Sedona's weather is mostly warm and sunny and allows you to play, hike, bike, camp, and climb year-round. Water sports in Sedona like swimming, kayaking, and cliff jumping are a little different. Sedona's main river system: Oak Creek Canyon is snow-melt fed by the San Francisco Peaks outside of Flagstaff and is extremely cold during the early spring and winter. Best to hold off on water sports in Sedona until summer or early fall!
#4 Trails for all ages and difficulties
Amateur mountain biker?
Ride on the dozens of Green trails.
Semi-pro mountain biker or a weekend warrior?
Shred the Black Diamonds!
Sedona has trails for all ages and experience levels in every corner. Viewing an actual trail map area of Sedona, you can physically see the variety of trail difficulties available. So no matter what your experience level is, you can find a trail that's right for you.
#5 Fast-paced morning and laid-back afternoons
Most visitors to Sedona want to take advantage of the morning light and cooler temperatures. Not surprisingly, you'll find the trails packed in the mornings and through the afternoons (especially on the weekends). For me personally, mountain biking in the mornings in Sedona is the best time to be on the trails. The trails are more "tacky" with morning dew making your bike's tires stick to the trail and lets you ride faster.
As you can imagine, after a morning of shredding on the trails or a Microadventure, lunch and a beer in uptown Sedona is a great way to wrap up the day. In the afternoons, the trails are hotter, drier, and dustier- which makes hiking, biking, or climbing in the morning more appealing.
Afternoons in Sedona are quiet because of this. Everyone has done their riding, hiking, and climbing for the day and is ready to kick back and relax.
#6 Relaxing nights in Sedona
Full disclosure, as a northern Arizona local, Sedona is not a town with a lot of nightlife. There have been nights where the whole town seems to be asleep by 11:00 pm. That being said, you can still have a great night out in Sedona after a long day of Microadventures.
For one, you can actually hike at night in Sedona, assuming there's a full moon or you use headlamps. The temperatures are mild at night (except during winter) and are perfect for a stroll through the desert.
If you're just looking to put your feet up and get a little saucy, several of the bars and restaurants in uptown Sedona have great drink specials past dinnertime.
Just don't expect to go bar hopping!
#7 The Water life
As mentioned before, the Oak Creek river system flows in and around Sedona and offers great opportunities for water sports. Assuming you're visiting during summer, you can enjoy swimming, floating, cliff jumping, cliff diving, and kayaking in Sedona. Some of my favorite spots include:
Grasshopper Point: great for cliff jumping, cliff diving, and swimming
Crescent Moon Ranch: great for swimming and picnics
Slide Rock State Park: great for swimming and cliff jumping- be aware of crowds during summer!
Wrapping up:
Sedona has hundreds of miles of trails surrounded by huge red rock buttes, canyons, and crystal-clear creeks. No matter if you're interested in mountain biking, road biking, hiking, backpacking, climbing, swimming, or cliff jumping, Sedona is perfect for your activity of choice.
The weather is beautiful year-round, possesses trails for all types of activities with varying levels of difficulty, and tons of water to cool off in. Sedona, Arizona is a must-visit for all Microadventurers and outdoor thrill-seekers alike.
What do you like to do when visiting Sedona? Comment below or Tweet us!
Resources for Sedona