Why You Need To Visit Flagstaff
As a resident of Flagstaff, Arizona since 2013, I've had the privilege to live in one of the fastest-growing and beautiful mountain towns in the southwest. With a plethora of outdoor activities and Microadventures at every turn, Flagstaff, Arizona is the perfect place for outdoor-seeking individuals and those looking to relocate from the hustle-and-bustle of a large city.
For those unfamiliar, Flagstaff is located in northern Arizona about 2.5 hours directly north of Phoenix. It is nestled within the second-largest ponderosa pine forest in the world and backs up to the nearby San Francisco Peaks.
Here are our seven reasons you should visit Flagstaff, Arizona on your next road trip or vacation:
#1 Flagstaff's Outdoor Access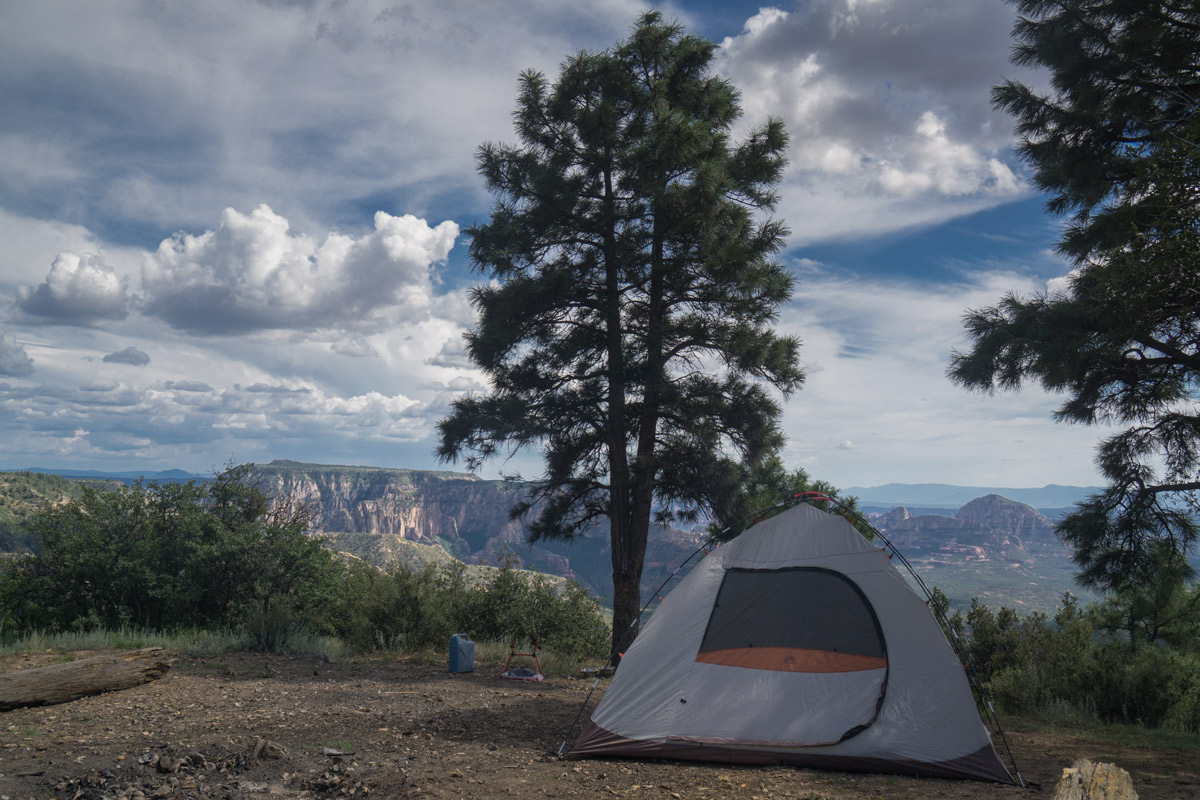 Free dispersed camping spot about 30 minutes south of Flagstaff that overlooks Sedona.
Within a 10-mile radius of downtown Flagstaff, you have access to over 122 different trails that can be used for hiking, mountain biking, horseback riding, OHV, and ATVing. For the visiting climber, those trails provide access to over 1,500 climbing and bouldering routes. And let's not forget peak bagging, skiing, and snowboarding on the nearby 10,000-12,000 foot peaks.
You could literally live in Flagstaff your entire life and not hit the same trail twice.
In addition to Flagstaff's direct outdoor access, the neighboring areas offer a never-ending amount of things to do. Consider what's within a two-hour drive of Flagstaff:
As you can tell- Flagstaff and its surrounding areas are a high-desert and mountain-loving enthusiast's dream come true.
#2 Flagstaff's Four Seasons In Arizona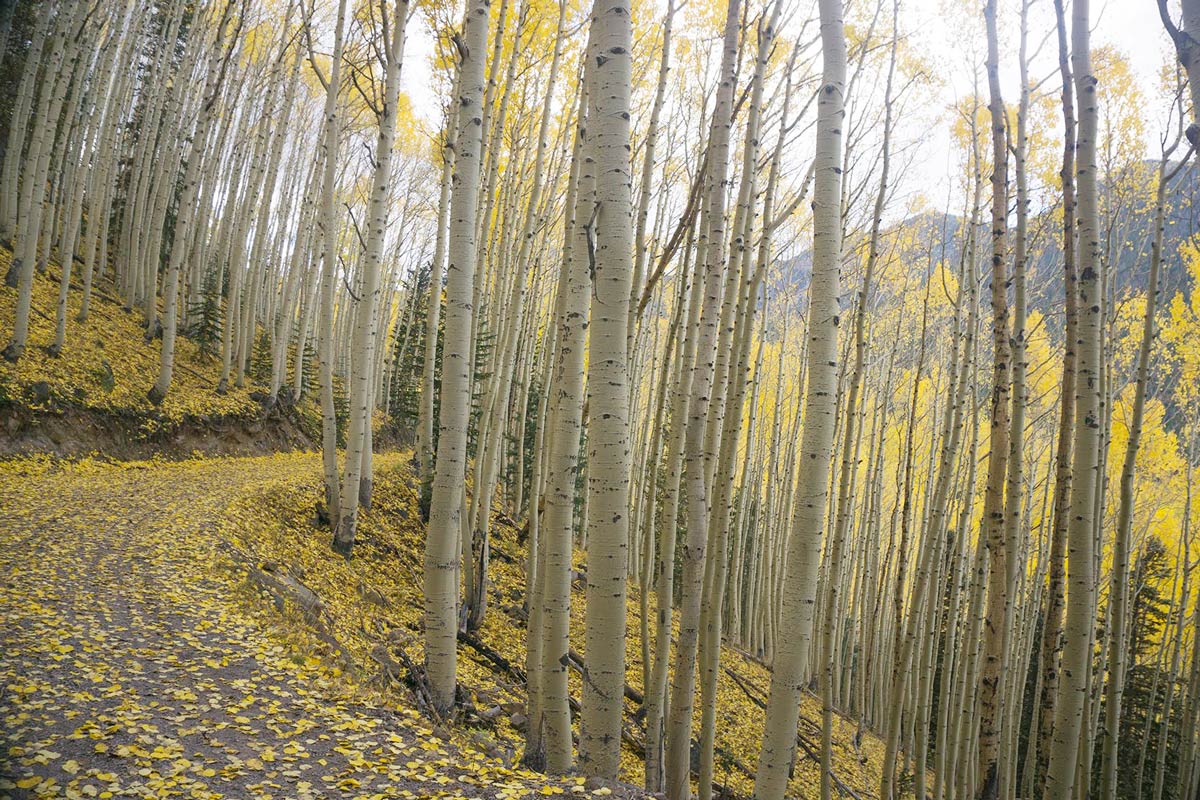 Surrounded by aspen trees. Fall near Lockett Meadow, north of Flagstaff.
Unlike other places in Arizona like Phoenix or Tucson, Flagstaff actually has four seasons. Each season in Flagstaff has its own claim-to-fame.
Spring and summer are great for most outdoor activities like hiking, road and mountain biking, climbing, backpacking, peak bagging, and camping. Summer also sees a majority of Flagstaff's music and food festivals.
Visiting Flagstaff in fall is great for the same activities with the exception of camping. The temperatures start to drop around Labor Day which moves a lot of camping to nearby Sedona or Page, Arizona where it's warmer at night. The falls colors in Flagstaff are incredible thanks to the groves of aspen trees found within the region. Each year, visitors from all parts of Arizona flock to Flagstaff during fall to basque in the orange-red forests.
Winter is a whole other animal in Flagstaff. With nearby the Arizona Snowbowl (the local ski resort), visitors can enjoy skiing or snowboarding powder days on par with the front-range of Colorado.
#3 The Mountain Town Lifestyle
Resting at just over 7,000 feet, Flagstaff exhibits a lot of qualities of other mountain towns in the southwest. For one, residents of Flagstaff prioritize "play" over work with whole businesses shutting down on powder days. In addition, it's fairly common for businesses to organize office mountain bike rides, climbs, or hikes throughout the year.
While Flagstaff does have an abundant nightlife thanks to nearby Northern Arizona University, it is not uncommon to find Flagstaff's weekend warriors and Microadventures tucked-in early on Friday and Saturday nights. As a result, some trailheads at 9:00 AM on Saturday or Sunday mornings can be a zoo.
"Early to bed, early to rise" in Flagstaff has been transformed to "Early to bed, early to shred."
#4 The Flagstaff Urban Trail System (FUTS)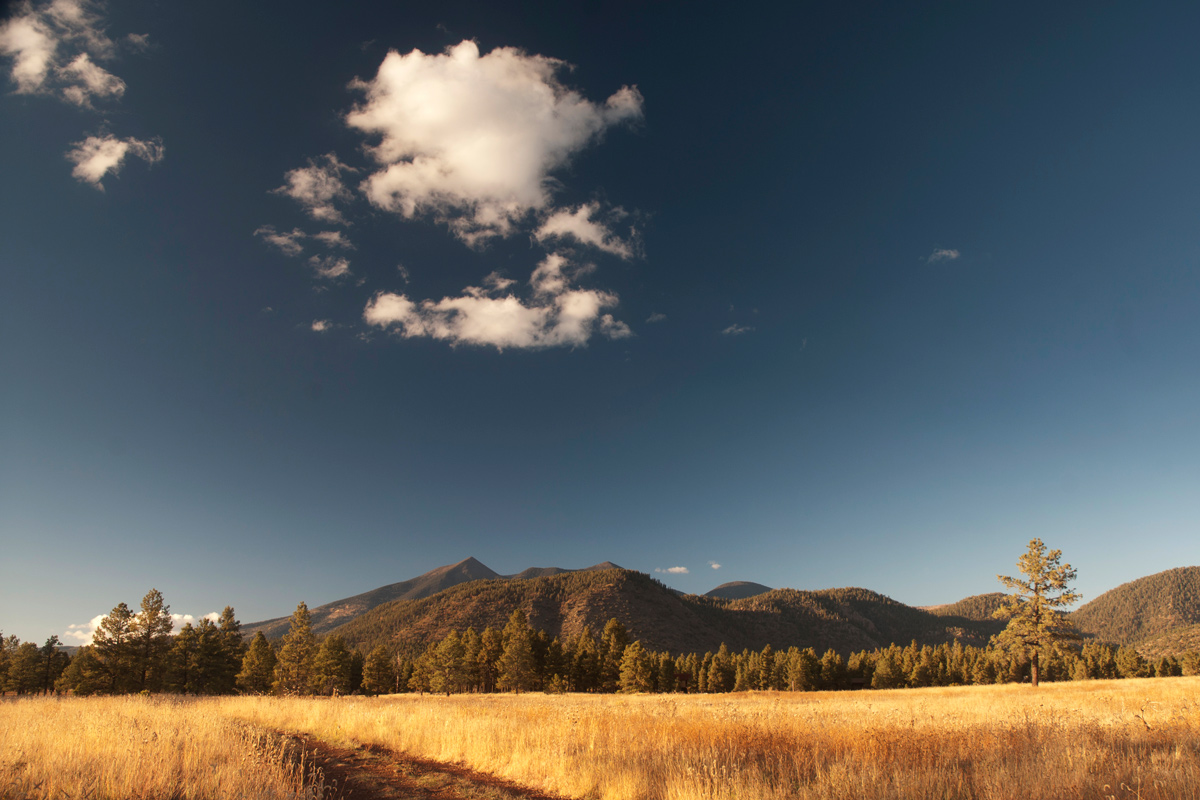 A view of the San Francisco Peaks on the FUTS. Near Buffalo Park, north of downtown Flagstaff.
Flagstaff holds one of the coolest in-city trail systems anymore in Arizona or the southwest. The Flagstaff Urban Trails System or FUTS (pronounced "foots") is a 56-mile network of shared-use trails that circumvent the whole city. While there's another 75 miles of trail that are in the works, Access to the FUTS seems to be on every corner of Flagstaff. The trails are mixed-use and are utilized by hikers, bikers, runnings, and walkers-alike. The scenery along the FUTS varies greatly from canyons to ponderosa pine forests- all within the boundaries of Flagstaff.
Insider tip: The FUTS is used to access the greater web of trails that surround Flagstaff including the Arizona Trail (AZT). It's not uncommon for mountain bikers to meet on a particular part of the FUTS to start their ride.
#5 The Flagstaff Climbing Scene And Peak Bagging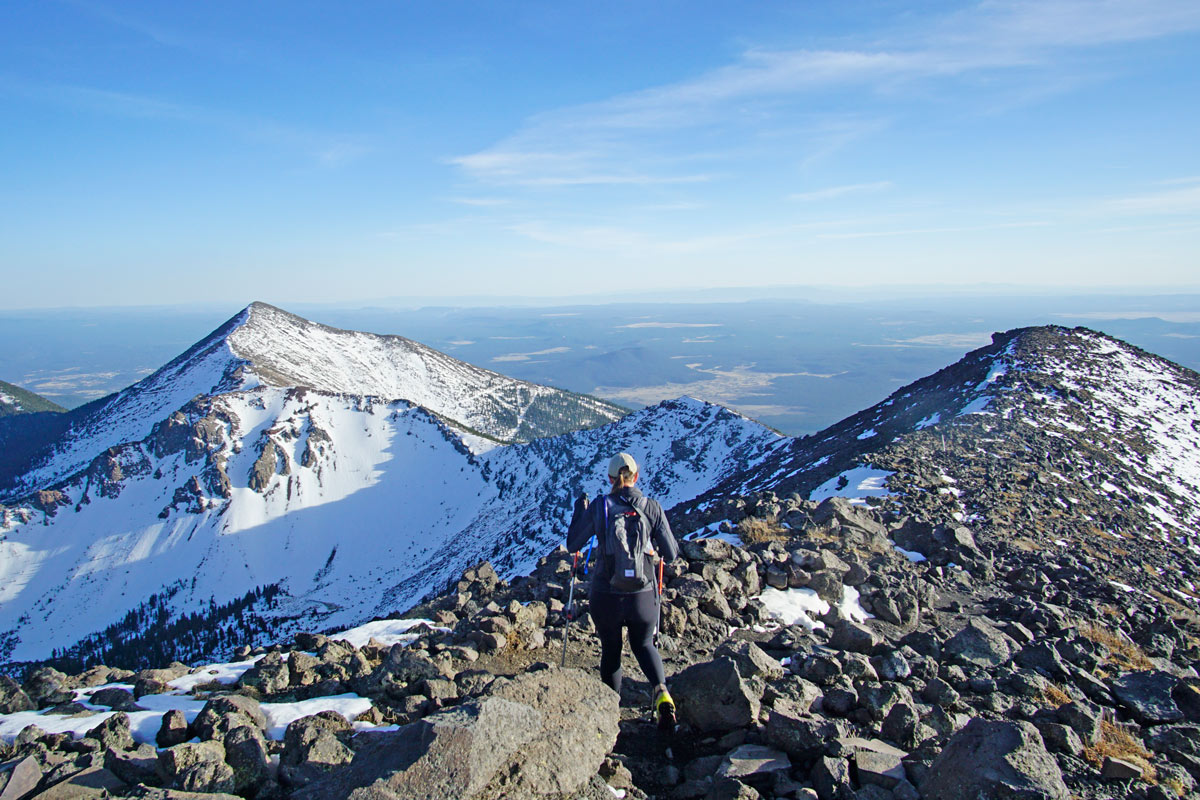 Peak bagging on the highest peak in Arizona: Humphrey's Peak. Just north of Flagstaff.
It's often said by locals that Flagstaff is a "drinking town with a skiing problem." That saying could be modified to "drinking town with a climbing problem."
As mentioned prior, Flagstaff possesses over 1,500 climbing and bouldering routes within a 15-mile radius of downtown. In addition, there are three climbing gyms: Flagstaff Climbing Center, Beta Bouldering Gym, and Main Street Boulders. On any given day of the week, expect climbers from all corners of Flagstaff to descend on both the local crags and gyms to work on their projects.
Insider tip: The local crag is known as Sandy Canyon or "The Pit." You'll find many Flagstaff classic climbs there including "Mr. Slate." Word of caution: "The Pit" can be crowded on the weekends due to its classics. For a less-crowded climbing area, check out The Peaks Crag.
While Flagstaff is no Colorado for peak bagging, there is still an active community involved in peak bagging and mountaineering. The three highest mountains in Arizona all lie directly north of downtown Flagstaff and are just begging to be summited.
#6 The Flagstaff Mountain Biking Scene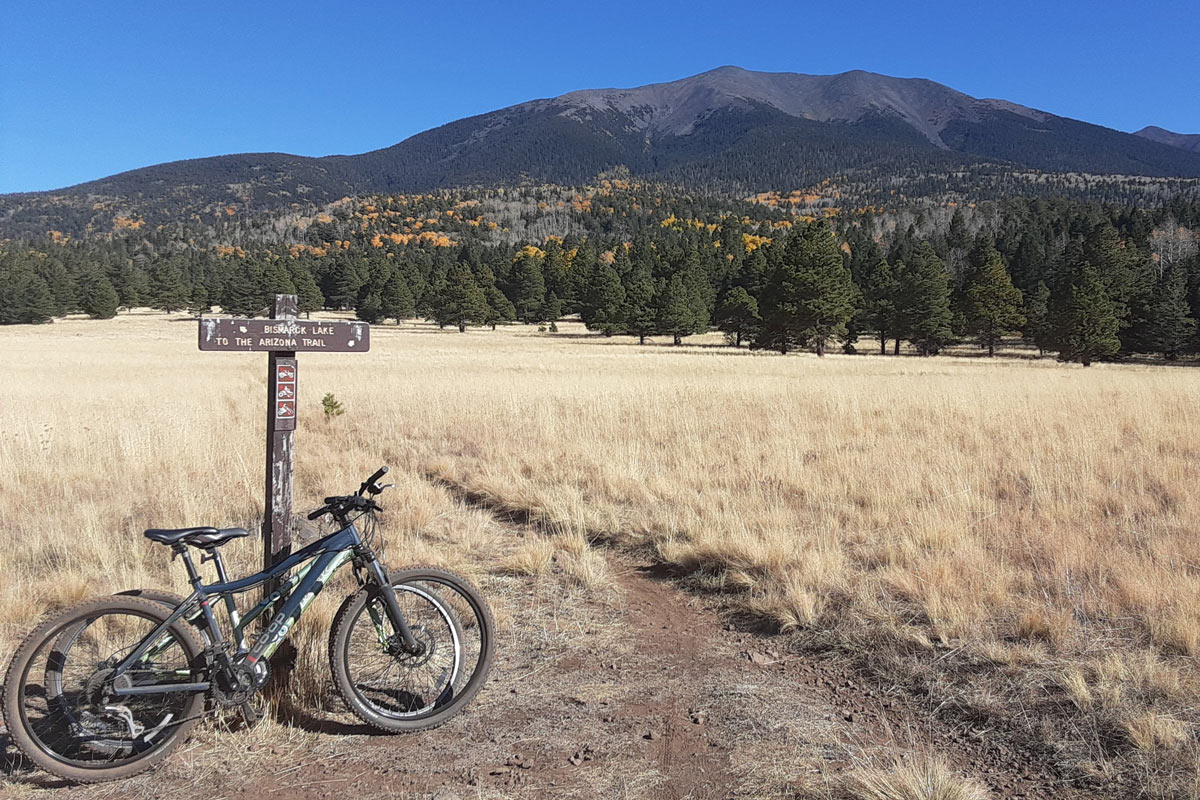 Mountain biking in Flagstaff can take you through some amazing terrain! Near Bismarck Lake.
Just like the climbing scene, Flagstaff is home to an insane amount of passionate mountain bikers of all ages. It's not uncommon to share a busy trail on a Saturday afternoon with bikers in their 60s, teenagers, and everyone in-between. In fact, the local Flagstaff high schools and charter schools even have mountain biking teams!
The nearly 122 mountain biking trails within the Flagstaff region see a huge diversity of landscapes including canyons, meadows, high mountain passes, and aspen-covered forests. Riders come from all around the world to enjoy Flagstaff's mountain biking trails.
If you're visiting Flagstaff to mountain bike, make sure you check out Absolute Bikes for your gear rentals and Pay N' Take for your post-ride beer.
#7 The Flagstaff Winter Scene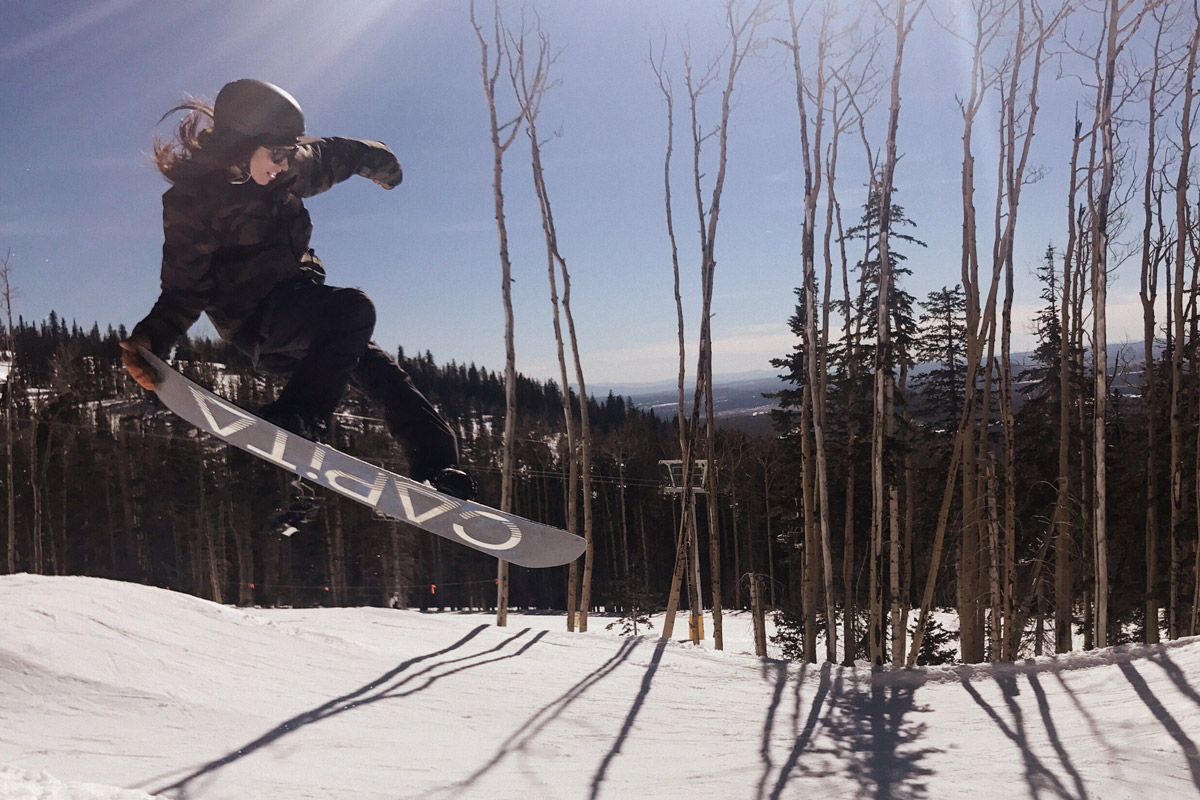 Local snowboarder and web designer, Jess Tennyson, shredding at Arizona Snowbowl. Photo courtesy of Jess Tennyson.
My friends from the midwest are baffled that it snows in Flagstaff. In fact, it snows a lot! Downtown Flagstaff gets an average of 102 inches of snow each year with the nearby San Francisco Peaks and ski resort receiving 280 inches.
Clearly, the biggest way Flagstaff locals take advantage of winter powder days is by hitting up the local ski resort: Arizona Snowbowl. With over 55 runs and eight lifts, Snowbowl offers great skiing and snowboarding less than 45 minutes away from downtown.
For those on a budget or not into skiing or snowboarding, all of Flagstaff's trails become cross-country skiing and snowshoeing trails during the winter.
Insider tip: Renting gear and cross country skiing or snowshoeing at the Arizona Nordic Village is a cheap way to enjoy winter sports in Flagstaff without paying for lift tickets at Snowbowl.
Summarizing
Flagstaff, Arizona is one of the best mountain towns in both the southwest and potentially the United States. It hosts outdoor Microadventures for individuals looking to hike, mountain bike, climb, peak bag, ski or snowboard. Flagstaff is a must-stop for your next road trip or visit to Arizona!
What do you do when you visit Flagstaff? Comment below or Tweet us!
Nick The Rambling Man
Nick is the owner and regular content writer for Southwest Microadventures. When he's not writing, you can find him rock climbing, peak bagging, mountain biking, backpacking, or drinking strong coffee.