Arizona holds many great free dispersed camping spots and campgrounds and there is no doubt that it is one of the best states to go tent camping or backpacking in. There are local parks, state parks, and natural parks that offer camping options for primitive tent camping to full RV hookups. And for good reason too! As you're probably aware, Arizona is a very popular spot for outdoor rec: biking, hiking, backpacking, climbing, bird watching, etc.
The amount of natural features and parks is astounding in the Copper State. In fact, in a single day, you can experience many different landscapes and activities. For a glimpse at how epic a day in Arizona could be, here's a sample itinerary of what is possible:
In the morning, you can visit the high mountain, high desert area in Flagstaff, complete with hiking and biking the San Francisco Peaks. In the afternoon, visit Sedona and "Red Rock Country" for some slick rock biking, hiking, and a dip in the crystal-clear waters of Oak Creek. Next, you can travel down to the Phoenix area and be amongst the giants: saguaro cactus and picture-perfect pink and purple sunsets. At night, you can head just two hours south of Phoenix to Tucson for some night mountain biking in Saguaro National Park.
Clearly, that itinerary, even for us Microadventurers, would be a little insane. So we recommend camping in-between those destinations and activities. But with so many great, free camping spots throughout Arizona, you could execute that crazy itinerary without ever spending a dime on your tent camping spot.
Here's a list of our top 10 free overnight camping spots in the Copper State:
#1 Edge of the World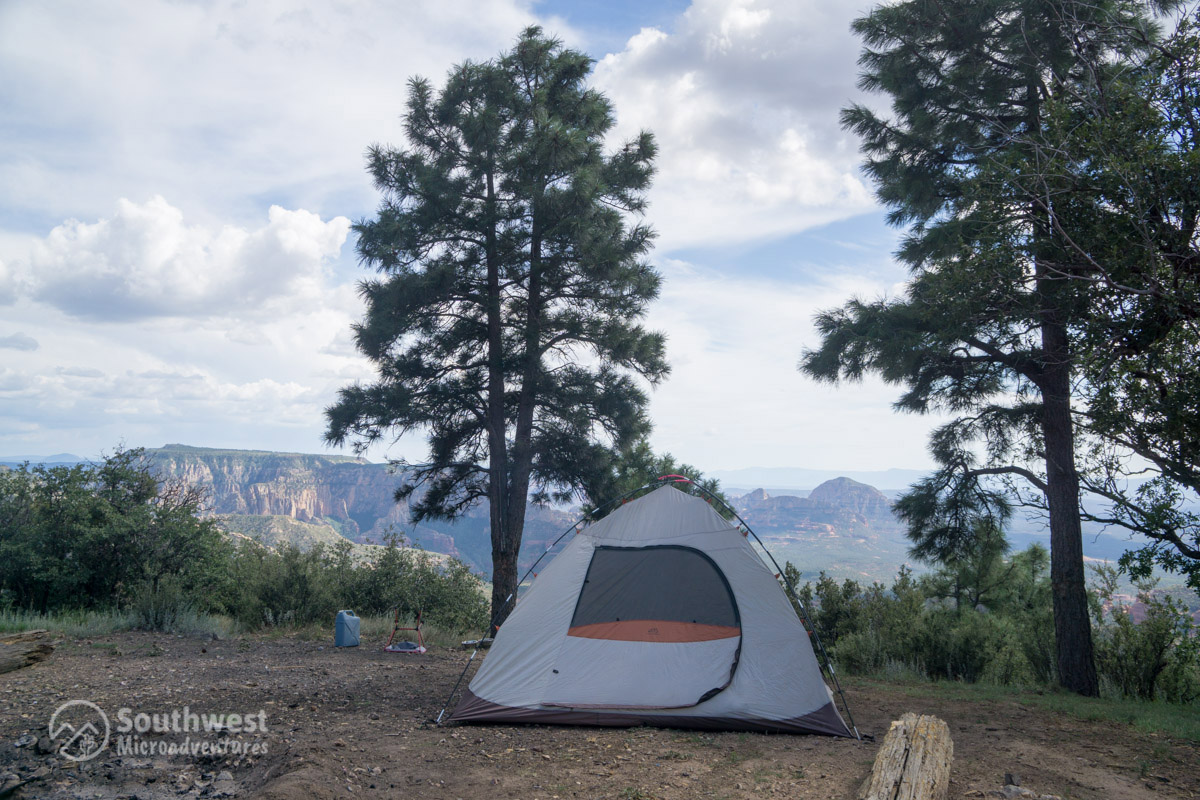 A favorite local spot for many northern Arizona Microadventures. Edge of the World, also known officially as "East Pocket", is a magical camping spot about 20 miles southwest of Flagstaff. Sitting on the edge of the two canyon systems, West Fork Canyon and Oak Creek Canyon, you will camp on the literal edge of these canyons. In fact, expect to pitch your tent next to a 75+ foot cliff that overlooks a canyon and the northern end of Sedona and Red Rock Country. Enjoy some peace and quiet in the pines at this "off-the-beaten-path" area of northern Arizona.
Getting there is an easy venture, with most cars being able to take the trip without issue. In fact, we've seen Honda Accords make the trip. Expect a 1.5 hour door-to-door trip from downtown Flagstaff. There are no facilities, toilets, water, taco shop, and very patchy cell service so plan accordingly. The entire Edge of the World area is free to camp with a 14-day limit issued by the Coconino Forest Service. Bring a hammock, a good book, and enjoy the views at this magical camping spot outside of Flagstaff!
#2: Lake Powell Beach Camping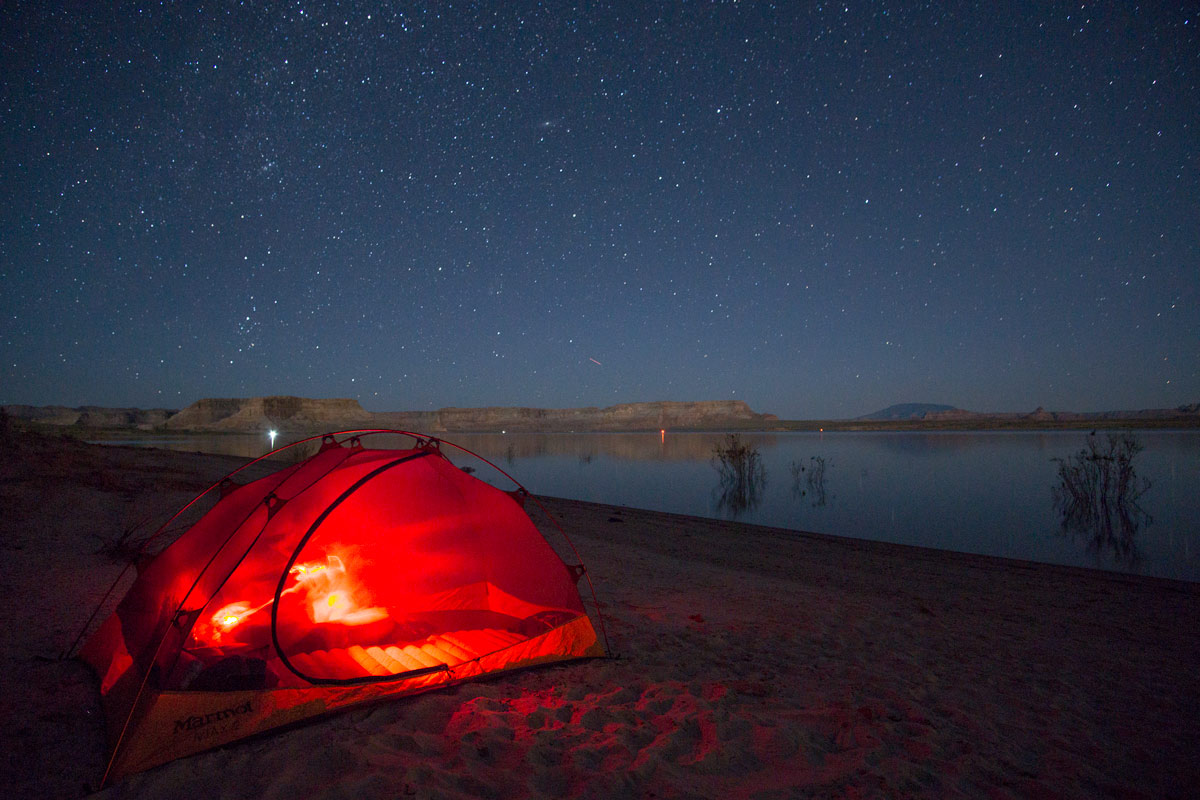 For a truly epic Microadventure weekend, consider beach or kayak camping anywhere on Lake Powell. Located on the border of Utah and Arizona to nearby Page, Arizona, Lake Powell is a massive lake and canyon system with hundreds of miles of free beach camping options. It is insane to fathom how much free camping is offered in this area.
For the casual weekend warrior, find a forest service road and drive as far as you can towards the lake. You may have to walk a few hundred yards to get to a beach, but the views from your campsite will be worth it.
For the more adventurous type or if you want to make a weekend out of your Lake Powell excursion, consider kayak-backpacking. We love local Page, Arizona kayak outfitter, Kayak Lake Powell, who provides both kayak rentals and kayak tours close to Lake Powell. Once you get your kayak situated, you can launch at both Wahweap Marina or Antelope Point Marina and literally camp anywhere you can find a spot. Enjoy camping on white-sand beaches near massive swimming holes with Carribean-blue colored water and tons of hiking.
#3: Mogollon Rim Dispersed Camping
The Mogollon Rim runs along most of north-central Arizona near the towns of Payson, Rimrock, and Strawberry. Close to these rural towns are great free camping options- specifically off of forest service roads FR 9354, 9350, and 208.
Similar to Edge of the World near Flagstaff, the Mogollon Rim is a literal cliff that drops off into a sea of ponderosa pine trees. The Mogollon Rim offers great hiking and biking. When you venture out and explore the Rim, you are likely to be alone most of your time there. Because of the distance away from major Arizona cities like Flagstaff, Phoenix, and Tucson, few people venture out to the Mogollon Rim when they are considering camping in Arizona. Enjoy some peace and quiet and miles of forest trails near your camp.
#4: Grand Canyon Dispersed Camping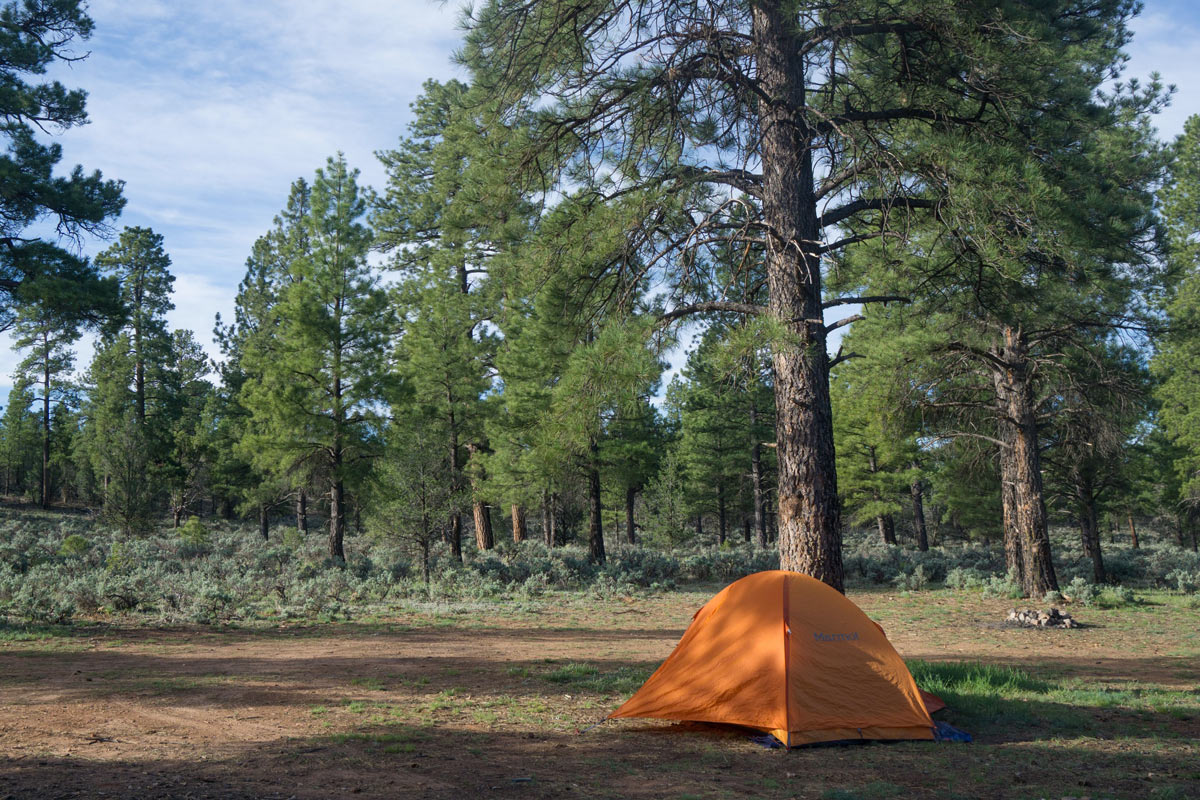 When hikers and backpackers think "Grand Canyon camping," Bright Angel and Indian Gardens are the South Rim campgrounds that come to mind. What is a dirty-little-secret of the Grand Canyon National Park is the amount of free camping just outside of the park. Granted these sites aren't sitting on the edge of the canyon itself, but are totally free, away from the crowds of the park, and are secluded enough where your closest camping neighbors could be a mile away. Pretty rare for the second most visited national park in the US!
We personally like FSR 688 and FSR 307. These sites are close enough to nearby Tusayan, Arizona where if you run out of beer, it's a quick drive back into town (for the sober one in your party).
#5: Off Schnebly Road Near Munds Park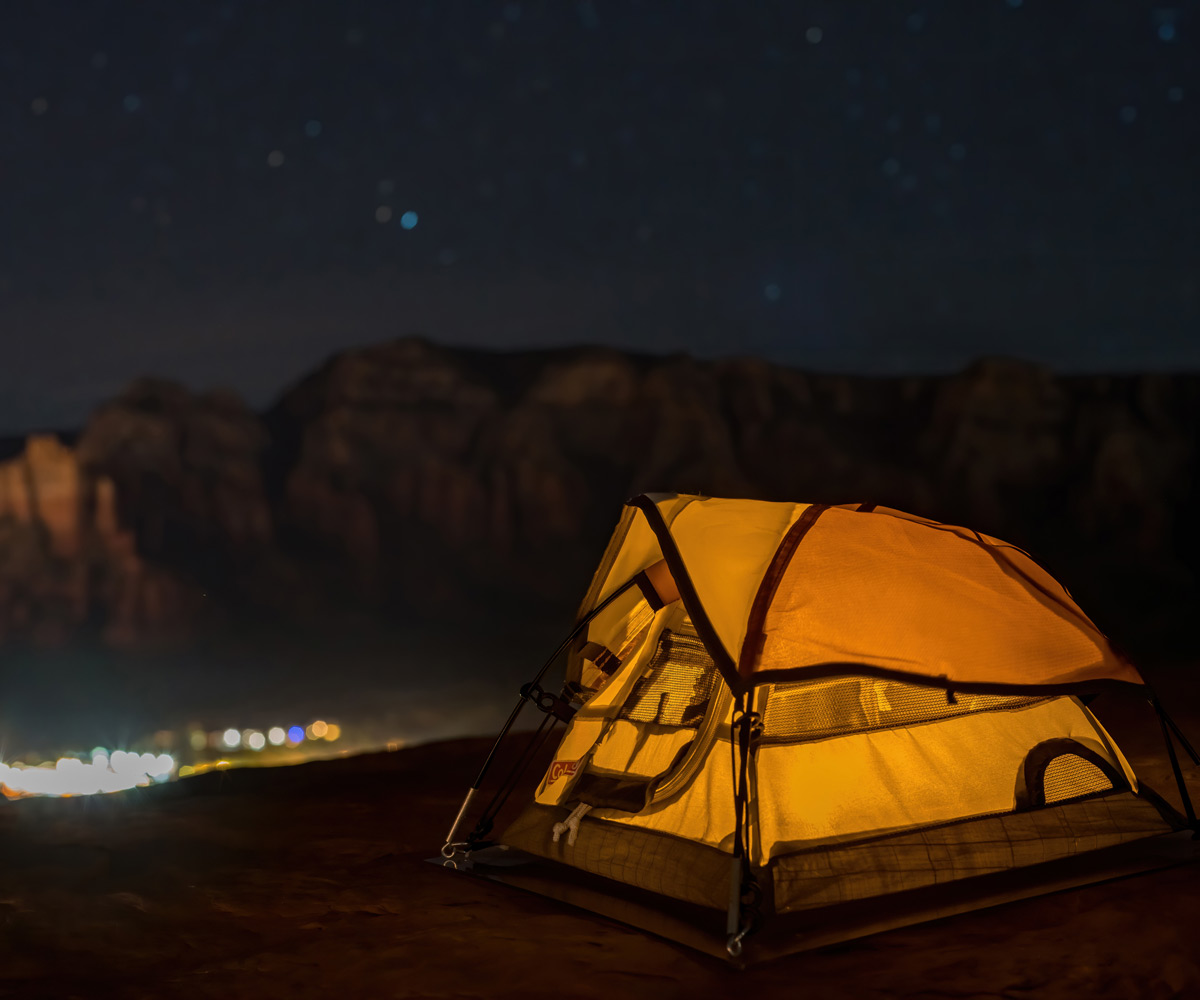 Another great local spot near Flagstaff and Sedona is off of Schnebly Hill Road directly south of the town of Munds Park off of I-17. While it is a popular area for hunters, you will still find plenty of places to pitch your tent. This free dispersed camping area in Sedona is set in a ponderosa tree forest and offers a lot of peace and quiet amongst the trees. For the extra adventurous, you can hike out to the rim and overlook the entire city of Sedona and red rock country. FSR 153 will also take you into Sedona- either by 4×4 or by mountain bike. The road is rough- we don't recommend making the drive without high clearance.
This free dispersed camping area in Sedona offers no amenities so make sure you pack enough water, toilet paper, and a hammock for lounging in the pines.
#6: Marshall Lake Dispersed Camping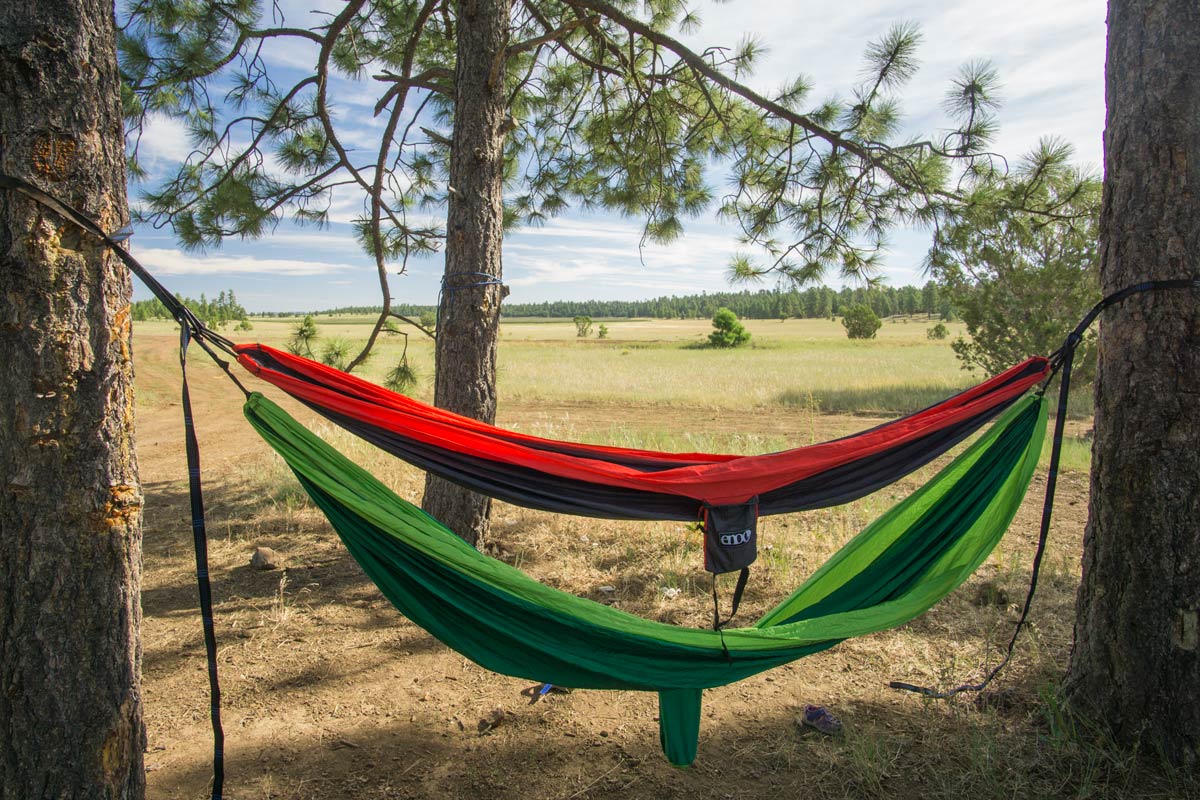 Just nine miles or 20ish minutes east of Flagstaff, Marshall Lake offers amazing camping near a dry-ish lake, pine forest, and meadow of flowers. This camping area serves as an overflow spot for groups who didn't find a spot at the nearby Lake Mary campgrounds, so expect some neighbors on the weekends. During the week- this place is often a ghost town.
While this area is busier than other spots around Flagstaff, the nearby activities make up for it. During the rainy monsoon season, you should be able to canoe, kayak, or fish in Marshall Lake. If the lake is dry, you'll find miles of great hiking and biking trails- or just hop down the road and take a dip in Lake Mary. At night, enjoy a campfire and a wide-open sky with hundreds of stars.
We recommend bringing all of your outdoor gear including hiking gear, your mountain bike, car-camping set-up, and a telescope or binoculars to enjoy the night sky.
#7: Senator Highway Camping in Prescott
For those in central Arizona, off of Senator Highway just south of Prescott has great dispersed, free camping available. Heading from downtown Prescott on Senator Highway for just over five miles will bring you to a series of dispersed campsites.
What is great about this area is it's proximity to Prescott and the views. Because Prescott is just a short drive down the hill, it allows for some laziness. Don't feel like cooking dinner around the campsite? Head to downtown Prescott for a burger.
Most of the campsites off of Senator Highway sit on top of a large hill. This allows for some great views, both day and night. You will be able to see all of Prescott and Mingus Mountain; Sedona and the San Francisco Peaks outside of Flagstaff on clear afternoons.
#8: Peralta trail campground in the Superstition Mountains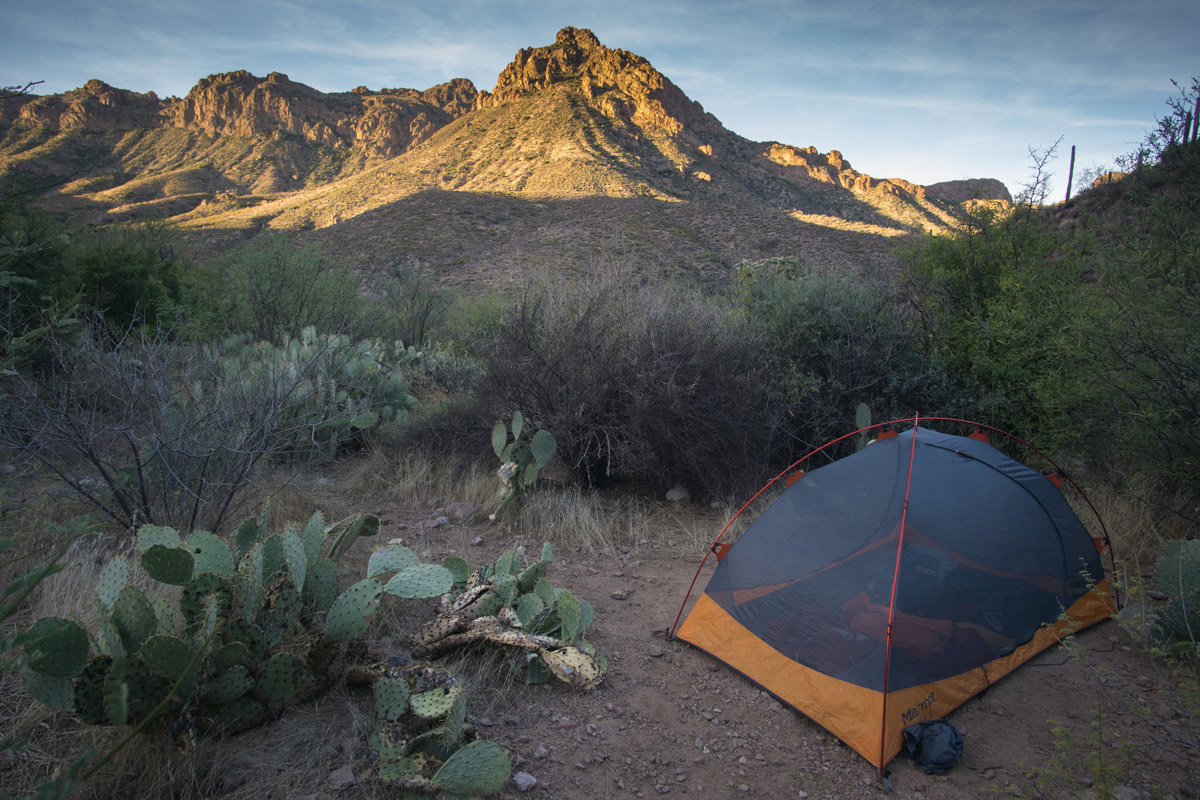 If you're in the Phoenix or Tucson area during fall or winter (basically anytime besides summer), the Peralta Canyon campground off of the Peralta trail is a great place to spend an overnight. A true backpacking trip, it features a 5+ mile out-and-back trip into the Superstition Mountains.
While the hike is very challenging, the views are worth it. From the Peralta campground, you're a short hike from Weaver's Needle and miles and miles of desert flowers and giant saguaro cacti. In the Phoenix area, the Peralta Canyon campground is by far our favorite free camping spot.
#9: Copper Basin Road Dispersed Camping
Another great spot for free dispersed camping near Prescott is off of Copper Basin Road. This campground is also very close to Prescott, like Senator Highway, but a little more public and busier. While Copper Basin Road camping might be a busier spot, that's not necessarily a bad thing. If you and your friends are looking to get rowdy in the woods but are close enough to run back into Prescott for beer, Copper Basin Road's free dispersed camping spots might be your calling.
#10: Cinder Hills Dispersed Camping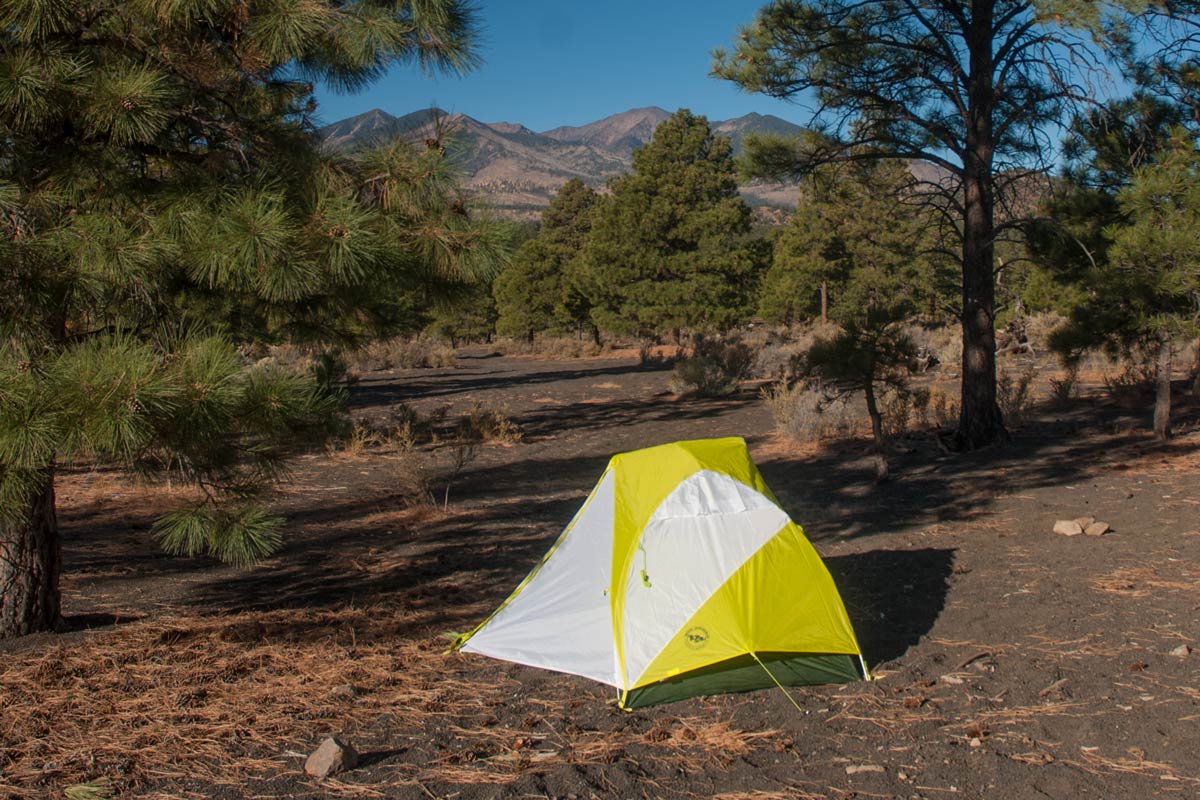 Located just north of Flagstaff off of Highway 89, the Cinder Hills OHV area hosts tons of great free dispersed camping. With views of the nearby San Francisco Peaks and Sunset Crater National Monument, it is a great, close place to pitch your tent if you're looking for a getaway from Flagstaff. A word of warning, the Cinder Hills is mostly utilized for motocross and ATVing so expect the area to be full during the weekends, especially during summer. What we really like about this area, besides the views, is camping right on top of cinders, or volcanic ash.
Conclusion
Arizona has amazing free dispersed camping spots and campgrounds all throughout the state. While we have outlined our favorites, from north to south, you can expect to find free camping spots in the woods or at the edge of a canyon outside of most towns and cities. Regardless of where you decide to pitch your tent for the night, consider one of the free spots we have outlined above.
Resources