Arizona might be one of the best states in the United States for dispersed or free camping. In several areas throughout Arizona, you can literally pull off the side of the road and pitch your tent for free. For those looking for a cheap way to travel throughout Arizona, dispersed camping is the way to go. While state parks and National Parks in Arizona are somewhat restricted with camping, National Forests, the BLM, and state forests offer more options for free dispersed camping.
Here's a guide on Arizona dispersed camping: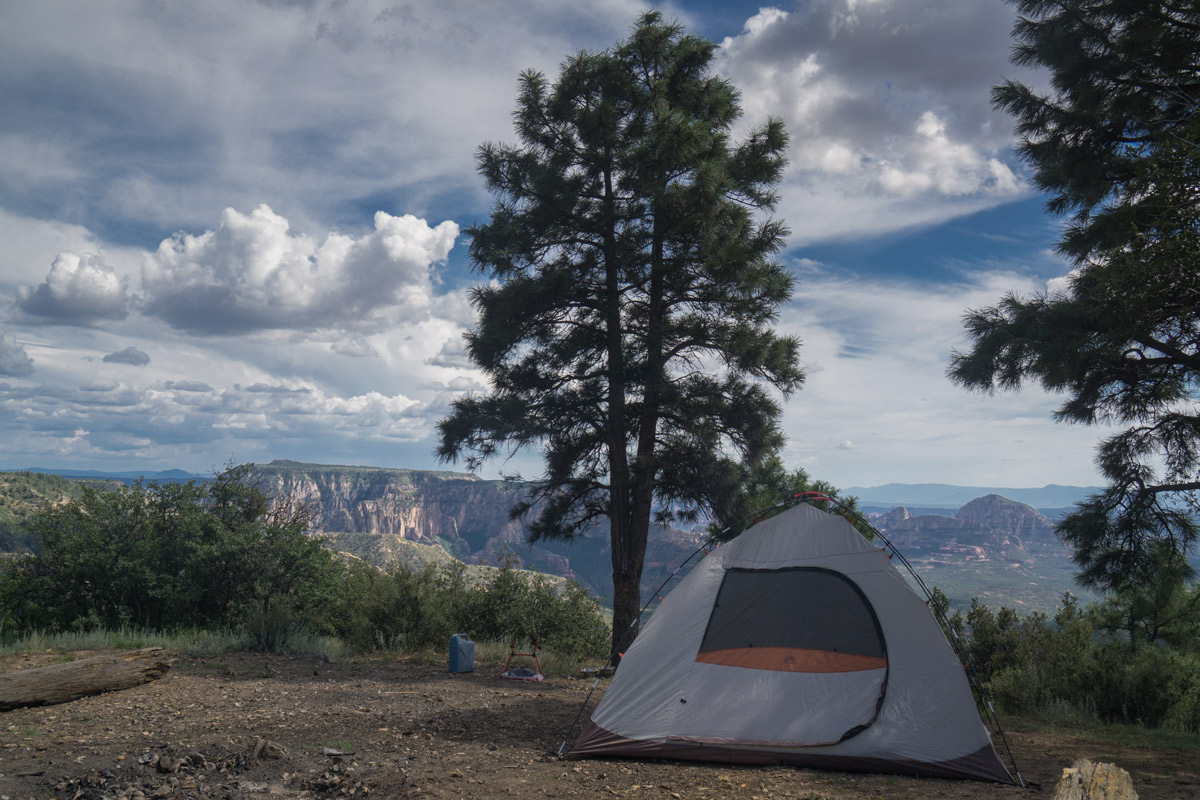 Sitting on the Edge of the World. One of the best free dispersed camping spots in Arizona.
Our Favorite Places Dispersed Camping Spots
#1 Coconino National Forest
Coconino National Forest is home to dozens of dispersed camping areas. Coconino County (where the national forest is located) is actually the second-largest county in the United States with an area the size of both Vermont and New Hampshire combined! With that sheer size, you can imagine all of the places you can camp. Our favorites include: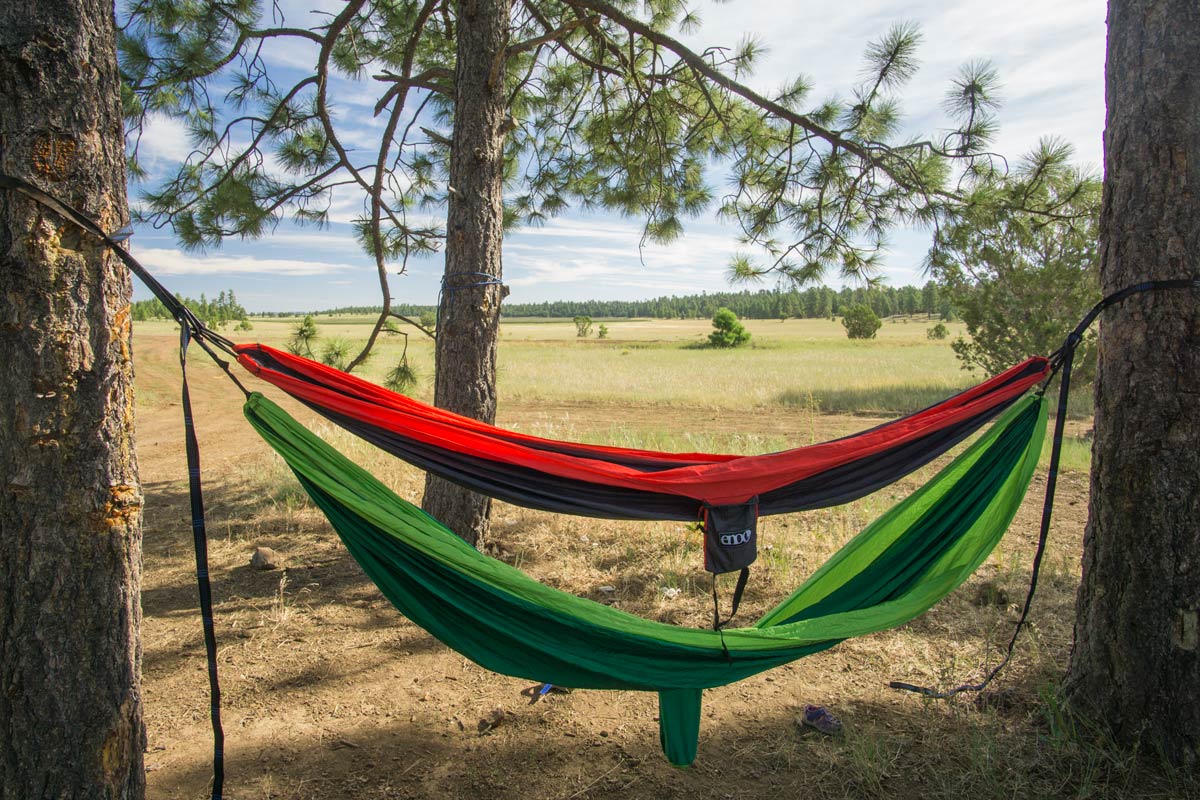 Hammock camping near Marshall Lake just outside of Flagstaff, Arizona.
#2 Prescott National Forest
Prescott National Forest located in the middle of Arizona, has topography and weather that is a blend of the northern Arizona ponderosa pines of Flagstaff, Red Rock Country of Sedona, and the desert valley of Phoenix and the surrounding areas. If you're looking for a place to go fall or early winter camping, Prescott National Forest is the spot! Our favorite dispersed camping spots include: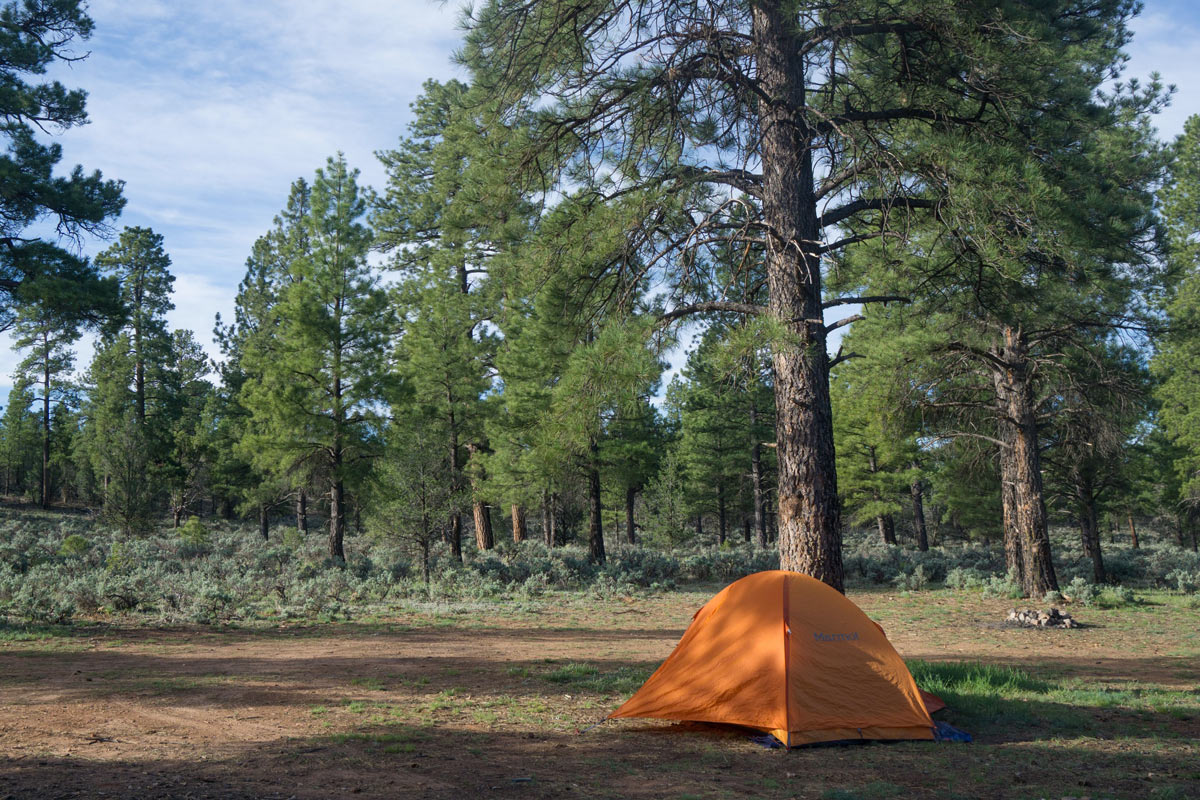 Nice and cozy spot off of Senator Highway outside of Prescott, Arizona.
#3 Tonto National Forest
Located near the hustle and bustle of Phoenix, Arizona and the Valley of the Sun, the Tonto National Forest is a very popular spot for people looking to escape the madness of city life. With several huge areas for free dispersed camping throughout central and eastern Arizona, Tonto National Forest is a great area for those looking for desert-style camping, warm nights, and beautiful sunrises.
Our favorite dispersed camping spots in Tonto include:
Guidelines For Dispersed Camping In Arizona
Dispersed camping in Arizona is a blast. It's free, easy to find dozens of campsites all throughout the state, and the camping areas are close to amazing recreation areas and hikes. Before you decide to go out and scout for a spot, here are some of the guidelines you should know about if you're thinking of going dispersed camping in Arizona this season:
No reservations: you cannot make reservations for any type of dispersed camping. It is first-come-first-serve! Arrive early to the spot you want to camp and take advantage of weekdays whenever possible.
Bring your own water: most of the time, potable water is not provided or close to dispersed camping spots. Don't plan on water being available. Bring your own or filter creek or lake water if available.
Pack it out: Arizona has a real problem with litter. Don't add to the problem. If you pack it in, make sure you pack it out. This goes for all organic trash as well- don't throw your apple cores in the forest!
Check out the spot before you drive your RV into it: some of the dispersed camping areas are very tight. If possible, check out an area you're interested in with a smaller car or by foot before you drive your RV into it. U-turns are very difficult certain spots, especially in Coconino County.
Be smart with fires: don't cause the next big Arizona forest fire! If fires are permitted, always dig a fire pit and put the fire completely out before heading to bed. Always check the local Forest Service's website for fire restrictions. Don't just assume you can have a fire at your campsite…that's how huge forest fires start. And never leave a campfire unattended!
Don't stay longer than 14 days: there is a 14-day limit for most dispersed camping spots- especially in National Forests and smaller Arizona state parks. Check the local area to see how long you can stay.
Don't camp on private property: private homes and communities are often close to dispersed camping areas. Don't camp on someone's property unless you have permission from the owner.
Follow The Rules And Find Some Dispersed Camping!
Dispersed, free camping in Arizona is widespread. There are dozens of campsites in all corners of the state. We love Free Campsites for scouting out dispersed camping spots throughout the state. Do some research, find out the local fire restrictions, pack a bag and some water, and get out there!
Camping Resources