Beautiful Flagstaff, Arizona can be found at the base of the highest mountains in Arizona. These mountains include Humphrey's Peak standing at 12,634 feet.
Hiking throughout Flagstaff will reward you with views of the Coconino National Forest, the San Francisco Peaks, and desert-like areas filled with ponderosa trees and aspens. In the middle of your hiking adventures, you can easily find a camping spot without paying a dime and the best part is you do not need to venture too far from the trails before falling asleep under the stars each night.
If you're ready to save some money on your next Microadventure, here are our favorite free dispersed camping sites and spots in and around Flagstaff, Arizona:
Edge of the World (Also Known as East Pocket)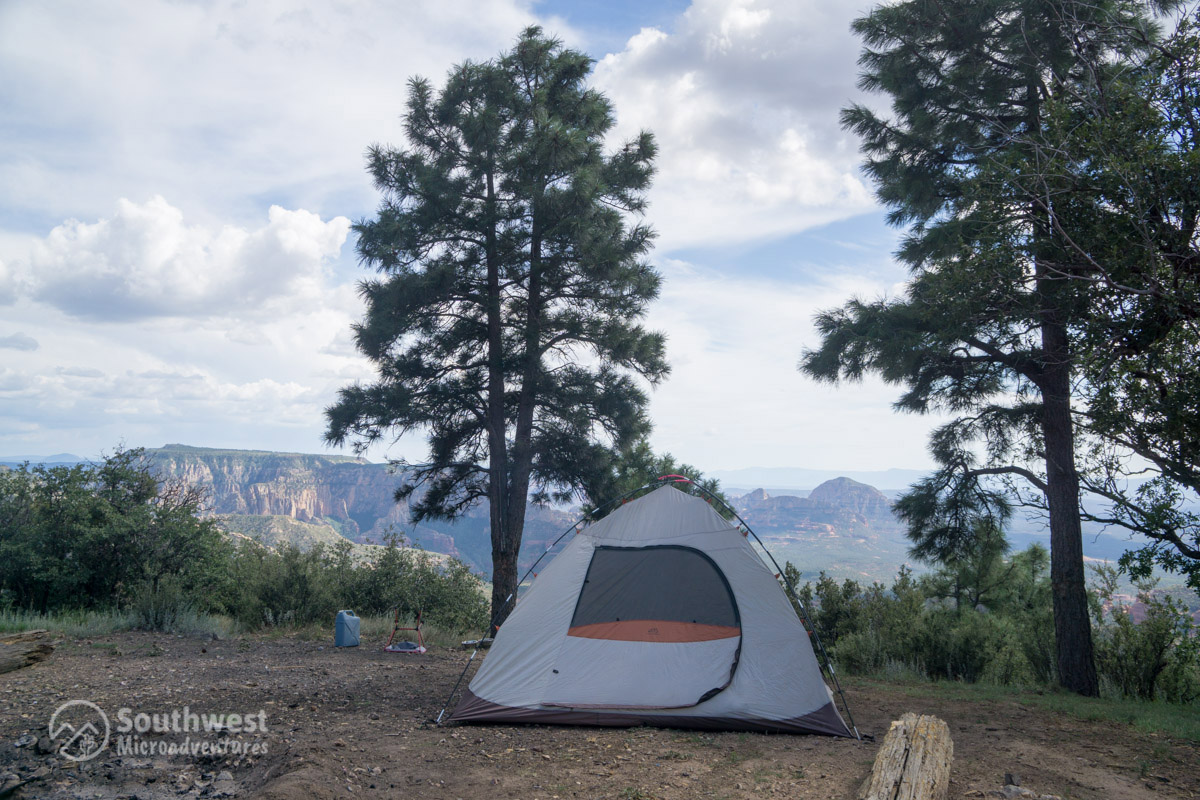 Edge of the World is quite the distance from Flagstaff, but that is what makes this dispersed campsite so intriguing and worthy of a stay. You will find this camping destination at mile marker twenty-three on Woody Mountain Road. It is recommended you arrive at the Edge of the World early on the weekends because the spots fill up quickly.
When you are done gazing out at the beauty of Sedona in the distance, you will want to tackle the 26.7-mile Edge of the World point-to-point trail. There are many stopping points that offer stunning views and people of all hiking capabilities will find they can survive the terrain of this trail.
You must be careful when hiking the Edge of the World though because many people also go there to do off-road driving and are somewhat reckless- especially after a few beers.
Marshall Lake Dispersed Camping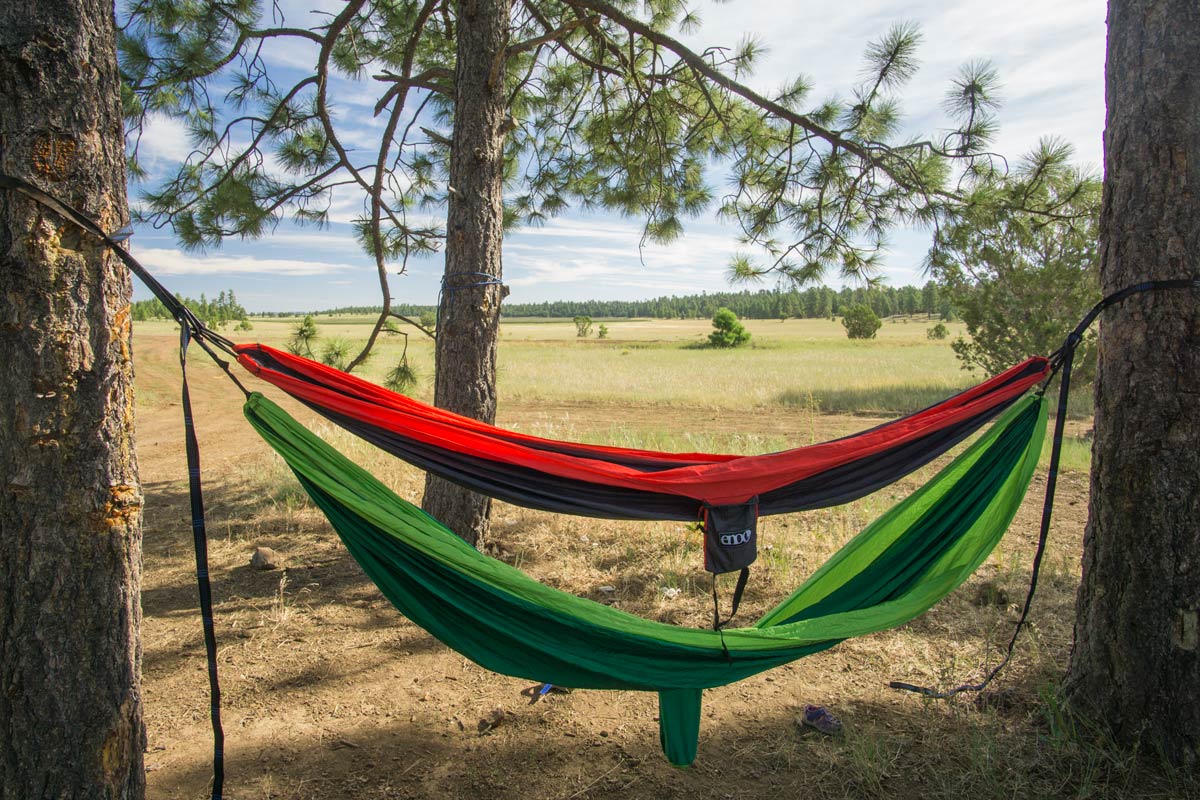 A lake view is not always a given at the Marshall Lake dispersed camping sites since there are years when it dries up under the sun. However, the wonderful views and abundance of wildlife seem to always be there when you arrive. You cannot camp directly on the lake, so make sure you are in a designated spot across the road.
The Marshall Lake trail is a little over three miles and is perfect for any type of hiker looking for good views of the area. You may prefer the Arizona Trail that leads to, or from, Marshall Lake. This is a more advanced trail that is fifteen miles long.
Canyon Vista Campground
The Canyon Vista campground can be found within Coconino National Forest, near both Lower Lake Mary and Walnut Canyon.
This tree-filled area offers views of the San Francisco peaks. You can choose to hike the Vista Loop Trail during your stay, but I believe you will prefer the Sandys Canyon Trail. This trail is number 137 and it begins with a hike near the rim of Walnut Canyon. You will follow the rim until you reach the drop for Sandys Canyon and follow that onto the Walnut Canyon floor. If this trail is not long enough for you, or you have more time for an adventure, simply connect to a different trail point.
The Arizona Trail is right there, and you can follow it to the north towards Fisher Point or to the east towards Marshall Lake.
Walnut Canyon Dispersed Camping
Many of the campsites within the Walnut Canyon dispersed camping area is near the entrance off Cosnino Road inside Coconino National Forest. A few of the free campsites are completely private, but many of them are out in the open. Therefore, you may want to arrive early in the day if you want some privacy during your stay.
You can tackle a couple of different trails all at once in Walnut Canyon. Begin your hike on the Island Trail, descending the stone stairs, which follow a steep one hundred eighty-five-foot slopes. Continue around the rock jetty until you reach the two hundred and forty steps that will lead you to the Rim Trail. This trail is a half-mile loop that will take you past a pit house, demo garden, pueblo, and more scenic overlooks than you can count. Don't rush this hike, no matter how tempted you are, or you will miss something important like the Walnut Canyon National Monument.
A1 Mountain Road Dispersed Camping, East Flagstaff
The dispersed camping spots in this area can be found right along A1 Mountain Road. You will quickly discover that this area is more popular than Walnut Canyon, and a couple of the other options, and I believe it is due to how close these camping sites are to town.
The A1 Mountain Road trail is almost twenty-one miles long and you will find yourself gaining upwards of one thousand vertical feet as you hike along. While you can do this hike all at once, you can also break it into the three seven-mile segments that many others do when they are in the area.
Freidlein Prairie Dispersed Camping
Freidlein Prairie Dispersed Camping can be found directly off Snowbowl Road and it is quite close to the main part of Flagstaff. All fourteen of these campsites have been cleared, which makes it easy for you to arrive and simply set up camp without a lot of hassle. The Weatherford Trail is a little further from this campground, but worth the extra time for a hike.
It is best if you start at the higher end of Kachina Trail, hike to the lower end, and then pick up the Weatherford Trail for the remainder of your day. Another option is to tackle Humphrey's Trail off Snowbowl Road.
Cinder Hills OHV Dispersed Camping Area (Near Sunset Crater)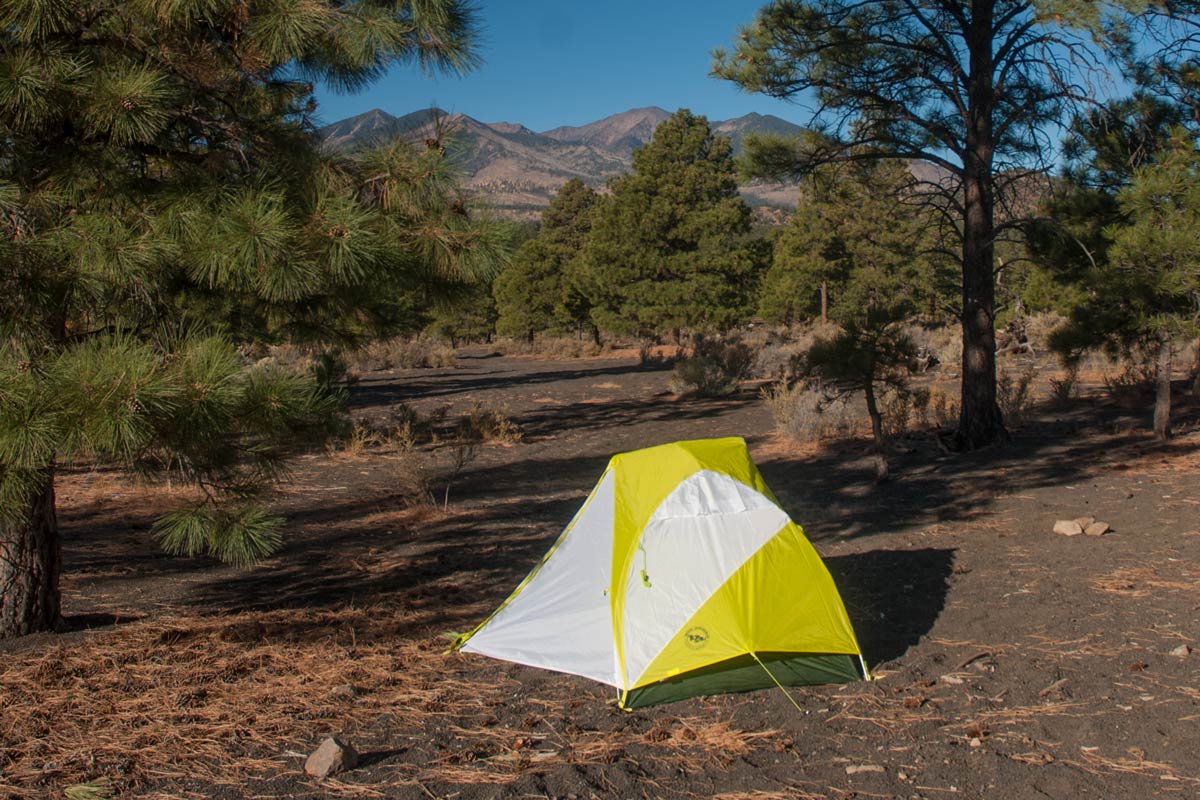 Cinder Hills campsites offer wonderful views of the Sunset Crater National Monument, as well as the San Francisco Peaks. If you plan on hiking this area, be prepared to see a lot of off-roading going on out on the trails. The Cinder Hills OHV loop trail is approximately fourteen miles long, and while it is used for the off-roading mentioned, you can also hike along it.
As you are hiking along, you will see numerous volcanic cinders, while traversing through the ponderosa forest. Make sure you take the time to hike to the Sunset Crater National Monument because it is a sight you will not want to miss.
Conclusion
If you're visiting Flagstaff, Arizona, and looking for places to camp, there are several free dispersed campsites and spots to choose from. While you might have to get creative or drive a little bit, there are plenty of campsites and no reason to pay for camping whatsoever. Next time you're in Flagstaff and looking to camp, consider the free dispersed campsites we've mentioned above.
Get out there! Happy camping!
Resources for Flagstaff, Arizona: