On a slot canyon binge? If you haven't already, add Peek-A-Boo and Spooky Canyon to your list! Amply named, these two parallel slot canyons outside of Escalante, Utah will make you bend, crawl, and climb your way through some of the tightest passages and twists in the whole state.
Both Peek-A-Boo and Spooky are such enjoyable hikes that I've personally been to each four times in the last two years. Upon seeing some of my photos from each, I decided to create this hiking guide for what to expect if you're considering hiking either Peek-A-Boo or Spooky Slot Canyon on your next Microadventure to Utah.
What you should know about Peek-A-Boo and Spooky Slot Canyon
Both Peek-A-Boo and Spooky Canyon (also known as Spooky Gulch) are located off of the famous Hole-in-the-rock Road just south of Escalante, Utah. Both slot canyons are located directly next to each other and are often hiked together in a single afternoon: Peek-A-Boo up, Spooky Canyon down.
I would agree that both slot canyons are not terribly difficult to hike- an active hiker, backpacker, or climber would be fine navigating the canyons' twists and turns.
The bigest concern to interested hikers is Peek-A-Boo and Spooky Canyon are extremely tight in some sections: literally inches wide.
Less than a foot wide in some sections, there is a legitimate concern of getting stuck (like I did) when hiking Peek-A-Boo or Spooky Canyon. I've taken several friends just to "put them through the wringer" and watch them squeeze and crawl through. You're in for a treat hiking both of these canyons.
Assuming you can get through all of the sections, both slot canyons are a complete blast to hike. Expect thrills and chills as you climb, scramble, and squeeze your way through about 3.5 miles of some of the tightest slot canyons in Utah. In addition to the physical challenges, the slot canyons are beautiful. You'll see deep reds, oranges, and purples in smooth and twisted walls as you hike.
Directions to the trailhead
There is only one way to get to the trailhead of Peek-A-Boo and Spooky Canyon and that is via Hole-in-the-rock Road south of Escalante, Utah. This road is a basecamp for several slot canyons in the area including Coyote Gulch and Zebra Slot Canyon and is, unfortunately, never a fun drive despite the slot canyons, hiking, backpacking, and Microadventures it leads to.
Heading east from Escalante, Utah, hang a right at Hole-in-the-rock Road and drive for about 26 miles south. It will take you almost an hour for the 26 miles as you avoid pot-holes, washes, rutts, and cows in the road. As you approach the 26 mile-mark, start looking for an unmarked road on the left: BLM 252 (also known as Dry Fork Road). That road that dumps you at a parking lot where you can access both the Peek-A-Boo trailhead and Dry Fork Wash.
We highly suggest using Google Maps for GPS directions all while looking at the screenshot below so you can see the turn approaching.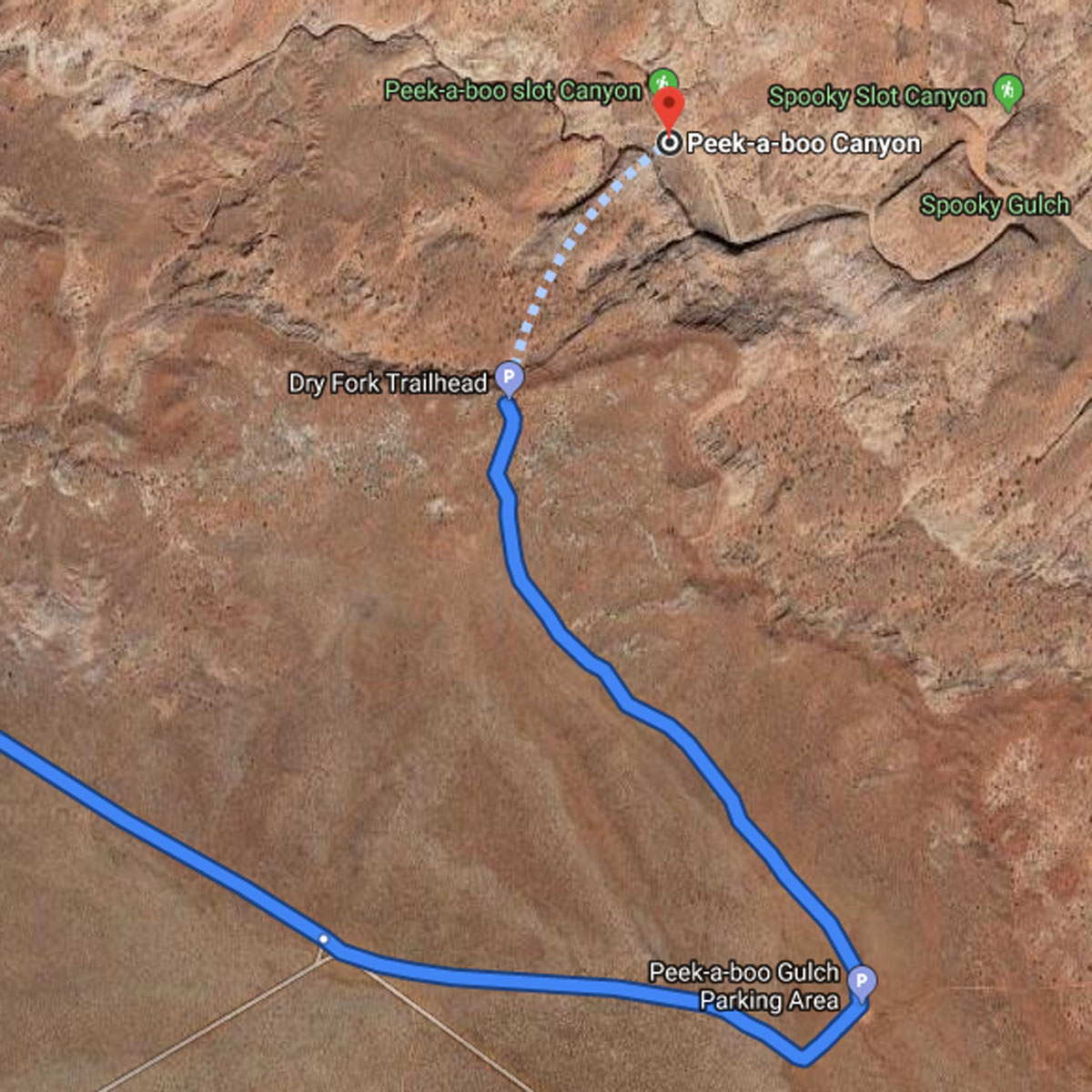 It's not necessary to use a 4WD car for Hole-in-the-rock Road. I've personally driven it in a Ford Focus. The real issue is when you make the left turn off Hole-in-the-rock Road onto BLM 252 to head to the Peek-A-Boo trailhead: that road is rough. If you don't have a high clearance vehicle, don't even think about trying to navigate that road. I have bottomed out so bad that I'm surprised that my bumper is not a permanent fixture or trail marker on BLM 252 for people trying to find the Peek-A-Boo trailhead.
If you're sketched out by BLM 252, park on Hole-in-the-rock Road and just hike the 1.5 miles (ish) on the road to the main trailhead of Peek-A-Boo.
For those not sketched out by BLM 252, congratulations on having a better car than me. Keep following the road until you hit a designated parking area for both Peek-A-Boo and Dry Fork Wash.
Hiking route information
Round-trip distance: 4.5 miles for both Peek-A-Boo and Spooky Canyon
Round-trip time: 3-4 hours depending on if you get stuck or not
Trail name: Peek-A-Boo trail and Spooky Canyon trail via Dry Fork Wash trail
The hike to both Peek-A-Boo and Spooky Canyon slot canyon start at the Peek-A-Boo trailhead (also known as the Dry Fork Wash trailhead). From the parking lot, hike the well-traveled trail down into a large wash (Dry Fork Wash). When you get to the bottom of the wash, you'll have two options: left and right. STAY RIGHT. Going left leads to an entirely different slot canyon: not Peek-A-Boo or Spooky Canyon.
Peek-A-Boo hiking information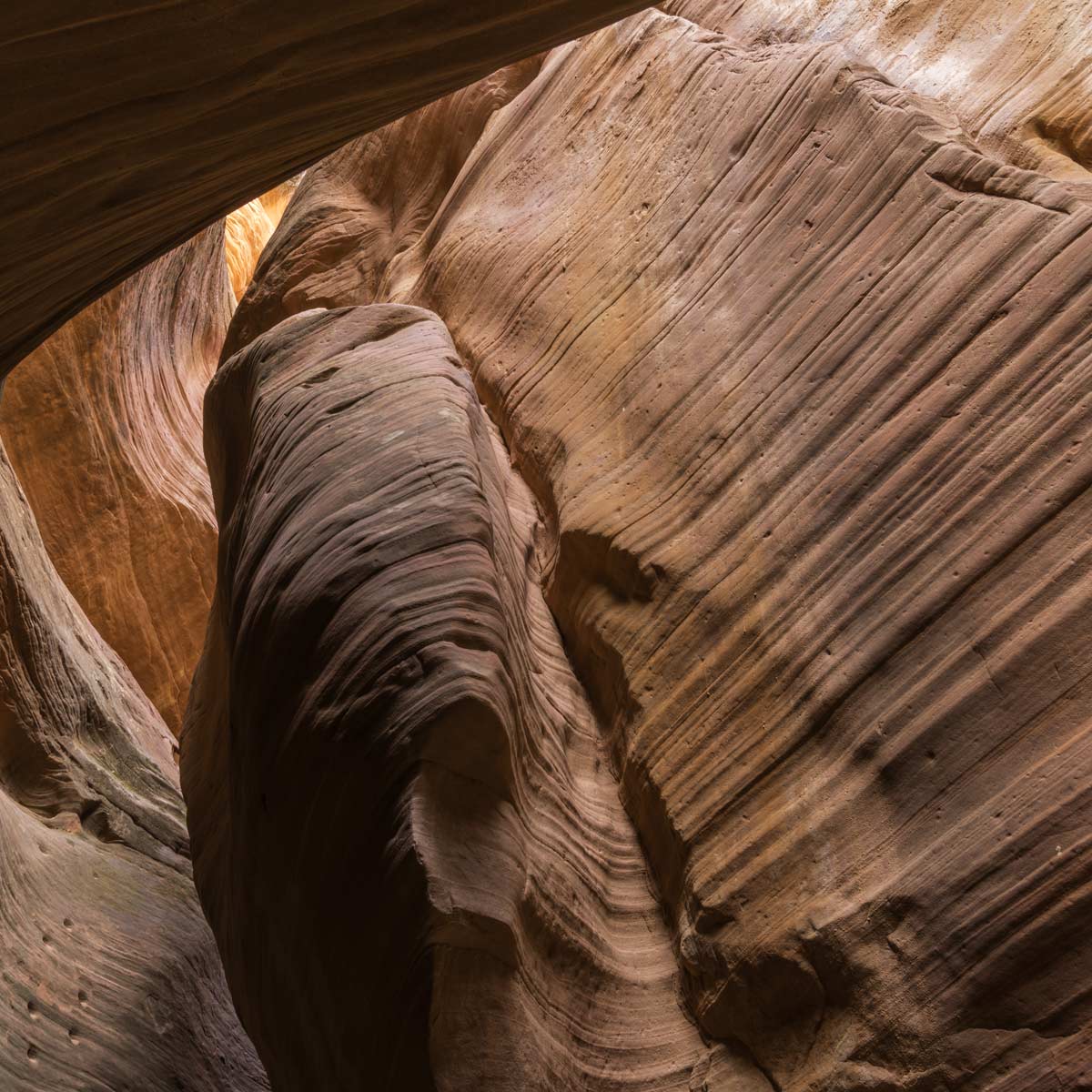 Hiking right at the fork, you'll be greeted in a few hundred feet to what looks like a 10-foot cliff that enters in a slot canyon: that's it! Welcome to Peek-A-Boo canyon! From there, scramble up the cliff's face and head into Peek-A-Boo.
From there, just follow the slot canyon up and out. There's only one way to go! During the mile or so in Peek-A-Boo, you'll crawl and squeeze through tight passages, and try to avoid getting wet crossing water pools. Peek-A-Boo is the more open slot canyon out of the two.
Peek-A-Boo "ends" after a mile or so when the canyon opens up in a pseudo-wash. From that point, hang a right on the clearly-defined hiking trail and enter Spooky Canyon.
Spooky hiking information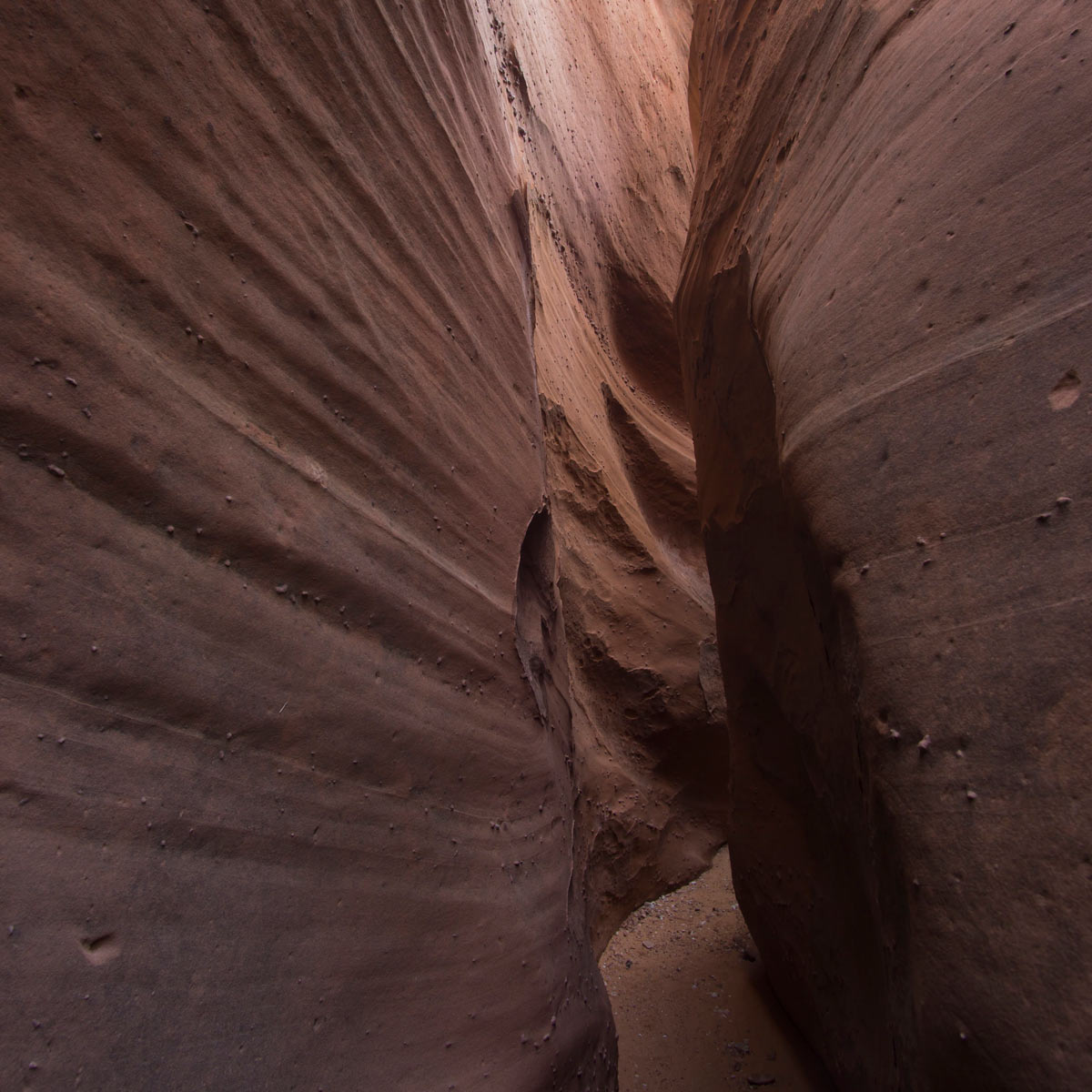 Spooky Canyon is more narrow and receives less light than Peek-A-Boo- hence the "Spooky" title. Spooky Canyon is not for the claustrophobic. I've been hiking slot canyons in Utah and Arizona for years and I still get the heebie-jeebies in Spooky Canyon.
The canyon is so tight in some places that someone with a little gut or beer-belly legitimately might get stuck. I hiked Spooky Canyon during the winter and had to remove my coats in order to get through Spooky.
There are two sections in Spooky where the canyon walls are less than a foot-wide. Consider your…size and body shape…before hiking in Spooky Canyon- there have been reports of hikers getting stuck.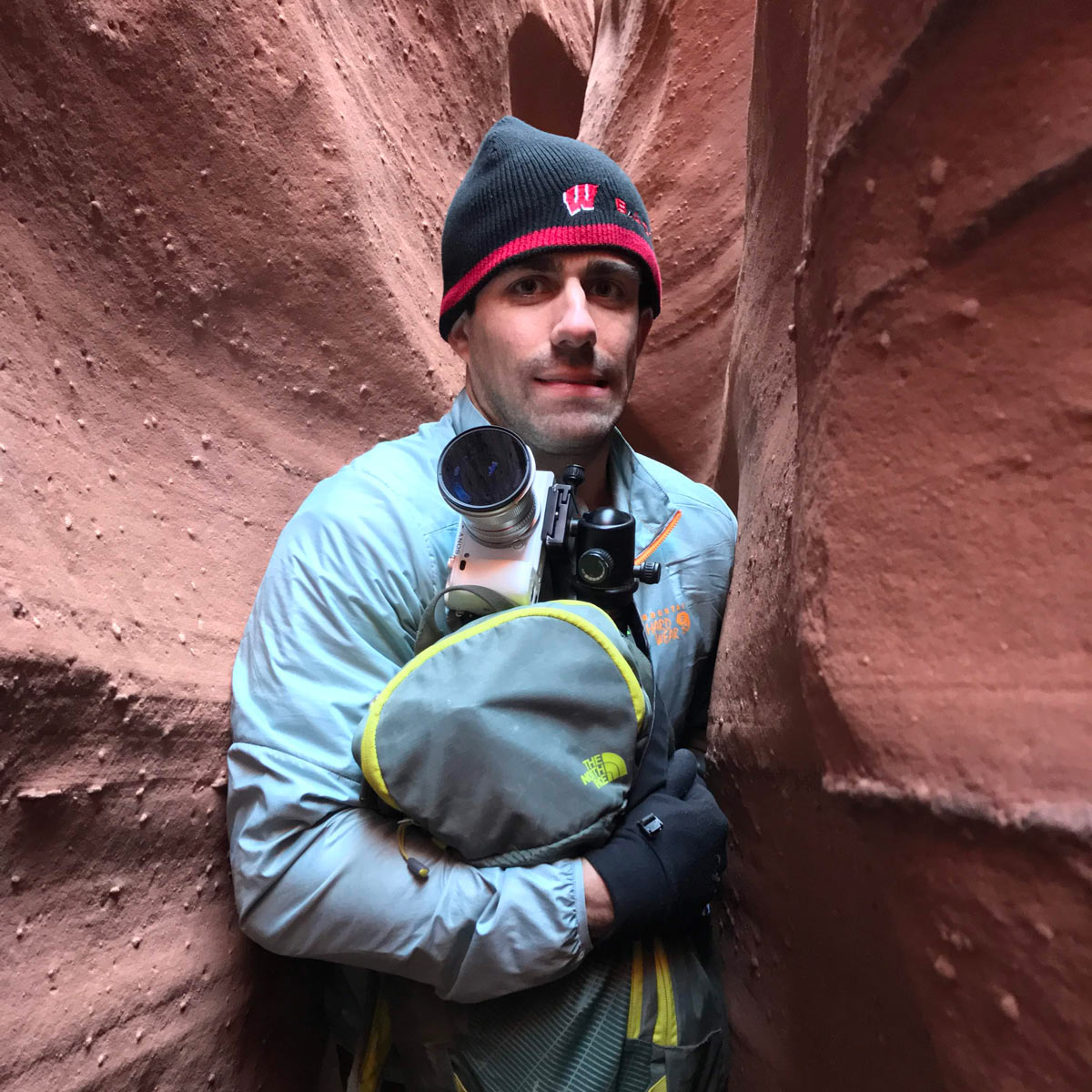 As mentioned prior, Spooky Canyon starts at the end of Peek-A-Boo canyon and takes you back to the Dry Fork Wash trail via a parallel route.
Remember, Peek-A-Boo up, Spooky Canyon down.
The hike through Spooky Canyon is shorter than Peek-A-Boo but takes just as much time to navigate because of the tight passages. Expect the same features and challenges as Peek-A-Boo: climbing, scrambling, and squeezing through tight passages as the slot canyon twists and turns around you.
Spooky Canyon kind of just "ends" and dumps into a wider area: that is Dry Fork Wash. Stay right at the confluence of Spooky and Dry Fork Wash and hike towards the entrance of Peek-A-Boo Canyon, which should look familiar. From that point, hike back to your car via the same route you entered in.
When to go
The best time to visit both Peek-A-Boo and Spooky Canyon is from October through December and March through May: basically avoiding rains from the monsoon season and the heat and sun of summer. It's critical that you check the forecast for rain or snowstorms within a 100-mile radius of Peek-A-Boo and Spooky Canyon before considering hiking there. Both canyons could be a death trap during a flash flood.
Wrapping up
If you're considering hiking another slot canyon in Utah or Arizona, push Peek-A-Boo and Spooky Canyon to the top of your list! Both canyons are amply named after the emotions invoked when hiking them. You'll bend, crawl, climb, and squeeze through two extremely tight slot canyons as narrow as a foot in some parts. For thrill-seekers and Microadventurers, these canyons are great outlets to raise your adrenaline all while trying to avoid getting too claustrophobic. For me personally, Peek-A-Boo and Spooky Canyon are two of my favorite slot canyons and I'll continue to hike them for years to come. Assuming I can manage to get free every time I get stuck in Spooky…