Are you considering hiking the slot canyons: Ding and Dang Canyon? For those unfamiliar, Ding and Dang Canyon are two of the relevantly short slot canyons in the San Rafael Swell near Goblin Valley, Utah. While the canyons are only five-miles round trip, those five miles are a blast: complete with scrambling, squeezing through tight spaces, and hiking through a slot canyon housed in the high desert of central Utah.
You will find fewer hikers at these canyons, especially when you are comparing them to the crowds you would find at nearby areas. This is an amazing hike for those that have want to experience a quieter and more challenging slot canyon in Utah.



What you should know about Ding and Dang Canyon: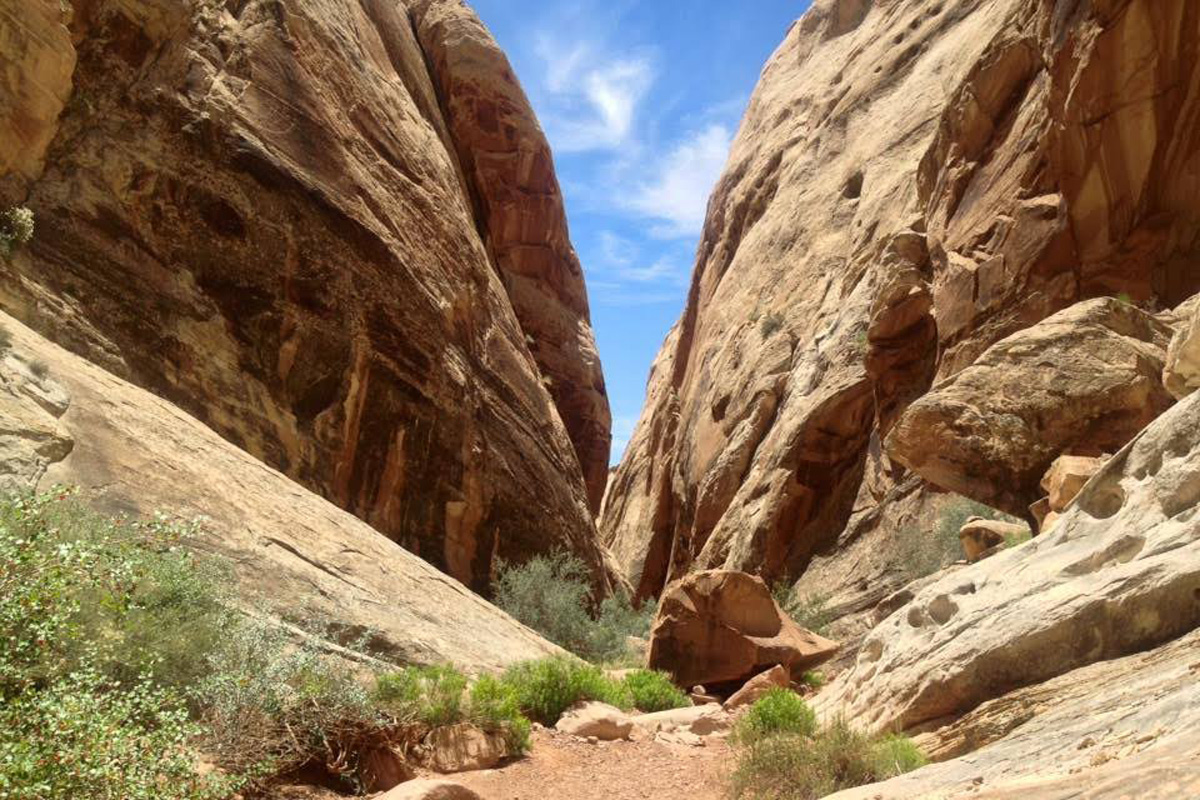 Heading into to Ding Canyon. Photo from The Outdoor Vegan.
Ding and Dang Canyons are two parallel slot canyons within the San Rafael Reef and are located to the west of the Little Wild Horse and Bell Canyons. You can reach the entrance to both from Goblin Valley State Park and can easily hike both slot canyons in an afternoon- or just one if you're short on time.
Ding Canyon has very few obstacles, so it is considered the easiest of the two. Dang Canyon is definitely more challenging with additional climbs, more exposure, and pools of water on occasion. Despite the challenging sections in Dang Canyon, you can usually find ways around sections that are sketchy. Ropes can be helpful for this hike but not totally necessary. Regardless of which slot canyon you do (hopefully both), be prepared for some scrambling and minor climbing (nothing too intense).
Trailhead and hiking route information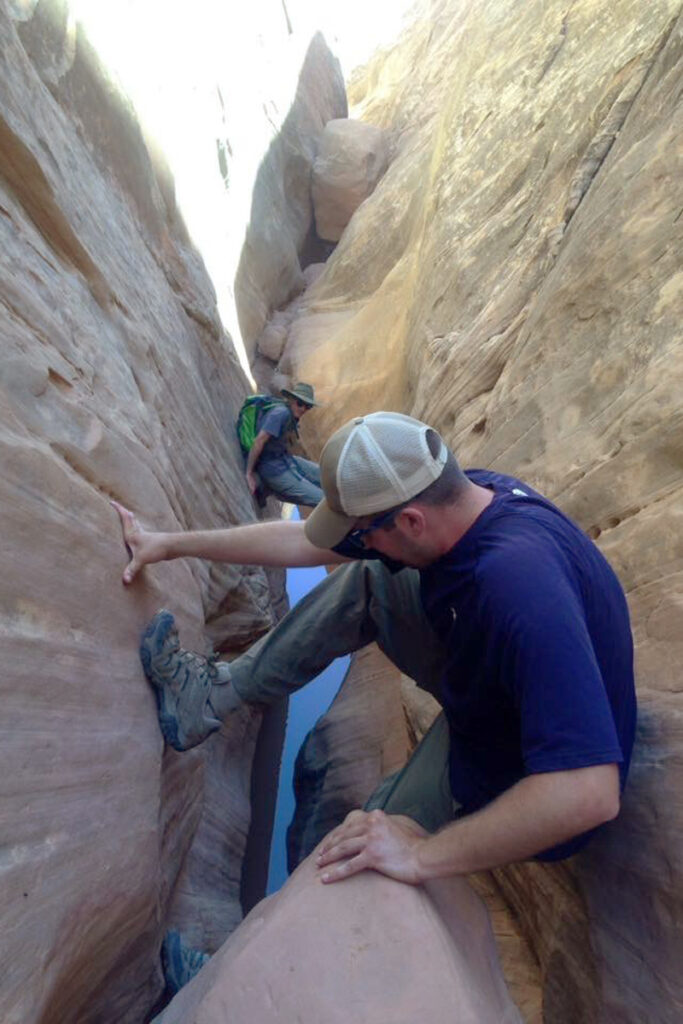 A tight squeeze and complete with gymnastic-type moves in Ding and Dang. Photo from The Outdoor Vegan.
The hike starts at the Little Wild Horse Canyon and Bell Canyon Trailhead following a short 6.5-mile drive on a well-maintained dirt road. When we did the trek, we were in a Subaru and didn't have any issues with the drive out to the trailhead.
The round trip time varies by source but we clocked 5.2 miles in three hours for both Ding and Dang Canyon.
From the start of the Little Wild Horse Canyon and Bell Canyon Trailhead, hike for around a half an hour until you get to the entrance of Ding Canyon. Hang a right into the canyon- this is where the fun begins!
You're going to hop, climb, downclimb, and scramble up and down short cliffs, boulders, and around pools of water (hopefully dry). Remember, Ding Canyon isn't as challenging as Dang Canyon so don't start thinking you're in for an easy day!
You should be in Ding Canyon for about an hour before the canyon opens up and you'll see a large butte at the end. Known as Ding Dang Dome, this marks the unofficial end of Ding Canyon.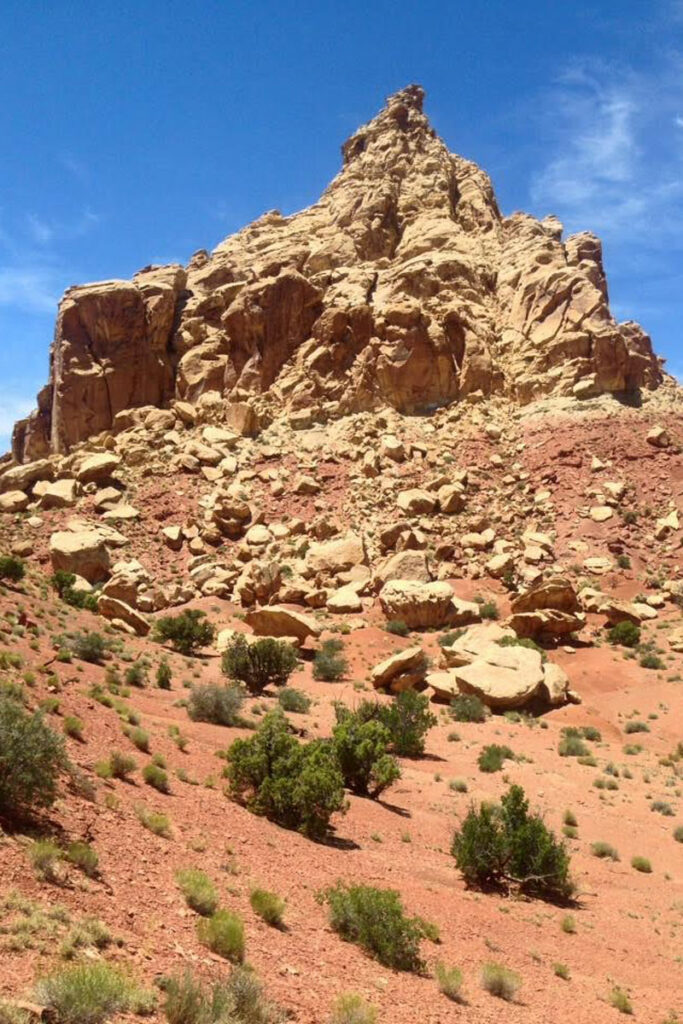 When you see this: the "Ding Dang Dome," hang a left to start the approach to Dang Canyon.
From here, you'll hang a left and start heading into Dang Canyon. Dang Canyon will basically take you back to your car along a semi-parallel route to Ding Canyon. Ding Canyon up; Dang Canyon back!
Dang Canyon starts off relevantly easy- you'll be wondering if we got this post wrong. Then, as you descend into the canyon further, Dang Canyon starts to cliff out. If you brought a rope, great! In our experience, we noticed bolts in some of the sketchier areas that you can use to repel. We didn't have a rope on our last trip out and just carefully climbed down some of the cliffs.
Be very careful in Dang Canyon. If you fall off a cliff, there's no quick escape and you're miles away from a medical facility.
In about a mile, Dang Canyon starts to open up into a wash. Hang a left and pretty soon you'll be greeted with the familiar sight: the entrance to Ding Canyon. From there, it's just a quick hike back to your car.
Besides some exposure and the occasional adrenaline rush, Ding and Dang Canyon are a total blast. One of my favorite slot canyons in Utah or Arizona.
When to go
In our opinion, it's best to hike Ding and Dang Canyons during the fall and spring. During those times, you'll still have warmth and lots of sun, but not the intensity and heat that you would have in the middle of the summer. It also imperative to plan your hike around avoiding rain, since Ding and Dang Canyon are prone to flash floods.
Wrapping up
Located near Goblin Valley State Park, Ding and Dang Canyons are two amazing slot canyons you need to hike. It's only a half-day Microadventure and you can hike both in the same day. Both slot canyons are great ways to get your blood pumping: full of scrambling, downclimbing, and navigating cliffs. Just be careful when you're out there- spraining an ankle can put a damper on a great day hiking through some slot canyons.