An introduction to the Coyote Buttes area
As a frequent visitor to the Coyote Buttes area on the border of Utah and Arizona, the area continues to blow me away each visit. It is one of the most intriguing and bizarre areas in the Southwest.
Coyote Buttes is a large sandstone butte that runs north to south near Big Water, Utah and Page, Arizona. Not surprisingly, the butte is broken into two sections and named: Coyote Buttes North and Coyote Buttes South, respectively. While Coyote Buttes isn't a household name, one of its features is: "The Wave."  A U-shaped trough/canyon that draws thousands of visitors to Coyote Buttes every year.
What most hikers don't know is there's actually a lot more to see and do at Coyote Buttes besides "The Wave." Within the eight miles north to south, there are countless hoodoos, arches, buttes, and canyons- all within the Coyote Buttes area.
What to know about Coyote Buttes North and "The Wave"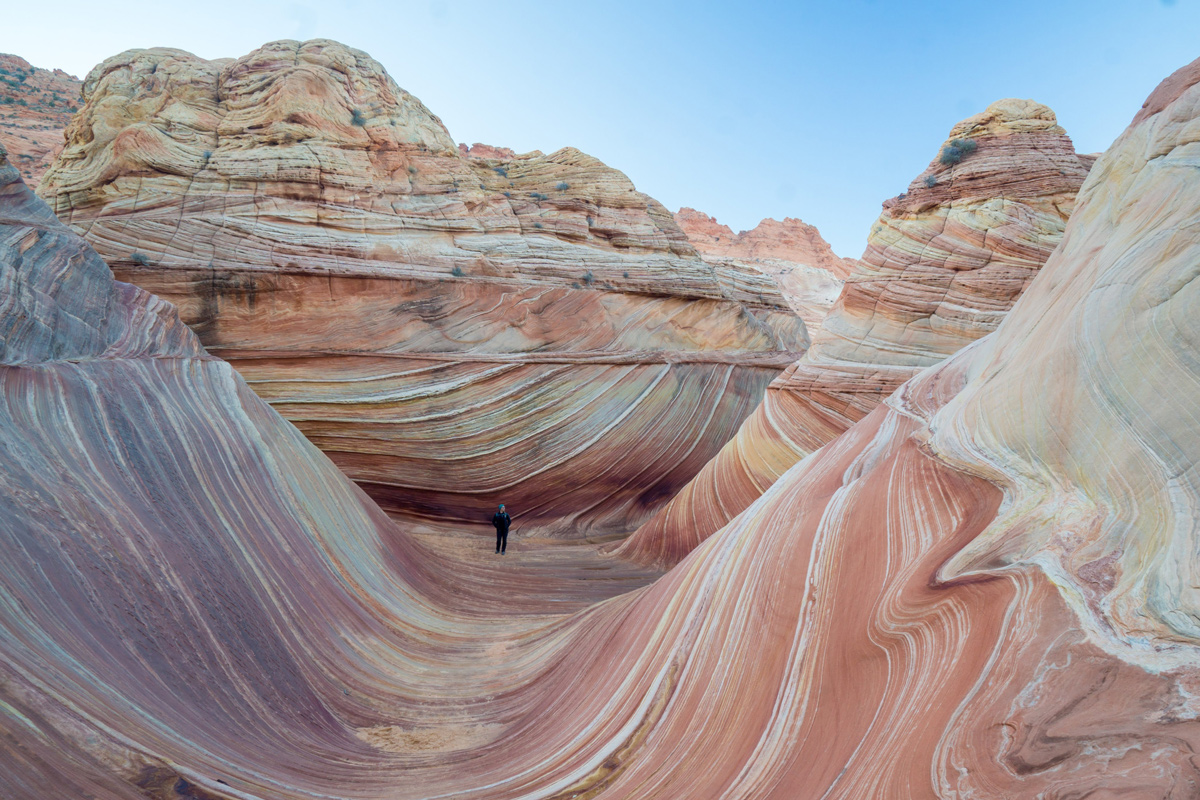 The most famous feature in Coyote Buttes North: "The Wave."
The more famous of the two: Coyote Buttes North is a very short, one-mile-long stretch of sandstone of the northern section of the Butte. This area is more famous than the South section because it contains the famous U-shaped trough, "The Wave" and therefore, is the more heavily sought-after and more regulated section in Coyote Buttes.
The BLM, who managed the Coyote Buttes North area, requires hikers to obtain a permit to hike any feature or trail within the area- "The Wave" included. Permits are a hot commodity, with over 170,000 permits applications in 2017 for a total of 7,300 allocated permits.
While it is not impossible to obtain permits for Coyote Buttes North and "The Wave," your odds are much lower than obtaining a permit to other areas in the Southwest, including Phantom Ranch at the Grand Canyon or the Subway/Narrows in Zion.
Besides "The Wave," Coyote Buttes North hosts dozens of teepees, aches, dinosaur tracks, and another "wave."
If we had to guess, 80+% of all visitors to Coyote Buttes North are going to hike to "The Wave" and then leave. But there are other things to see and hike in the area. Less than 1,000 feet from "The Wave" proper, is another wave perfectly named "Wave 2" or "The Second Wave."
In addition to the "Waves," you can find an area of over 1,000 dinosaur footprints collected together in a spot known as the "Dinosaur Dance Floor." There are also several arches nearby including the "Top Rock Arch" and "Dicks Arch" all within the vicinity of "The Wave."
Things to see and hike in Coyote Buttes North
Obviously, "The Wave"
The many teepees shattered around
What to know about Coyote Buttes South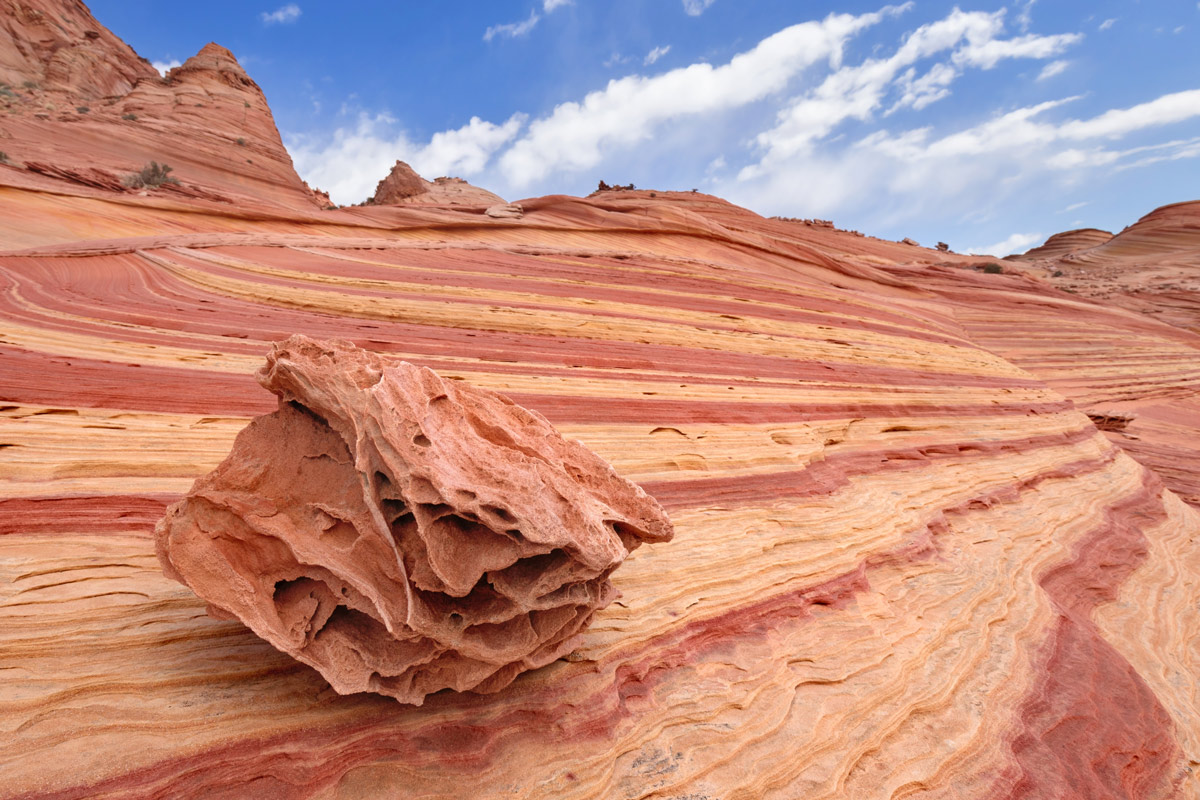 Part of Paw Hole at Coyote Buttes North.
Unlike the North area, Coyote Buttes South is much less visited by hikers- therefore permits are much easier to get. Coyote Buttes South is the larger area of the two and contains more teepees and hoodoos than the North area: but not any famous geological features or trails like the North area.
Coyote Buttes South is split into three sections: Lone Tree, Paw Hole, and Cottonwood Cove each with their own respective landscape. Regardless of which area you decide to visit, getting to Coyote Buttes South can be challenging: we used a 2WD Toyota Highlander and were biting our fingernails the entire way. We highly recommend using a 4WD truck or hiking on the road when the conditions get too rough to continue by car.
Once you get to an access point, there are no designated hiking trails- which is actually nice. It brought us back to the days before GPS where adventure, discovery, and anxiety reign free. Make sure you bring your intuition and navigation skills during a visit to Coyote Buttes South
Things to see and hike in Coyote Buttes South
"Lone Tree"
"Cottonwood Cove"
As you can tell, these areas are so rare and visited in-frequently that there is a lack of online resources on how to get there and what to actually see.
Unfortunately, we didn't save our maps provided by the BLM when we obtained permits. It is highly recommended to get guidance and maps from the BLM if you're planning to visit the Coyote Buttes South area. Not because of any inherent danger but so you don't wander around in circles while you're out there.
Permits for Coyote Buttes North and "The Wave"
Because the interest of the area is very high, getting permits to Coyote Buttes North and "The Wave" is very competitive. Regardless if you're looking to visit "The Wave" or another feature within Coyote Buttes North, it is still through the same permit.
The BLM only issues 20 permits per day: 10 reserved for the online lottery and 10 for the in-person lottery. An online permit is much harder to obtain than an in-person permit. Either route that you decide to go with applying, don't expect to win a permit your first attempt. It took me two times to get a permit for Coyote Buttes North and I was extremely lucky in that fact. We've heard of individuals that applied for two weeks without any luck.
Something to make note of: to even apply for a permit, there is a $5.00 non-refundable application fee- whether you get a permit to hike or not. If you do manage to snag a permit, there is an additional $7.00 per person fee to actually hike in Coyote Buttes North and "The Wave."
Don't even think about hiking to "The Wave" without a permit! You will get caught!
Tips to win the permit lottery
Your best bet is to be consistent when applying for a permit and choose the in-person route when applying. In general, the online lottery is way too competitive to get a permit. When we were looking at the online reservation system for February 2020, there were already 1,885 applications for just 580 permits. And as the days get closer to your chosen date, your odds of getting a permit shrink more.
Here are a few ways you can increase your odds of winning the permit lottery:
Skip the online lottery altogether- apply for permits in-person
Apply during the off-season and weekdays
Apply with a group rather than individually or as a couple
Be persistent- you'll get permits eventually!
For more tips on how to get a permit to Coyote Buttes North and "The Wave," check out our permit guide post:
Permits for Coyote Buttes South
Getting a permit to hike in Coyote Buttes South is much easier than Coyote Buttes North. Because there are less interested parties looking to hike in the area (everyone wants to go to Coyote Buttes North), you can pretty much walk into the BLM's permit office or apply online and snag a permit with ease.
There are still only 20 permits issued per day but as mentioned before, the demand for Coyote Buttes South is less and obtaining a permit has been easy (in our experience). Permits are issued in the same office and through the same online portal and are $5/per person, per day.
What we love about Coyote Buttes
The scenery is spectacular- both areas look almost too "alien" to be a real place on earth
With the scenery come great photography opportunities- bring a tripod and your best photo gear!
The hiking is relevantly easy compared to other places in the area like Buckskin Gulch
Although winter gets a little chilly, Coyote Buttes has great weather throughout the year
When you do win a permit, it feels like winning the lottery- there's a lot of satisfaction in it!
Because of the low number of issued permits each day, it feels exclusive to visit the area at all
If you don't win a permit, there are plenty of other areas to explore around Coyote Buttes including "White Pocket," Buckskin Gulch, the Toadstools, Lake Powell, and Glen Canyon.
What we don't love about Coyote Buttes
Obviously, not winning a permit
Camping is not allowed in the Coyote Buttes area- there are primitive camping spots outside the area but there are somewhat far from where you would start your hike
Things to consider
Before you go through all the hassle of applying for a permit to Coyote Buttes, ask yourself, is it right for you to go visit or hike at all? While we love to our readers can handle hiking in Utah and Arizona, sometimes it's good to take a step back and think about your abilities.
During the spring and summer, it's common for daytime temperatures to hit over 100 degrees
The trail is poorly marked in Coyote Buttes North and non-existent in the South area
Flash floods are common in the area
There have been Bigfoot sightings in the area (kidding- just making sure you're paying attention)
The drive out to both areas is rough and requires a high-clearance 2WD car at the absolute minimum (4WD is preferred for Coyote Buttes South)
We don't mean to scare you, but deaths have been reported in the area due to some of the factors outlined above (especially from Bigfoot).
As long as you are prepared and can handle some of those factors, then you should be fine.
Other things to do if you don't get a permit
If you are unsuccessful with winning a permit through the online lottery or in-person lottery, you shouldn't lose sleep over it. The area surrounding Coyote Buttes is unbelievable on its own and houses miles of incredible hiking, backpacking, and Microadventuring. Some of the neighboring spots from Coyote Buttes include:
When to visit Coyote Buttes
While you can apply for permits and visit Coyote Buttes throughout the year, there are better times to go for sure. When we last went to Coyote Buttes North, it was the dead of winter. The off-season for Coyote Buttes is December to February and the peak season is from March-May and September through November.
To maximize your chances of getting permits for each area, go to Coyote Buttes North during the off-season (when permits are easier to get) and go to Coyote Buttes South during the peak season.
While the area can get snow during the winter, it typically is light and doesn't stay around long. You'll get the same amazing pictures you see on Instagram no matter what time of year you go.
Conclusion
I've been a frequent visitor to the Coyote Buttes area ever since I've lived in nearby Flagstaff. Despite my visits and numerous hikes, the area never ceases to amaze me. It truly is one of the more beautiful and bizarre areas in the Southwest.
When planning a visit to the area, make sure you are aware of the permitting process and what to see and do in Coyote Buttes North and South, respectively. There's more to see and hike than just "The Wave!" Plan your trip around the best chances to win a permit through the lottery and plan to see and hike other things in the area if you don't win permits.
Get out there and enjoy the Coyote Buttes!
What was your favorite part of Coyote Buttes? Leave a comment below or tweet at us!
Resources For Coyote Buttes North And South