Navajo Falls is within Havasupai and there is a new look, thanks to the floods that ravaged this region back in 2008.  Many people who have hiked throughout Havasupai before may think that it is not worth checking out this somewhat new waterfall in the area.  However, once they remember how spectacular each individual waterfall is in this part of the world, almost everyone changes their mind. Therefore, you should be prepared to add Navajo Falls to your list of waterfalls to see when hiking in this part of Arizona.
Here is a quick guide for what to expect at Navajo Falls in Havasupai:
What You Should Know about Navajo Falls
Navajo Falls is comprised of two different falls, Upper Navajo and Lower Navajo, and a series of cascades connects the two.  It is quite easy to miss Upper Navajo Falls, since it is tucked into a corner near the stream of the lower falls. Therefore, it is important to take the time to make sure you truly see every part of these waterfalls.  Upper Navajo Falls is approximately fifty feet high, while Lower Navajo Falls is only about thirty feet high. Both these waterfalls flow into the pool that lies below.
What We Love About Navajo Falls
As with almost every waterfall that can be seen while hiking and backpacking, Navajo Falls has so many things to love and appreciate.
Two waterfalls for the price of one hike
Shorter hike
Ability to do a little cliff jumping
Excellent place to relax
Ability to swim in the pools and under the falls
The ability to swim through the cave that is located behind Upper Navajo Falls
Easier to get to then Mooney Falls
What We Don't Love About Navajo Falls
There are so many different waterfalls in Havasupai, which means you can wander from one to another to find the one you want to spend hours at.  While you may think you should spend lots of time at Navajo Falls, you may be surprised to see a few things you do not love about these waterfalls.
Not as picturesque as the other falls in the area
Easy to miss the Upper Navajo Falls
Less water flowing over the falls than the other waterfalls
How to Hike to Navajo Falls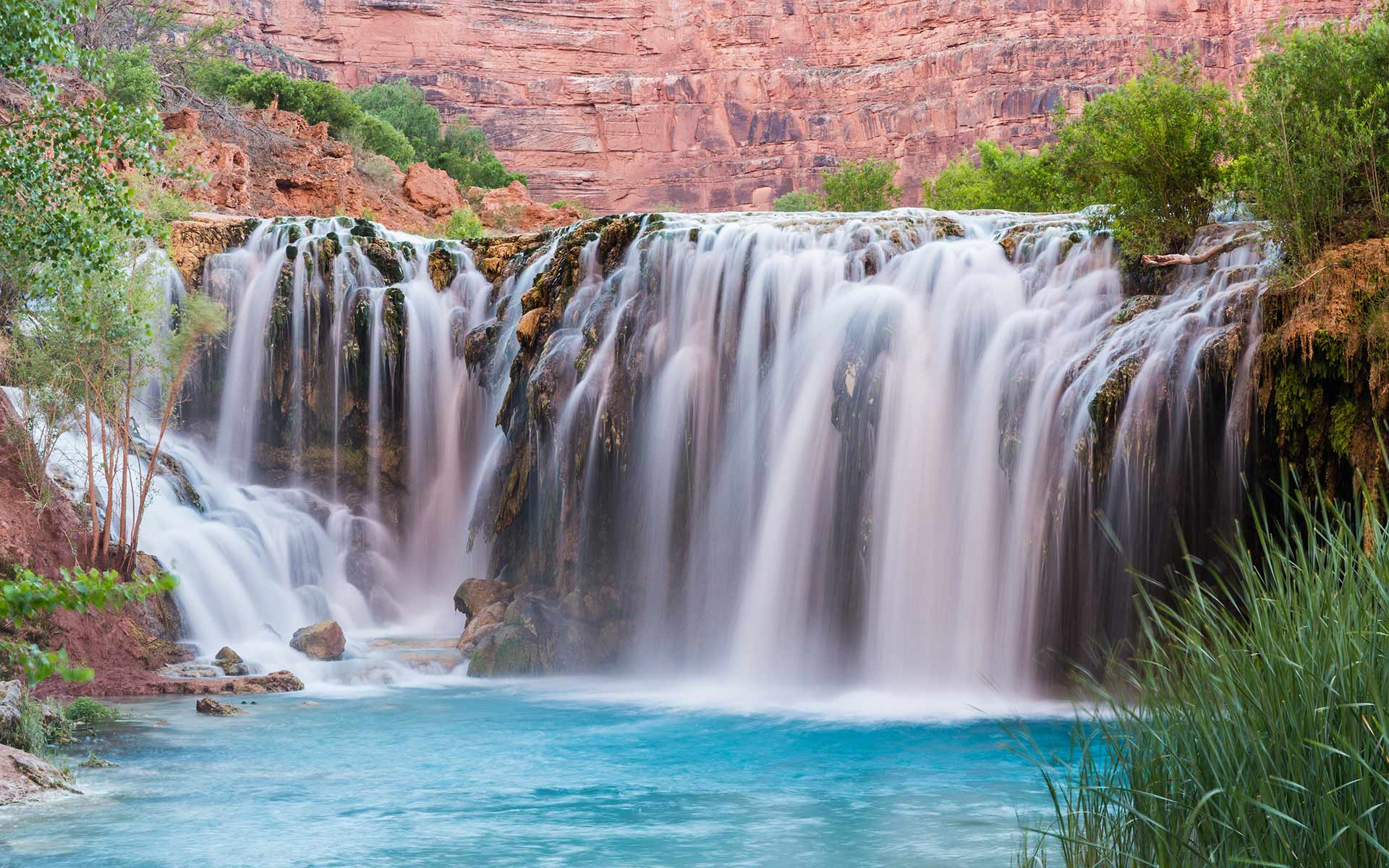 Hiking to Navajo Falls from the Havasupai Campground is very easy and you can hike there and back, plus spend time at the waterfalls, in no time at all.  To reach these falls, all you need to do is access the trail, which is off the main trail. The trail you want will lead down to the creek where you will cross over the creek.  When you are safely on the other side, continue on the trail as it takes you through the woods to where Navajo Falls is located.
Distance: 1.2 miles round trip
Estimated Time Needed: Less than an hour for the hike but more to see the falls
Things to See and Do at Navajo Falls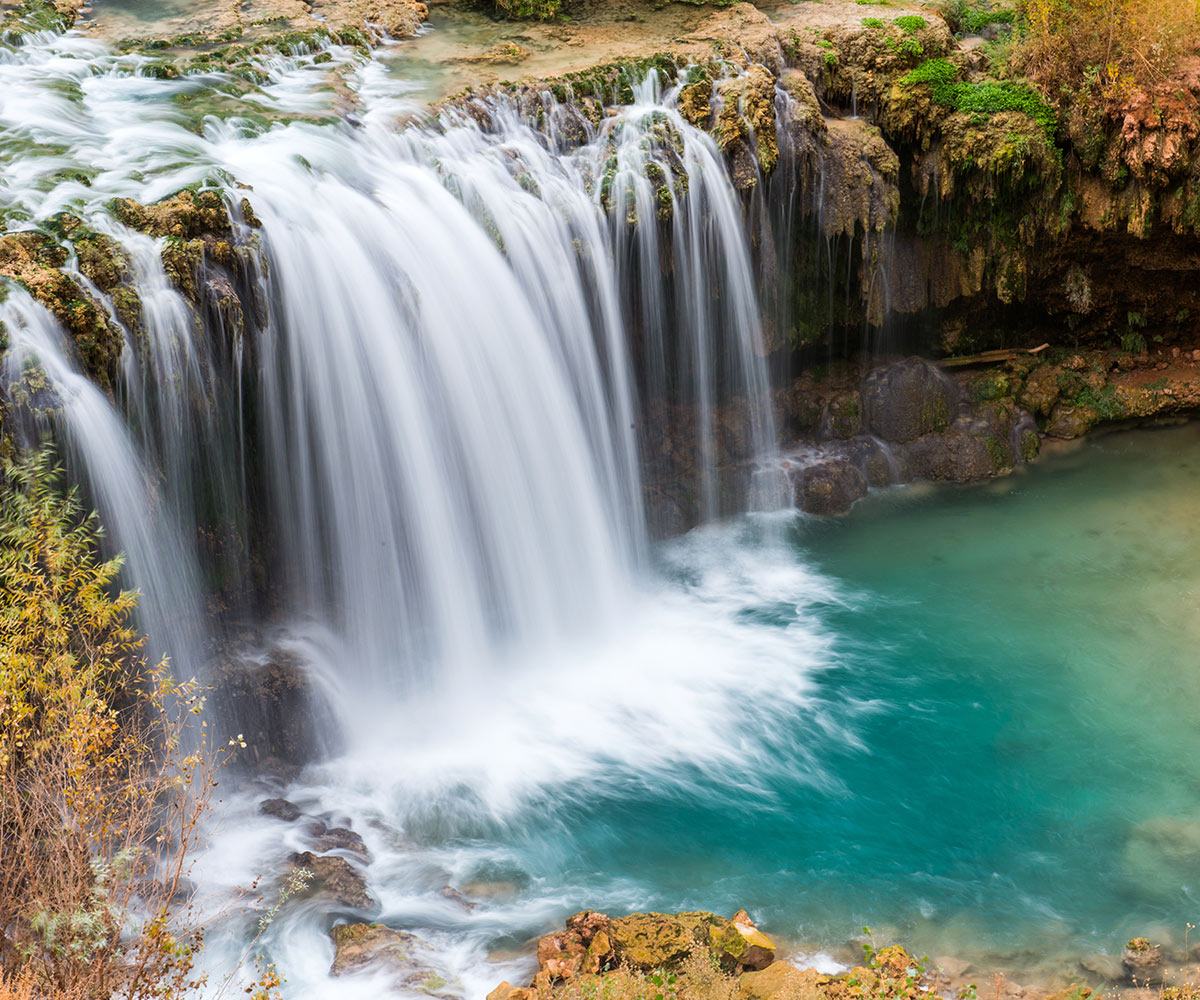 #1 Wade and Swim in Navajo Fall's Pools and Waterfalls
Swimming in the pools and under Upper Navajo Falls is quite the experience, although you won't need to be concerned with the water being as forceful as it can be at the other waterfalls in the area.  If you are thinking ahead, you can take an inner tube, or other floatation devices, with you for your hike. This will allow you to float in the pools with everyone else.
#2 Cliff jump and Cliff Dive off the Waterfalls
Cliff jumping and diving is a lot of fun at Navajo Falls, as long as you check the water before you venture off the side of the cliff.  Sometimes the water in the pool can get low, so it is important to check the depth and whether any rocks are located where you will be entering the water.  You may want to start from the lower falls before deciding whether or not you want to attempt this from the upper falls.
#3 Hike Upstream or Downstream of Navajo Falls to Avoid the Crowds and See Other Waterfalls
There are other waterfalls not too far from Navajo Falls and you will want to continue either upstream or downstream, to see them.  A couple of the other falls that should be on your list include Havasu Falls, Mooney Falls, and Beaver Falls. It is usually best to do two waterfalls each day, but that is completely up to you and the time you have available.
#4 Take Photos of Navajo Falls
Even though Navajo Falls is not as impressive as some of the other waterfalls in this area, you still must take the time to photograph them during your visit.  It is recommended that you wander around, so you can grab photos from different vantage points and not miss any of the streams of water that is falling from above.  You might even want to take pictures from beneath the waterfall, especially if you are in the cave behind the upper falls.
#5 Just Sit and Stare at Navajo Falls
Not many people take the time to sit and stare at Navajo Falls, so do not be surprised if you are the only person doing this.  This is important to do though because you will begin to see things that others will miss during their quick visit. Plus, you will appreciate the changes that have occurred in this part of Havasupai even more.
Conclusion
Located at the beginning of the Havasupai portion of the Supai Reservation, Navajo Falls is a beautiful waterfall that is perfect for your Havasupai Microadventure. While not a tall as the other waterfalls in Havasupai including Mooney Falls and Havasu Falls, Navajo Falls is a great place for a day hike from the Havasu Campground. Regardless of how you spend your time at Navajo Falls, you're in for a treat.
What is your favorite part of Navajo Falls? Comment below or tweet us!