For as long as I can remember, traveling throughout the mountain ranges in Colorado, one place, in particular, has called the climber out in me time and time again. Settled near Colorado highways 145, is a range of mountains that has attracted climbers and hikers from all over the world. Known as the San Juan mountains, the range is home to several 14ers including the Wilson group- commonly portrayed on the "Coors Light" can. From a previous journal entry, I've made it up and over one of the Wilson group peaks (with more future trips planned) but that wasn't my mission this weekend. My mission was to climb a shorter but much more prominent mountain that has been calling me since I started traveling to this area. This mountain is called Sunshine Mountain.
While not a technical climb by any means (unlike some of the other mountains nearby), Sunshine Mountain is not an easy climb. The route rises nearly 5,000 vertical feet from the valley floor in just over three miles. Not a walk in the park!
We planned our weekend to coincide with my birthday weekend. I was turning 30 and decided to make it a special trip with a special challenge. A few fellow experienced hikers and a few coworkers decided to all tag along for the weekend. While most of the weekend was dedicated to partying in nearby Telluride, my main focus was set on climbing that mountain.
Located below is a picture of what the mountain looks like from the nearby highway. Sunshine Mountain is the left peak: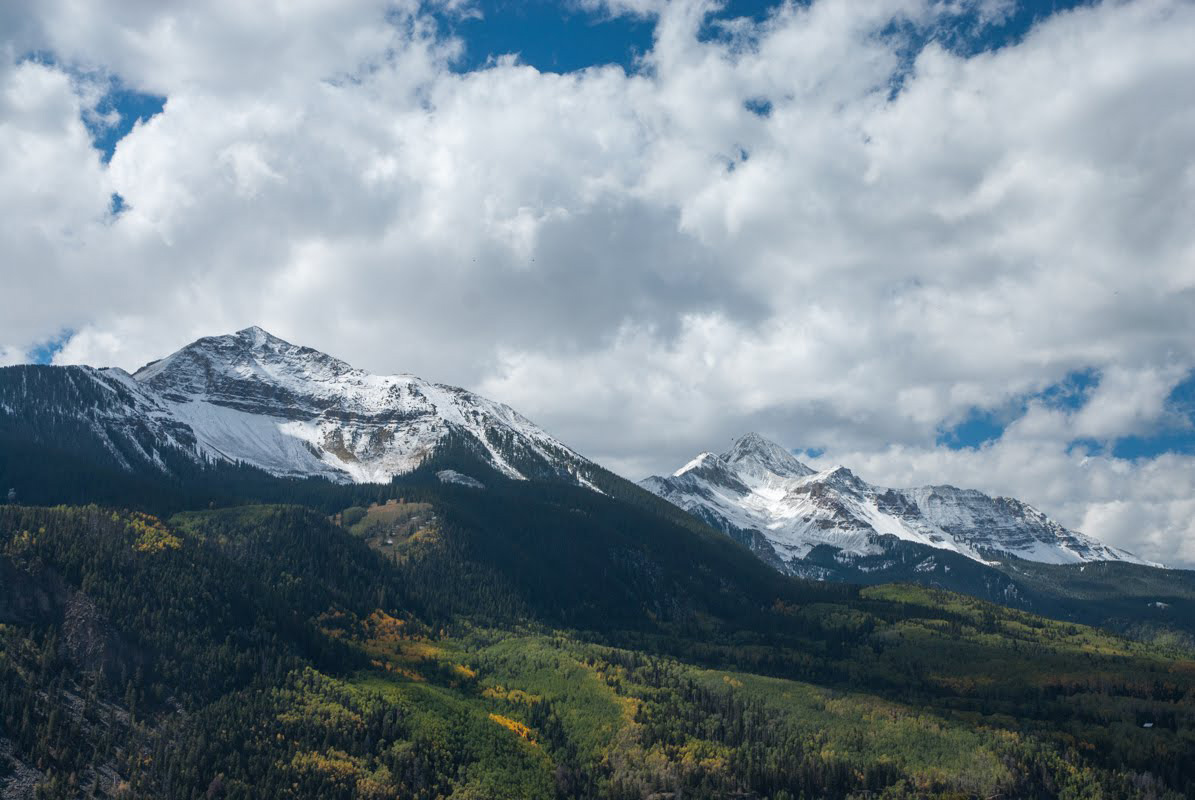 We started up the trail around 5am: three headlights, marching in the cold. By the time the sun had risen up over the ridgeline, we had knocked out only a couple hundred feet in elevation. It was a slow, slow climb. We passed aspen grove after aspen grove, as we marched straight up the side of the mountain at a constant 35+ degree slope. Fortunately, the snow was patchy enough to not warrant any avalanche danger.
As we arrived at the saddle of the mountain around 11 am, one of the members of our crew decided to hold back due to what looked like an approaching storm. My friend and I, who were somewhat "summit blind," decided to carry on mocking the approaching storm. We said things like, "there's no way that is going to come at us," and, "it's heading way too east to hit us. We'll be fine." Any experienced mountaineer will tell you that degrading the power and unpredictable nature of weather in the mountains is not good practice. But there we were, climbing for the summit!
We reached the summit of Sunshine Mountain less than an hour later. After some cheering and photos, we turned around only to see a monster storm system heading right at us. It was time to get off the summit as quick as possible. Within minutes of heading down, we were buried in a blanket of fog and were pounded by hail and over 50 MPH winds. Completely exposed and fighting the elements, we trekked of course but managed to regain our bearings after surveying the ridgeline. Less than an hour later, we were back at the saddle to meet the last member of our crew and headed down the remaining few miles back to our car.
The rest of the weekend consisted of celebrating my birthday and our climb in nearby Telluride. It felt great to gorge on pizza, share stories, and be grateful for another successful climbing trip!