You've always wanted to hike Rim to Rim in the Grand Canyon but you're torn…should you hike Rim to Rim in a single day or backpack it? What are the benefits to each? The drawbacks?
Here we explain from our own personal experience which is better: hiking Rim to Rim in one day or on a backpacking trip:
Benefits of hiking Rim to Rim in one day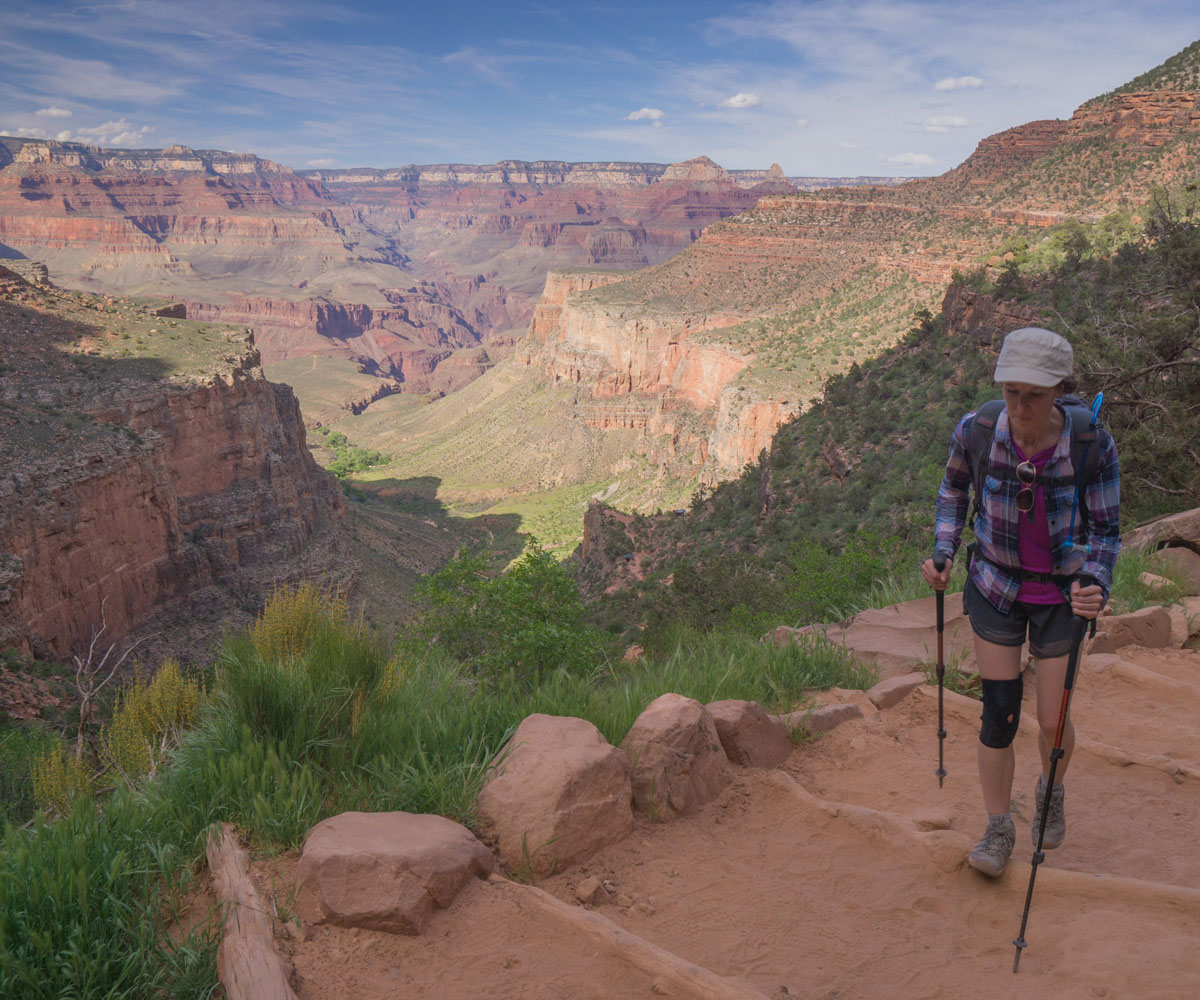 As you can imagine, there are a few benefits from hiking Rim to Rim in one day. These benefits may vary from person to person, but for the most part, there are a few reasons why everyone will want to tackle this huge Microadventure in the Grand Canyon in a single day.
Get the 24 miles out of the way in only one day
Less gear to carry during your hike
You won't need to deal with the colder Grand Canyon temperatures at night
No permits are required for your hike Rim to Rim in one day
Easier to avoid bad weather
Hiking Rim to Rim in a single day bypasses all of that.
As you can see, there are quite a few reasonable benefits to getting this Rim to Rim completed in only one day. In fact, the idea of not having to take a pile of extra clothes, a tent, food, and water for two or more days is often enough to get hikers to opt for hiking Rim to Rim in one day.
Weather is always a major factor during a Rim to Rim hike and you'll never know what the weather will be like in 24 hours within the Grand Canyon. When you factor in the colder temperatures in the early morning and after the sun sets at night, you will be very happy that you are not out in that weather overnight.
Add in the fact that you won't need to apply for the necessary Grand Canyon backpacking permit and take the chance of being turned down during the busy season, and you will think you are being quite logical with doing this Rim to Rim in one day.
Drawbacks of hiking Rim to Rim in a single day
There are obviously drawbacks for doing the Rim to Rim hike in a single day, so you will want to weigh those against your benefits to see which one is your better option.
Not enough available daylight
Limited shuttles later in the day with the possibility of none to get you back to where you began until the next morning
The speed at which you must see and appreciate everything
The possibility you may miss something significant
Additional stress from knowing you are limited with your hiking time
The one major downside of hiking Rim to Rim in just one day is that there never seems to be enough daylight to really appreciate this part of the canyon. Depending on the time of year you plan your hike, you are looking at between ten and fourteen hours of daylight. That means you must plan your hike carefully, so you can be out before it gets dark.
Of course, that faster speed will probably make you miss something important and you won't be able to stop and see everything you would like to along the way either.
Since no shuttles are available later in the day at either the South Rim and North Rim, you must make sure to plan ahead and reserve a hotel room or camp in one of the Grand Canyon's campgrounds. If you forget, you will have nowhere to stay for that night.
All these drawbacks can cause additional stress, which will not make your trip any better.
Benefits of backpacking Rim to Rim
There are quite a few benefits to backpacking Rim to Rim and spending more than one day out on this trail can enhance your Grand Canyon experience. And when you have a better experience out on this trail, you will remember more of your journey in the future.
You can hike with people who may not hike as fast as you do
You can sleep out under the stars in the Grand Canyon
You won't be exhausted before you hit the halfway point
You won't need to rush through your hike and can see much more when it comes to views
You won't need to hike once the sun begins setting
While you may be capable of hiking Rim to Rim in just one day, you may want to hike with a person who goes at a slower pace than you do.
By doing a Rim to Rim backpacking trip in the Grand Canyon, you can easily hike with this person and not feel like you need to rush them to move faster than they are. Everyone in your group will not show signs of exhaustion early on either and you will never need to worry if you are on schedule to make it to the opposite Rim before the sun sets.
The best part about backpacking from Rim to Rim though is sleeping out under the stars because they will seem brighter than they are in any city around the world.
Drawbacks of backpacking Rim to Rim
There are obviously going to be drawbacks to backpacking Rim to Rim, but they may be minimal when compared to the benefits you will see with this type of journey. You may need to compare the benefits and drawbacks carefully before seeing which option is best for you.
You must obtain a Grand Canyon backpacking permit in advance
You must carry a lot more gear with you and this includes enough food and water for your Rim to Rim hike
You must be prepared for the weather changes that may occur when you are out on the trail
You must deal with the colder temperatures that settle in on the trail at night and in the early mornings
You will be out on the trail for a couple of days and that can be problematic if you do not have a lot of time to spend at the Grand Canyon and the surrounding areas
Permits are not as easy to obtain for backpacking from Rim to Rim as you might think. You must send in your application well in advance and have flexible dates if you want to be approved sooner than later.
Once you have your permit, you will need to determine how much gear you will need for your hike and check out the weather forecast to make sure there are no storms to derail your plans. It will be necessary for you to pack clothes for the cooler temperatures you will encounter at different times of the day.
Conclusion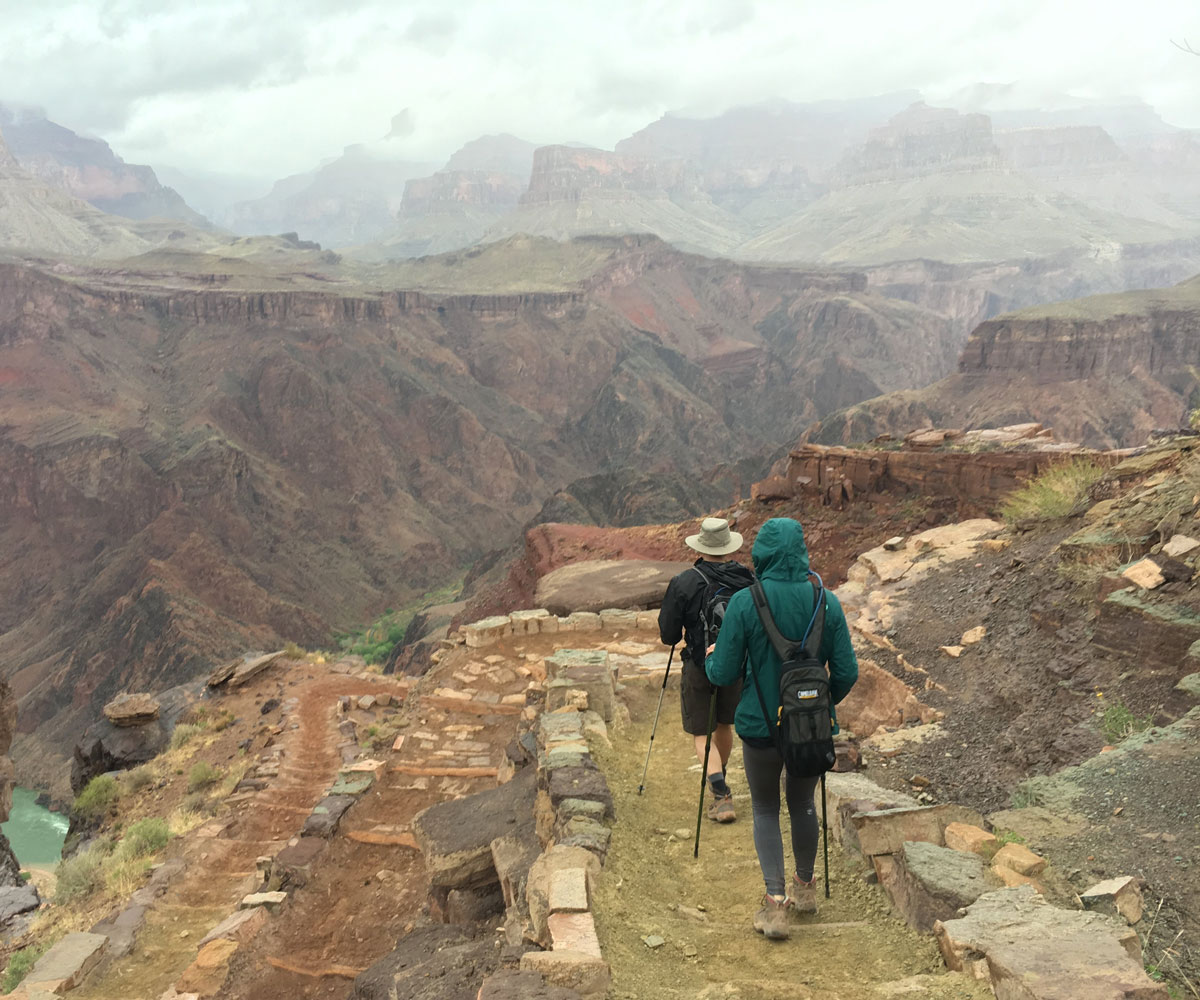 Choosing to hike Rim to Rim in a single day, or during a backpacking adventure, is a personal choice. However, you must consider all the benefits and drawbacks before you make the decision that is best for you. While you may be ready to tackle this journey in just one day, if you have not prepared yourself for this type of hike, you are going to take a big risk.
You need to train to walk twenty-four miles, across rugged terrain, in ten to fourteen hours and it is easy to get injured if you are not ready for this type of aggressive hike. In cases like this, it is always best to choose the backpacking option, because the worst-case scenario is you accomplish your hike in one day.
However, the choice is yours and whichever option you choose, you will love seeing both the South Rim and the North Rim on your hike!
So get out there and hike Rim to Rim!
Rim to Rim resources