It's that time of year again, snowshoeing season and what better place to be than in Flagstaff Arizona!
Wait, what? You can snowshoe in Flagstaff? In Arizona? Despite what you may think, Flagstaff has hundreds of miles of snowshoe trails in the form of both groomed and wilderness trails all within a short drive of downtown.
Snowshoeing in Flagstaff will take you through dense pine forest, up and around mountains, and through open meadows where you gaze at miles of the Flagstaff landscape.
Our favorite trails/areas to snowshoe in Flagstaff:
I've personally been snowshoeing in Flagstaff for over eight years and I'm ready for another season! For those looking to get out this winter here are my top 5 favorite snowshoe trails in Flagstaff:
When someone thinks of snowshoeing in Flagstaff, the Arizona Nordic Village is most likely the first place that comes to mind. A staple of Flagstaff, the Arizona Nordic Village is located 7 miles north of downtown, concealed in the Coconino National Forest. Here you'll find miles of groomed snowshoe trails for hiking. The scenery features views of the pines, yurts, and the occasional meadow as you hike in and out of dense forests. The trails themselves are groomed and trampled on a regular basis so the hiking is fairly easy- perfect for those looking to snowshoe for the first time.
Without a doubt, the best part of snowshoeing at the Arizona Nordic Village is the amenities. You can rent snowshoes, as well as cross country skis and a yurt, right at the main office. After stomping through the woods, enjoy a fire, beer, and hot chocolate at the lodge to close out your day.
Arizona Nordic Village
(928) 220-0550
Snowshoe rentals and day passes
#2 Kendrick Park and Kendrick Peak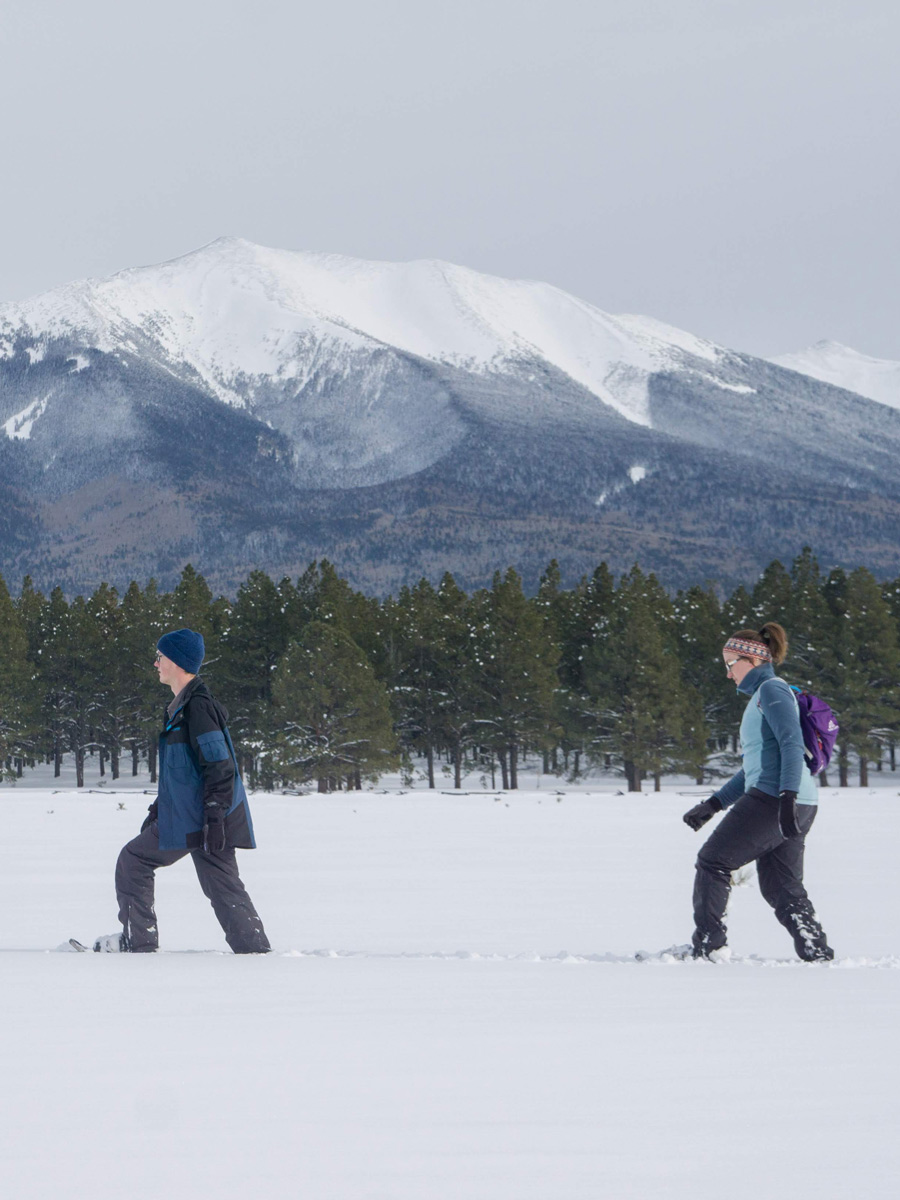 One of my favorite spots to snowshoe is a place that doesn't get a lot of traffic even during summer: Kendrick Park and Kendrick Peak. Kendrick Park is a large meadow that overlooks both Kendrick Peak to the west and the San Francisco Peaks to the east. Snowshoeing Kendrick Park is great for hikers looking for a laid-back afternoon. There is practically zero elevation gain as you stomp your way through an open meadow and random ponderosa pines and aspen trees.
However, Kendrick Peak is another story altogether. This 10,423 peak is a hell of a climb in snowshoes. You'll gain over 2,500 feet of elevation over the 9.3-mile trek. While that doesn't sound like a lot, you'll feel it on snowshoes!
Both Kendrick Park and Kendrick Peak are located north of Arizona Snowbowl off of Highway 180.
#3 Humphrey's Peak
Ever hiked to the top of Arizona? If so, step it up a notch by snowshoeing it!
Humphrey's Peak, located in the San Francisco Peaks, is the highest mountain and point in Arizona- sitting at 12,635 feet at its summit. While Humphrey's Peak can be a zoo in fall and summer, it is hardly touched during winter. In fact, I've snowshoed Humphrey's Peak twice and only saw a handful of other people both times.
Most people who snowshoe Humphrey's Peak (myself included) go up the standard route via the amply-named: "Humphrey's Trail." The 10+ mile round-trip snowshoe venture is a slog at parts- so plan accordingly.
#4 Slate Mountain
Another snowshoe trail off-the-beaten-path is Slate Mountain. Located beside Highway 180 past the San Francisco Peaks and Kendrick Park, Slate Mountain is a small mountain that overlooks the entire Flagstaff region and subsequent mountains. Like Humphrey's Peak, this 4-mile round trip hike is a slog. It is extremely steep and feels like it will never end, but trust me, the views from the summit are absolutely worth it.
From the top of Slate Mountain, you'll overlook all the San Francisco Peaks, the painted desert to the east, and the Grand Canyon to the north- each of which glistens in the winter sun.
#5 Lockett Meadow and the Inner Basin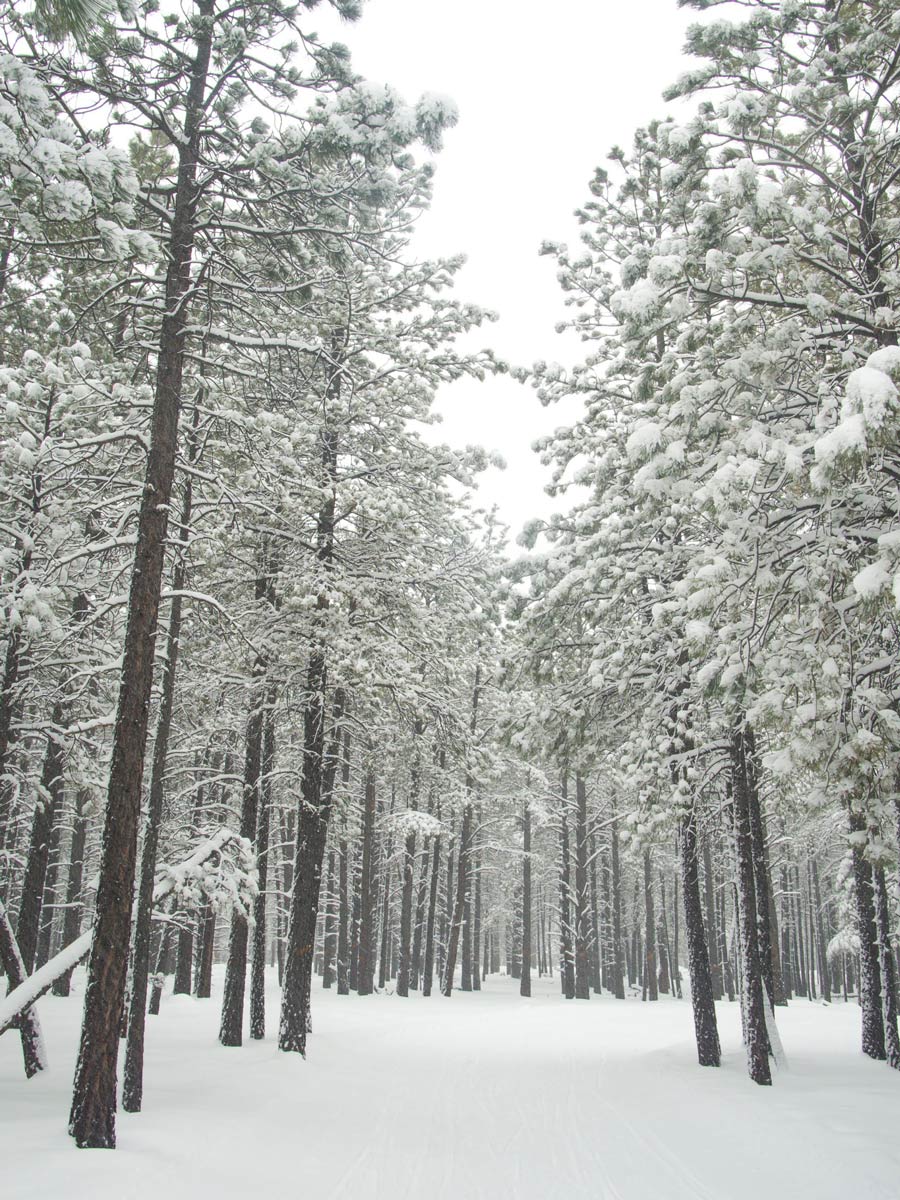 For those unfamiliar with hiking in Flagstaff, Lockett Meadow and the Inner Basin is a basin/depression that rests between the San Francisco Peaks. This area is famous for its groves of aspen trees, clear snowmelt ponds, and fall colors. As you can imagine, during fall at this place is a zoo- so much so that the Forest Service regulates the number of cars and passengers during the fall. However, during the winter, this area is a ghost town.
Word of caution: snowshoeing Lockett Meadow and the Inner Basin can be challenging to access because of the forest service roads that lead to it. During heavy winters, the access roads (and trailhead) can be completely buried with snow. When I snowshoed the area during winter, we had to park 2 miles before the start of the trail. If you can drive to the start of the trailhead, plan for a 3-4 mile round trip day.
The views are spectacular. As you snowshoe, you'll be surrounded by the entire San Francisco Peaks mountain range and glistening aspen trees.
Conclusion
While Flagstaff, Arizona is no mountain town in Colorado, it offers a surprising amount of snowshoeing trails. While the entire Flagstaff wilderness areas and National Forest land can be snowshoed, I like to stick to the above-mentioned trails because of their views. The 5 trails I mentioned are great ways to spend an afternoon snowshoeing in Flagstaff as you stomp your way through dense forests, meadows, and mountain passes.
Where do you like to snowshoe in Flagstaff? Comment below or Tweet us!