Located close to nearby Page, Arizona, Lake Powell is the second-largest man-made lake within the entire country. Millions of people from all over the world flock there throughout the year to see this handmade masterpiece and to participate in the numerous activities that can be done in the area. While hiking the trails surrounding Lake Powell is a lot of fun, you may also enjoy doing a little water skiing, snorkeling, swimming, and relaxing during a boat cruise. All these activities will wear you out, but since you can camp right on the shoreline, you will never be more than a few steps away from your bed.
Here we've created a camping guide to free dispersed camping on Lake Powell:
Can you camp anywhere on Lake Powell?
You cannot camp just anywhere on Lake Powell and there is usually an entry fee to use the marina. However, once that fee is paid, you can easily take a boat or a kayak out to another part of the lake's shoreline, where camping is available at no charge.
This is an extra step that you must take to get to the free camping spots, but it is well worth it for all the fun and excitement you will have throughout your camping stay. Plus, who wouldn't want to spend a little time out on a boat, or kayak, knowing they will be spending the next day, or a week, in paradise on the shoreline of Lake Powell.
The ultimate Microadventure: boating, kayaking, or paddleboarding across Lake Powell to camp. While you will normally pay an entrance fee to a marina to physically get onto the lake, Lake Powell's entire shoreline is available for free dispersed camping.
Here are my personal favorite free dispersed camping areas on Lake Powell:
Lone Rock Canyon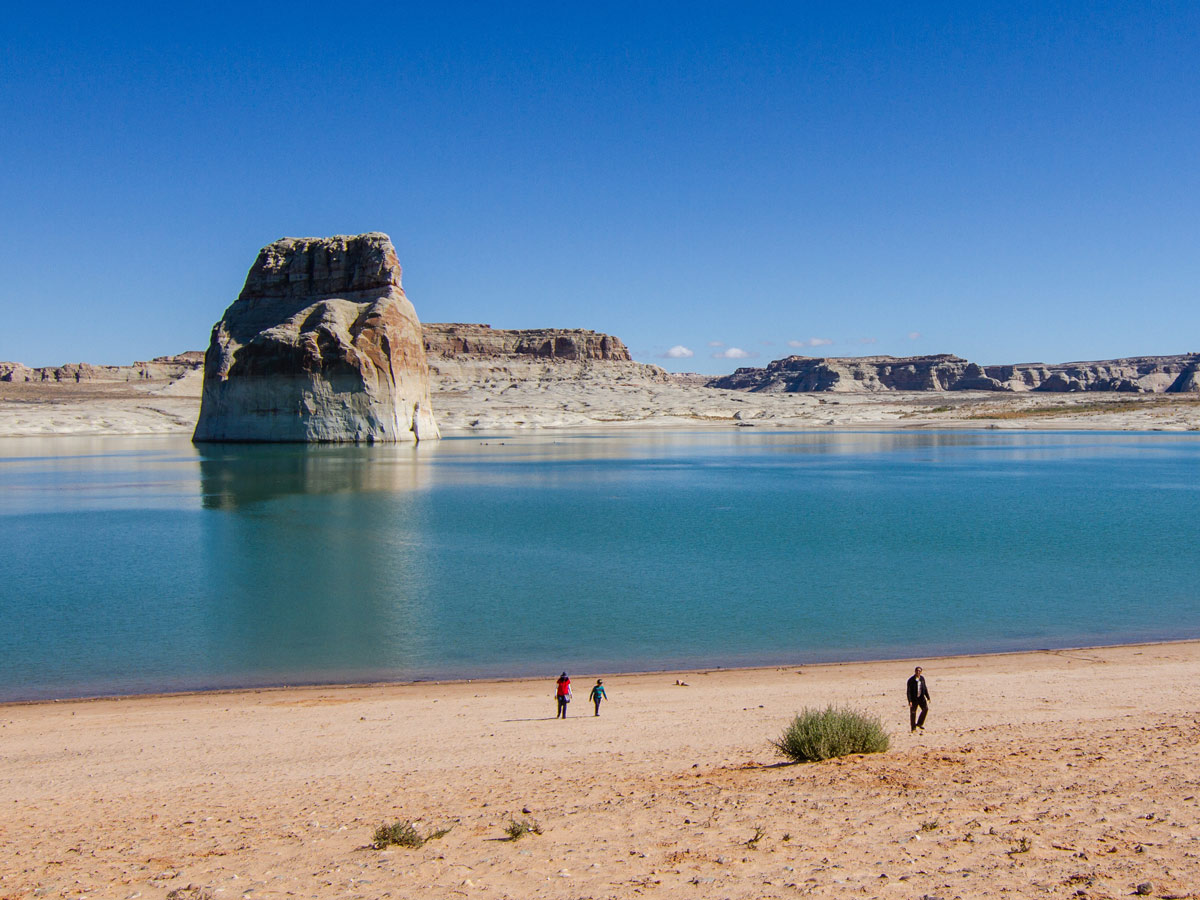 You will find the dispersed camping spots of Lone Rock Canyon across the lake from Lone Rock Beach. Yes, you will find yourself paddling between four and eight miles to get there, but the campsites are excellent, and you can spend lots of time out on the water on your boat or kayak. The seventeen-mile round trip to the Rainbow Bridge and back is the perfect hike from this dispersed campsite. Your entire hike will be filled with walks through canyons, rocky ledges, and times wondering if you can manage to maneuver around the unmarked slick rocks. A map is a necessity when out on this trail because it is not very well marked.
Ice Cream Canyon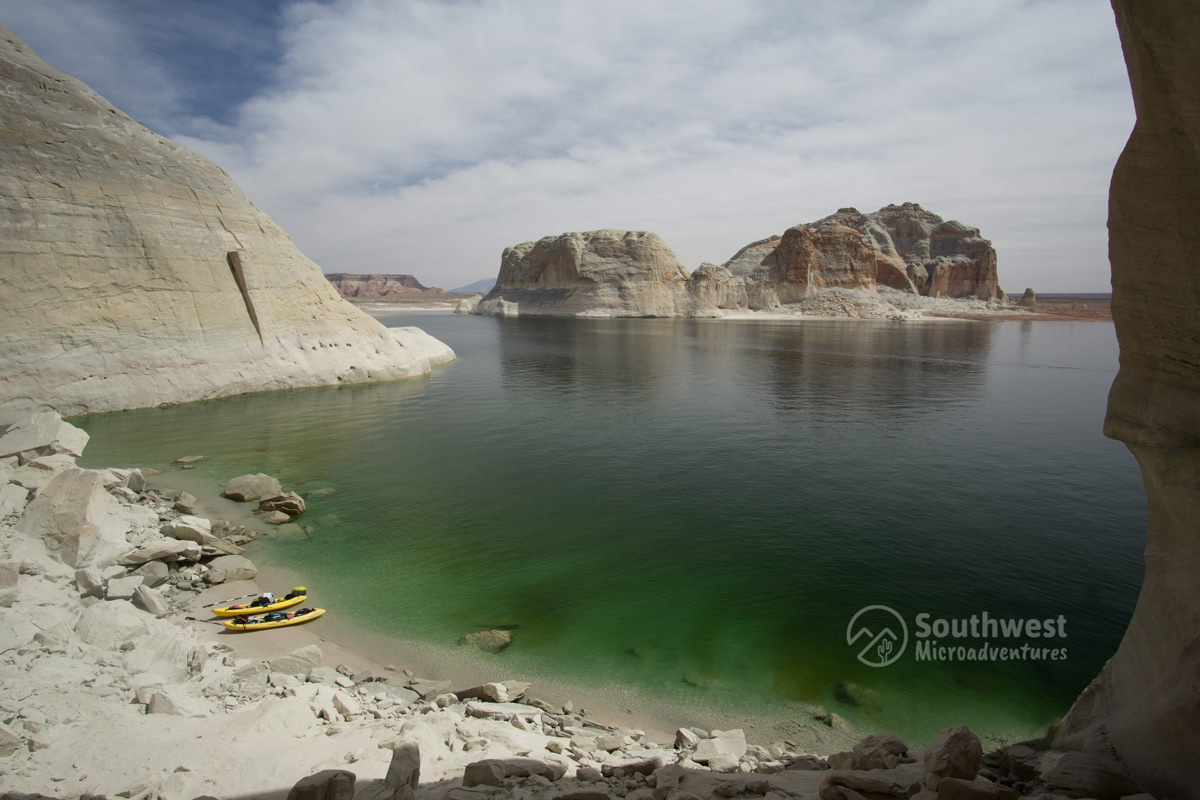 Ice Cream Canyon is close to Lone Rock Canyon, so you might want to split your time at Lake Powell between the two. Once you arrive at this camping spot, you will want to hike to the Ice Cream canyon and explore it completely. You can then hike to Wahweap Window or wander along any of the other nearby trails.
Labyrinth Canyon
It is best to begin your boating journey from the Antelope Point Marina because it is the closest to this dispersed camping spot. I recommend using a boat to get to Labyrinth Canyon because the wake from other powerboats on the water makes it extremely difficult to paddle up the main channel. If you do get tired on the way, it is not easy to stop on the shoreline, due to the massive cliff walls that seem to continue for miles. The Labyrinth Slot Canyon Trail is near where you will be camping. The trail begins on the beach and it won't be long before you reach the slot itself. However, you will want to go to the northern side of the canyon before you make your descent down into the slot. Once you are down there, you can easily walk towards the water, which is where the best part of the slot is located.
Navajo Canyon
You will also want to launch from the Antelope Point Marina for camping at Navajo Canyon. Many people choose this spot because it is centrally located for all the single day trips that can be made into this steep red-walled canyon. The Antelope Canyon hike varies in distance and is dependent on how far you want to go. You must have a Navajo guide with you when you hike this trail because it is on Navajo land. I recommend the Upper Antelope Canyon, but make sure you take the time to see the corkscrew section that is near Highway 98.
Castle Rock and Warm Creek Bay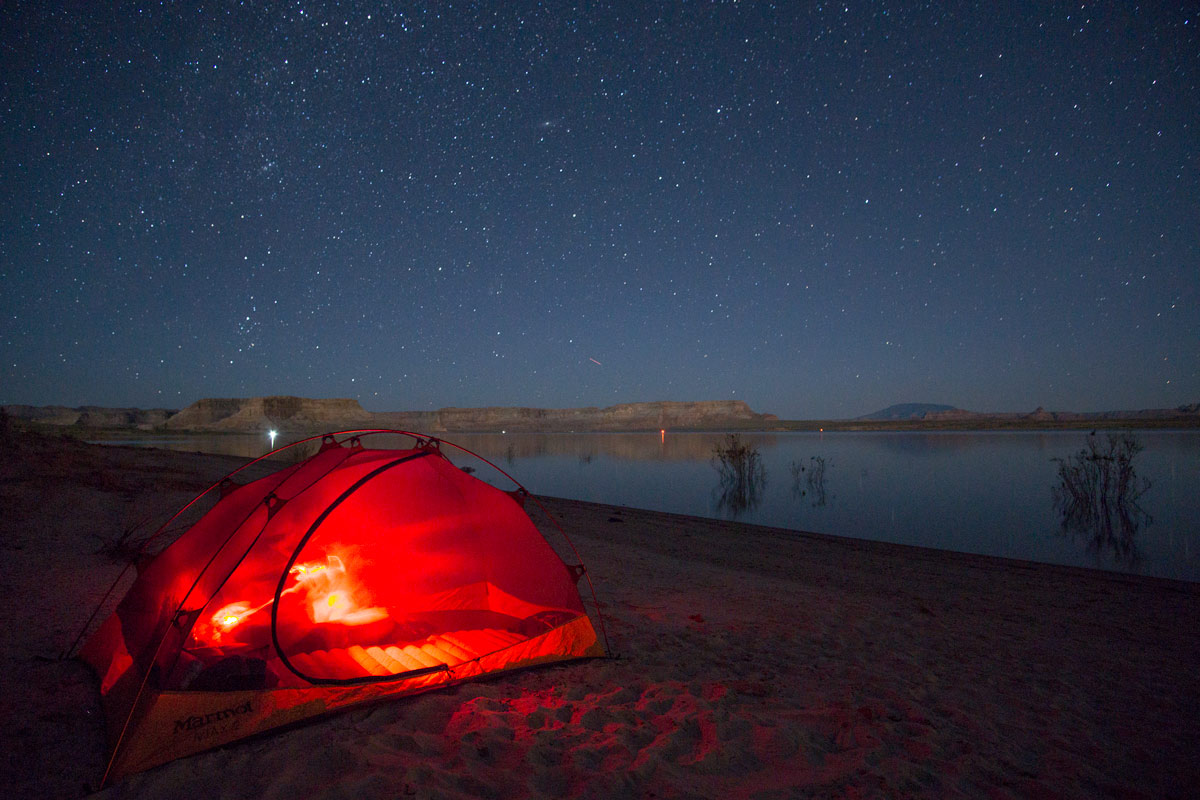 Camping at Castle Rock can be a little unsettling, depending on how high the water is during your visit. While this area is six hundred feet above the lake, none of that matters when the water is high, and Castle Rock is completely surrounded. Of course, when the water is low, reaching the camping spots in this area is tricky due to the shallow water. The Wahweap Marina is only about three miles from Castle Rock, so you can easily head there for a few fabulous hikes. Those hikes include Navajo Mountain Rainbow Bridge Trail, Llewellyn Gulch, and Davis Gulch. As you already know, the first one is about fifteen miles long. The Llewellyn Gulch trail is two miles, while the Davis Gulch Trail is almost four miles, so you can easily complete them together during a marathon hiking day.
Where Wahweap Overlook meets Colorado River
There are a few camping spots where the Wahweap Overlook meets the Colorado River, but you must claim them quickly, so you don't miss out. The best part about these dispersed camping spots is there are many different trails nearby. The Hanging Garden is one you can do quickly later in the day, or before you return home because it is an easy mile round trip. The Dam Overlook is also one that you can complete in no time at all. However, my all-time favorite is The Chains. The entrance to this trail is just past the Hanging Garden trailhead and the distance you hike will vary depending on the way you choose to go. Antelope Point is another option but is prepared for undeveloped trails with plenty of slick rock formations.
Conclusion
If you're considering camping on or near Lake Powell outside of Page, Arizona, you're in for a real treat. While there is a little red-tape to navigate around, once you pay the entrance fee to one of the marinas, beach camping is free! We highly recommend a few of the camping spots on our list because they offer great views of the white and red sandstone towers and buttes as well as providing swimming areas perfect for exploring and cooling off.
Happy camping!
Resources