Looking to camp in Page, Arizona? Unlike other areas we've covered in Arizona, Page doesn't have as many free dispersed camping sites– just a handful.
But if you're willing to drive a little, you can camp for free within an hour's drive of Page. If driving that far is out of the question, consider camping at one of the established campgrounds on our list.
Here is a list of our favorite free dispersed camping spots and established campgrounds near Page, Arizona:
Free dispersed camping areas near Page, Arizona
White House Campground
Outside of Big Water, Utah – 32 miles from Page
Take advantage of the White House Campground and stay at one of seven free sites available. The quiet dispersed campground on the border of Arizona and Utah has proven to be a favorite amongst Microadventures due to its stellar desert view and accessibility to nearby Buckskin Gulch and Paria Canyon.
White House Campground is the best basecamp for hikers and backpackers going into Buckskin Gulch or Paria Canyon.
Lake Powell Shoreline Camping
All along Lake Powell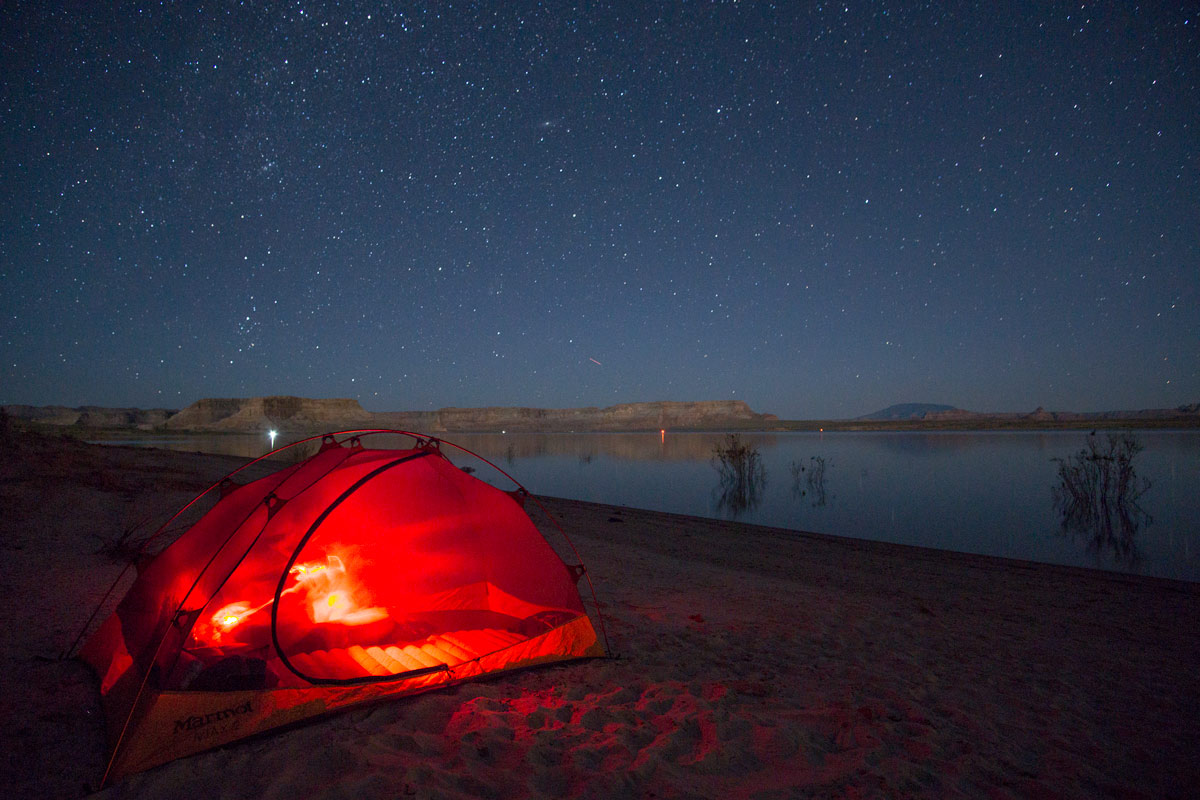 Dispersed camping is allowed along all of Lake Powell's shoreline.
For those with a thirst for off-roading, boat-camping, or kayaking, consider miles of free dispersed camping along Lake Powell's shoreline north of Page. One can't even describe the number of dispersed sites along the shores of Lake Powell. You can pitch your tent on any stretch of sand or on any rock outcropping or cliff. It's hard to wrap your head around it all!
Fair warning though: without 4WD, it's difficult to reach the shores of Lake Powell. Because of deep sand, the Forest Service Roads that lead into the lake are difficult to drive on.
If you don't have 4WD, don't even try driving to the shore- you'll get stuck.
The most common way to access Lake Powell's free dispersed shoreline camping is by boat, kayak, paddleboard, or backpacking in. These routes will require you to pay an entrance fee to get into a marina. Once you're there though, grab your paddle, backpack, tent, and other gear and make your way along the shoreline of Lake Powell for some free dispersed camping.
Some of our favorite free dispersed camping areas on Lake Powell include:
Lone Rock Canyon
Ice Cream Canyon
Labyrinth Canyon
Navajo Canyon
Castle Rock and Warm Creek Bay
View more on Lake Powell dispersed camping here.
Paid established campgrounds near Page, Arizona
Lone Rock Beach
Just north of Page – $14/night – 12 miles from Page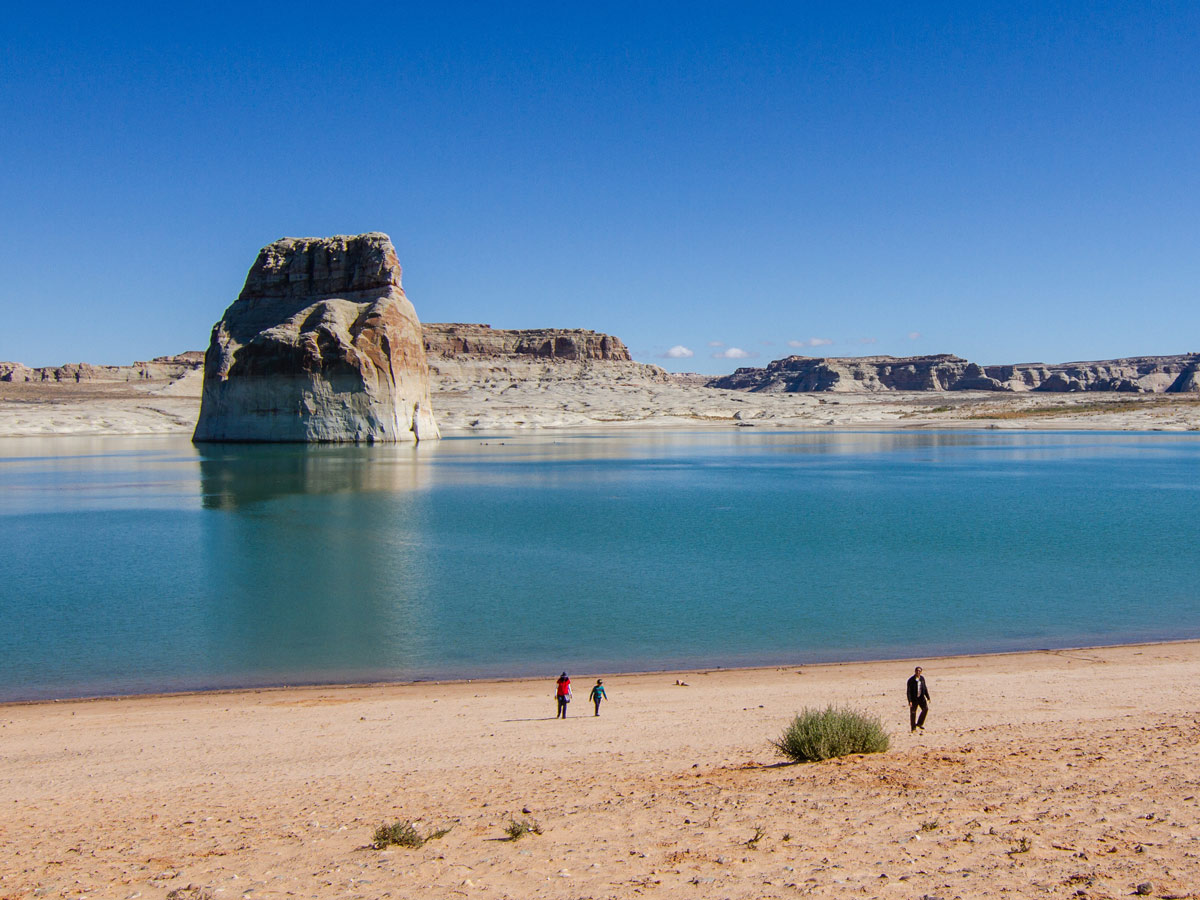 Just 12 miles north of Page you will find the incredible Lone Rock Beach- a paradise of crystal clear water and hot sand against the backdrop of the ginormous "Lone Rock!" Coming in at only $14 /night, these Lone Rock Beach has ample room for camping groups of all sizes, bathrooms, and is arguably the best place to camp if you're planning on kayaking, paddleboarding, or swimming in Lake Powell.
Lake Powell's shoreline can be literally steps away from your tent.
Just across the bay from your tent lies both Lone Rock and Lone Rock Canyon where you'll find miles of twisting river canyons and plenty of places to explore, cliff jump, and swim.
Word of warning: expect crowds of campers and RVs at Lone Rock Beach during the summer months- weekends are particularly busy.
Wahweap RV & Campground
Just north of Page – $30/night – 8 miles from Page
Wahweap is one of the best places in the area for Microadventurers looking to camp directly outside of Page. You're less than 8 miles away from downtown Page for any last-minute beer or food runs.
Wahweap Campground itself is loaded with all the camping luxuries you'll want for a stress-free, lazy camping trip, including laundry rooms, fire pits, restrooms, WiFi, sewage, and lakefront access. The campground is also a mere 1/4-mile away from the Wahweap Marina where you can rent both boats and kayaks.
Wahweap Campground is easily the most developed campground around Page and you'll pay for those luxuries at $30/night.
Lees Ferry Campground
Vermillion Cliffs, Arizona – $20/night – 50 miles from Page
Tucked away between the Colorado River and the Glen Canyon is the Lees Ferry Campground, an inexpensive destination about 50 miles southwest of Page. While we openly recognize the distance away from Page, Lees Ferry Campground makes our list for two reasons: the views and its remoteness.
Lees Ferry Campground sits on the shores of the Colorado River and is the official entrance into the Grand Canyon. Expect views of towering sandstone canyons and picturesque swirls of orange sediment along the banks of the Colorado River.
Because Lees Ferry Campground is relatively far from Page, the campground doesn't see much overflow from Page during busy nights at other campgrounds. Those who get turned away by a full campground in Page, usually drive north further into Utah to disperse camp or get a last-minute hotel room.
In our experience, Lees Ferry is one of the more quiet campgrounds in northern Arizona and worth the drive for the views alone.
Conclusion
If you're considering camping in Page, Arizona, you're in for a real treat. While there aren't as many easily-accessed dispersed camping sites and established campgrounds as other places in Arizona or Utah, once you find a spot to pitch your tent, camping in Page is an incredible opportunity thanks to the beauty of Lake Powell.
Resources