With camping season in full swing, you're probably looking to camp, like most of us, with spending as little money as possible. That's where free, dispersed camping comes in! And if you're looking for somewhere to camp in and around Phoenix, Arizona, you're in luck thanks to this post!
Despite the miles of concrete and buildings, Phoenix has a surprising amount of free, dispersed camping around it. You will have to drive a little way to pitch your tent, but the spots on our list are worth it.
Here is a detailed list with our favorite free, dispersed camping spots and camping sites around Phoenix, Arizona: 
The Old AirStrip Dispersed Camping
Outside of Morristown, Arizona
The Old AirStrip Dispersed Camping site is near the Lake Pleasant Campground. At this Phoenix campground, you will find between six and fifteen free camping sites. You can stay for up to fourteen nights at this dispersed camping spot, but you must understand there are no facilities. There are many different hiking trails to do nearby. Yavapai Point and Pipeline Canyon Trail, Walkin' Jim Trail, and Governors Peak are three to consider. However, if you want a true hike, you must tackle the fifteen-and-a-half-mile Vulture Mine Trail. During your stay, you can walk down to the lake and you won't want to miss the wild donkeys that call this area home.
Lake Pleasant Shoreline Camping
Lake Pleasant Regional Park, North of Phoenix
Lake Pleasant Shoreline Camping is within the Lake Pleasant Regional Park in Phoenix Valley. This is a primitive campground with no amenities, but you will find a few portable bathrooms around the park. There are four miles of trails near this campground and within the park. The Discovery Trail is only a half-mile, while the Roadrunner Trail is a mile and a half with views of Lake Pleasant. However, there are other trails close by that are all much longer. The Backway to Crown King is twenty-seven miles in length, while the Beardsley and Pipeline Canyon Trail is eight miles. A visit to this campground will have you spending a lot of time in the water, as you jet ski, windsurf, scuba dive, and sail. There are also five different archaeological sites to explore.
Bulldog Canyon OHV Camping Area
Tonto National Forest
The Bulldog Canyon OHV Camping Area is within the Tonto National Forest. You will find this campground near Phoenix, AZ over by the Blue Recreation Site. There are no amenities in this dispersed camping area, so you will want to have everything you will need with you for your stay. The Bulldog Canyon Trail is your best hiking option at ten miles. However, I suggest including the extra five miles that can be added for a better hiking experience. There are all types of wildlife at these free campgrounds, so you will want to keep your eyes open, so you don't miss anything.
Catfish Point Picnic and Dispersed Camping Area
Tonto National Forest
You will find the Catfish Point Picnic and Dispersed Camping Area over by the Horseshoe Reservoir in Cave Creek. This is another free camping site with no amenities, but you won't miss them with the views of the mountains and the lake. Hiking near this Phoenix campground will include the Verde River Trail. You can tackle that trail all at once, but you may prefer to section it down to really embrace the ambiance of your surroundings. There are going to be many animals near this area, especially in the water, so use caution as you traverse the river to get to where you are going.
Off of Peralta Road
The Superstition Mountains, Near Gold Canyon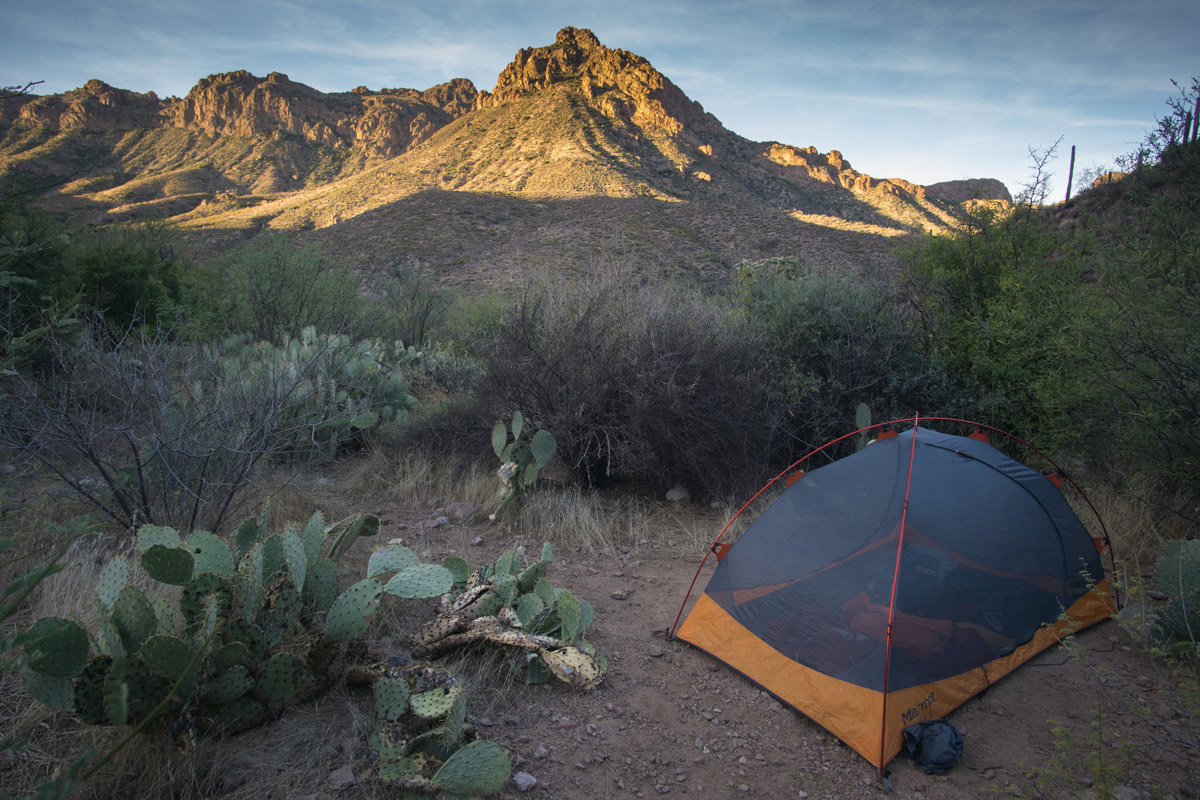 The dispersed camping area off Peralta Road is close to Gold Canyon and does not offer any amenities. This area is perfect for free tent camping, but RVs have been known to have success in getting in and out of the free camping sites. The Wave Cave Trail is one of the more popular hiking trails nearby and it is only three miles in length. If you are looking for longer treks though, you must check out the Dutchman and Bluff Springs Loop, Martinez Canyon Trail, or the Weaver's Needle Loop Trail. You will see many different types of mountainous materials during your camping trip. These mountain areas are filled with dacite, granite, and basalt. You will also see a plethora of wildflowers if you happen to visit during the spring.
Off of Vekol Valley Road
Sonoran Desert National Monument, Near Gila Bend
Off Vekol Valley Road, you will find a free dispersed camping area that has no amenities. This Phoenix camping area is perfect for boondocking if you don't mind being close to a main highway. There are miles upon miles of hiking trails at the nearby Sonoran Desert National Monument. The Butterfield Stage Route is twenty-five and a half miles long and it is an excellent way to see the wildlife that lives in the area. If you are looking for a shorter hike that you can do quickly, you can consider Margies Cover Trail.
Table Mesa Trailhead Area
North River
The Table Mesa Trailhead Area is a free tent campground, but smaller RVs have been successful with fitting into the campsites. There are pit toilets available at this Phoenix campground, but there is very little wildlife. There is the Table Mesa hiking trailhead right near the campsites, which is helpful when you want to go out on a quick hike. That trail is nine miles long, but you can also do the Black Canyon Trail. There are many birds in this area, so it is the perfect spot for birdwatching.
Off of Hackamore Road
Near Apache Junction
This free dispersed camping area off Hackamore Road is perfect for RVs and tents, but if you take an RV, you must choose a spot close to the road. During your stay, you will have excellent views of the Superstition Mountains. There are many cholla cacti in this area, so you must use caution when out hiking. The Brittlebush and Crest Trail is a short hike at just over two miles, but it is a great way to get acclimated to the area. The Flatiron via Siphon Draw Trail and the Meridian and Pass Mountain Loop are two hikes that are just over five miles each and you can do them separately, or all in one day, depending on how long you are staying.
Conclusion
With a little driving, you'll find plenty of free, dispersed camping spots and sites around Phoenix. The sites on our list are great for both Microadventures and casual weekend campers alike. So get out there and have a Microadventure in Phoenix, just don't pay for camping if you don't have to!
Resources