Thinking about hiking down to Mooney Falls during your next Havasupai backpacking trip?
During a Havasupai backpacking trip, it's essential to go see the monster waterfall: Mooney Falls. Besides Havasu Falls, Mooney Falls is the quintessential Havasupai hiking destination- and for good reason too!
In this post, I'll outline everything you need to know about beautiful Mooney Falls from my personal backpacking trips to Havasupai:



What you should know about Mooney Falls: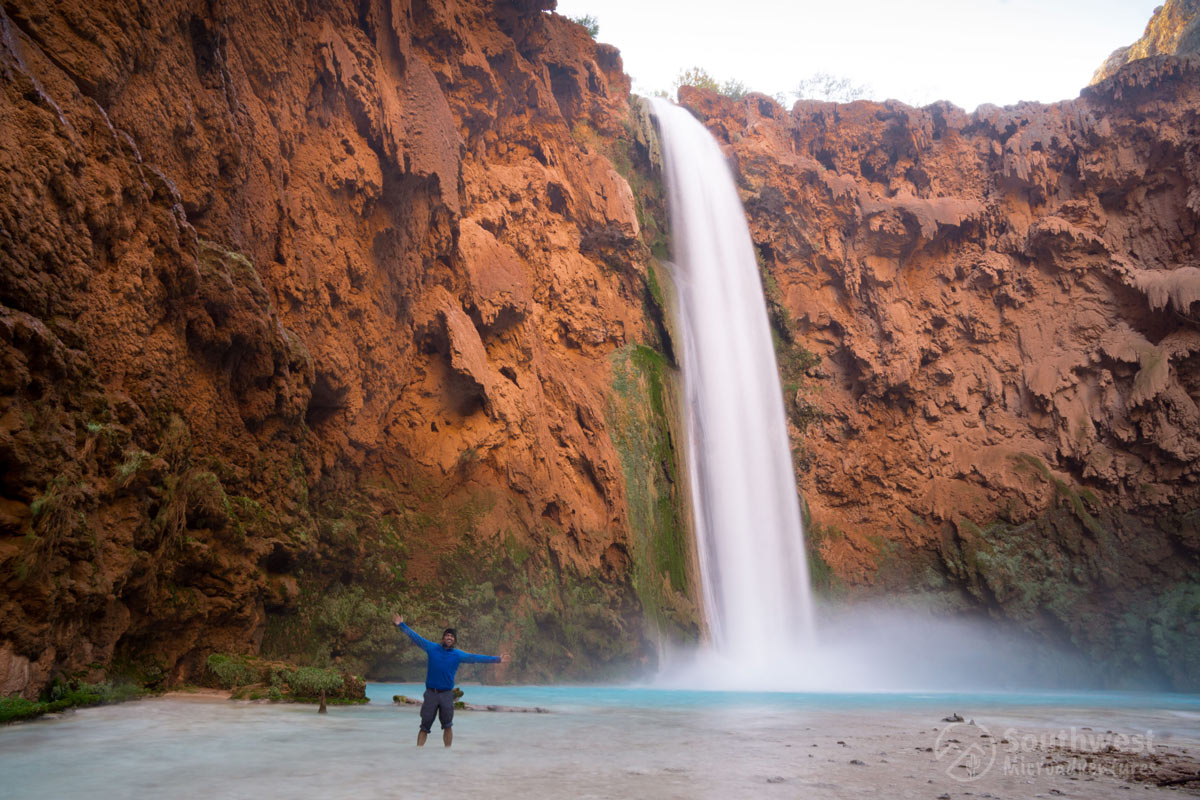 Out of all the waterfalls on the Havasupai Reservation, Mooney Falls is the tallest one at 190 feet! For those unfamiliar, Mooney Falls' waterfall is funneled through a hole in the upper canyon from Havasu Creek that creates a single column of Carribean-blue water. While you might have seen photos of this monster scrolling through Instagram or Pinterest, Mooney Falls is massive compared to what it looks like in those photos.
Mooney Falls sits at the base of a massive outcropping of Cottonwood trees, similar waterfalls, and a pseudo-beach area. All primed for swimming, wading, tubing, and rope swinging!
Besides the massive of Mooney Falls' height and awe produced by gazing at it, Mooney Falls is also known for its approach. The hike to Mooney Falls can be a little sketchy by the timid hiker and Microadventurer, but really isn't as bad as photo make it out to be. Looking at YouTube videos of the hike to Mooney Falls sometimes has the "GoPro effect."
Following the hike and reaching the base of Mooney Falls, you'll be greeted by what I like to call "an adult playground" where you'll feel like you're a kid visiting DisneyWorld for the first time.
There is so much to see, do, and explore around Mooney Falls it'll make your head spin.




What we love about Mooney Falls: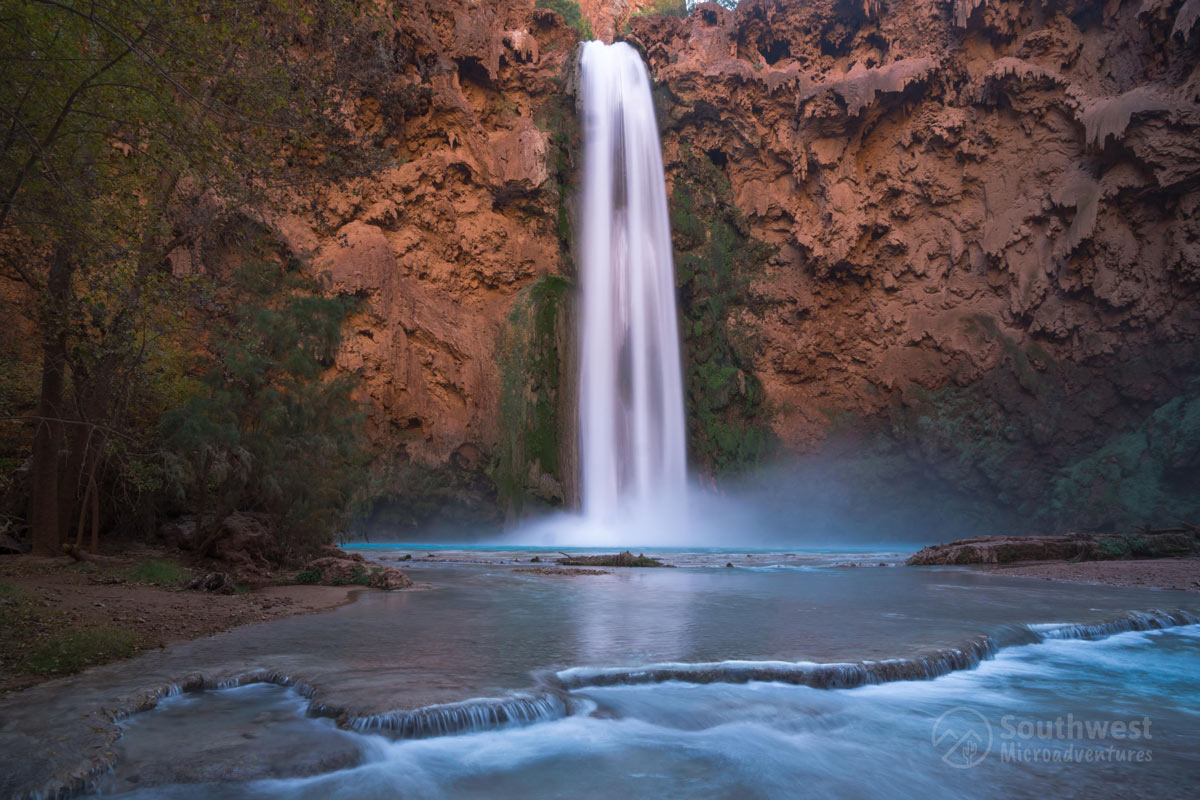 For me personally, there is so much to love about Mooney Falls. It is my favorite waterfall in Havasupai for a number of reasons:
The intense Carribean-blue of Mooney Falls and its collecting pools
The ability to go downstream of Mooney Falls to see other waterfalls and find a little more tranquility from the crowds
Smaller waterfalls forming from the cracks in the travertine
Ability to swim and cliff jump off the smaller waterfalls around Mooney Falls
The striking landscape surrounding the falls
The rope swing right beside Mooney Falls
The ability to swim right up to Mooney Falls
The views from the small beaches directly in front of Mooney Falls
The caves during the hike to Mooney Falls are fun to navigate
What we don't love about Mooney Falls:
With positives come negatives!
There are a few things that I personally don't enjoy about Mooney Falls and I know have irked some of my fellow backpackers during my Havasupai visits. Those things include:
Only one access point to Mooney Falls
The somewhat treacherous hike down to the base
The steep, slippery stairs- you can actually get pretty hurt if you slip
A large number of people hike to Mooney Falls every day
The water can be freezing at certain parts of the year
As you can see, my biggest annoyances with Mooney Falls are the hike in because of the bottlenecks and the number of people that show up to the falls each day.
Not a bad rap sheet though!




How to hike to Mooney Falls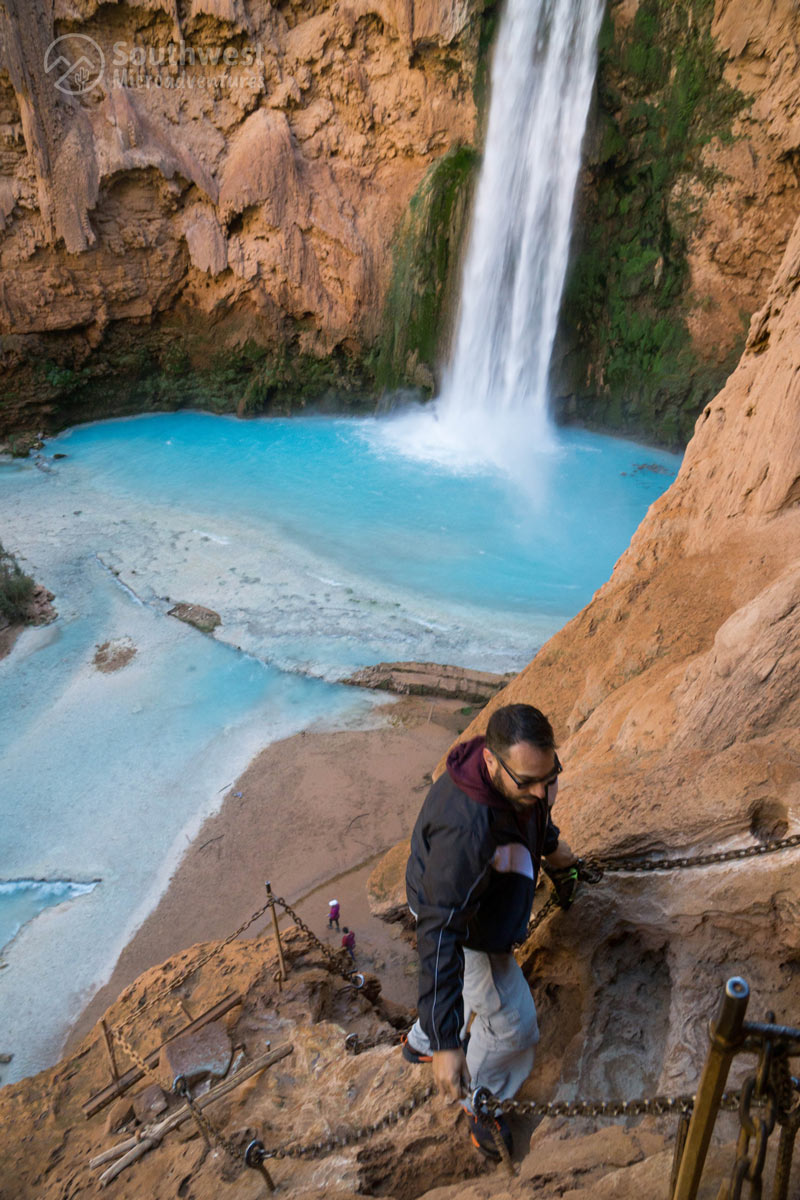 Your journey to Mooney Falls will begin at the Havasu Campground. From the campground, Mooney Falls is only a mile-long hike to reach the base of the falls.
However, that mile will feel much longer thanks to the steep switchbacks, two tunnels, descend on ladders, and any potential bottlenecks that occur.
While I hike an average of a mile every 20 minutes, the mile hike to Mooney Fall will take you about an hour.
From Havasu Campground, start hiking north (away from Havasu Falls) on the main trail. You can't miss that trail.
As you are hiking the switchbacks and down the side of the cliff, you will find yourself walking through two narrow tunnels. As mentioned before, these tunnels do tend to bottleneck up! Regardless of that fact, it's really a cool approach to Mooney Falls through the sandstone tunnels.
From there, you reach a series of chains and stairs to help you reach the base of the Mooney Falls. The stairs and chains will be soaked from the waterfall's mist, so it is necessary to take your time and pay attention to what you are doing. I've seen people eat it on the stairs. You can get seriously hurt on the hike to Mooney Falls.
Remember, there's no quick way out of Havasupai! Be careful on the hike to Mooney Falls!
Distance: 1 mile from the Havasu Campground; 2 miles from Havasu Falls
Estimated time needed: About an hour
Things to see and do at Mooney Falls
#1 Wade and swim in Mooney Falls' pools and waterfalls
Jumping into one of the pools underneath and next to Mooney Falls is quite the experience. While the temperature of the water can be seventy degrees, there are times of the year when it gets a little colder than that.
During the heat of summer, there's nothing better in the world than taking a dip in the crystal-clear, Carribean-blue water of Mooney Falls.
It will feel great especially after a hike down the switchbacks and tunnels under a baking sun.
#2 Cliff jump and cliff dive off the smaller waterfalls
You may be tempted to do some cliff diving off many of the waterfalls near Mooney Falls, but you are better off choosing the smaller ones if you want to avoid a hospital visit!
I haven't personally seen anyone cliff jump or cliff dive off of Mooney Falls proper but I wouldn't be surprised if people had seriously considered it. Considering Mooney Falls is almost 200 feet tall, cliff jumping or cliff diving from the top would not turn out well.
That being said, there are plenty of smaller waterfalls around the base of Mooney Falls that are prime for cliff jumping or cliff diving. From the base, hike away from Mooney Falls and you'll find a series of waterfalls to jump and dive off of.
Always check the landing for shallow rocks before you cliff jump or dive!
#3 Flips off of Mooney Falls' rope swing
One of my favorite parts of Mooney Falls is the rope swing that sits close to the base of the falls. This rope swing is an amazing way to turn your Havasupai Microadventure up to 11.
Simply head to the right of Mooney Falls (if your back is facing away) to the smaller section of waterfalls and a large Cottonwood tree. Grab the rope that's attached to this tree and swing, do flips, or dive off into the deep the pool of water below.
Because of the popularity of this rope swing, you may need to wait to have a turn but the line does move quickly.
#4 Hike downstream of Mooney Falls to avoid the crowds and see the other waterfalls
The trail past Mooney Falls is very flat, easy to hike along, and contains dozens of smaller waterfalls. This is perfect for those who want a little break from the crowds that can gather at Mooney Falls and the nearby waterfalls that feed off of it.
Start a hike from the base of Mooney Falls and within 10 minutes of hiking, you'll be in a whole other section where you can enjoy some of the subsidiary waterfalls without the crowds.
#5 Take photos of Mooney Falls
You are going to want to take your camera with you when you hike down to Mooney Falls. As mentioned before, the size of Mooney Falls is breathtaking and, if you're like me, you'll want to share everything with your friends and family back home- just to make them jealous that they didn't tag along with you.
Pro-tip: Hike to Mooney Falls in the morning before sunrise to enjoy the soft lighting over the whole area.
#6 Just sit and stare at Mooney Falls
Plain and simple- take a moment to take it all in when you're at Mooney Falls. I know you'll be itching (like me) to cliff jump, hit the rope swing, and wade in the pools, but it's important to take time to simply sit and stare at the falls. You'll feel any stress melt away, as you simply sit there and relax, staring at Mooney Falls, as the time slowly moves forward.




Things to consider with Mooney Falls:
#1 The hike to Mooney Falls can be dangerous
As I mentioned before, the hike down to Mooney Falls can be a little nerve-racking and dangerous for the "green" hikers and backpackers- especially those who haven't been to Havasupai before.
It's really important to take your time when navigating the switchbacks, tunnels, and ladders on your way down to Mooney Falls.
Remember, there is no quick way out of Mooney Falls and Havasupai if you get hurt.
#2 It's very popular to hike and swim at Mooney Falls
Because of its proximity to the Havasu Campground, Mooney Falls can become a zoo during the busy months of the year.
Instagram has blown Mooney Falls up and every hiker who visits Havasupai wants to spend time there- and rightfully so! Mooney Falls is absolutely beautiful, majestic, and a blast to play around. As a result, it can blow up with a lot of people during the summer and fall.
I'd recommend hiking down to Mooney Falls as early as possible to avoid the crowds.
I've been at the base of the falls before 9am and have had the place all to myself.
#3 The days are shorter at Mooney Falls
It's worth mentioning that because of the height of Havasu Canyon and how deep Mooney Falls is buried into this canyon, the days are short. The sun doesn't really peak over the falls until after 8 and sets fairly early- 4-5 most days.
Just be aware of this fact when you're planning your day trip down to Mooney Falls. If you're planning on staying past 5, I'd recommend bringing a headlamp with so you can navigate the ladders, tunnels, and switchbacks without worry.
When to hike to Mooney Falls
Mornings
Plain and simple- mornings are great for sunrise photos and to avoid the crowds. I've hiked down to Mooney Falls as early as 6:30 and as late as 8 and still managed to capture the sunrise over Mooney Falls.
If you arrive early to Mooney Falls, you'll likely have the whole place to yourself.
Afternoons
Afternoons are great for swimming, cliff jumping, and enjoying the rope swing because of the warm sun. Afternoons are also great for hiking around and exploring the other subsidiary waterfalls adjacent to Mooney Falls.
Evenings
Evenings are usually quiet and are great for staring and taking photos of Mooney Falls. I really like this time of day because the crowds usually have cleared out and the warm sun of the day makes Mooney Falls grow an orange color.
Wrapping up:
Mooney Falls is the monster waterfall within the Havasupai Reservation and is a must for any hiker, backpacker, and Micoadventurer who is looking to book a trip to the Havasupai area. In my opinion, Mooney Falls is the quintessential Havasupai hiking destination.
This 190-foot monster is one of the most beautiful waterfalls in the whole area. It also hosts some great features and activities including rope swinging, cliff jumping, swimming, wading, and will inspire your inner landscape photographer.
If you're scheduled to make a trip to Havasupai this season, I highly recommend carving out a day to spend down at beautiful Mooney Falls.
Don't forget your water shoes! Happy Microadventuring!
Mooney Falls resources: