You might have reached this hiking guide after coming across the plethora of beautiful pictures of Havasu Falls. Yes, it is truly a natural beauty in its purest form. This waterfall on the Havasupai reservation in Arizona has been growing in popularity for the past few years.
First things first, Havasu Falls is one of the several waterfalls situated in Havasupai Reservation in Arizona. There are hundreds of waterfalls that dot the landscape in Havasupai- the most noteworthy being Havasu Falls, Mooney Falls, and Beaver Falls.
If you've never been to Havasu Falls or any other waterfall on the Havasupai reservation, I created a quick hiking guide based on my personal backpacking trips to this unbelievable waterfall and playground in northern Arizona.
How to get to Havasu Falls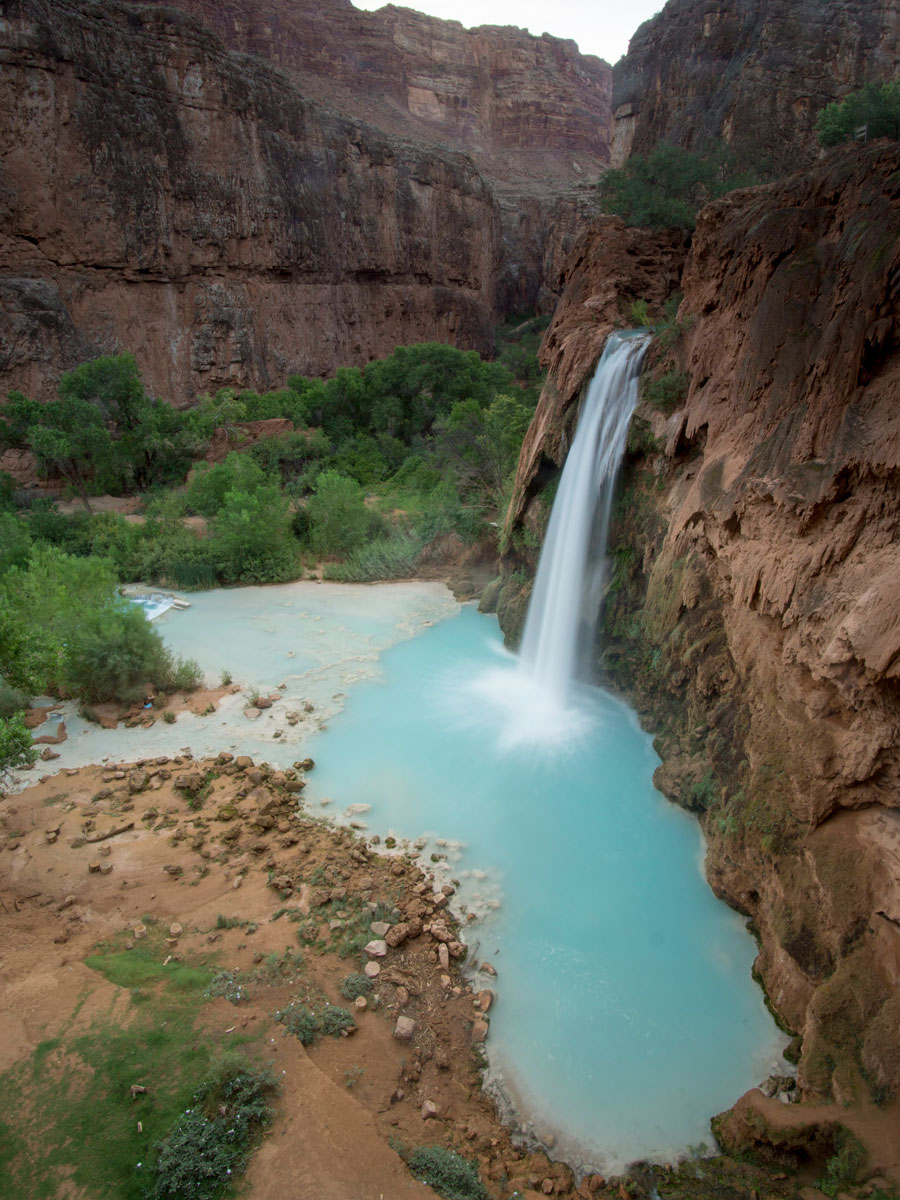 As mentioned prior, Havasu Falls is one of the many waterfalls located on the Havasupai reservation near the edge of the Grand Canyon is west-central Arizona. As the crow flies, the Havasupai reservation is 10ish miles from the banks of the Colorado River in the Grand Canyon.
In my experience, there seems to be a lot of confusion over Havasu Falls and Havasupai. Havasu Falls is a waterfall that is located within the Havasupai Reservation.
In order to reach the main trailhead to Havasupai and its waterfalls (including Havasu Falls), you will need to travel to the "Hualapai Hilltop" parking lot. It's quite an interesting sight to see and surprises me each time I begin my hike to Havasupai.
The "Hualapai Hilltop" parking lot is a huge parking lot located steps away from a cliff-face that overlooks a huge canyon system. Because of the remoteness of the Havasupai reservation, both residents and hikers alike park their cars in the parking lot and then start their journey down the canyon system and into Havasupai. Right next to the parking lot is a helipad that receives a visit from a helicopter about every 15 minutes- transporting supplies, hikers, and residents from the parking lot and the main town on the reservation: Supai. It is a strange sight to see!
Residents and hikers alike can reach the Havasupai reservation, the town of Supai, and the subsequent waterfalls by foot, mule, or by a helicopter ride.
How do you hike to Havasu Falls?
The hiking down to Havasu Falls is relatively easy at the beginning of the trail. The trails snakes back and forth down a massive cliff-face and into a canyon. Once you reach the canyon, it's pretty much a straight shot to the town of Supai as you navigate through the canyon's washes and gullies. For those curious about the distances, here are my recorded mile times for my last hike to Havasu Falls:
One-way hiking distances to Havasu Falls:
Hualapai Hilltop to Havasu Falls: 10.3 miles
Hualapai Hilltop to Supai: 8.0 miles
Supai to Havasu Falls: 1.8 miles
Havasu Falls to the campground: 0.3 miles
Hualapai Hilltop to the campground: 10.6 miles
One-way hiking times to Havasu Falls (estimated):
Hualapai Hilltop to Havasu Falls: 7 hours
Hualapai Hilltop to Supai: 6.5 hours
Supai to Havasu Falls: ½ hour
Havasu Falls to the campground: 15 minutes
Hualapai Hilltop to the campground: 8 hours
I openly recognize that I'm an experienced hiker and backpacker so my hiking times may seem a little fast for some. It's not uncommon to hear of it taking 10 hours to make the full hike from the Hualapai Hilltop to the Havasu Falls campground.
What other waterfalls are near Havasu Falls?
By now everyone is well aware of the Havasu Falls but there are other huge and famous waterfalls within the area. Like Havasu Falls, these other waterfalls are as beautiful and tranquil and well worth a hike to visit them. I mean, if you're going to hike and backpack 10 miles into Havasupai to see Havasu Falls, you might as well see the others too!
Here are the waterfalls that are part of Havasu Falls:
Navajo Falls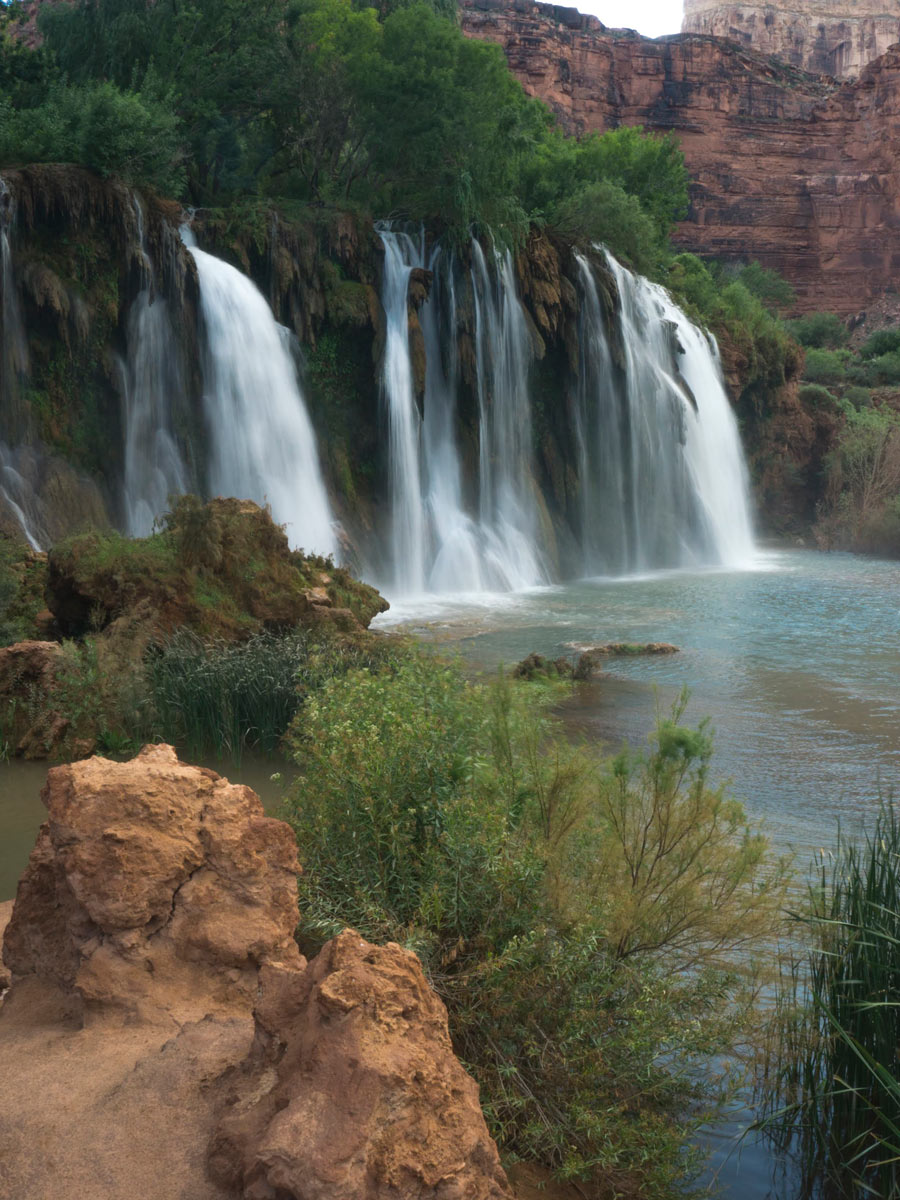 Located up the trail from Havasu Falls and the first campground, Navajo Falls is the smallest of the most famous waterfalls in Havasupai. Known for a great swimming hole at its base, Navajo Falls is a great place to spend an afternoon. Because it's also the shortest waterfall, it doesn't draw as much attention as the other falls in Havasupai.
This fact alone makes Navajo Falls a great place to visit for those looking to escape any crowds at Havasu Falls or Mooney Falls.
Navajo Falls is a great place to cliff jumping and dive as well. As with all cliff jumping and diving in the Havasupai reservation, check for rocks before diving in. Navajo Falls was particularly damaged during the 2008 flood and had some very large boulders just below the surface during my 2016 visit to Havasupai.
How to get to Navajo Falls
After you have set up your camp, head back up towards the town of Supai about a half-mile. Head past the bridge and up the large hill. From there, start looking for signage and a path that heads right towards Havasu Creek. If you head the houses just outside of Supai, you've gone too far.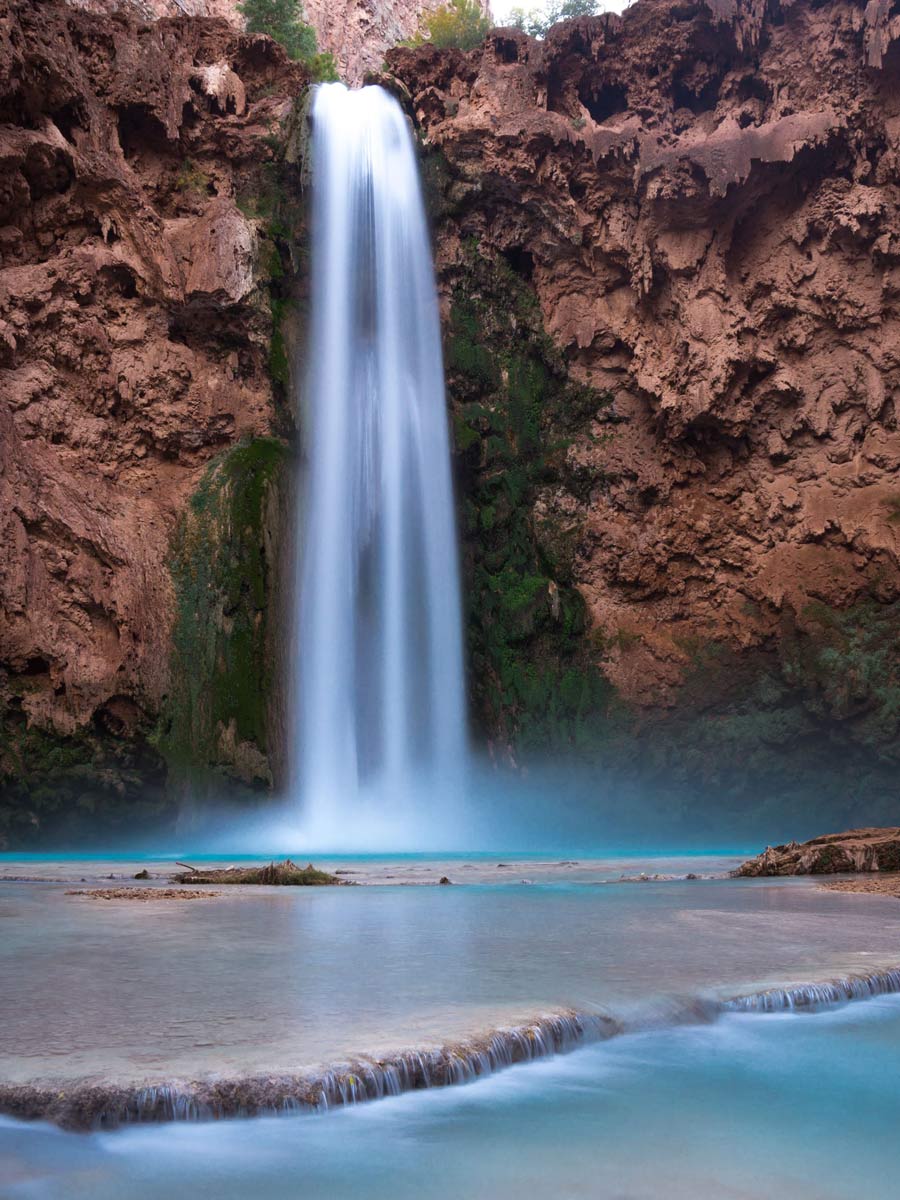 The biggest waterfall of them all, Mooney Falls is a monster of a falls. Over 196 feet tall, this monster sits at the base of an amazing swimming hole complete with subsequent smaller waterfalls, and a rope swing nearby. Easily the second most popular place to day hike to within Havasupai, the base of Mooney Falls is only a few miles from Havasu Falls and the main campgrounds. But the start of the falls is actually at the edge of the Havasu Falls campground. In fact, every time I've backpacked and camped in the Havasu Falls campground, I've seen tents set up at the top of Mooney Falls, less than 10 feet from the 196-foot drop.
Because of its height, the water of Mooney Falls tends to straighten out causing the entire waterfall to look like a straight-stream of water pushed up against the orangish-brown backdrop of sandstone cliffs. The water that tumbles off Mooney Falls collects in a large pool at the base that glimmers Carribean-blue in the sun. It's quite a sight to see!
During most Havasupai backpacking trips, people will hike to Mooney Falls to bathe in its pools and stare in awe at its size. I highly recommend taking part in this "tradition" considering how beautiful and majestic Mooney Falls is.
From the main Havasu Fall campground, head north (away from Havasu Falls) for about 10-15 minutes- depending on where your camp is. You'll reach a cliff and you'll be able to see Mooney Falls to your right. From there, follow the white arrows on the ground (or the crowds) and descend down the cliff through a series of switchbacks, ladders, and tunnels.
Be safe when hiking to Mooney Falls! The trails, ladders, and safety lines are always covered in mist, making slips and falls a common occurrence.
Fortunately, I've never seen someone slip and fall off the cliff, but I'm sure it's happened before!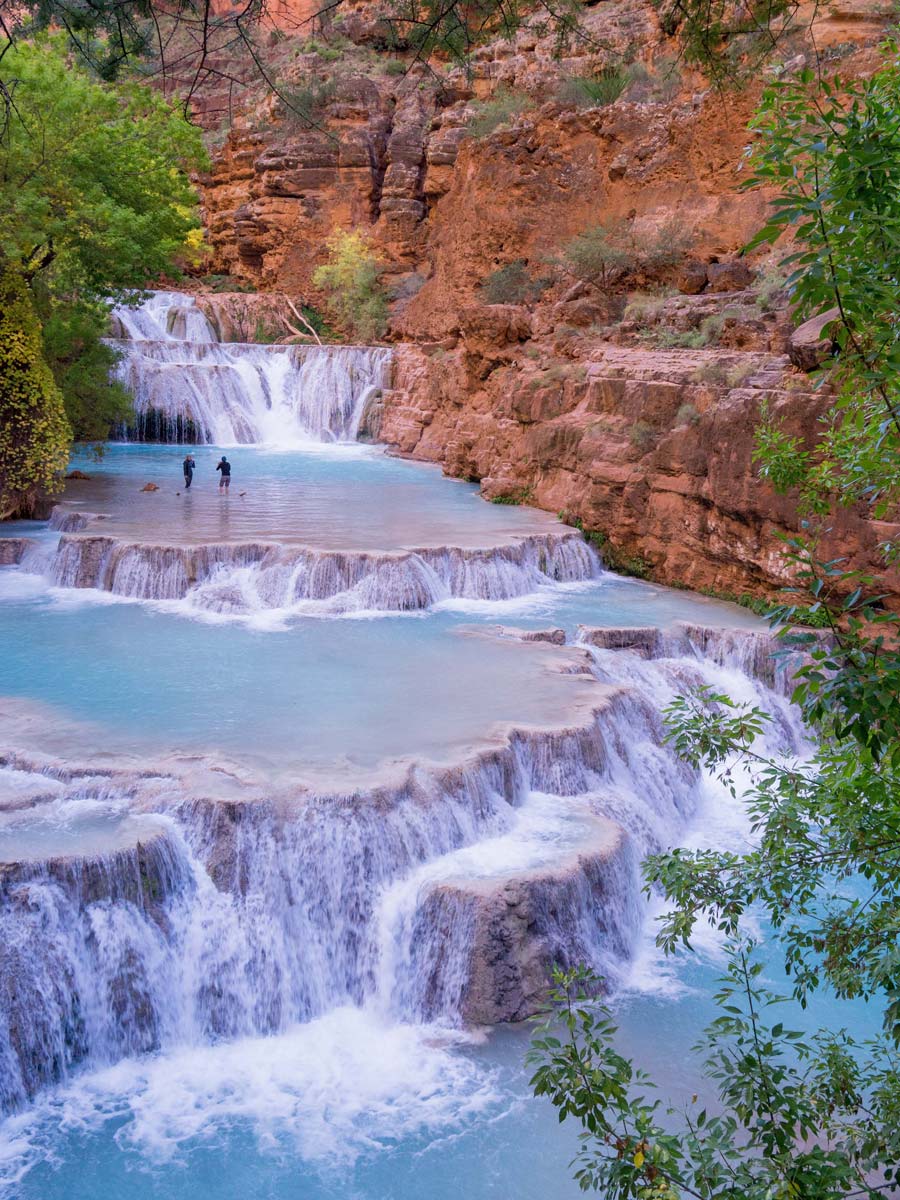 While it comes to a series of waterfalls and swimming holes pitted against tall, orange sandstone walls, nothing beats Beaver Falls.
Beaver Falls is deep down in Havasupai and 2.5 miles away from the Havasu Falls campground. The route to get to Beaver Falls is full of exotic sights, straight out of Jurassic Park. As you hike to Beaver Falls from Mooney Falls, you see everything from lush fields of greenery and blackberry bushes to grand vistas that look across miles of towering canyon walls in Havasu Canyon.
When you finish the 2.5-mile approach to Beaver Falls, you'll be greeted with a series of tiered waterfalls tucked between the tall canyon walls of Havasu Canyon. What makes Beaver Falls one of my favorite waterfalls within Havasupai is both the shallow pools away from the tiered sections and the deep pools close to the cascading falls themselves.
Both the shallow and deep pools at Beaver Falls allow you to sunbathe and cliff jump in the same afternoon.
How to get to Beaver Falls
Hiking to Beaver Falls is relatively straightforward. From the base of Mooney Falls, head north (the direction away from the Havasu Falls campground) on the clearly-defined trail that starts on the west side of the canyon- the west side of the canyon is also the left side if your back is turned to Mooney Falls.
From there, follow the marked trail for approximately 2.5 miles. The trail will take you across Havasu Creek four times (from what I remember), up several ladders, and will top off on a hill with views of Beaver Falls on your left side.
It is worth noting that the hike to Beaver Falls can be done in a single day making it a great Microadventure on its own.
While the trail to Beaver Falls is confusing at times, just follow it the best that you can. From my experience, it's fairly common to have to retrace your steps and scout out the "true trail."
As long as you head north from Mooney Falls, you'll stumble upon Beaver Falls soon enough.
Conclusion
In my opinion, Havasu Falls on the Havasupai Reservation is the most beautiful waterfalls in Arizona. Amongst several other waterfalls like Mooney Falls and Beaver Falls, Havasu Falls is a must-visit for those thinking of hiking and camping in Havasupai.
Have you visited Havasu Falls? What is your favorite part of the falls or Havasupai in general? Comment below or tweet us!
Resources for Havasu Falls and Havasupai: