Thinking about hiking to Beaver Falls during your Havasupai backpacking trip? 
Beaver Falls is one of the many different waterfalls that you can see while hiking the trails of Havasupai on the Supai Reservation. If you have never made the hike from Havasu Campground, past Mooney Falls, and to Beaver Falls, you must add the hike to this waterfall nestled in Havasu Canyon to your list of things to do while you're at Havasupai.
I've personally been to Beaver Falls several times over the years on backpacking trips to Havasupai.
I hope through this post, you can get a feel for what Beaver Falls is like and why the hike to it is a perfect Microadventure during your next Havasupai trip.
What you should know about Beaver Falls: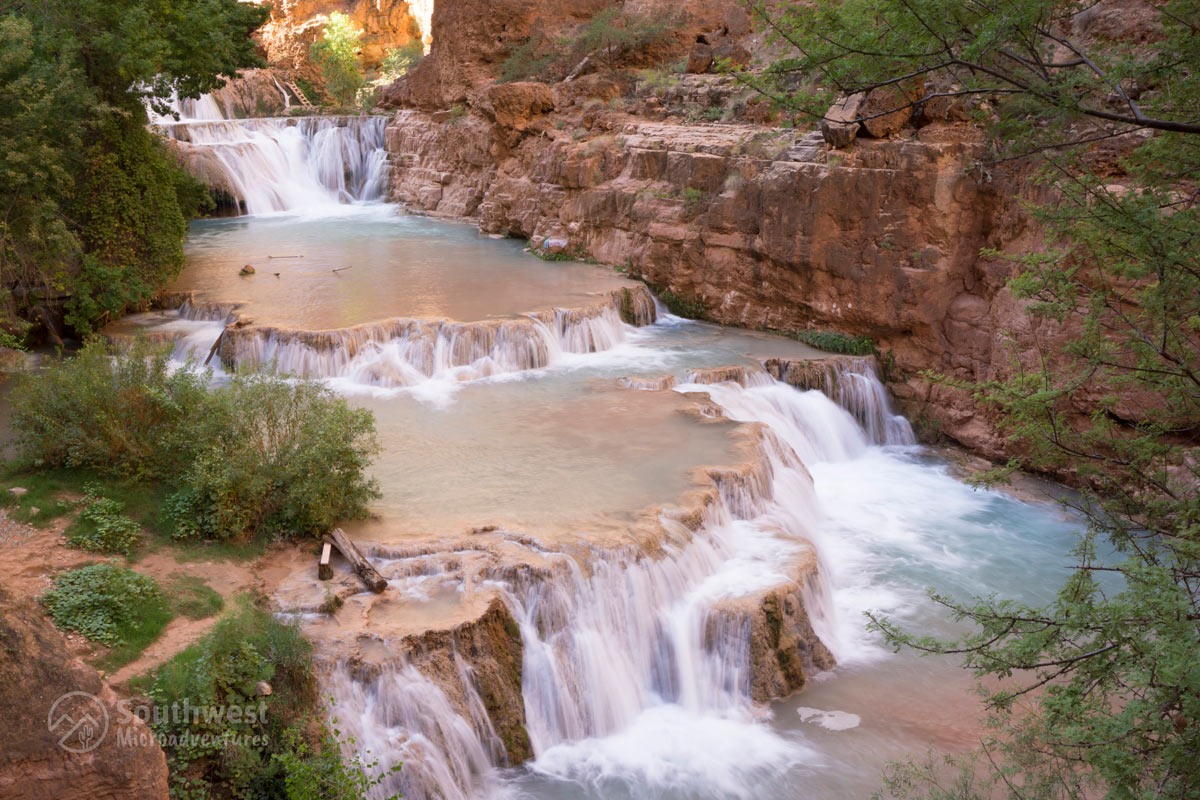 Some people believe that Beaver Falls is not a true waterfall, because the falls themselves are much smaller compared to both Mooney Falls and Havasu Falls. This makes Beaver Falls feel like Havasupai's "little sister" compared to the other monster waterfalls within a few miles of Havasu Campground.
Technically, Beaver Falls is a series of smaller waterfalls (five in my opinion, but you could argue there's more) that build swimming and wading pools from the water that cascades over the sandstone and limestone terraces.
In a nutshell, Beaver Falls is a series of smaller waterfalls that create terraces and swimming and wading pools beneath each waterfall. It resembles a pseudo-staircase of waterfalls.
Compared to the other major waterfalls in Havasupai: Navajo Falls, Havasu Falls, and Mooney Falls, Beaver Falls is a much smaller waterfall and is much more of a hike to access it.
Regardless of its size and distance away from the Havasu Campground and other waterfalls in Havasupai, Beaver Falls is nonetheless as serene and majestic as its sibling waterfalls.
What we love about Beaver Falls: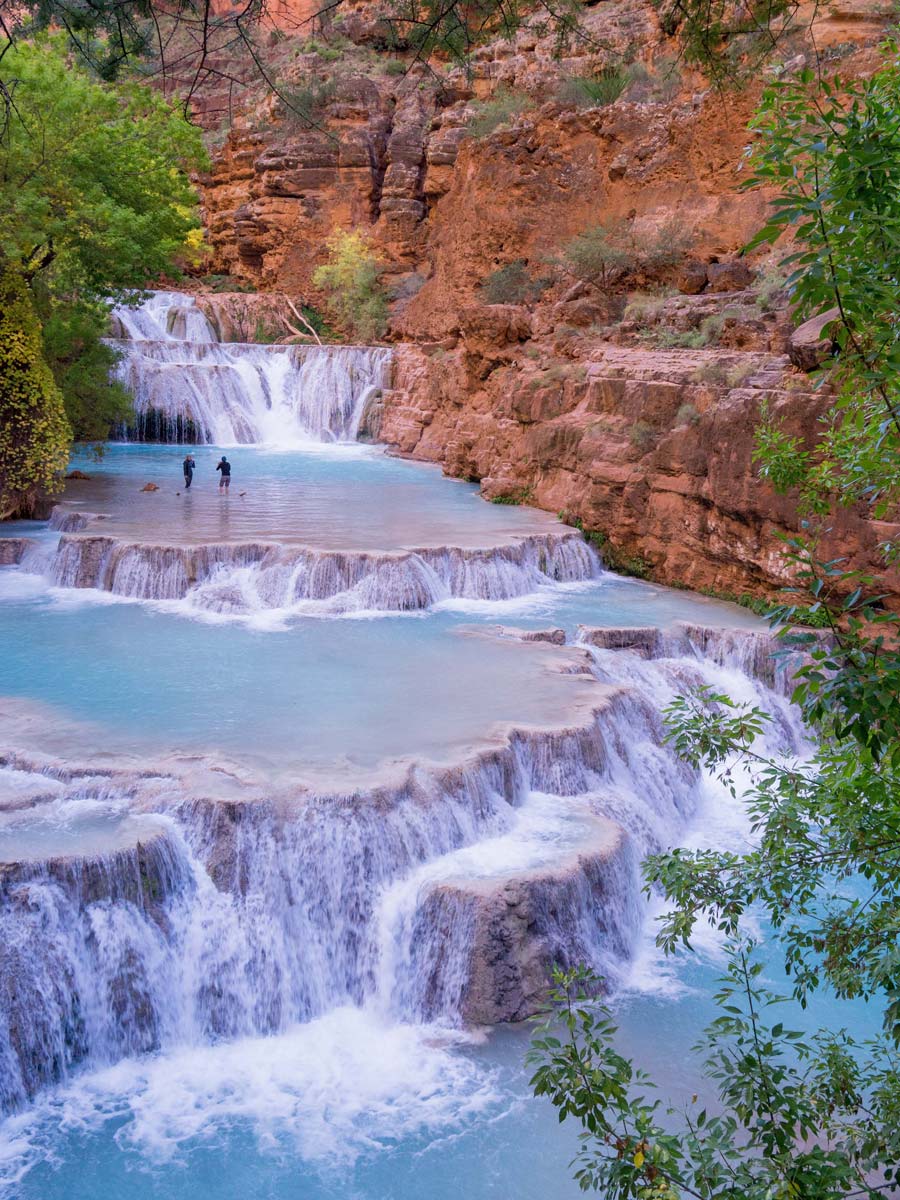 It is easy to create a list of what there is to love about Beaver Falls, but you will only understand if you take the time to see this waterfall yourself. I personally love Beaver Falls for the following reasons:
Beaver Falls' multiple waterfalls create a stair-step effect that is really cool
Picturesque views of Beaver Falls: Carribean-blue pools of water and a series of falls, nestled between the huge canyon walls of Havasu Canyon
It's quieter than some of the other waterfalls: fewer people make the hike out to Beaver Falls
The ability to float in the pools with tubes
The currents are virtually nonexistent which is great for swimming
You are able to cliff jump and cliff dive off of several of the bigger waterfalls
What we don't love about Beaver Falls:
As with everything else in life, there are a few things that I'm not a fan of in regards to Beaver Falls. However, that usually doesn't stop me from making the hike from Havasu Campground to spend a day vegging and playing at Beaver Falls. Here are some attributes of Beaver Falls that deter you a little from hiking there:
The trek to get there is long from Havasu Campground: you'll have to bring more gear, water, food, toys, etc. from camp
The extra time that is needed to make the hike: you'll be gone the full day
During the drier times of the year, some of the smaller waterfalls at Beaver Falls can be dry: this happened to me during my last trek
The trails to Beaver Falls can be a little confusing: it's been a common theme to get turned around and take two different trails on the hike out and the hike back
The possibility of getting lost during the hike
Something to consider is that some of these negatives can be flipped and treated as positives. For one, the hike to Beaver Falls might be a pain-in-the-ass for some but really a fun Microadventure for others.
How to hike to Beaver Falls
When you choose to hike to Beaver Falls, you must tackle the hike to Mooney Falls first. For those unfamiliar, the hike to Mooney Falls can be a little treacherous with the steep steps and chains to get to the base of the waterfall.
Once you've hiked to the base of Mooney Falls, your Microadventure to Beaver Falls can really begin!
Hiking to Beaver Falls is relatively straightforward. From the base of Mooney Falls, head north (the direction away from Mooney Falls and the Havasu Falls campground) on the clearly-defined trail that starts on the west side of the canyon- the west side of the canyon is also the left side if your back is turned to Mooney Falls.
From there, follow the marked trail for approximately 2.5 miles. The trail will take you across Havasu Creek four times (from what I remember), up and down several ladders, and will top off on a hill with views of Beaver Falls on your left side.
While the trail to Beaver Falls is confusing at times, just follow it the best that you can. From my experience, it's fairly common to have to retrace your steps and scout out the "true trail."
As long as you head north from Mooney Falls, you'll stumble upon Beaver Falls soon enough.
It is worth noting that the hike to Beaver Falls is always done in a single day making it a great Microadventure on its own. You cannot camp or stay overnight anywhere other than the Havasu Campground.
Don't even think about camping at Beaver Falls!
Distance from Havasu Campground: 8 miles round-trip
Distance from Mooney Falls: 5 miles round-trip
Estimated time needed: A full day
Things to see and do at Beaver Falls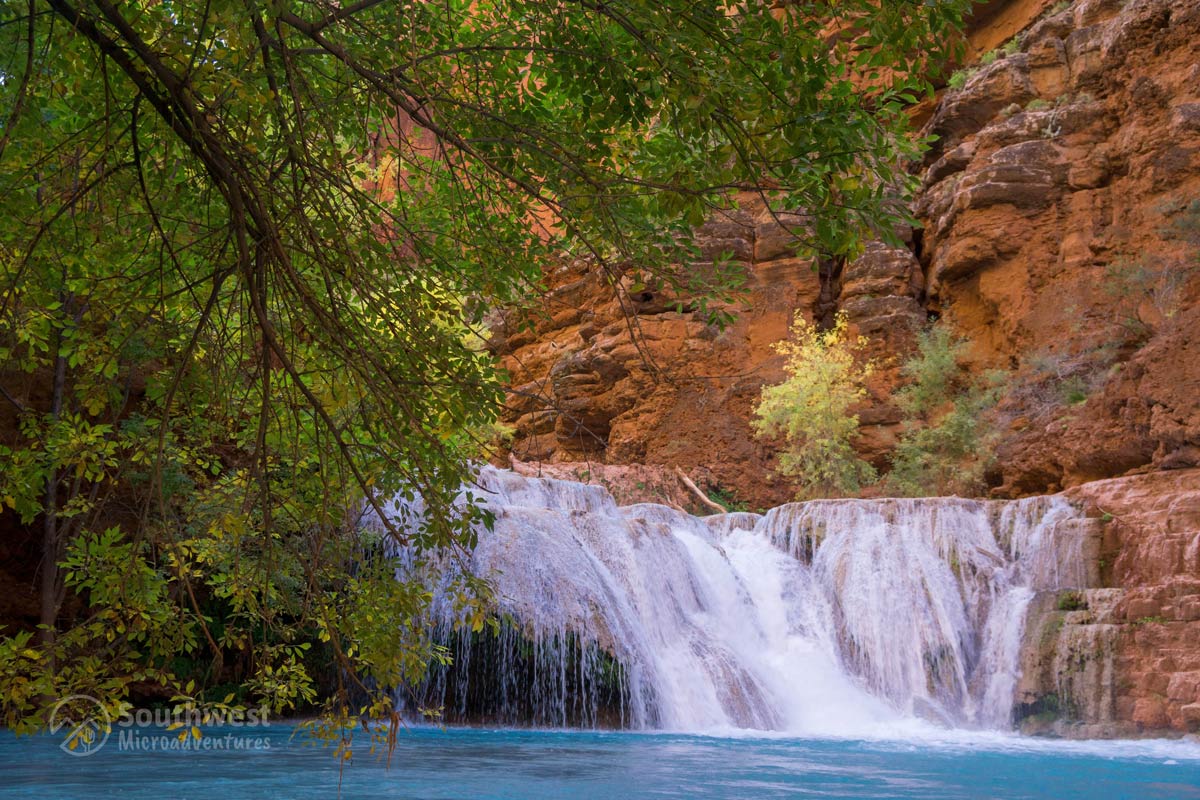 #1 Wade and swim in Beaver Falls' pools and waterfalls
The nice thing about the pools under Beaver Falls is they are mostly calm, especially the further you get from the falls themselves. This makes these pools perfect for swimming or even a simple dip in the water. The water can be cold, depending on the time of year you are visiting, so you may want to do a temperature check before taking the plunge.
#2 Cliff jump and cliff dive off the waterfalls
The cliffs around Beaver Falls are lower than some of the other waterfalls in the area, but the pools themselves are deep enough for cliff jumping and cliff diving. Use caution when climbing to the edge of one of the waterfalls to jump or dive in- I've seen people slip and get wrecked from the waterfall's rocks.
#3 Float in a tube
You definitely must take advantage of the fact that the currents at Beaver Falls can be very calm. This allows you to float under the waterfall's pools using a tube. You can literally spend hours floating along, anchored with a short rope to a neighboring tree, as you go in and out from the water flowing from above.
I've personally tied my tube to a tree and dozed off under the sun and the mesmerizing sound of the water echoing off the canyon walls.
#4 Hike upstream or downstream of Beaver Falls to avoid the crowds and see the other waterfalls
With so many waterfalls in the area surrounding Beaver Falls, you can easily hike upstream or downstream to see the other waterfalls that are close by.
While you may stumble upon smaller waterfalls along the way, it is recommended that you only see two of the main waterfalls per day. This will give you ample time to appreciate the beauty of each one without rushing around.
#5 Take photos of Beaver Falls
Beaver Falls is very picturesque, and you are going to want to capture it all in photographs to share with friends and family back home. As you snap photo after photo, make sure you are walking around and taking pictures from different angles and vantage points.
I personally like the main overlook from the top of the trail before you hike down the series of ladders to the base of Beaver Falls.
#6 Just sit and stare at Beaver Falls
You may be having so much fun at Beaver Falls that you might forget to just sit back and stare at the flowing water of these waterfalls. You will miss out on so much if you forget this step, so make sure you take a few minutes to sit and stare and Beaver Falls before you leave to return to camp.
Remember, it's not a quick hike to Beaver Falls and your days are limited in Havasupai so enjoy sitting and taking it all in from time-to-time!
Things to consider with Beaver Falls:
#1 The hike to Beaver Falls is long
Keep in mind that the hike to Beaver Falls is long no matter how experienced you are with hiking and backpacking. I've personally made the mistake of thinking I can just "take a stroll" from Mooney Falls to Beaver Falls and have ended up hiking back to camp in the dark.
If you're interested in hiking to Beaver Falls, I'd highly recommend budgeting a full day of your Havasupai literary.
Otherwise, you're going to be kicking yourself that you didn't reserve enough time to enjoy the full experience of Beaver Falls: I've personally felt that when I've tried to "squeeze it in!"
#2 It's very popular to hike and swim at Beaver Falls
During the summer months, Beaver Falls can become a zoo. A lot of hikers in Havasupai are really attracted to the wading, tubing, and cliff jumping that Beaver Falls has to offer.
I've personally seen lines of people taking Instagram photos at the falls. It can be a Microadventurer's nightmare…
In my experience, it seems like the Instagram and TikTok bimbos tend to sleep in at Havasupai and arrive at Beaver Falls in the afternoon; they leave Havasu Campground later and get to the falls later.
I'd highly advise getting an early start and starting the hike to Beaver Falls before 8.
This will ensure fewer lines and bimbos at the falls when you're there.
#3 The days are shorter at Beaver Falls
Unlike Havasu Falls, Navajo Falls, and Mooney Falls, Beaver Falls is buried deep within Havasu Canyon. This mere fact alone means that the days are much shorter at Beaver Falls than the other waterfalls. During the summer, the sun dips behind the canyon walls around 4:30 and then the area starts to get cooler and darker shortly thereafter.
As mentioned before, get an early start to Beaver Falls so you can maximize the amount of daylight and sunshine.
When to hike to Beaver Falls
Mornings
This goes without saying but mornings are the absolute best time to be at Beaver Falls. Mornings are great for photos because of the soft, warm light and to avoid the Instagram and TikTok crowds.
Afternoons
Afternoons are great for swimming because of the warm sun- but that comes at a cost! Especially during the summer, there will be crowds of people getting rowdy, cliff jumping, cliff diving, and floating.
I know I've bashed on the crowds but it can be fun- especially if people are willing to share their tubes and encourage you to cliff jump off something that is a little higher than you are comfortable with.
Evenings
Similar to mornings at Beaver Falls, evenings are great for photos and just taking it all in. The warm evening light encompasses the falls and increasing the intensity of the canyon walls. The waterfalls and canyon walls will look like a painting or an over-Photoshopped landscape photo in the evening light.
Evenings at Beaver Falls are unreal.
Be aware that if you visit Beaver Falls past noon and plan to stay through the evening, you'll need a headlamp to hike back in the dark.
Wrapping up:
If you're considering hiking to Beaver Falls during your next backpacking to Havasupai, you're making a great decision! Beaver Falls is a great place to spend an afternoon. Although the hike to the falls can be unpleasant for some, you'll be rewarded with a beautiful series of cascading waterfalls nestled between the tall walls of Havasu Canyon.
Enjoy swimming, wading, and tubing in the pools, cliff jumping and cliff diving off of the individual waterfalls, and great opportunities for dynamic and surreal photos and videos of the walls.
Your next memorable and crazy Microadventure at Havasupai awaits at Beaver Falls!
Beaver Falls resources: