It's a hot summer's day in northern Arizona and you're looking to cool off. What most visitors to northern Arizona (Flagstaff, Sedona, Page to name a few spots), don't realize is the amount of water that surrounds them. There are dozens of places to swim in the form of lakes, creeks, rivers, and swimming holes. While some of the spots are quite obvious like Lake Powell, others are a little more off the beaten-path and well-worth the hiking approach to get there.
Here is a list of our favorite places to swim in northern Arizona:
#7 Lake Mary, east of Flagstaff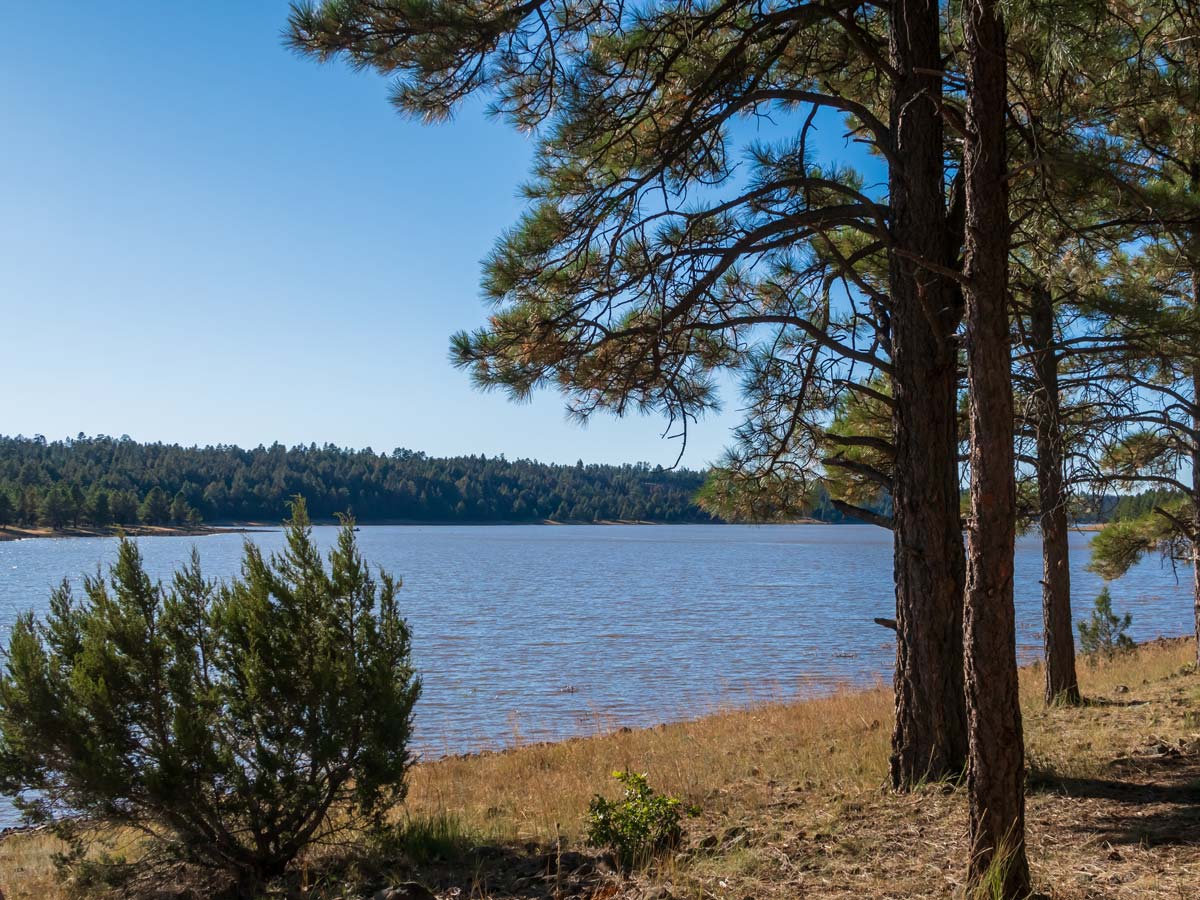 Lake Mary is comprised of two sister lakes, Lower Lake Mary and Upper Lake Mary. The former is quite small and not very popular for swimming- fishing, kayaking, and picnicking are more popular activities than swimming.
However, Upper Lake Mary does sees the crowds when the weather is nice, despite the fact that it is twelve miles to the east of Flagstaff. You can enjoy this lake year-round, including many of the activities that are available there.
All types of boats are allowed out on this lake, so you can choose to water ski behind one or power yourself along in a kayak or canoe. Fishing is also popular at Lake Mary and when you are finally done with the water, you can take advantage of the picnic areas for some relaxation and a bite to eat.
#6 Watson Lake, north of Prescott, Arizona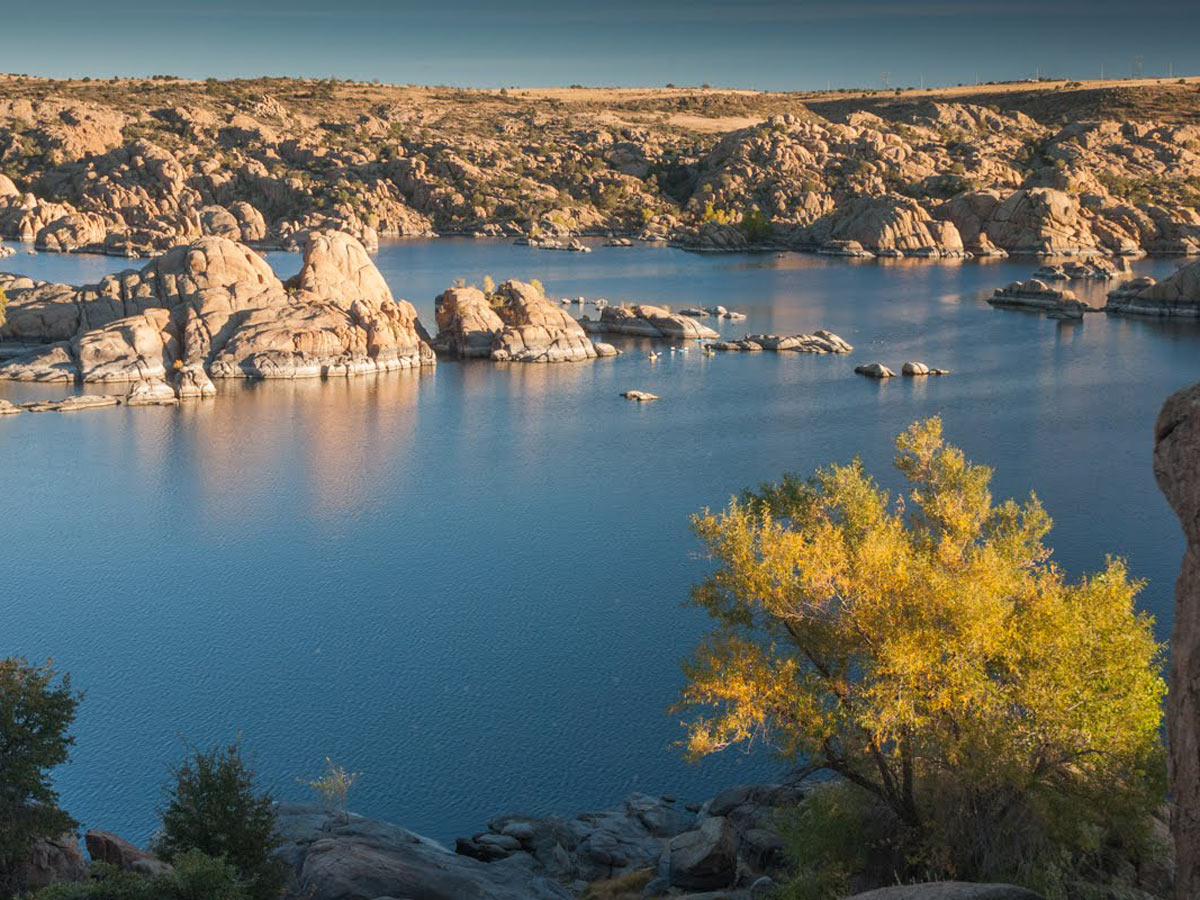 Watson Lake is conveniently located in Watson Park, which is about four miles to the north of Prescott. The shoreline of this lake is surrounded by massive granite boulders, as well as lush vegetation. You can do plenty of boating, kayaking, and swimming in this lake, but you may want to etch out some time for rock climbing and hiking. The campground is close to the lake, so you can easily spend a few days here.
#5 East Clear Creek, near Winslow, Arizona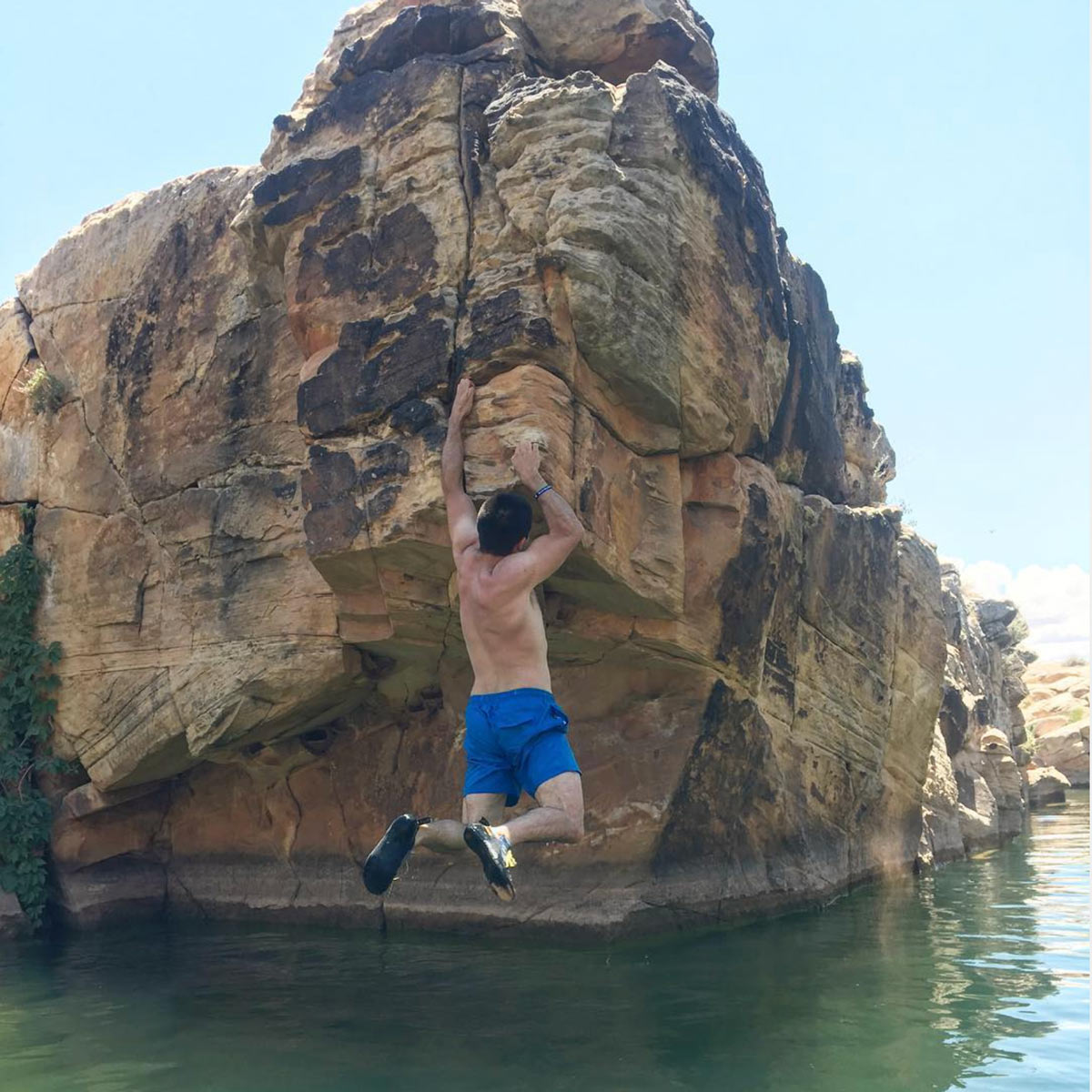 East Clear Creek is actually a river that runs through the canyon and there are numerous viewpoints along the banks. When you are not hiking the nearby trails, swimming, cliff jumping, cliff diving, and deep-water-soloing are extremely popular at East Clear Creek. Most of these activities can be done via kayaking on the creek itself.
East Clear Creek is the most popular spot in northern Arizona to go cliff jumping, cliff diving, and deep-water-soloing.
#4 Grasshopper Point, north of Sedona, Arizona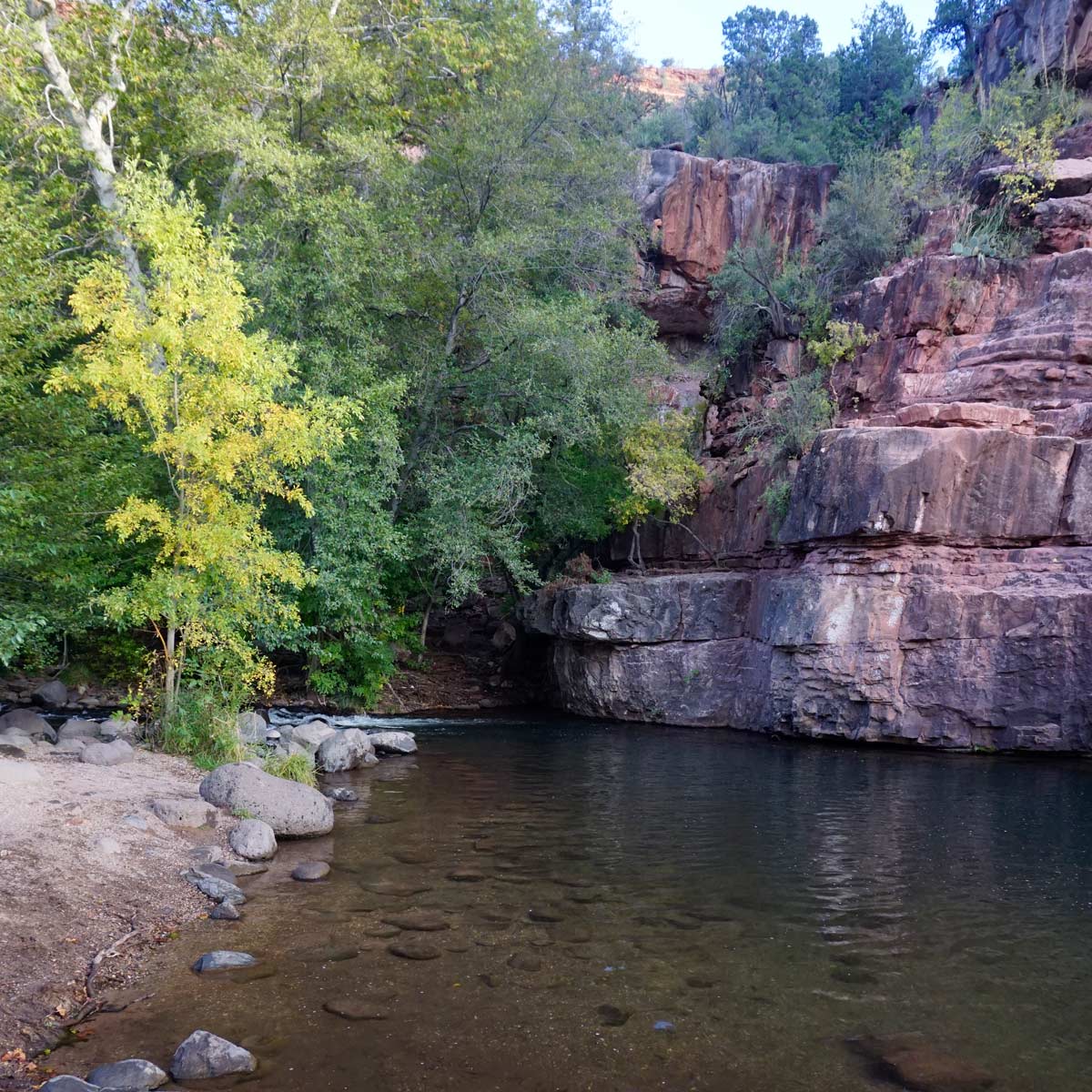 Grasshopper Point, just north of Uptown Sedona, is one of the coolest places to go swimming in northern Arizona. While Grasshopper Point can be a zoo during the hot summer days in Sedona, there are plenty of spots to swim, wade, and relax upstream and downstream. It doesn't take a long hike from Grasshopper Point to experience peace and quiet.
When you are not swimming, test your confidence cliff jumping and cliff diving, as this area offers some of the best cliffs in northern Arizona (besides East Clear Creek). Grasshopper Point is located in Oak Creek Canyon just north of the Midgley Bridge and Uptown Sedona.
#3 Red Rock Crossing in Sedona, Arizona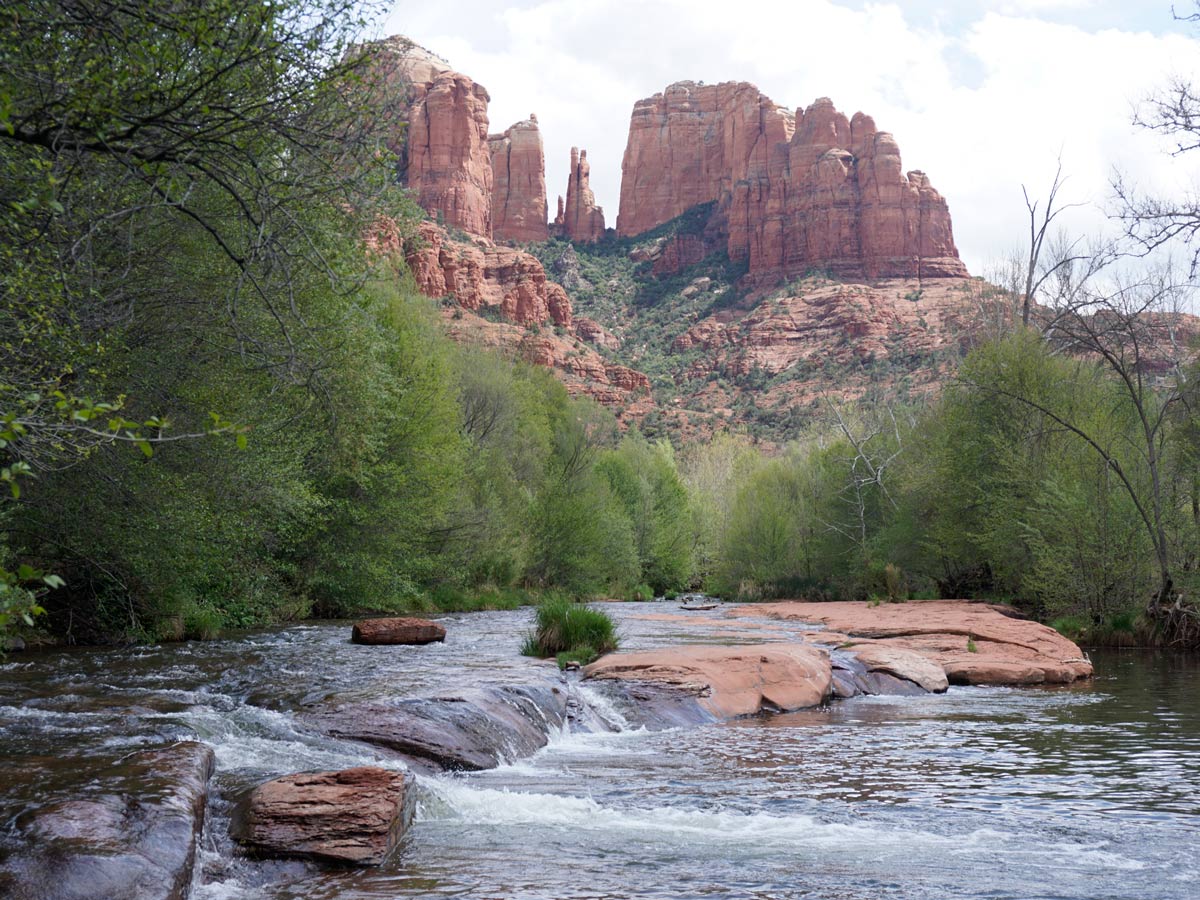 Located in west Sedona on the banks of Oak Creek, Red Rock Crossing is one of the coolest places to swim in northern Arizona and my personal favorite swimming spot in Sedona. Red Rock Crossing sits beneath picturesque Cathedral Rock and its raised rocks and waterfalls are perfect for cooling off in the hot Sedona sun. In addition, landscape photography is an extremely popular activity at Red Rock Crossing. Expect rows of photographers (myself included) during golden hour and sunset during the summer.
Red Rock Crossing does tend to fill up during the summer. If it's a zoo, hike upstream a half-mile or so for more privacy.
#2 "The Crack" at Wet Beaver Creek, near Cottonwood, Arizona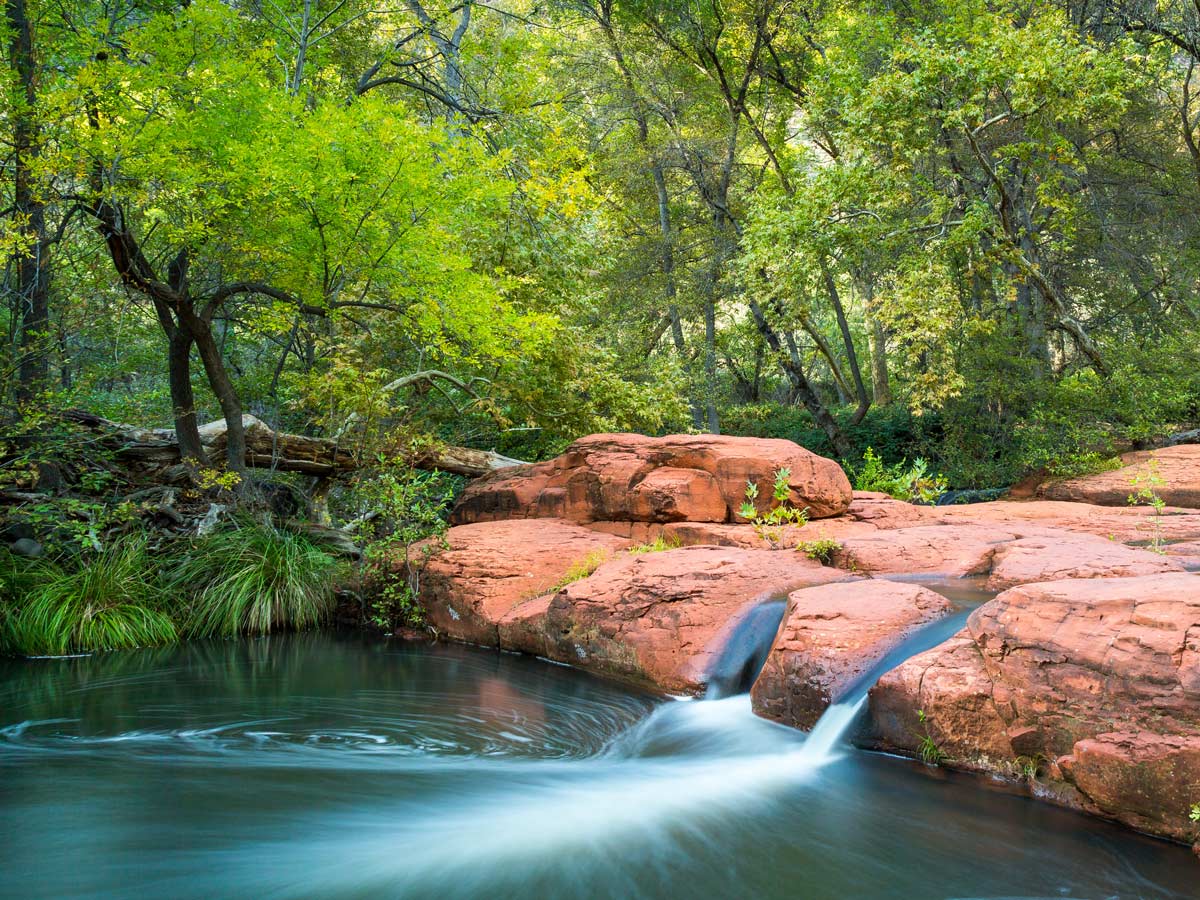 Yes, you will need to hike three and a half miles before you reach this little piece of paradise, but you will forget all that the moment you jump off the cliffs at "The Crack" at Wet Beaver Creek for the first time.
While you can hike along the trail itself, we recommend doing the hike next to the creek bed, as it adds to the whole experience. Plus, you can jump in the water at any time during your journey! One side of "The Crack" is not any better than the other and you can easily access the water from either one. It is recommended you begin with the eight-foot cliff jump before you attempt the ones that are as high as thirty feet unless you truly have a daredevil mindset. "The Crack at Wet Beaver Creek" is a true Arizona Microadventure.
#1 Lone Rock Beach, north of Page, Arizona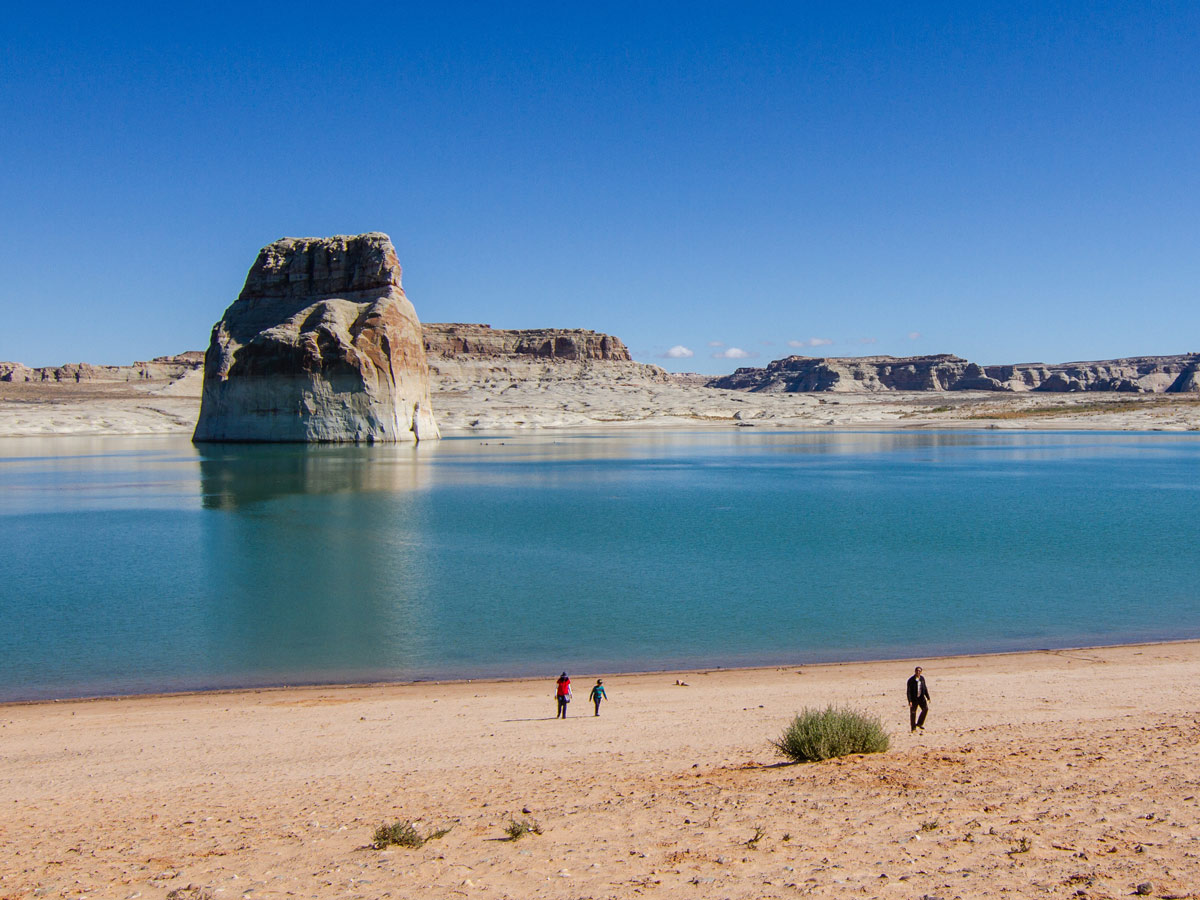 Located on the shores of beautiful Lake Powell, Lone Rock Beach is my favorite place to swim in northern Arizona. Lone Rock Beach sits on the border of Utah and Arizona just north of Page, Arizona.
The views at Lone Rock Beach are insane- you'll stare in awe at the 300-foot monolith, Lone Rock located a mere half-mile away from the shores of Lone Rock Beach.
The swimming at Lone Rock Beach is second-to-none. The water is crystal-clear and shines a Carribean-blue in the warm sun. You can do everything from swimming and wading on tubes or rafts or venture your way across the Wahweap Bay from the beach via kayak or paddleboard.
There are so many canyons to explore from the shores of Lone Rock Beach it's mindboggling.
I personally like to kayak from the beach and paddle my way back into Lone Rock Canyon for some cliff jumping and cliff diving off the towering cliffs nestled within the canyon.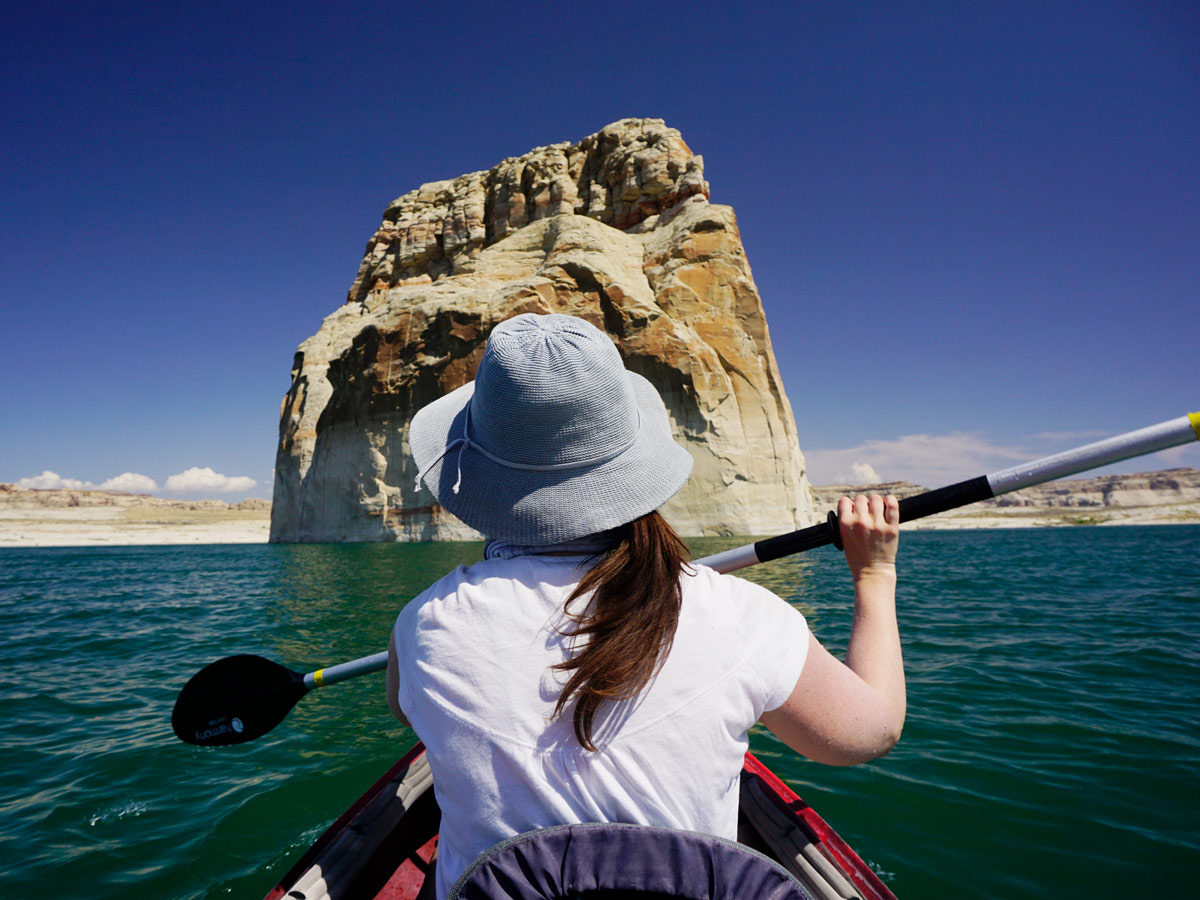 Boating and water skiing are the most popular activities at this beach so be aware of morons who have trouble seeing people swimming, wading, paddleboarding, or kayaking with their beer-induced, bloodshot eyes.
An oddity of Lone Rock Beach is the camping scene. You're allowed to camp on the beach at Lone Rock Beach and, during the spring and summer, that's exactly what people do! Expect everything from massive RVs to minimalist tents and everything in-between.
With all of the activities available from the beach, the scenery of the nearby canyon and Lone Rock monolith, as well as the camping scene, Lone Rock Beach is a swimming spot on another level. These factors alone make Lone Rock Beach my favorite place to swim in northern Arizona.
Conclusion
On a hot summer's day in northern Arizona, there are plenty of places to cool off: lakes, rivers, creeks, waterfalls, and swimming holes. That being said, the 7 places on our list are swimming areas that blow past the competition. This summer, pack your swimming gear, raft, kayak, and your thirst for Microadventures and head out to one of the swimming spots on our list.
Where do you like to go swimming in northern Arizona? Comment below or tweet us!