It's that time of the year- Havasupai season!
Assuming that you have your permits to Havasupai (if not, learn how to get permits next year) you're probably trying to figure out your plans for the trip. With so many things to see and do at Havasupai, what should your trip look like? What should you see? What should you do?
Luckily for you, we've put together a blog for those who are going to hike and backpack Havasupai over the course of 3 days.
Get ready for 3 days of waterfalls, canyons, cool nights, and lots of memories using our 3-day backpacking itinerary for Havasupai:
Before you leave, what you should bring to Havasupai
Packing for Havasupai is a little different from most backpacking trips for a few reasons:
The temperatures fluctuate from the 90s during the day, to the 40s at night
Most of your daily activities involve swimming and being wet
The town of Supai is nearby and has a grocery store and restaurant
Because of these reasons, your gear for Havasupai might be a little unorthodox compared to what you're used to. In a nutshell, you'll probably swap out some common backpacking items for more "luxury" items.
That being said, here is a list of gear we recommend you bring for your Havasupai trip:
Havasupai necessities
Plan for the weather to be hot during your stay, so bring cool clothing as summer temperatures in Havasupai often range from 70 to 90 degrees.
Pack two of your most durable swimsuits so you can dry one while you're using the other
Stiff hiking shoes for backpacking into Havasupai, one pair of camp sandals, and one pair of water shoes for your day hikes and swimming
Water is available via natural springs- 3L water bladder or dromedary for hiking and collecting water for camp
Camp cooking materials for your dinners and breakfasts: backpacking camp stove, lighter, and a fuel canister
Backpacking meals- either dehydrated, freeze-dried or boxed meals
Lightweight backpacking tent- for both weight and breathability at night
Wipes, biodegradable soap, or shampoo- there are no showers; you'll bathe in the creeks
At least a 50L backpack for hiking in and a stowaway backpack for day trips
Sunscreen, hat, sunglasses, and sun shirts- the sun is brutal during the day and it's very easy to burn without these items
Havasupai luxury items
Let's not forget, you're backpacking to Havasupai to have fun! If you can spare some room in your pack, here are a few luxury items we recommend bringing along to make your trip that much better:
A waterproof camera or GoPro
If you're really into photography, it may also be a good idea to bring a travel tripod
An inflatable tube (lightweight) for relaxing and wading in the swimming pools
A portable charger (even though we hope you're not on you're using your phone a lot).
Hammock – either for resting at camp or replacing your tent altogether; it's very common to see people camping using only their hammocks
Playing cards for the evenings at camp
For more about luxury items at Havasupai, check out our blog.
Day 1: hiking into Havasupai and Havasu Falls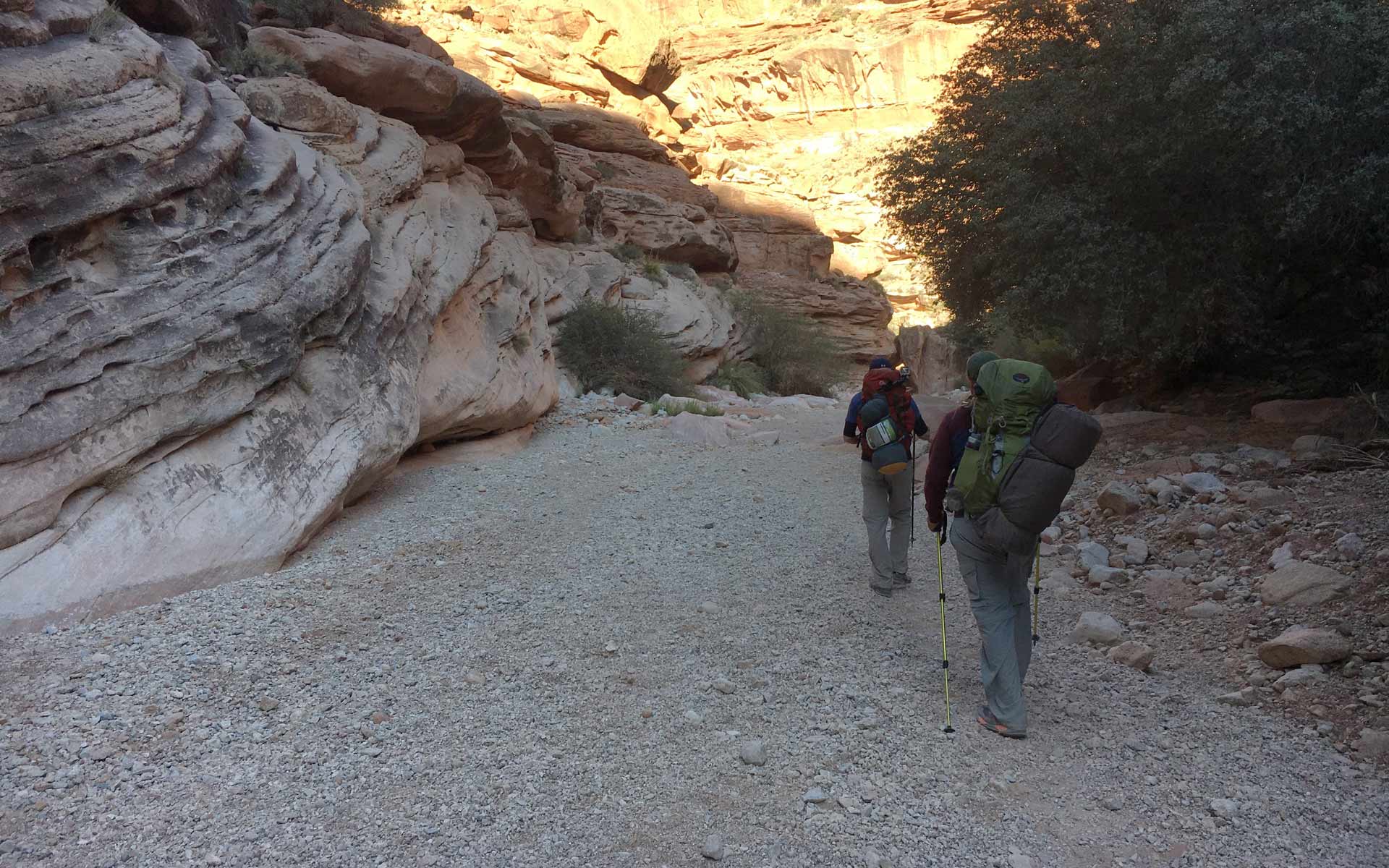 Hiking down to Havasupai
Assuming you've overnight camped at the Hualapai Hilltop parking lot, wake up at 4:00 am to begin the long hike down to Supai. Hike on the trail down to the entrance of the town of Supai
Arrive at Supai around 7:30
Grab any supplies you'll need for the rest of the trip (or second breakfast) at the grocery store in Supai
Head out of Supai and continue hiking to Havasu Campground
Get a glimpse of the spectacular Havasu Falls as you top out on the trail just outside of the campground (keep in mind that you'll be back later in the day)
Arriving at Havasu Campground
Arrive at the Havasu Campground around 9:00 am
Set up your tent and organize camp
Prepare and pack a lunch, water, drinks (NO BOOZE- alcohol is not allowed in Havasupai), swimsuit, water shoes, and any camera or additional swimming gear
Day hike and playing at Havasu Falls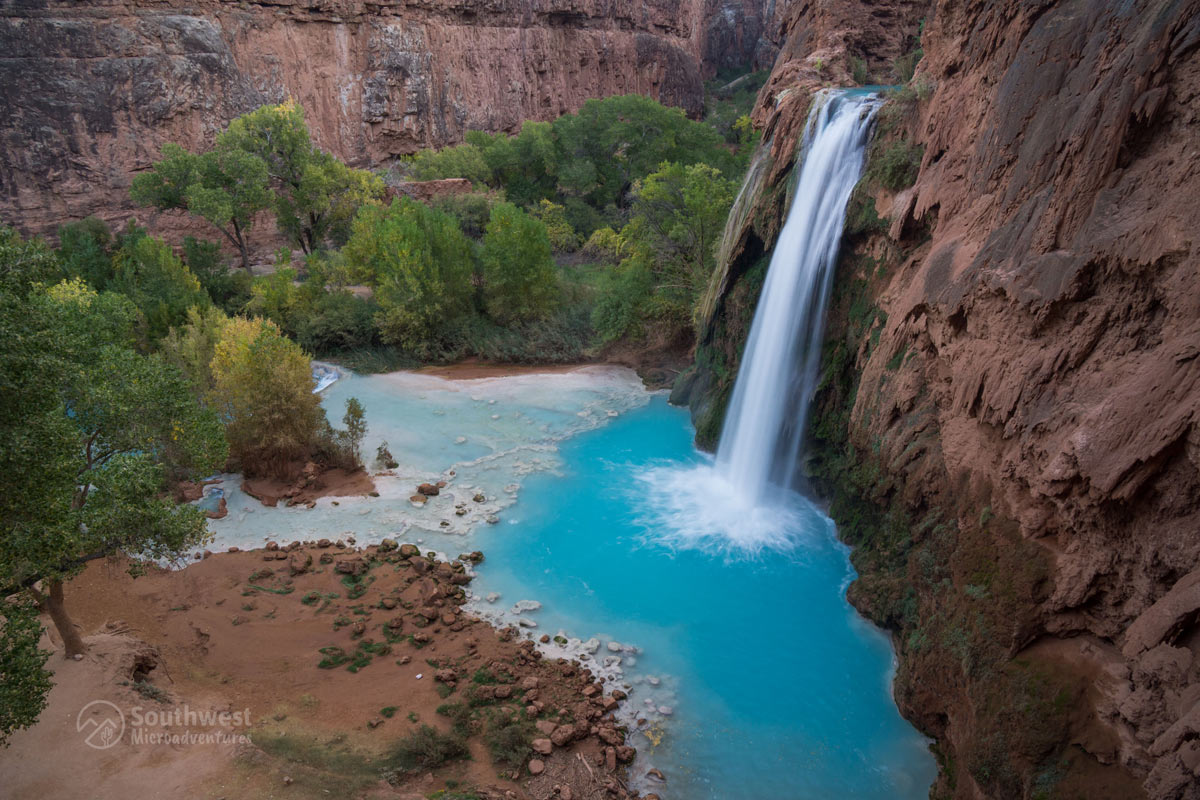 Head out from camp back to Havasu Falls at 11:00
Arrive and play: jump off of the cliffs, float under the falls, relax in wading pools, or chill out in your inner tube if you brought one
At around 6:00 pm, take advantage of Golden Hour as you climb up the stairs that you took up to the waterfall, take your camera out, and snap some pictures of Havasu Falls as the sun sets in Havasu Canyon
Night back at camp
Hike back to your campsite before it gets too dark: 7:30
Cook one of your camp dinners
Occupy your night by playing cards or entertaining yourself with phone games such as HeadsUp.
Be sure to respect others and try not to make too much noise!
Don't forget: NO ALCOHOL!
You will be extremely tired by the end of your long day- lights out at 9:30
Day 2: Mooney Falls in the morning, Beaver Falls in the afternoon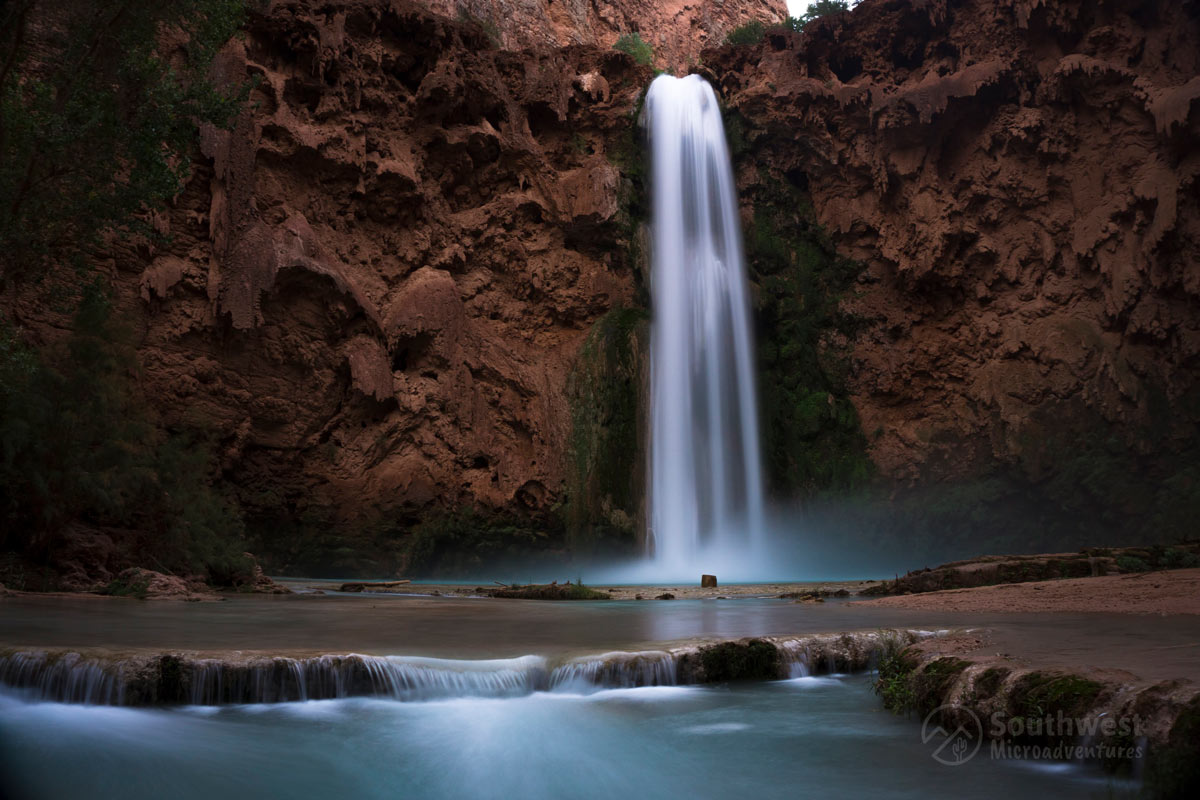 Waking up and getting organized for a long day hike
Early bird gets the worm! Wake up at 6:00 am to cook a quick breakfast and fuel up for an epic day!
Prepare and pack a lunch, water, hiking poles, swimsuit, water shoes, and any camera or additional swimming gear – your food and water should last you a full day
Day hike and playing at Mooney Falls
Start the mile-long hike to Mooney Falls early to avoid the crowds – leave Havasu Campground at 7:00 am
Get to the base of Mooney Falls at 8:00 am
Go crazy as you explore Mooney Falls and its 50+ subsequent waterfalls located around its base
Relax in the wading pools, float in your inner tube, use the rope swing- just enjoy one of the most beautiful waterfalls in the world!
Hike and play at Beaver Falls
At 11:00 am, pack up your things and start the hike to Beaver Falls
You'll cross Havasu Creek in several places- wear your water shoes when you leave Mooney Falls
Arrive at Beaver Falls around 12:30 pm
Take in the beauty of the spectacular Beaver Falls as you jump and dive in the cliffs
If you're looking to relax, float under the falls, in the wading pools, or in your tube!
Hike back to Mooney Falls and then camp
Pack up to head back to camp and leave Beaver Falls at 4:30 pm
As you're heading back to camp, stop at Mooney Falls for Golden Hour photos – around 6:00
Begin your mile hike back to the camp
Night back at camp
Treat yourself after a long day hike: Navajo Tacos at the Navajo Taco Stand near Havasu Falls
Spend the evening back to camp to play cards
Remember to be respectful to those around and keep the volume down!
Remember, NO BOOZE!
Hit the hay early: lights out at 9:00 for another early morning!
Day 3: Packing up, Havasu Falls for a morning swim, hike out
Time to wrap up your Havasupai backpacking trip!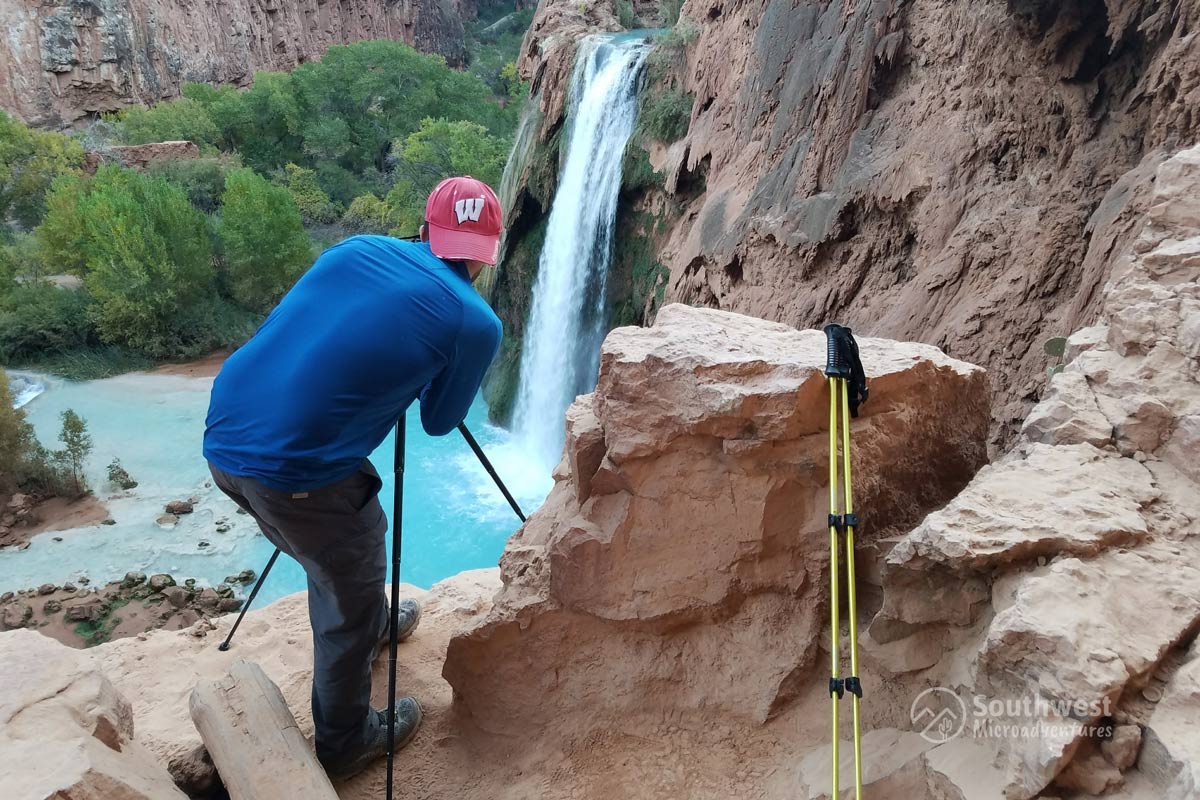 Wake up at 6:00 am
Enjoy your light breakfast and pack up camp
Leave for your hike out to leave at 7:30 am
Remember to drop off any extra food you have off at the "Ranger" station at the exit of the Havasu Campground– the Supai will appreciate it and you'll have a lighter pack for your hike out
Arrive at Havasu Falls for a morning swim at 8:00 am
Take a chilly swim in the serene waters of Havasu Falls as you seize your last opportunity to cliff jump and dive one last time
Start the long hike back to the Hilltop Trailhead – leave at 10 or earlier if the temperature is going to be high that day
Get back to your car at 2:00 pm
Hit the road!
Stop for a late lunch in Seligman at one of my favorite after-Havasupai food spots, Delgadillo's Snow Cap, for a burger and a shake
Don't forget to apply for permits to Havasupai next year!
Conclusion
With so many things to see and do at Havasupai, it's hard to figure out how to make the most of your time down there. Luckily, we've been to Havasupai enough times to figure out how to have an incredible 3 day visit. So as you're preparing and packing for your backpacking trip to Havasupai, keep our itinerary in mind!
Resources